The Ricky Tiedemann Report: The lefty struck out five in his second game back in Double-A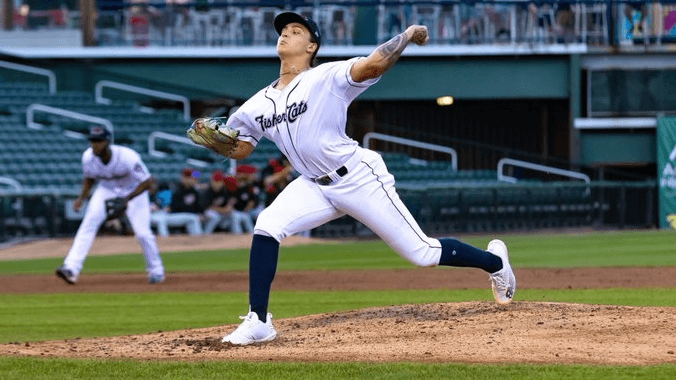 Photo credit:Fisher Cats PR
So that went better than last time.
On Thursday, Ricky Tiedemann made his sixth start in Double-A, and his ninth overall start. Moreover, this was his second start back from a left bicep injury, which he suffered on May 4th.
So, how'd he do? Well, the 20-year-old left-handed pitcher finished with a line of
3.2 IP, 3 H, 2 ER, 1 BB, 5 K.
Let's dig into what worked for Tiedemann on Thursday.
Against his first batter, Tiedemann committed his first error in Single-A, before that runner was thrown out attempting to steal second. The other two outs in the first inning were from a line out, and a changeup which you can see below.
Tiedemann had a great second inning, striking out three batters while allowing just a single. The batter eventually got to third base, but Tiedemann stranded the runner with a 95 mph fastball for the swing and miss.
In the third inning, Tiedemann generated a ground out and two line outs, while a Rockies prospect got on base with a single. Like the other two innings, the 20-year-old lefty was able to strand the runner.
The fourth inning started off well for Tiedemann, as he generated a swing and miss strikeout on a 94 mph fastball, which you can watch below.
Tiedemann also got a ground out for the second out, but then the trouble started. The next batter hit a single, the only hit to reach the outfield grass. After that batter stole second, Tiedemann walked the next man up, and was pulled from the game after 56 pitches, 36 of which were strikes.
However, his line was not finished as he left two runners on. There were two more doubles which added two earned runs to Tiedemann's line. Would he have been able to get out of it? Who knows.
With the Fisher Cats, Tiedemann has a 6.35 ERA in 17 innings pitched, along with a 38.2 K% and an 11.8 BB%. Coming into Thursday's game, Tiedemann had a 1.70 FIP, and I'd imagine that it would be similar when Fangraphs updates tomorrow. Tiedemann has yet to give up a home run in 2023, and has only given up three in his professional career.
Hopefully, Tiedemann can build off this start and become the dominant pitcher he was in 2022.
---
As always, you can follow me on Twitter, Instagram, and Threads @Brennan_L_D.
---