The rollercoaster ride continues as the Blue Jays implode at Dodger Stadium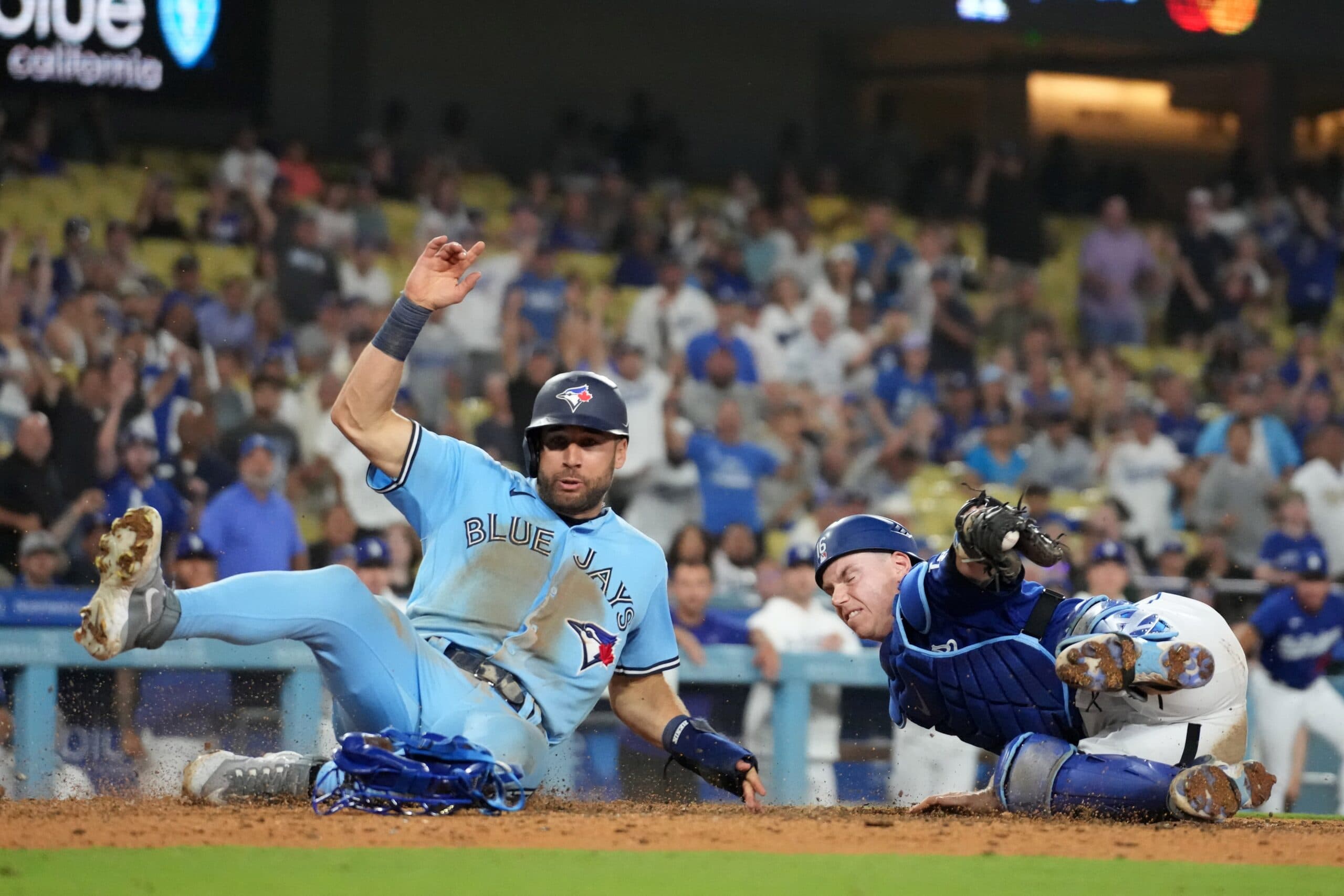 Photo credit:© Kirby Lee-USA TODAY Sports
Blue Jays fans are living the entire emotional spectrum this week, and Tuesday night's game against the Dodgers stayed true to that narrative. After a "good vibes" win on Monday night, the Jays blew a four-run lead in the 9th inning last night and were eventually walked off in the 10th, as the Dodgers evened the series with an 8-7 win. Since 2019, last night was the third time in five games that the Dodgers have walked off Toronto.
Things worth mentioning
Toronto's offence was headlined by Bo Bichette, who went 4-for-6 with a home run and a double. He fell only a triple shy of a cycle, and it was his fourth four-hit game of the season. His two-run homer in the 3rd inning gave Toronto a 3-1 lead. That's his third homer at Dodger Stadium in just his fifth career game there.
Chris Bassitt had a little bit of a shaky start, but he continued to be extremely solid against Nation League foes. Bassitt tossed 5+ innings, allowing four hits, two runs, four walks, and six strikeouts. He threw 105 pitches in the game just one day after Toronto used five relievers, but it unfortunately only got the team through five frames.
Genesis Cabrera was called upon for the second straight night, and he came through once again in a big way. This time, he threw two innings total, allowing only one hit, no runs, no walks, and three strikeouts. His Blue Jays audition has gone just how Toronto would have hoped, especially when having to face the meat of LA's order like he did last night.
Tim Mayza allowed his first home run of the season in the 8th inning on a sinker low in the zone to J.D. Martinez. It was a good pitch, but Martinez is a terrific lowball hitter and he got a hold of that one to make it a 4-3 ball game. Despite this, Mayza giving up his first home run on July 25th is an impressive feat, and it's reflected in his 1.30 ERA.
A lot of this season has featured frustration with batting with RISP by the Blue Jays, but Toronto actually cashed in those opportunities tonight when they needed them most. By Toronto, I mean Danny Jansen, of course. His 3-run double in the top of the 9th drove the score to 7-3, and it also ranks him third on the team in RBIs now.
The bottom of the 9th is when things unfolded completely. Erik Swanson had arguably his worst outing as a Blue Jay. In his one inning, he allowed five hits, four runs, and one walk, with those runs regrettably tying the game. An RBI single from Mookie Betts and a bases-loaded walk to Max Muncy brought the score to 7-5, followed by a two-run infield single from Chris Taylor to even the score. Taylor hit the ball sharply to first, deflecting off of Vladimir Guerrero Jr.'s glove. Santiago Espinal recovered the ball after a small bobble, but he briefly hesitated before trying to throw the second runner out at home. That's all LA needed, and all momentum was on their side.
Toronto had a chance to take the lead in the 10th, but Kevin Kiermaier (the ghost runner) was thrown out at home on a Bichette single. Former Dodger Mitch White allowed the walk-off hit in the bottom of the frame to James Outman, whose deep fly ball to center was just out of the reach of Kiermaier at the wall.
What's Next: The Blue Jays can still take the series this afternoon with Yusei Kikuchi taking the bump against Tony Gonsolin.
---