The Teoscar Hernández trade is looking more beneifical as more free agent pitchers sign large contracts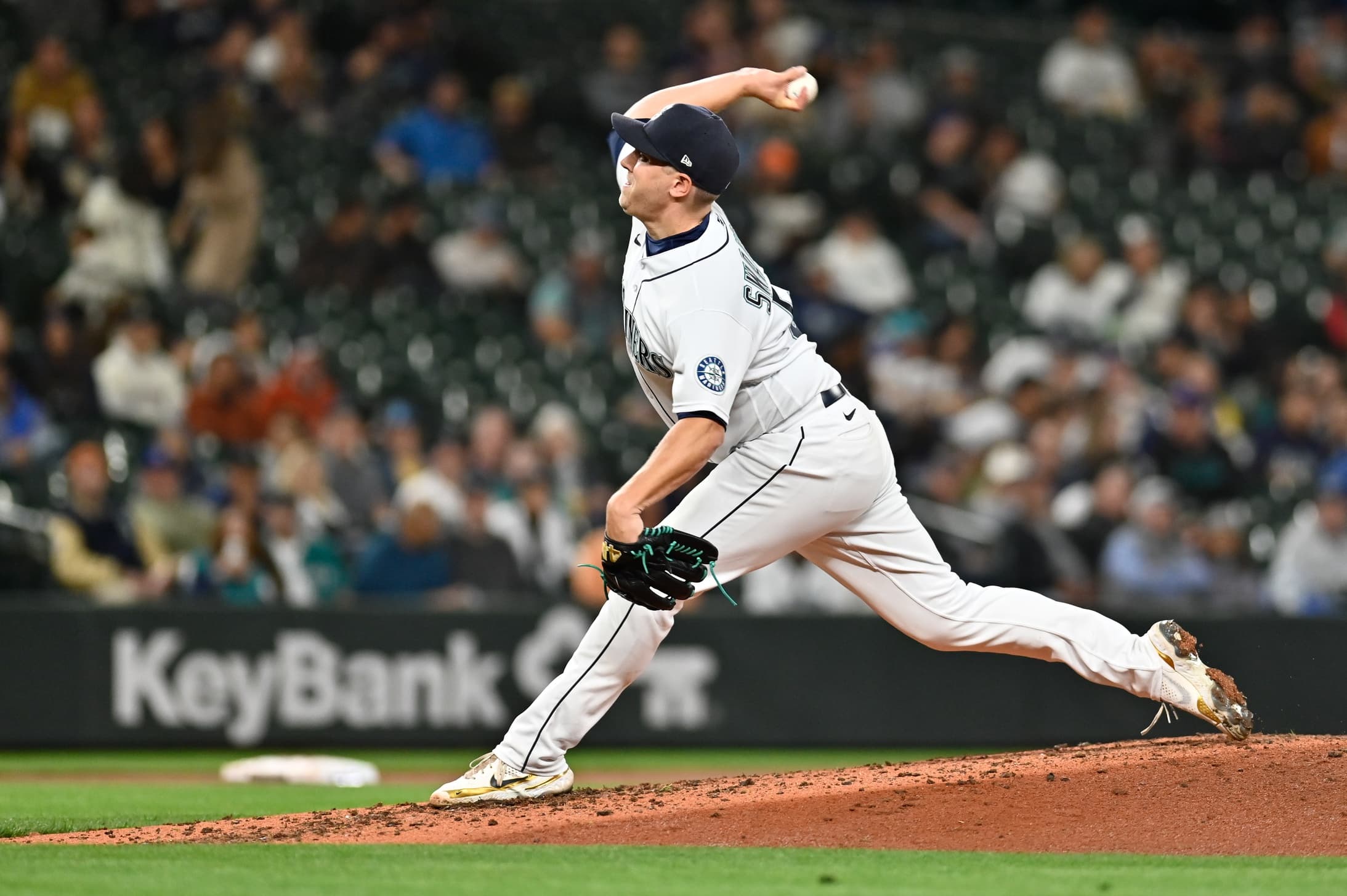 Photo credit:© Steven Bisig-USA TODAY Sports
Although the
Teoscar Hernández trade is still fresh in our minds, it's time to discuss it again.
As you may recall, the Jays traded the fan-favourite Hernández to the Seattle Marines. In exchange, Toronto received reliever Erik Swanson and pitching prospect Adam Macko.
The trade is still way too recent to determine a winner and a loser, but it's shaping up to look like a good trade for both trades, mainly due to external forces.
A quick recap of the players involved:
Before we get into why, let's just look at the players involved in the deal, and assess whether both teams got fair value in the trade.
Teoscar Hernández:
There's no debating that Hernández is a great player, because he definitely is. Last season, he slashed .267/.316/.491 with 25 homers in 535 plate appearances for a 129 wRC+. This was a slight drop-off from his 132 wRC+ in the season prior, and a 142 wRC+ in the plague season.
From June 1st onwards, he had a .285/.331/.536 with 23 homers in 435 plate appearances for a 146 wRC+. This is important, as he missed a good stretch of time at the beginning of the season with injury. Once he got into a rhythm about a month after returning, he was one of the Jays' best hitters.
Although it's undeniable that Hernández is a great player, his trade value was lessened due to the fact he's a corner outfielder in his final year of arbitration. He's also expected to make $14.1 million, so the Jays realistically could not have gotten a haul for him.
Erik Swanson:
The 29-year-old reliever broke out in 2022, posting a 1.68 ERA and 1.85 FIP in 53.2 innings pitched. He also had a 34 K%, which would've been the highest in the Jays pen in 2022. It also helps he also had a pretty impressive 4.9 BB% as well, meaning batters rarely got a free pass.
The breakout can be attributed to the development of his splitter. Another key to his success is throwing his fastball at the top of the zone.
Swanson pitched mainly in medium leverage for the Mariners last season, so it'll be interesting to see whether the Jays use him in the same role, or give him some opportunities to be the set-up man.
Adam Macko:
The 21-year-old left-handed pitcher was born in Slovakia, grew up in Ireland, and spent his high school days at Vauxhall Academy in Alberta. Macko's fastballs (four-seam and a two-seam) sit 92-97 mph.
He also features a plus plus curveball, and a plus slider. Furthermore, his changeup is still in the works, but from what I've seen, it's at least average.
Macko spent the majority of the season on the injured list, but looked strong in the second half of the Arizona Fall League.
What to make of the trade in a vacuum:
In terms of value, I think this trade is pretty close. The Jays solved their "we do not have enough swing and miss in the bullpen" issue, while also getting a pretty promising prospect in Macko. As for Seattle, they got Hernández, which yeah, he's pretty good.
It's not a stretch to say that Teo will hit for a wRC+ similar to his 129 wRC+ in 2022. Seattle also had a surplus of relievers and felt comfortable moving Swanson while addressing a hole in their lineup.
Good trade for both teams, but let's look at some external factors.
The price of free agent pitchers is too darn high:
The other day, former Blue Jay pitcher Matt Boyd signed a one-year, $10,000,000 contract (plus incentives) with the Detroit Tigers. For his career, he has a 4.90 ERA and 4.66 FIP in 797.2 innings.  What's surprising about this contract is the fact Boyd only pitched 13.1 innings with the Mariners last season. Boyd's best season to date came in 2021, where he had a 3.89 ERA and 4.10 FIP, in 2021.
Mike Clevinger signed a one-year contract with an annual average value of $12,000,000 with the Chicago White Sox. He had a 4.33 ERA and 3.98 FIP in 114.1 innings pitched with the San Diego Padres. While Clevinger has a better track record compared to Boyd (Clevinger has a career 3.39 ERA and 3.79 FIP), he's just not the same guy anymore, especially as he missed all of the 2021 season.
Robert Suárez signed a five-year, $46,000,000 contract with the Padres before free agency even began. The reliever had good results in 2022, as he posted a 2.27 ERA and 3.22 FIP in 47.2 innings pitched, usually as a set-up man. Why is he included? Well, 2022 was his rookie season… as a 31-year-old. He's certainly good, but there's a ton of risk in that deal.
This doesn't even include Edwin Díaz, who signed a five-year, $102,000,000 deal with the Mets. Is he currently the best reliever in baseball? Absolutely, but signing a reliever to that kind of deal carries a ton of risk.
I'm sure as we move into the Winter Meetings, there'll be even more examples of overpriced pitchers.
What the trade means for the Blue Jays:
Swanson is entering his age 29 season and still has three seasons of team control left. This off-season will be his first season of arbitration, where he'll make an estimated $1,601,392. He won't become a free agent until after the 2025 season. Not just that, but he gives the Jays swing and miss coming out of the pen, which many people believe they needed.
Another aspect is the fact that the Jays freed up around $14.1 million in payroll. It's pretty evident that they plan to spend this elsewhere. I don't think it's out of the question they look to sign Brandon Nimmo. While yes, he'll probably get more than an annual average of $20 million, Nimmo fills another need which is a left handed batting outfielder.
It sucks that the Jays traded fan-favourite, but the return alone was pretty solid. Once you add in the fact that the market of free agent pitching is incredibly inflated, this was a pretty good deal to fill a need while maintaining their payroll structure.
As always, you can follow me on Twitter @Brennan_L_D.
---