The Yankees and Blue Jays, a match-up of teams looking to break out of underwhelming starts
Photo credit:Chris O'Meara
The Blue Jays had a rough showing last week.
They lost two of three to Texas and then lost two of three to Anaheim while the fourth game in the series was rained out. They're now 4-5 on the season, which is obviously disappointing given their impressive series win over the Yankees on opening weekend.
On a bright note, that 4-5 record isn't quite as alarming when you look at how the Tampa Bay Rays and the Yankees, two key teams the Blue Jays are fighting with this season, are doing so far.
How they're doing…
Like the Blue Jays, the Yankees own a 4-5 record on the season. After getting dropped on opening weekend, New York took two of three from the Orioles and then went into Tampa Bay and lost two of three to the Rays.
The struggle for the Yankees thus far, surprisingly, has been their lineup. New York is averaging 4.22 runs-per-game, which is slightly below league average. The Yankees boasted the fourth-best offence in baseball last season despite a wealth of injuries to important players, so seeing them struggling with a healthy lineup isn't really what you expect to see.
Some ugly performances in the Yankees lineup include… Giancarlo Stanton (6-for-32), Gleyber Torres (8-for-36), Aaron Hicks (4-for-36), and Jay Bruce (3-for-32). Perhaps Rougned Odor can be the answer they're looking for. Good lord, I hope not. Nope.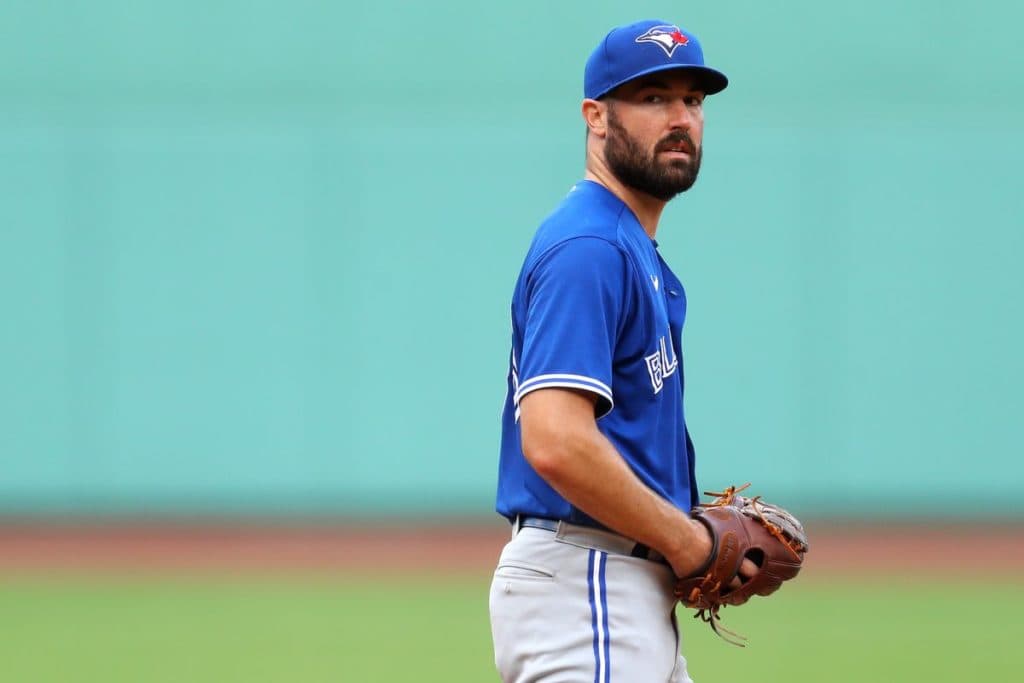 The head-to-head…
Robbie Ray vs Gerrit Cole
Robbie Ray will make his much-anticipated 2021 debut in the series-opener on Monday against Gerrit Cole.
Ray, of course, had an excellent spring but spent the first week-and-a-half of the season on the Injured List because he fell down a flight of stairs. Ray looked like an ace in Grapefruit play, allowing just three earned runs over 13 2/3 innings while striking out 18 and walking five. A Ray bounceback this year would be huge for the Blue Jays.
Going for New York is Gerrit Cole, who doesn't need much of an introduction. He was good against Toronto on opening day, allowing just two earned runs over five-and-a-third, and then he put up seven shutout innings on the Orioles in his second outing.
Hyun Jin Ryu vs Jameson Taillon
Hyun Jin Ryu will look for his first win of the season in the second game. He's been great this year but didn't earn a win in his first start as it took the Blue Jays 10 innings to win the game and he was the victim of non-existent offence in his second outing. All told, Ryu has allowed four earned runs over 12 1/3 innings this year and has 12 strikeouts to just one walk. That said, there's always a bit of a worry when Ryu goes up against the Yanks and their righty-heavy bats.
We don't have much info on Taillon, the oft-injuried former second-overall pick. Taillon made his first outing since 2019 last week against the Orioles and was OK. He went four-and-two-thirds, allowing two earned runs on three hits while picking up seven strikeouts. He didn't walk a batter but two of the three hits he allowed were dingers.
Corey Kluber vs Ross Stripling
The series-finale will feature Ross Stripling, one of Toronto's placeholder starters, and Corey Kluber, New York's reclamation project.
This is a rematch of the second game of the season. Neither Stripling or Kluber were good in that one. Stripling laboured through three-and-one-third innings while Kluber walked the tightrope through four. It felt that the Blue Jays were going to kick things open against Kluber, who struggled with command, but the bats didn't capitalize.
Kluber got drilled by the Rays in his second outing of the season, allowing five runs, three earned, over just two-and-one-third innings. Stripling, on the other hand, was a bit better against the Angels than he was against the Yankees, allowing four earned runs over five innings.
Thoughts…
Taking two of three is certainly doable here. Taking advantage of the Yanks before they get themselves sorted out and into a groove is something that'll help the Blue Jays down the road. It'll also help erase those ugly showings against Texas and Anaheim. Let's hope the bats show up like they did on Saturday.
Another thing I'm looking forward to is the Yankees whining that the lighting or fountain pop or some shit in Dunedin isn't good enough for their liking if/when they lose a game.