Theorizing About José Berríos' Struggles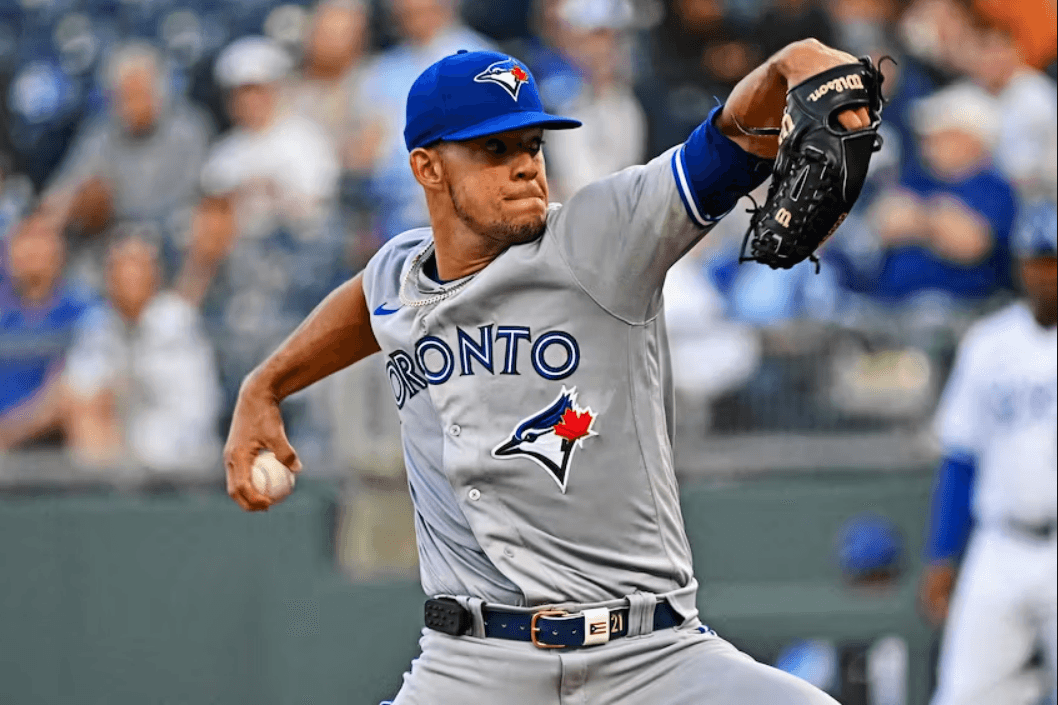 Photo credit:Peter Aiken - USA Today Sports
José Berríos was not good in his first start of the season on Monday, to put things lightly.
He allowed eight runs in 5 2/3 innings on nine hits and walked two. He did strike out seven but the damage was done. The fact that he was smacked around by a light-hitting Kansas City Royals team made the result all the more concerning.
The issue for Berríos, as was the case last season, was the fastball location. Just take a look at the pitch locations of the nine hits…
Those three fastballs down the middle resulted in exit velocities of 103.1 mph, 101.2 mph and 99.8 mph, three of the eight hardest-hit balls of the night. What's concerning about this, is that this is not a new issue for Berríos. He struggled with this all of last season and was working on trying to correct it this past offseason, as he
discussed with Travis Sawchik from theScore
.
The real question though should be why is Berríos even throwing a four-seam fastball in the first place?
It has average velocity, average spin, and doesn't have any drastic movement like rise. Last season by run value it was a
bottom 10 worst pitch in baseball
. This isn't new either, per
Baseball Savant
, since 2020 hitters have hit .324/.389/.601 against Berríos' four-seamer. You have to go back all the way to 2019 the last season Berríos had an effective fastball. Even back when he was with the Twins his sinker was always the better of his two fastballs. Over that same time frame since 2020 batters have hit .266/.340/.384 against the sinker.
Looking at the pitches, the two of them are very similar. Can you tell from the following videos what pitch is the sinker and which one is the four-seamer?
The four-seamer is the one that's thrown at 95mph. You can probably tell the sinker has a little bit more movement but the point is both pitches have arm side run, with the same velocity and spin rate. The difference being Berríos has shown a little better location with the sinker last season…
Is the sinker in the perfect spot? No, there are still too many of them out over the heart of the plate, but he is at least able to run the sinker in on righties/away from lefties with some regularity. Compared to the four-seamer where seemingly everyone is right in the heart of the plate. Berríos threw his four-seamer 27.9% of the time last year and his sinker 25.8%. The sinker he uses almost exclusively against righties and the four-seamer he throws more to lefties. The sinker could be a weapon against lefties as we see in the above video. He gets up under Melendez's hands and he gives up on it as cuts back into the zone. In this start, he did throw nine of 21 sinkers to lefties, so this could be something we see more of going forward. He cannot keep throwing the four-seamer 25.8% of the time as he did against the Royals, and expect results with that location, especially when 18 of the 23 four-seamers thrown were to lefties.
Part of the problem for Berríos, as mentioned in that Sawchik article from above, is that while Berríos' stuff remains unchanged, it's gotten worse relative to the league.
FanGraphs
has started hosting pitch modelling stats, developed by Eno Sarris and included in that is the stat Stuff+. And with that, we can see the decline in Berríos stuff over time…
He went from 13 percent above the league average in 2020 (the first season Stuff+ is available) to exactly league average two years later. While it's only been one start the early results from 2023 are trending in the wrong direction.
The same issue as with his fastball/sinker arises with his slurve and change-up. Neither pitch has a ton of movement (though they do at least move in opposite directions) and they both are thrown with the same velocity. Berríos throws four different pitches but only at two different velocities. That makes things much easier for a hitter they can afford to sit either fast or slow and then can react to the movement of the pitch. This could be part of the reason we see Berríos give up hard-hit balls on pitches outside the strike zone, or you see swings and think the hitters almost know what's coming.
It's hard to believe he is tipping pitches or has some tell that tips hitters off. Personally, I think hitters can sit on velocity and when they guess right it's a hard-hit ball and when they guess wrong it's a strikeout. All hitters are different of course and it's impossible to say what each individual hitter is looking for, but this idea might explain why Berríos can still strike out seven despite allowing eight earned.
The other theory is that Berríos has been in the league a long time and has thrown the same four pitches his whole career without any real changes to them…
It's quite possible, especially for a pitcher who doesn't necessarily have elite stuff, that perhaps hitters are just familiar with his pitches and know what to expect?
Berríos talked about
making mechanical changes at the beginning of Spring Training
, and we could see those changes in this start. He's moved over on the rubber and his feet are separated with his front foot closer to the third base side of the mound. Given his struggles last season, he had to do something but it's surprising he's not throwing a new pitch. Given that for his career his most commonly used pitch is a curveball (now being classified as a slurve), he seemed like the type of pitcher who could easily start throwing the sweeper pitcher that is making waves across the league.
The sweeper would really be the perfect complement to Berríos' arsenal. Other pitchers have thrown it as hard as 85mph+ and as soft as 79mph. Either one of those velocity buckets would be perfect for Berríos. At 85-86mph, that's faster than the slurve and change while still significantly slower than the fastball, and at 79mph, it would be close to 5mph slower than the slurve. Plus sweepers have a ton of horizontal movement which would give hitters another different look from his sinker and slurve.
Ideally, he would have cut his fastball usage down and added a sweeper. There were seven pitchers last season who had a worse run value than Berríos' fastball. Five of those pitchers either significantly reduced the usage of that pitch or made a noticeable change to it. The ones who didn't were Kyle Bradish of the Orioles who threw his bad pitch, the four-seam, almost exclusively outside the strike zone. The other, Austin Gomber of the Rockies, made no changes to his poor pitch also the fastball, and the Rockies aren't exactly an organization you want to be emulating.
There weren't many positives to take from Berríos' first start. He made some mechanical changes but they were relatively minor. This wasn't a Robbie Ray-type adjustment from 2020 to 2021 where there was a significant arm angle/delivery change.
In his first start, Berríos showed the same pitches, the same pitch mix in the same locations as last season. It was only one start and things can change but I think everyone was hoping to see something a little more out of Berríos in this one. You have to hope that the Blue Jays and José Berríos can figure things out and do it quickly. The Blue Jays need Berríos to be a major part of their rotation if they are to contend this season.
---