There's no reason for the Blue Jays to keep Davis Schneider on the bench moving forward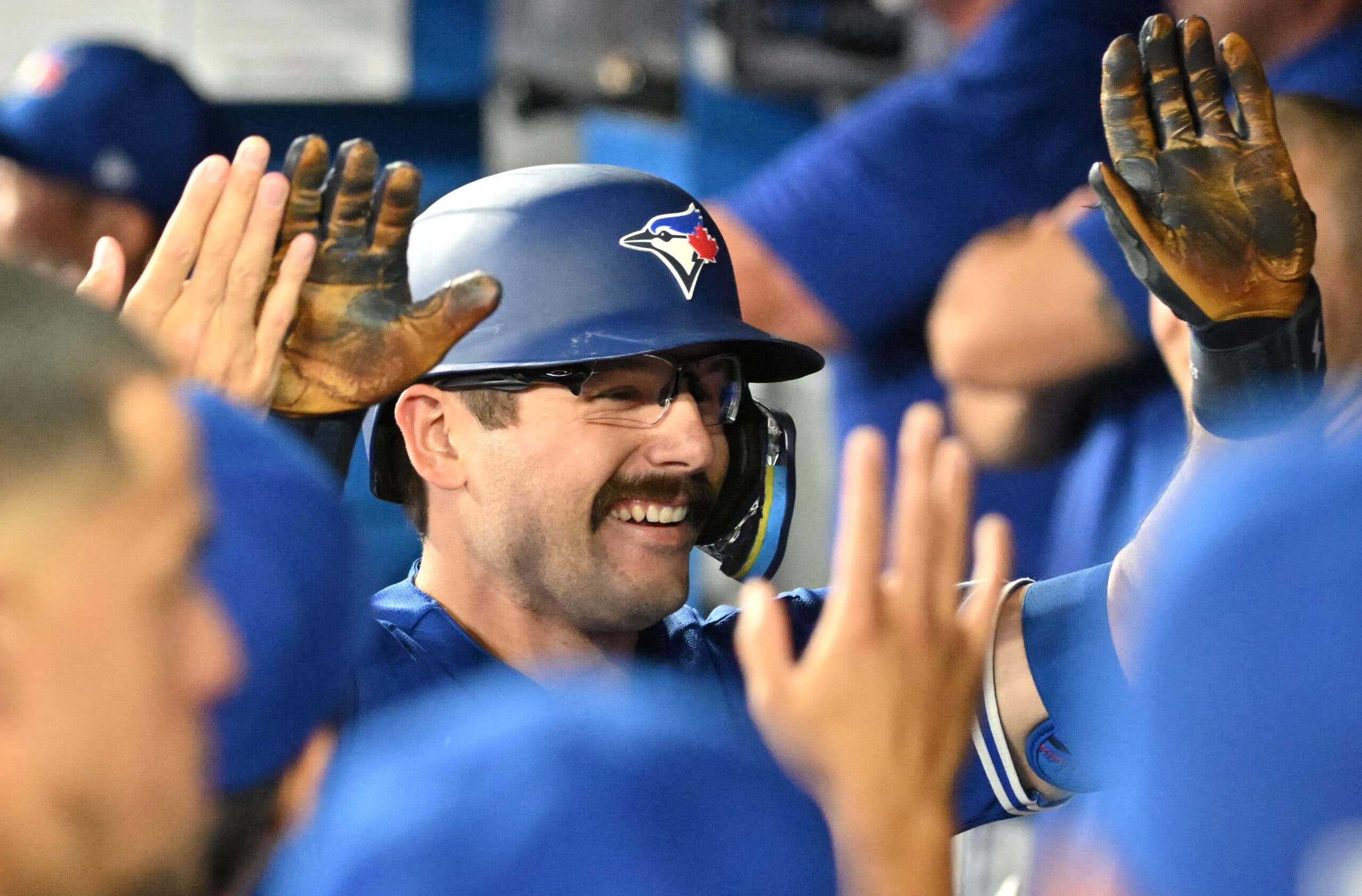 Photo credit:Dan Hamilton-USA TODAY Sports
The Toronto Blue Jays may have dropped the weekend series against Cleveland but one thing is for certain – rookie
Davis Schneider
continues to swing a hot bat.
The 28th-round pick back in 2017 is the feel-good draft story most baseball fans look for; drafted in the later rounds, struggled at times and contemplating quitting at one point in the Minors, and now finds himself on the big league stage and hitting big home runs because of hard work and his play on the field to get to that point.
With an elegant mustache to boot, Schneider gave the Jays a bolt of energy when he first stepped into the batter's box back in Boston on August 4th, smashing a home run to left field over the Green Monster off Canadian James Paxton, an ironic twist for a Blue Jays fan. He didn't stop there either, collecting another home run and nine hits total during the Jays three-game trip to Boston, resulting in a needed sweep that gave the Blue Jays back their momentum in a tough AL East division. Not everything has been rosy for the right-handed batter though, as Schneider went on a three-game stretch following the Boston series where he couldn't buy a hit and struck out five times, but a recent tw0-game stretch where he found himself back in the lineup saw the New Jersey product give the Jays the lead on two separate occasions against the Guardians because of his home run power to left field (even if the Jays lost yesterday's contest).
Davis Schneider needs to start games for the Blue Jays through September
The bench has been an awkward topic for the Blue Jays this season, as it seems the coaching staff has decided to use pretty much every player on the team except for one player, whether that be Nathan Lukes, Jordan Luplow, Ernie Clement, and most recently, Schneider. While the Jays lineup is deep with veteran talent and playing time can be limited, Schneider found himself sporadically in the lineup dating back to August 10th and he actually sat on the bench for over a week before finding himself in the starting lineup on Saturday, where his home run became the difference-maker at the end of the day.
Amongst the Blue Jays bench sits
Cavan Biggio
and
Santiago Espinal
, both of whom have the advantage over Schneider when it comes to Major League service time. While that may be the case, their play on the field has been inadequate as of late in regards to what Schneider has accomplished, at least from a statistical standpoint and from the "eye test".
Espinal has struggled mightily this year, owning a .213 average and a .576 OPS through 183 at-bats. Furthermore, the Dominican product has also not been sure-handed defensively, which is a shade of his former self considering many would consider him a defensive-minded player first and foremost (-4 run value and a -5 Outs Above Average with nine errors on the year). Biggio has seen his fair share of ups and downs in the batter's box this season but lately, he too is struggling to put the ball in play, posting a .217 OBP through his last 21 at-bats. The lefty-batter can hit the long ball and play in the outfield as well, a benefit over Espinal but one that currently pales to Schneider at least in the interim.
With the Blue Jays currently 2.5 games back of Houston and Texas in the Wild Card standings, it should be all hands on deck as the season moves into September. We have seen the Jays like to play the "lefty-righty" matchups when it comes to opposing pitching but with Schneider continuing to find ways to put runs on the board for a club that has struggled with RISP issues, there really shouldn't be a scenario where Biggio or Espinal is getting the nod over "Babe" at second base or in the DH spot. Considering Bichette and Chapman both left yesterday's game with their own ailments, the club may need Biggio and Espinal to fill in accordingly but when everyone is presumably healthy, Schneider's bat needs to find a way into the lineup.
The tricky part with this is getting Schneider at-bats when Whit Merrifield slots in at second base and Daulton Varsho and Kevin Kiermaier are in their respective positions, meaning Brandon Belt is likely in at DH and Schneider is the odd man out unless he gets the DH spot over the former Giant. While that is explainable from a defensive positioning standpoint, moving forward, Schneider should be getting the starting spot over Biggio/Espinal at second base and it really isn't debatable at this point.
The Jays are outside of a playoff spot with a mixed schedule to finish out the year but need every win they can get unless they want to rely on other teams to determine their playoff fate come the end of the month (which didn't work out so well in 2021). After a weekend with two home runs, five hits, and solid defensive play in left field, sitting him for another week while Biggio and Espinal continue to struggle in the batter's box does no good for a team on the outside looking in when it comes to the postseason.
Let the best players play. It's just that simple.
---