Top to Bottom: Thoughts on all of the Blue Jays pitchers at the All-Star break
Photo credit:© Evan Habeeb-USA TODAY Sports
I talked earlier this week about the 18 position players who have played for the Blue Jays this season, and, next up, we have the 31 (!!!) guys who have pitched for the team thus far.
The fact that the Blue Jays have used so many different pitchers perfectly sums up what the experience has been for the team in the first half of the season. The pitching staff has been decimated by injuries and the Blue Jays have had to dig deep to find guys to log innings and many of them have been ineffective, hence why Toronto ranks below average in the American League in terms of both starter and bullpen ERA.
Let's talk about all 31 of these pitchers, how they've done, and what we can expect from them in the second half.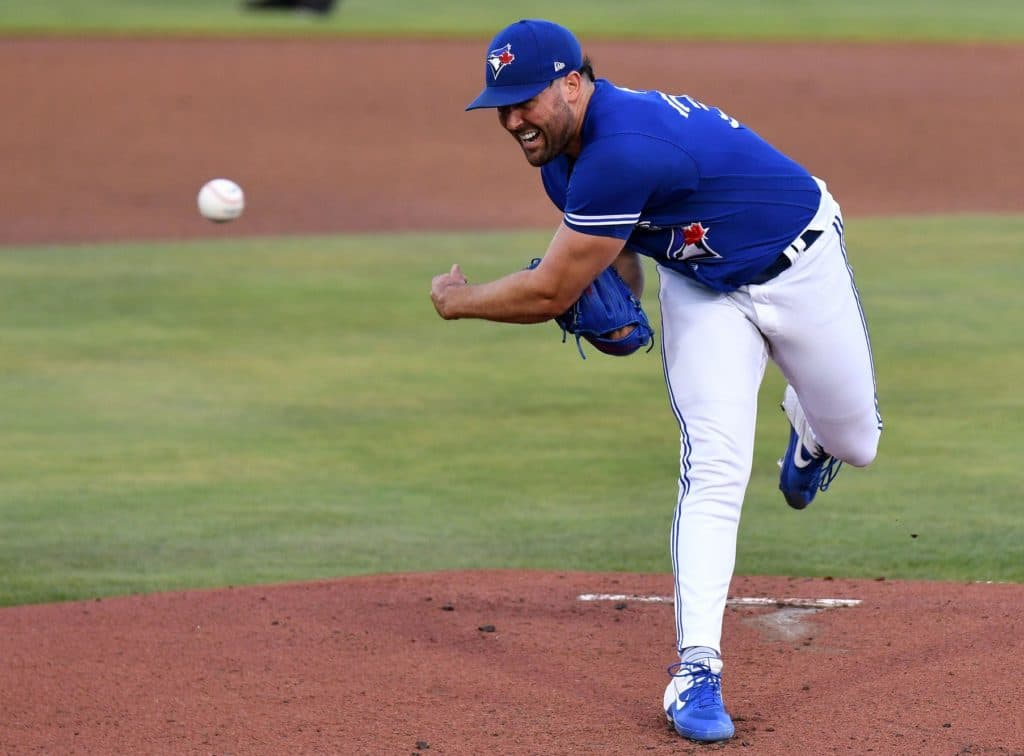 Jonathan Dyer-USA TODAY Sports
Robbie Ray (1.5 WAR)
I think a lot of people expected Robbie Ray to bounce back from the nightmarish season he had with Arizona in 2020 given his solid results after being traded to the Blue Jays, but I doubt that many predicted he would be the team's ace coming out of the All-Star break. But here we are.
Ray has been excellent this season. Through 17 starts, he sports a 3.13 ERA, is striking out 11.6 batters per nine, just shy of the 12.1 career-high he had back in 2017 when he got Cy Young votes, and, most importantly, his walks per nine is down to 2.1, significantly better than the 4.3 he averaged through his career coming into this season.
It'll be great for the Blue Jays if Ray keeps this up the rest of the way. It'll also be great for him, because he'll get himself paid a fat bag of cash in the winter.
Hyun Jin Ryu (1.1 WAR)
Ray stepping up and having the season he's been having thus far has been huge because it ultimately helps to offset the fact that Hyun Jin Ryu hasn't been the same ace that he was for the Blue Jays last season.
In 2020, Ryu was unquestionably Toronto's MVP. He was really their only consistent starter and gave them a good outing just about every time he took the mound. This season, though, Ryu hasn't been quite as effective. Through 17 starts, he has a 3.56 ERA, which is still good, but not the third-in-Cy-Young-voting 2.69 ERA he posted last year.
The trend lately for Ryu has been worrying. Over his last seven starts, he has a 4.91 ERA and has23 strikeouts to 15 walks. His velocity is down slightly and his signature pitch, the change-up, hasn't been as dominant as a result. It's difficult to say what the issue is, whether Ryu is dealing with some kind of nagging injury, but the Blue Jays need something closer to 2020 Ryu than what we've seen since June in order for the team to go on a run in the second half.
Steven Matz (0.9 WAR)
What a rollercoaster ride the Steven Matz Experience has been.
Back in April, many of us were ready to lock Matz up long-term after he posted a 2.31 ERA over his first four starts. Since then, though, Matz has been all over the grid, putting up a good start and then getting lit up the next time out. All told, since those first four starts, Matz has posted a 5.77 ERA, though his FIP indicates he's been having a bit of tough luck.
I'll also use this spot to talk about a pitcher who hasn't yet suited up for the Blue Jays this year — Thomas Hatch. Over his last two outings in Triple-A, Hatch has tossed 10 innings, scattering just one earned run on four hits and three walks while striking out 12. If Matz continues to struggle, Hatch would be the logical choice to fill his role in the rotation, though he would also fill a need as a multi-inning guy out of the bullpen, as he did last season.
Jordan Romano (0.7 WAR)
Jordan Romano has been the only consistent are coming out of Toronto's bullpen this season. Save for a short trip to the Injured List back in April with ulnar neuritis, Romano has been healthy all year and he's been excellent at the back of the team's bullpen.
Romano was very good in 2020, posting a 1.23 ERA with 12.9 strikeouts per nine innings, but the 14 2/3 innings sample size was too small to determine whether he was legitimately a late-game reliever. Romano's 1.93 ERA and 11.0 strikeouts per nine over 32 2/3 innings this year has erased that skepticism.
Tim Mayza (0.5 WAR)
Tim Mayza has been a great story this year. He suffered a terrifying injury back in 2019, missed all of 2020, came back on a minor-league deal with an invitation to spring training in 2021, and beat out veteran Francisco Liriano to crack the Blue Jays roster.
In his first 12 outings, Mayza didn't allow a single run, but then he ran into a really, really ugly patch in May, allowing 12 earned runs over 5 1/3 innings over seven outings. Since June, though, Mayza has gone back to being effective, as he's allowed just two earned runs over his last 18 games.
Mayza made an adjustment during his bad stretch, opting to throw his sinker more than his four-seam fastball, which has resulted in an uptick in velocity and more ground balls. Outside of that seven-game stretch, he's been one of Toronto's best relievers. Let's hope this adjustment works for him the rest of the way.
David Phelps (0.4 WAR)
This one is a real damn shame. Phelps was really, really good for the Blue Jays this year, posting a sparkling 0.87 ERA over the course of 12 outings. Unfortunately, he suffered an injury back in early May and surgery on his right lat and will miss the rest of the 2021 season.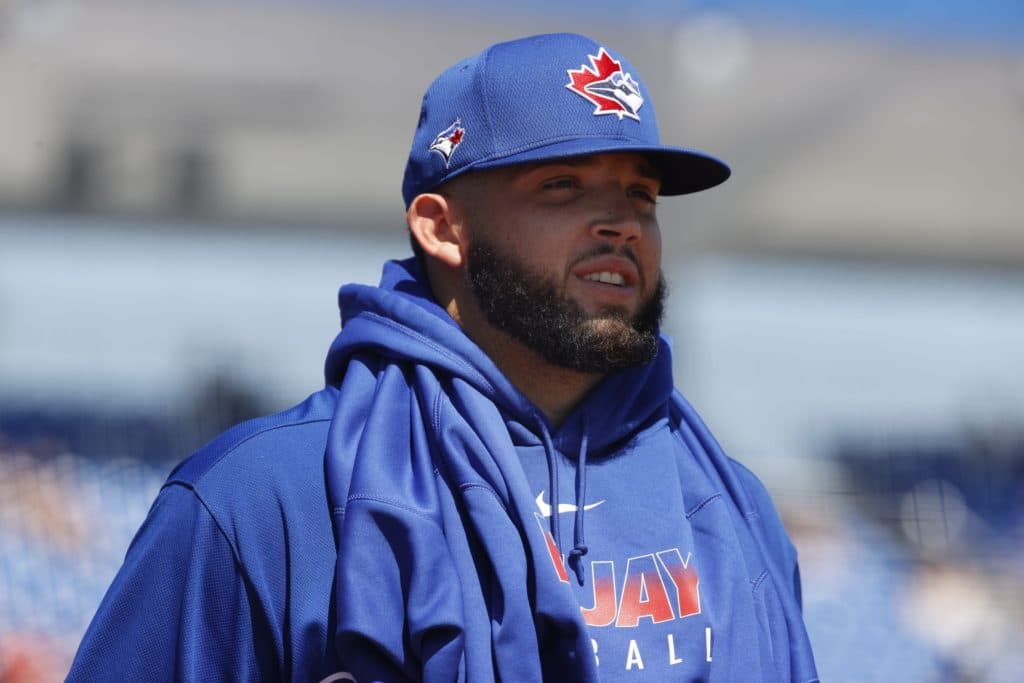 Kim Klement-USA TODAY Sports
Alek Manoah (0.4 WAR)
Alek Manoah has had the season that most of us hoped that Nate Pearson would have this year.
He came into spring training, absolutely dazzled, and was placed in Triple-A to kick off the season despite rookie ball being the highest professional level he had pitched at before. After just three outings with the Thunder-Bisons, Manoah kicked the door down and earned a shot with the Blue Jays. He hasn't looked back.
Through eight big-league starts, Manoah has a 2.90 ERA and is striking out 11.6 batters per nine with 3.3 walks per nine. Manoah's swagger and animation on the mound has also immediately endeared himself to fans.
Manoah has had a couple of tough starts, including his most recent one against Tampa Bay, but the amazing outings, such as a seven-inning three-hitter against those same Rays, have overshadowed those struggles. The reality is Manoah has been a revelation for a team badly in need of a good, right-handed starter. Getting this has been huge given the fact Pearson, as I'll touch on later, hasn't been able to contribute.
Julian Merryweather (0.4 WAR)
It was only four-and-one-third innings, but, boy oh boy, what a four-and-one-third innings it was. Julian Merryweather put himself on the map in April with a handful of glorious outings that made it appear as though he was going to be Toronto's closer moving forward.
Unfortunately, as has been the theme with his entire career, Merryweather got hurt and has fallen off the grid. He's dealing with an oblique injury and suffered a setback last week while ramping himself back up to return.
It would be great to get Merryweather back because it would give the Blue Jays another arm at the back of their bullpen, but, honestly, based on history, it's difficult to bank on that happening.
Ross Stripling (0.2 WAR)
Ross Stripling has been the anti-Ryu this year.
While Ryu started well and has since started to struggle, Stripling has had the opposite arc, turning things around after a horrendous start to the season to become a solid middle-of-the-rotation arm for the Blue Jays.
Back in late May, Stripling made a change to his delivery, keeping his glove closer to his body to avoid tipping his pitches. Since then, over nine outings, Stripling has posted a 2.90 ERA and has looked much, much more like the guy who was a solid, under-the-radar swingman for the Dodgers between 2016 and 2019.
Ryan Borucki (0.2 WAR)
Outside of one bad outing against the Braves, Ryan Borucki has been excellent for the Blue Jays this season. Unfortunately, like with many others, he's spent more time on the Injured List than he has on the team.
Borucki is currently doing a rehab assignment in Triple-A and has posted back-to-back-to-back scoreless outings. Getting him back will be huge for the bullpen.
Anthony Castro (0.2 WAR)
Anthony Castro has been an interesting arm for the Blue Jays this year. He was claimed off of waivers from the Detroit Tigers and being unable to crack that roster isn't exactly a ringing endorsement. That said, Castro has had a lot of strong outings for the Blue Jays this year.
His 5.31 ERA isn't good, but a lot of that comes down to a few outings in which Castro earned runs and only recorded one out. 15 of his 22 outings have resulted in zero earned runs.
Castro hasn't been able to grab a late-inning role when it's been presented to him this season, but if he can find a groove as a solid middle innings arm, that's a win for a waiver pick-up.
Jacob Barnes (0.1 WAR)
The sample size is small, but the early returns on Jacob Barnes have been good.
The Blue Jays grabbed Barnes from the Mets in exchange for a low-level prospect back in June. He struggled in 2019, 2020, and early on in 2021, but had a track record of success from back with the Brewers in 2016, 2017, and 2018. So far, Barnes has tossed 6 2/3 innings and has allowed two earned runs while striking out 10.
The Blue Jays just need to find solid arms to log innings at this stage and Barnes has been exactly that.
Trevor Richards (0.1 WAR)
Another in-season acquisition by the team is Trevor Richards, who the team acquired in exchange for Rowdy Tellez. Unlike Barnes, Richards has a recent track record of success, as he was quite good for the Brewers over 19 2/3 innings after being acquired from the Rays in the Willy Adames deal.
Richards hasn't allowed a hit or a walk in his first two outings with the Blue Jays. Again, microscopic sample size, but a nice start.
David Richard-USA TODAY Sports
Tyler Chatwood (0.1 WAR)
Through the first month-and-a-half of the season, Tyler Chatwood was untouchable. He carried a 0.53 ERA with 24 strikeouts to five walks through his first 16 outings, and then completely lost his command.
In a late May game against the Rays, Chatwood allowed four runs while recording only two outs. That was the first of multiple meltdowns we've seen over the past couple of months. Beginning with the Rays meltdown, he sports a 13.09 ERA over his last 14 outings with eight strikeouts and 15 (!!!) walks.
Chatwood is currently on the Injured List with Right Arm Shittyness and, naturally, the wonder here is if he lost his grip because of MLB's crackdown on the sticky stuff.
Anthony Kay (0.1 WAR)
Anthony Kay was given an opportunity to snag a spot in the Blue Jays starting rotation early in the season when multiple arms were down with injury but he wasn't able to capitalize. Kay has had some nice starts, such as a five-inning, eight-strikeout showing against the Orioles, but poor command has made it difficult for him to go deep into games.
At this stage, it looks like the bullpen is Kay's future, but, again, due to the command issues, he's a hard one to trust in high-leverage spots.
Tayler Saucedo (0.1 WAR)
Though we've pretty much exclusively seen him in low-leverage spots, Tayler Saucedo has been effective for the Blue Jays thus far. A 28-year-old former 21st-round draft pick, Saucedo was added to the 40-man roster back in June and has made nine appearances since, allowing just one earned run.
Again, save for that implosion against the O's, these have all been in low-leverage spots, but there could be something here.
Adam Cimber (0.1 WAR)
The Marlins hated Corey Dickerson so much that they gave the Blue Jays Adam Cimber essentially for free. The cost of acquisition was a depth prospect and Joe Panik and Toronto got themselves a quietly good reliever who can pitch multiple innings and help the team bridge the gap better starters and Jordan Romano.
Cimber has tossed four outings for the Blue Jays and he's only surrendered two hits. This looks like quite the deal.
Joel Payamps (0.1 WAR)
Joel Payamps, another off-season waiver addition, has pitched to some very good results this season. He has a 2.70 ERA through 30 innings, and while his 22 strikeouts to 11 walks aren't exactly eye-popping, he ranks in the top four percent of the league in terms of limiting hard contact.
He's currently in Triple-A due to a roster shuffle, but we'll surely see Payamps up again at some point this season. He might not be a high-leverage arm, but he has a starter's repertoire and can pitch multiple innings, which certainly has value.
Tommy Milone (0.1 WAR)
Tommy Milone, famously rocking No. 69, came out of the old folks' home and gave the Blue Jays some effective innings early in the season when they badly needed them.
He's been on the shelf since May 1 with shoulder inflammation and is currently working on a rehab assignment. Depth is depth and you can never have too much, but, if all goes well, we won't see Milone starting games for the Blue Jays in the second half.
A.J. Cole (0.1 WAR)
I was surprised that Cole only managed to get another minor-league deal with the Blue Jays after the solid season he had in 2020. He didn't crack the team out of spring training, but got added to the 40-man in May, came up, tossed eight innings and allowed only one earned run.
Unfortunately, Cole has since been placed on the 60-day IL with an oblique strain and we have no idea if or when he'll be back.
Nick Allgeyer (0.0 WAR)
Nick Allgeyer pitched well enough in Triple-A early on that he was added to the 40-man roster when the Blue Jays had just about everyone on the IL. He went up and down a few times before finally making his debut, a clean frame to close out an 11-1 win over Tampa Bay.
He's had a pair of rough outings in relief since going back down to Triple-A but we can safely say that can largely be chalked up to having his routine messed up from taking the bus back and forth from Buffalo to Trenton.
(Photo by Mitchell Leff/Getty Images)
Rafael Dolis (0.0 WAR)
After being arguably the Blue Jays' most effective reliever in 2020, Rafael Dolis has struggled mightily in 2021, allowing 15 earned runs over 23 1/3 innings.
Walks were an issue for Dolis last season but he always seemed to manage to wiggle his way out of jams. That hasn't been the case this season. Command yet again is an issue, but the Dolis rollercoaster ride has featured more implosions than successful tightrope walking this time around.
I wouldn't pull the plug on the Dolis Experience just yet but I also don't love the idea of him pitching in high-leverage, either.
Ty Tice (-0.1 WAR)
Ty Tice was added to the 40-man roster ahead of the Rule 5 Draft and made four appearances for the Blue Jays this season, scattering four earned runs over eight innings and walking nearly as many batters as he struck out. The right-handed Aaron-Loup-lookalike is now a member of the Braves.
Nate Pearson (-0.1 WAR)
What a nightmare season it's been for Big Nate.
He suffered a groin injury in spring training, built himself up over the month of April, made one four-inning start in Triple-A, got called up, and got shelled by the Astros. Pearson went down again after that, struggled to throw strikes against Triple-A competition at first, and then, just as he seemed to be finding his groove, he suffered another groin injury.
We don't know when Pearson will be back but it's safe to assume there isn't time to stretch him out as a starter this year. He might come back and be a bullpen weapon for the team later on in the season, but, unfortunately, his body of work over the 2021 season hasn't inspired much confidence at all.
The team will have to decide whether it's best to see if he can contribute in a bullpen role or just keep him down in Triple-A and work on fixing the issues that ultimately hold him back from consistently being able to throw strikes and get deep in games. As great of a bullpen addition as Pearson could be, if the goal is still for him to be a starter in 2022, the latter might be the way to go.
Patrick Murphy (-0.1 WAR)
Patrick Murphy suffered an injury during spring training and didn't return to action until late May. Based on his work in 2020 and his success in Triple-A ad he was building up, there was valid optimism that Murphy could be a game-changer to Toronto's bullpen.
That hasn't happened. Murphy has tossed some good outings but he's also been knocked around a couple of times. All told, he's allowed five earned runs on eight hits and three walks over seven innings while striking out four. Murphy has found himself back in Triple-A, a level he's dominated over 12 innings of work.
Let's hope he can make it translate to the big league level in the second half.
Carl Edwards Jr. (-0.1 WAR)
The Blue Jays took a flyer on Carl Edwards Jr. as a reclamation project and, after seven outings, he suffered an oblique injury and is now on the 60-day Injured List. His five-and-one-third innings weren't all too inspiring, either, as he allowed four earned runs on eight hits, including two homers.
Tanner Roark (-0.2 WAR)
The fact the Blue Jays pulled the plug on the Diesel Engine despite the myriad of injuries they were dealing with really does show just how little they wanted him around.
Roark made one start against the horrendous Rangers and allowed five earned runs over three innings. He got a couple of mop-up outings after that, but the Blue Jays ultimately decided they didn't want to keep him in that role either and just ate the rest of his contract.
All told, Roark was paid $24 million to post a 6.75 ERA over 54 2/3 innings for the Blue Jays. Woof.
Travis Bergen (-0.3 WAR)
Travis Bergen had some very good results this season, allowing just two earned runs over 10 2/3 innings, but his peripheral numbers suggested that was a mirage. He walked eight batters over that stretch while only striking out six. Also, the fact he exclusively threw a fastball wasn't necessarily a recipe for success.
Bergen has since been designated for assignment and cleared waivers. We may or may not see him again this season, but getting nearly 11 successful-but-unsustainable innings out of the guy you traded for Robbie Ray last summer is a win.
Jeremy Beasley (-0.3 WAR)
One of the throw-it-against-the-walls-and-see-if-it-sticks acquisitions the Blue Jays made for their pitching staff when times were tremendously dire, Beasley allowed eight earned runs over nine-and-one-third innings of work. He was designated and cleared waivers.
Trent Thornton (-0.6 WAR)
It seems like a lifetime ago that Trent Thornton led the Blue Jays in innings pitched. That was 2019.
After missing virtually all of 2020 due to injury, Thornton came back this season to a bullpen role and did quite well early on. He started to earn himself some more high-leverage roles, but an inability to keep the ball in the yard put an end to that experiment pretty quickly.
Thornton is currently pitching in Triple-A. We'll surely see him again, but likely in more of a long-man role than in late innings.
T.J. Zeuch (-0.7 WAR)
Finally, we have the former first-round pick, T.J. Zeuch.
We heard a bunch in the off-season about how Zeuch was great at the Alternate Training Site last summer and that his velocity had increased due to the work he was doing there. Unfortunately, it hasn't translated to any success at the big league level, as Zeuch posted a 6.60 ERA over five outings with the Blue Jays.
The team hasn't yet tried him as a bullpen arm, but, given the fact he doesn't miss any bats, it's hard to say if he can be effective in such a role. Being a mop-up, long-guy might be the best-case scenario here.