Top to Bottom: Thoughts on all of the Blue Jays position players at the All-Star break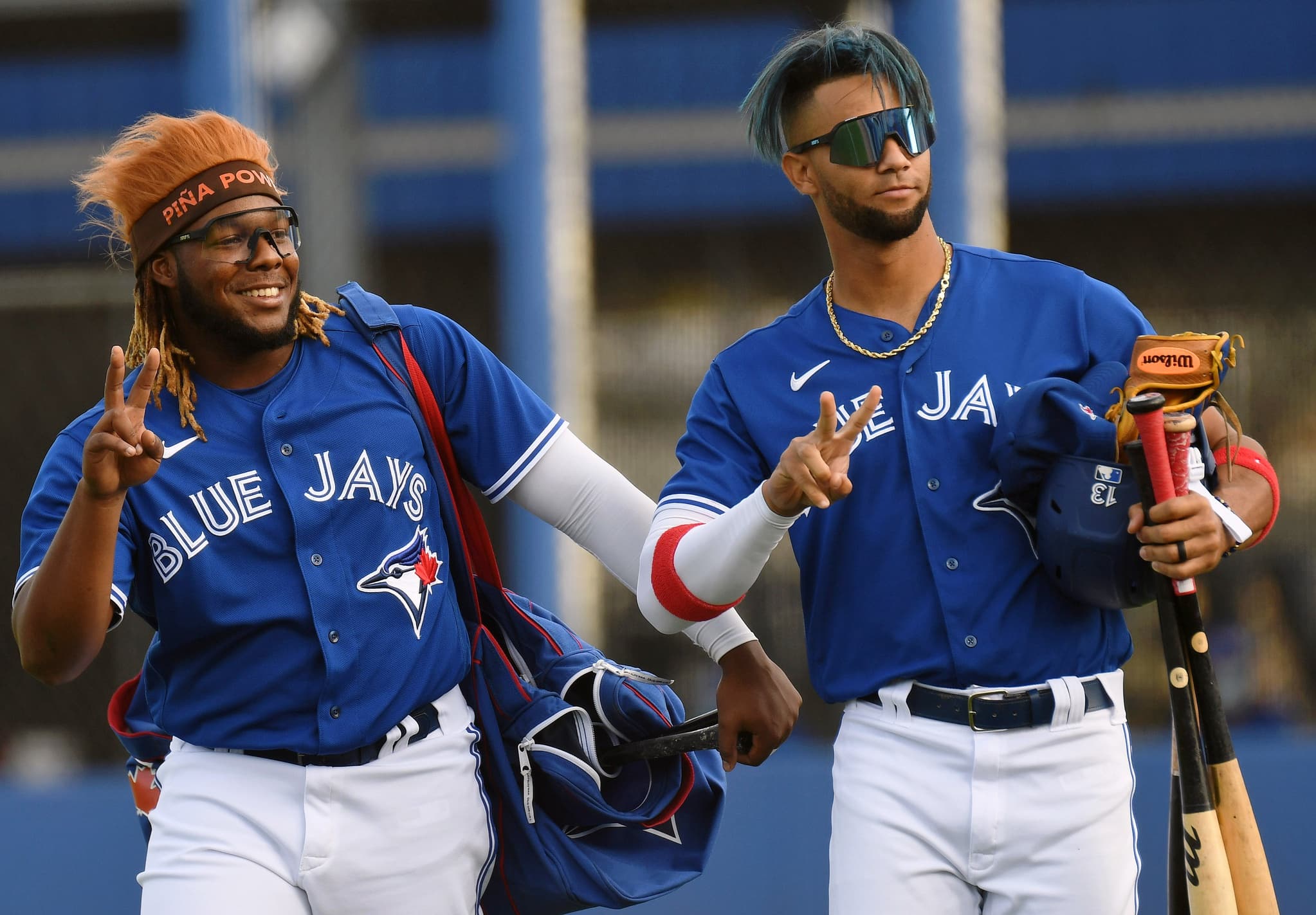 Photo credit:© Jonathan Dyer-USA TODAY Sports
We're at the All-Star break and the Blue Jays are sitting third in the American League East with a 45-42 record, four-and-a-half games back of the Oakland A's for the second wild-card seed with a pair of teams in Cleveland and Seattle to hop.
To be blunt, the first half has been a strange ride. The bats have been quite good, the starting pitching has been fair, the bullpen has largely been a mess, and there have been a whole bunch of injuries. Put it all together and the Blue Jays are wildly underachieving based on their run differential, as their Pythagorean record courtesy of Baseball-Reference sits at 50-37.
With nothing going on for a few days, I'm going to take a look at everybody who has suited up for the Blue Jays this season, what they've done so far, and what we can expect from them in the second half. I'll start with the 18 position players and rank them based on FanGraphs' wins above replacement.
Vladimir Guerrero Jr. (4.6 WAR)
There isn't much that needs to be said here. Vladdy's breakout season has been magnificent.
He's currently slashing a .332/.430/.658 line with 28 homers. With a strong second half, he could feasibly break Jose Bautista's franchise record for homers which was set when he exploded for 54 bombs back in 2010, and he could also eclipse Carlos Delgado's single-season OPS record of 1.134 that was set back in 2000.
If not for Shohei Ohtani's impossible season as a legitimate top-end starter who's leading baseball in homers, Vladdy would surely be the frontrunner for American League MVP. Long story short, Vladdy has arrived and the best is yet to come.
Marcus Semien (3.9 WAR)
Another player who will likely earn himself MVP votes — and a whole bunch of cash — is Marcus Semien.
The Blue Jays' one-year, $18 million investment in Semien has already paid off. He's slashed a .277/.345/.528 line with 22 homers while playing very good defence at second base. He's looking a lot more like the player who finished third in MVP voting back in 2019 and nothing like the player who struggled in 2020 to an extent that Oakland didn't bother giving him a qualifying offer.
Semien playing this well is an insane bargain for the Blue Jays, and it's also going to earn him a massive bag of cash this winter. I'm not sure that deal will be in Toronto, but we'll enjoy Semien returning to MVP form as a Blue Jay while we can.
Bo Bichette (2.6 WAR)
Somewhat lost behind Vladdy's breakout season is the strong campaign that Bo Bichette is putting together. After missing a good chunk of 2020 due to injury, Bo has been healthy all year thus far and has slashed a .293/.342/.483 line at the plate.
The Blue Jays' win over Tampa Bay on Sunday was the 162nd game of Bichette's career. For his career, he has a .300 batting average, a .858 OPS, 32 homers, 101 RBIs, and 20 stolen bases. Since 1970, only one shortstop produced such numbers (a .300 batting average, 30 homers, 100 RBIs, and 20 stolen bases) in the first 162 games of his career — Alex Rodriguez. That's good company!
Now, of course, there's another side to Bo this season, and that's his challenges at short. FanGraphs has him at -1.7 defensive value and the eye-test certainly backs that up. We've seen quite a few gaffes from Bo this season, bobbling ground balls and sending ill-advised and inaccurate throws to first base.
Regardless, whether fans like it or not, the Blue Jays are going to give Bo all of 2021 to figure it out at short. If the struggles continue all season, it might be something that gets addressed in the winter. But we won't be seeing him and Semien switch mid-season.
Teoscar Hernandez (1.2 WAR)
Finally, we have our fourth All-Star — Teoscar Hernandez.
Teoscar hasn't been quite as good as he was last year when he led the Blue Jays with a .919 OPS and earned himself multiple MVP votes, but he's been a quality middle-of-the-lineup bat. Hernandez's power is slightly down from last year (.473 slugging percentage compared to .579), but, on the bright side, his on-base numbers are still in line with what he did in 2020.
It would be nice to see Teoscar get hot down the stretch and hit for the same power as he did last season but we certainly can't complain about his production this year.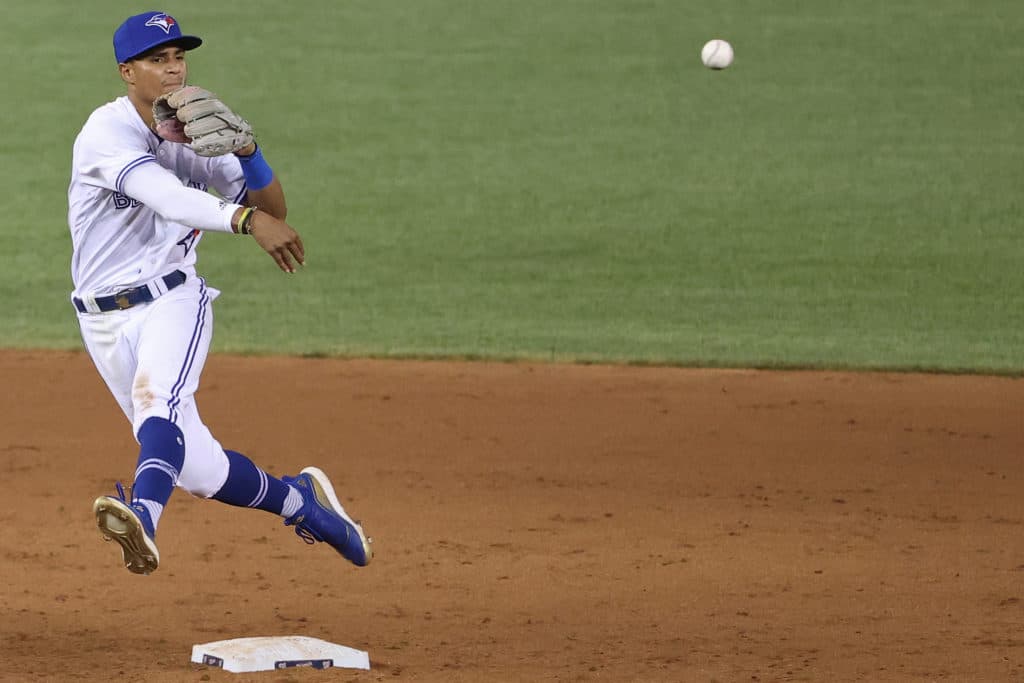 Geoff Burke-USA TODAY Sports
Santiago Espinal (0.9 WAR)
One of the nicest revelations from the first half of the season has been Santiago Espinal pushing to become a full-time big leaguer.
We knew that he had a very good glove, both at short and at third, but Espinal has also been effective with the abt thus far. Through 50 games, he's slashing a .321/.367/.420 line with seven extra-base hits. Some of that is certainly being carried by a .380 BABIP, but Espinal has done more than enough to warrant playing time in the second half. Simply having his glove at third makes the team better.
Reese McGuire (0.8 WAR)
The Blue Jays have gotten more out of Reese McGuire this season than anybody reasonably expected back in April.
Coming out of spring training, McGuire got designated for assignment as the team opted to roll with a duo of Danny Jansen and Alejandro Kirk behind the plate. McGuire cleared waivers and got himself another shot with the team when Kirk got injured and he ran with it.
Over the month of June, McGuire played in 21 games and slashed a shocking .344/.385/.492 line. We all know that he isn't going to keep that up, but it's also fair to assume McGuire is better than the guy who went 3-for-41 last season. It's also fair to assume that he won't get through waivers again if the Blue Jays try to send him down.
With Jansen on the roster, McGuire without options, and Kirk waiting in Triple-A, the Blue Jays have themselves a difficult situation to deal with. Somebody is going to end up getting dealt, but we have no idea who that's going to be.
Randal Grichuk (0.5 WAR)
Though he's completely fallen off of a cliff recently, Randal Grichuk's hot start to the season was critical for the Blue Jays as they navigated George Springer's injury.
Between April and May, Grichuk played in 52 games, had a solid glove in centre field, and slashed an excellent .289/.322/.497 line. Since the start of June, though, Grichuk has slashed a .214/.237/.405 line over his last 33 games.
With Springer back and Corey Dickerson's debut likely around the corner, Grichuk is going to have to hit to stay in the lineup consistently.
Lourdes Gurriel Jr. (0.2 WAR)
Sort of the anti-Grichuk, Gurriel had a horrendous start to the season but has started to figure it out at the plate over the last few weeks.
In 47 games in April and May, Gurriel produced an ugly .249/.265/.367 with an insanely bad 38-to-4 strikeout-to-walk ratio. But, as I said, he's having the opposite season as Grichuk and has heated up since the calendar flipped to June. In 32 games between June and July, Gurriel has slashed a .282/.323/.504 line with a not-quite-so-horrible 25-to-8 strikeout-to-walk ratio.
Gurriel has an .842 OPS against lefties and a .738 OPS against righties in his career, so we might see him used in a platoon role when Dickerson is in the mix.
Alejandro Kirk (0.1 WAR)
Alejandro Kirk appeared to be well on his way to taking over the main gig behind the plate before he suffered a hip injury that ultimately kept him out of action for two months.
Kirk is currently playing in Triple-A because the Blue Jays like Danny Jansen's glove and game calling and because Reese McGuire can't be optioned and surely won't slide through waivers again. In eight games with the Thunder-Bisons, Kirk has gone 7-for-24 with a pair of extra-base hits and more walks than strikeouts.
If the Jansen-McGuire doesn't hit, it'll be hard to keep Kirk down for long. One of these catchers is more than likely going to get traded in order to deal with this logjam.
Cavan Biggio (0.1 WAR)
Here we are with probably the most controversial player on the team. Many have been "Cavan Pilled" due to Biggio's poor underlying numbers and the data that suggests he can't hit a fastball.
Biggio had a rough go at the plate to start the season, ultimately validating these concerns, but, to be fair to him, he's been quite good since coming off the Injured List with a hand injury. In his last 25 games, Biggio has slashed a .259/.351/.457 line, which is pretty much the hitter we saw in 2019 and 2020.
The other challenge with Biggio, though, is his defence. The Blue Jays are working to morph him into their super-utility guy, but he's spent most of his time this year at third and the results haven't been great. FanGraphs has him at -3.7 defensive value and -2 defensive runs saved at third, and the eye-test shows somebody who lacks the arm to consistently throw runners out at first.
Still, given his solid hitting since coming back from injury, Biggio deserves to be in the lineup. He's likely best served as the 10th guy on the roster who plays all over the place, but that won't happen until the team has a legitimate everyday player for the hot corner.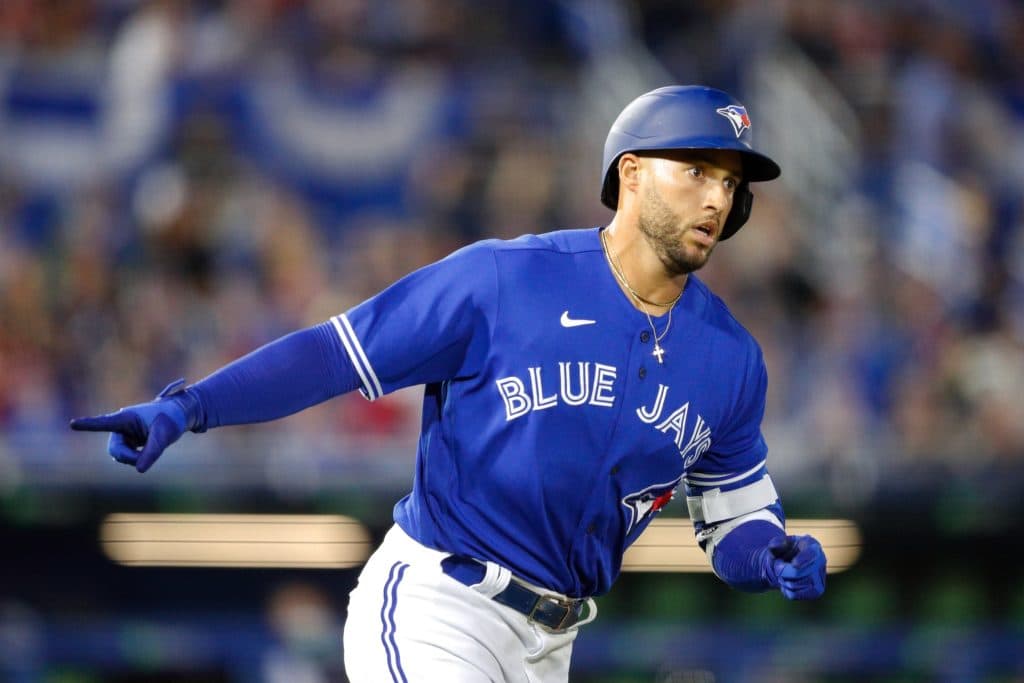 Nathan Ray Seebeck-USA TODAY Sports
George Springer (0.1 WAR)
It certainly hasn't been the start to George Springer's Blue Jays career that anybody envisioned.
Springer suffered an injury during spring training, was "expected" to return for opening day, didn't debut until late April, got injured again, and then didn't return until late June. The whole odyssey was highlighted by vague, borderline dishonest reports from the team that Springer was sitting out from games because he was fatigued despite the fact everybody saw him limping on the bases.
Anyways, here we are now, and Springer has gone 14-for-72 with five homers through 20 games. He's a great player, his peripheral numbers are strong, and, so long as he stays healthy, he'll help the team win. Let's just hope he stays on the field the rest of the season.
Josh Palacios (0.1 WAR)
Just as we all expected, the Blue Jays $150 million man and a middling prospect that they added to the 40-man roster ahead of the Rule 5 Draft have contributed the exact same amount of WAR to the team at the season's midpoint.
Josh Palacios got himself a 10-game cup of coffee at the big league level in April when Springer was on the Injured List and Hernandez was dealing with COVID. In those 10 games, Palacios had seven hits, four of which came in one magnificent game against the Angels.
He was sent back down to Triple-A and slashed a .300/.440/.400 line over his first six games, but suffered a broken hand and hasn't played since May.
It would be nice to see Palacios get another look at the big league level but the addition of Dickerson and the already-loaded outfield situation makes that seem very unlikely. How Palacios performs with the Thunder-Bisons when he returns will determine whether or not he remains on the 40-man roster through the off-season.
Jared Hoying (-0.1 WAR)
This is probably going to be the most difficult answer to the 2021 Blue Jays roster Sporcle quiz in a few months.
Hoying appeared in two games for the Blue Jays and didn't get on base once. He has since signed a contract with the KT Wiz of the Korean Baseball Organization.
Danny Jansen (-0.2 WAR)
The fact that Danny Jansen sits close to replacement level is quite the testament to his work behind the plate.
Jansen's season offensively has been absolutely miserable thus far. Coming into 2021, Jansen had slashed a .208/.297/.370 line over his first 181 big league games, which is acceptable for a good defensive catcher, but his offence has completely fallen off a cliff this year. His OPS at the end of May sat at a wildly bad .211 and has since risen to .558, but that's still obviously far from good, especially when you have Kirk waiting around in Triple-A.
There's reason to believe Jansen is doing so poorly due to back luck, as his peripheral numbers are better than his actual results, but it's also hard to see him becoming the threat offensively we thought he could be when he was mashing in the minors in 20187 and 2018. Jansen's spot on the roster comes down to his glove and his ability to call a good game, but it probably won't be long until Kirk is seeing more time than him behind the plate.
Joe Panik (-0.2 WAR)
Joe Panik is going to join the likes of Travis Shaw, Jonathan Villar, Anthony Bass, and Taijuan Walker on the list of Blue Jays who never played a game for the team at the Rogers Centre in Toronto.
After 83 forgettable games as the team's light-hitting-and-mediocre-defending utility infielder between 2020 and 2021, Panik was sent to the Miami Marlins along with a prospect in exchange for Corey Dickerson and Adam Cimber. The play of Santiago Espinal made it a very, very easy decision to move on from Panik, and the fact that the team managed to flip him for a quality reliever and an interesting lefty bat is nothing short of incredible.
Jonathan Davis (-0.3 WAR)
There was hope that Jonathan Davis would be able to capitalize on the opening on the roster left by Springer's injury this season, but that hasn't happened.
It's unfortunate because Davis boasts a lot of tools that the team could use right now, such as his lefty bat, his wheels, and his excellent glove, but his inability to hit at all this year has ultimately held him back. Through 85 plate appearances, Davis has just 10 hits and only two of those have been for extra bases. As a result, Davis has mostly been used as a defensive sub late in games and as a pinch-runner.
With Springer back and Dickerson now in the picture, it's difficult to see Davis getting much of a crack to do anything beyond that current role, unless there are more injuries.
Riley Adams (-0.4 WAR)
Injuries to both Alejandro Kirk and Danny Jansen resulted in Riley Adams getting a cup of coffee at the big league level.
He's mashed in Triple-A, going 17-for-78 with six dingers, but that success didn't translate to the majors. In 12 games with the Blue Jays, Adams went 3-for-28 with a pair of doubles and a 12-to-2 strikeout-to-walk ratio.
Injuries happen so we might see Adams again this season, but there's also a reasonable chance he's used in a trade to fill a need elsewhere on the roster. The Blue Jays are loaded with five catchers on the 40-man roster and something's gotta give at some point.
Rowdy Tellez (-0.5 WAR)
Given the Blue Jays' aspirations of being a contender this season, there simply isn't room on the team for guys to try to figure it out. That's why Rowdy Tellez is now a member of the Milwaukee Brewers.
Tellez had what appeared to be a breakout season at the plate in 2020, slashing a .283/.346/.540 line with eight dingers over 35 games, but he wasn't able to build on that in 2021. Rowdy went 29-for-151 with only four home runs with the Blue Jays this season and ultimately found himself back in Triple-A as the team needed to keep the DH slot open for the revolving door of outfielders.
I think we would all love to see Rowdy figure things out and become a big, lefty bat that mashes at the major league level, but, again, the Blue Jays are no longer in a spot to extend him that opportunity.