Toronto Blue Jays Consensus Top 30 Prospects, Part 1
I have made it a habit, for several years, to find every Top Prospect list published by virtually anyone (save some message board rando like me) and aggregate them into consensus lists.
Typically, I do one made up of five-or-six high profile outlets (Baseball America et al) and another eight-to-ten less-heralded (though still respectable) or more team specific sites, aggregated into a separate ranking and this gives me a sort of idea about how the "pros" view players as opposed to more, I don't want to say amateur because some of the latter set seem to be people who put a lot of effort into their list, but just not necessarily achieved the star status of the former group.
BUT in this weird year/offseason, several of those second-tier sources have chosen to either not do a ranking at all, or have not published one as of this writing. At this moment I've only got three of the ten I found last year. So I can spare you any digression about how the two lists compare and contrasts. What is on the menu today, then, is a consensus list, constructed in the typical points system fashion, using the following sources: MLB Pipeline, Baseball America, Fangraphs, Baseball Prospectus, Keith Law's list for The Athletic, and the TSN list constructed by Scott Mitchell.
The system isn't perfect – BP only ranks 10, Law ranks 20, the BA list is 30 but they include three guys that other sources consider to have lost eligibility so it's actually 27. So, as you move down beyond the Top 10 it gets a little fuzzy because I can't know who might have been, for example, BP's No. 14 or Law's No. 22.
But that said I feel like this gives you a pretty clear idea of how professional evaluators see the system stacking up. I came away with 30 players who scored at least 15 points and seven others who got mentioned on one or more of the lists. When known I'll mention position, age, potential assignment, and sometimes some remark from one of the source lists.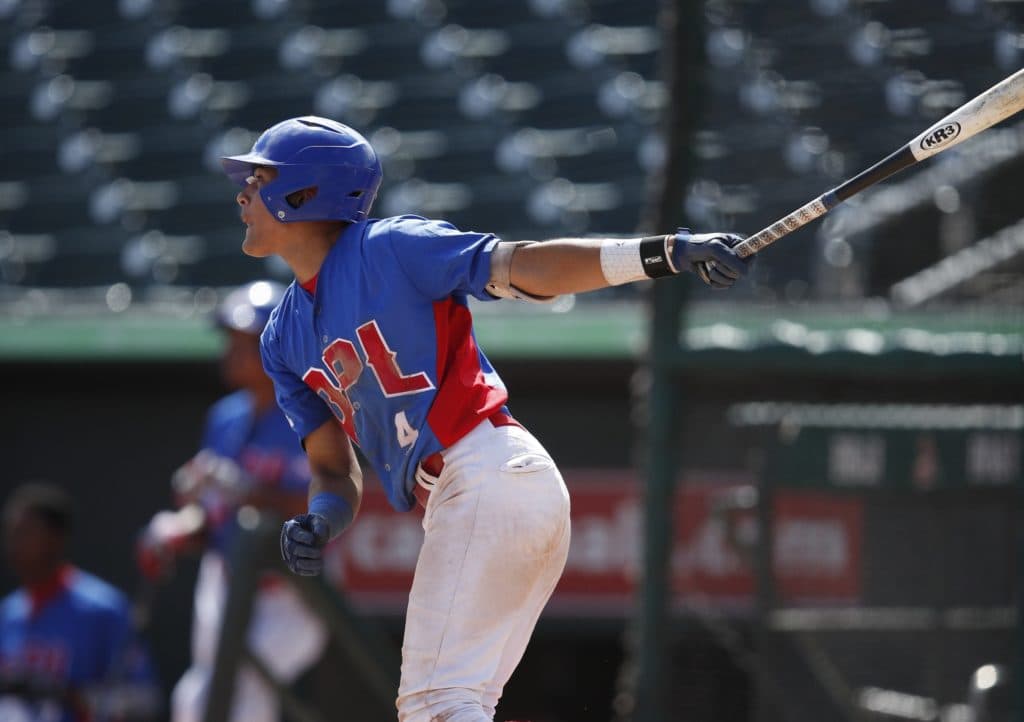 Manuel Beltre
30. Victor Mesia – C – 18: Signed in the 2019 class, but didn't get any real org work until last fall at instructs where he impressed. BA says "Mesia has a knack for making contact and driving the ball with impact. He has surprising explosiveness to his actions for his stocky build, producing fast bat speed and a compact, efficient stroke." He's said to have at least average raw power and have all the tools to stick behind the plate. Could well stick on the stateside complex team in the Gulf Coast League.
29. Manuel Beltre – SS – 16: The star signing from the Jays' (delayed) international class this year, Beltre grades out very high on makeup more than tools. Mitchell notes that he's described as having an infectious personality and fluent English with a passion for the game. He's smallish for now, 5'9″ 155, but with advanced hitting polish and the defensive skills to stay in the middle of the infield. Likely will see game action in the Dominican Summer League.
28. Nick Frasso – RHP – 22: Drafted in the 4th round last year out of Loyola Marymount where he'd pitched mostly out of the 'pen and had his last year hampered by injury. The Jays have an eye for physically gifted college pitchers who were underused for whatever reason and the 6'5″ Frasso fits that mold. He's got a solid fastball that reaches into the mid-90's with impressive spin and a usable curve. The team will undoubtedly develop him as a starter and see how that goes. My hunch is he'll open the season in Low-A Dunedin but he might not be there all year.
27. Sem Robberse – RHP – 19: If you see that name and instinctively see "Sam" every time, I understand. Sem is going to be a prospect that will always get a layer of buzz just from being, in baseball term, exotic (because he was signed out of The Netherlands) but there's more to him than that. He's a slender 6'1″ kid who's steadily added velocity to his fastball and the team thinks more will come. Pipeline writes of his other options: "His curve is ahead of his changeup in the development stage, with a lot of confidence and feel for his breaking pitch, and he has advanced feel for all of his secondary stuff and a high baseball IQ." Scouts are impressed with his delivery and arm action. With a good Spring he has a shot at the Dunedin rotation but he might work on the complex squad until a slot opens later in the summer.
26. Will Robertson – LF – 23: Robertson is a lefty hitter who's calling card is power. He's strong, has good bat speed, and a short stroke but has to refine the finer points of his hitting game. Yet he is a mediocre defender at best in the outfield corner and, just me speculating, if he makes it to the majors it may be at 1B if he doesn't refine his fielding. He played in Vancouver for the short-season Canadians in 2019 and I expect he'll be back in town for the same club, now the Jays A-Advanced team.
25. TJ Zuech – RHP – 25: We more or less know what he is now, he's pitched in the majors and neither embarrassed himself nor established a grip on a job.  A tall guy but without the presumptive swing and miss power pitch, rather he gets near-elite groundball rates out of his sinker. The Jays continue to look for a formula to maximize his skill set, but this year he's likely going to be one of the frequent flyers on the extra-long shuttle back and forth to AAA.
24. Trent Palmer – RHP – 21: The 3rd round choice last year, he, like Frasso, pitched mostly in the bullpen in college but is somewhat more refined as he's been pitching longer than Frasso. Not a prototypical Jays-draftee "Big Ol' Boy" at 6'1″, he's listed at 230 and it's fair to wonder if the team doesn't get better stuff out of him if they can get, say, 15 pounds shaved off of that. He maintains velocity and has 3-4 usable pitches so the Jays will work him as a starter until he forced them to do otherwise, like Frasso, could be at Vancouver but may be squeezed out by the numbers and land at Dunedin to start.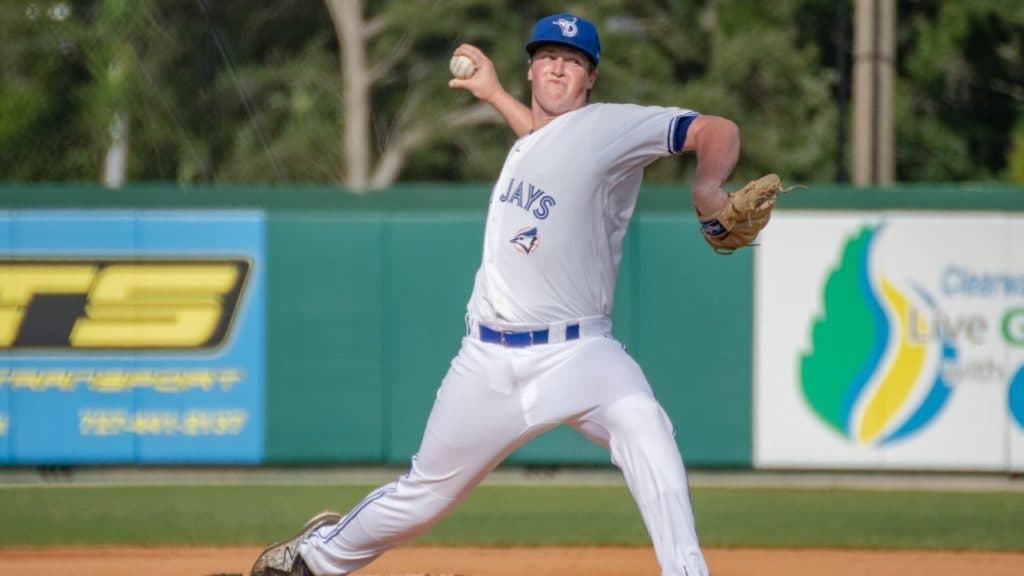 Joey Murray
23. Joey Murray – RHP – 24 – Not any sort of power pitcher, Murray nevertheless led the entire organization in strikeouts in 2019. His fastball tops out in the low 90's but shows above-average spin and benefits from a delivery which fools hitters and makes the ball hard to pick up until it's right on them. His curve gets some praise but his other pitches need work. The target upside is a back-end starter but if the other pitches don't develop he might be an interesting bullpen alternative. Did well enough in the past to be assigned to AAA but as I noted in previous articles, there may simply not be room for that at first. My guess is that he opens in New Hampshire.
22. Kevin Smith – SS – 24: Broke out with a shockingly good 2018 and through the subsequent winter was popping up in the team's Top 10 lists as often as not. Time he spent obsessively tinkering with his swing which…ended badly. He was a strikeout prone mess in 2019 and it's uncertain which reflects what he can do going forward. He has solid versatile defense and if he could regain at least some promise at the plate that has value. Reportedly still sort of obsessive about trying to refine his swing, even though adjustments before 2019 that wrecked him, the trick is to get back to what he had previously done right. Pipeline reports that the Jays rave about his baseball IQ and work ethic so if he can pull that off he may yet turn it around.
21. Yosver Zulueta – RHP – 23: Signed out of Cuba in May 2019 (technically in the last days of the 2018 class, spending cap money acquired in a couple of minor trades) he went under the knife for Tommy John right away. He will be fully ready to come to camp, where he was an invite to big league camp despite not having thrown in an official game for the Jays at any level (which is a huge clue about what the team thinks they have in him).  Law notes that in instructs he was back regularly sitting 97 and touching 99 and has an arsenal of four solid pitches.  The negative is that he was exceedingly wild in Cuba so there's a challenge to address. Strictly based on age he would land on one of the A-ball teams but spring will give them a lot more information on whether he needs some time at the complex.
20. Riley Adams – C – 24: In a system rich in catcher prospects there's little oxygen for praise directed at Adams but he gets some. A solid average defender with an old school built and a power stroke (he was lauded as the best power hitter at the ATS last summer)  that needs to make more contact to be more than a back-up or second-division player in the majors is the typical review, But that said, not many prospects project to have a fairly long career in any role, and the expectations for a catcher's bat are as low now as they have been in a long time. I could imagine a career path something like one time Jays' prospect Yan Gomes (apart from leaving us in an ugly regrettable trade one hopes!). But unlike with Gomes, the team is fully cognizant of the value they have here. Likely to spend most of the year at AAA if he's not traded, but of the catchers on the list he probably has the best combination of near-term value and expendability.
19. Julian Merryweather – RHP – 29: You know your baseball journey has been weird when you are a legit Top 20 prospect at age 29. But Merryweather impressed everyone last year, when healthy. Therein lies the problem – he so seldom is. Last year his fastball was working in the high 90's and touched 100, before he was sidelined with elbow tendinitis. The consensus is that he could be a dominant arm in the back of the bullpen right now but the Jays, apparently, have not given up on stretching him out to at least a multi-inning role. He was afforded a fourth option year this winter so they can start him in Buffalo with the knowledge that the bullpen boost is a phone call away.
18. Patrick Murphy – RHP – 25: Law suggests that Murphy could have been on the cusp of a Top 100 ranking if he had been more healthy. He features a 96-97 fastball and an above average curve that both play up because of their spin. I've been kind of fixated on him for years, feeling he didn't get enough notice but he's gotten significant buzz this winter, albeit most see him as a future bullpen mainstay. The Jays have the luxury of continuing to develop him as a starter (at AAA) though, knowing that as with Merryweather they can plug a plus arm into the 'pen if the need arises.
17. Dasan Brown – CF – 19: After discussing a string of players on the doorstep of the majors, here begins a run of more raw, further away, players. If you follow Jays prospects at all you likely know that Brown is a hometown kid from Oakville. He's an exciting bundle of impressive tools which are still quite raw. Mitchell compares him to an NFL cornerback for "quick twitch athleticism" and he has 80 grade speed. He also seems to have the instincts to put those to use as an above average CF, but while he has a good eye and basic skill set at the plate it will take time to refine those into consistent on-field production. Could easily jump into the top 10 in a couple of years.
16. Leonardo Jimenez – SS – 19: Smooth plus defender, save for an average arm, but whether that makes him more than a re-run of Kevin Vicuna (who made the back of a lot of top 30 lists based on wow defense and a hope that the bat would come – it didn't) is all about how his offense blossoms. He showed up at instructs having bulked up his previously slender frame and the team was impressed. There's also a crush of playing time at the A ball level, with multiple highly regarded SS prospects at a similar point on the development curve. Because of this, it's very difficult to hazard a guess on whether he, or one of the two top 10 star SS prospects will end up in Vancouver when normally you'd pencil in any of the three for Dunedin. Logically, unless you are overwhelming a guy at a level he's not ready for, spreading them out so everyone can play a natural position every day makes some sense – particularly for an organization that waits as long as possible to move a player off of SS.
Given that the complete least runs me around 4,000 words, I'm going to divide it here. Look for the Top 15 (which includes some really exciting talent!) tomorrow.
(I promise that, though I am verbose, most of my contributions WON'T be so big it needs to be a two parter)
Recent articles from Tammy Rainey