Toronto Blue Jays: Four positive storylines from a disappointing 2023 campaign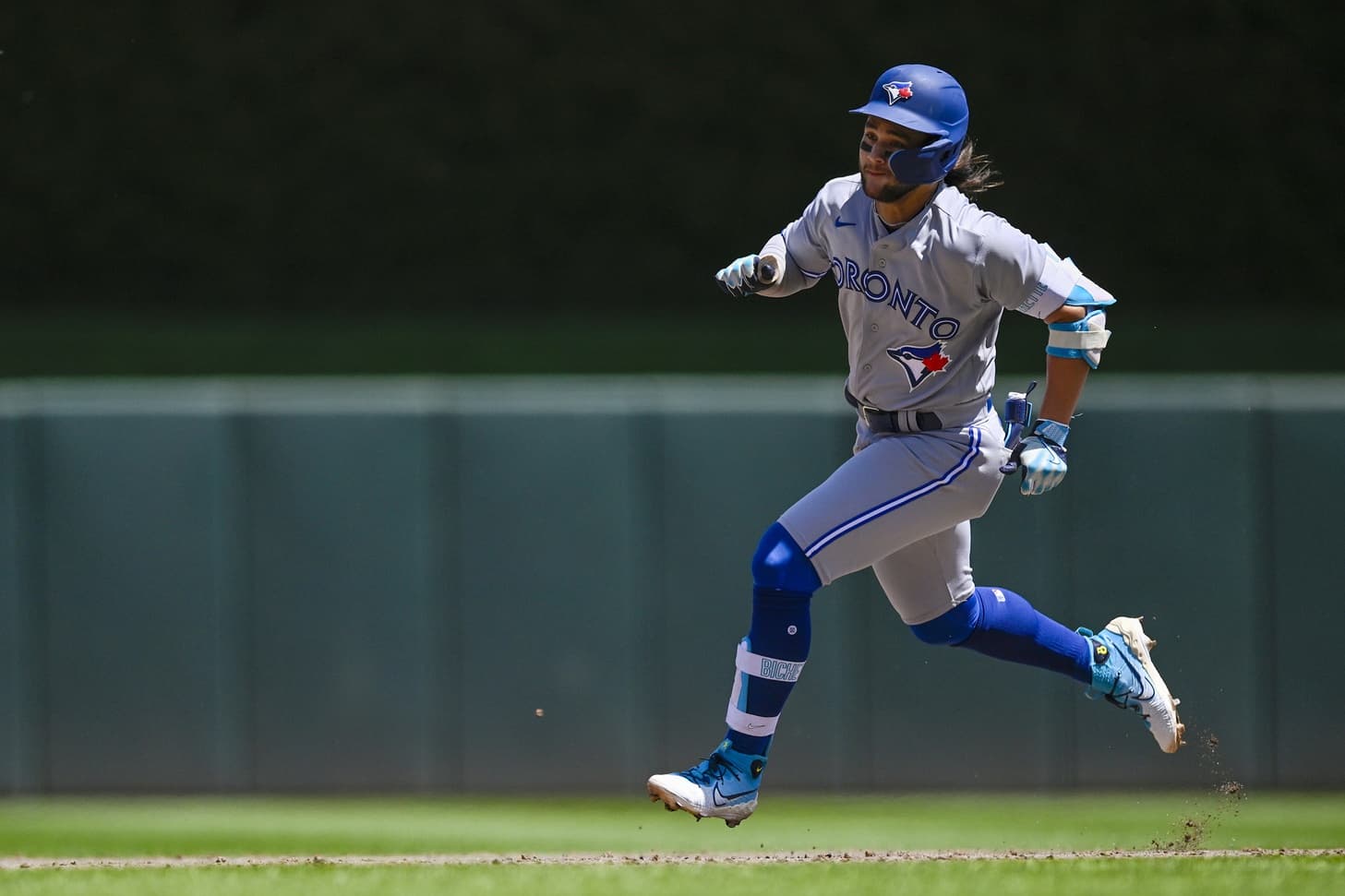 Photo credit:Nick Wosika-USA TODAY Sports
It's safe to say the 2023 season was not what many had envisioned for the Toronto Blue Jays.
A top-ranked team coming out of Spring Training, the Blue Jays playoff hopes were on the ropes until the very end and only stayed afloat because the Texas Rangers and Houston Astros getting the job done on their end. An 89-73 record is not one to slouch at but it fell short of the mark in regards to what many were expecting given the deep pitching staff, the improved outfield defence, and the power bats throughout the lineup.
Factor in a sweep at the hands of the Minnesota Twins in the AL Wild Card with some questionable decision-making on both the coaching staff and on the field, with a baffling year-end press conference to boot, and the Blue Jays are heading into the offseason with work needing to be done if they want to break the postseason win drought next year.
While fans are none too impressed at the moment with Canada's lone MLB team, there were numerous positive storylines from the 2023 season even though the results may not have shown so on the scoreboard in October.
Bounceback campaigns for José Berríos and Yusei Kikuchi
Berríos was statistically one of the worst starters in all of the Major Leagues last year with his 5.23 ERA and 100 earned runs allowed while Kikuchi struggled with his command, walking opponents at a 5.2 BB/9 clip that saw him get relegated to the bullpen in August. Had it not been for Ross Stripling stepping up when Hyun Jin Ryu went down on the IL and Alek Manoah having an incredible season alongside Kevin Gausman, the Blue Jays would not have been in a playoff position given their pitching woes.
Fast forward to Spring Training this season and the tune was a bit different, as the Blue Jays were hoping for a bounceback campaign for Berríos while Kikuchi was fighting for a rotation spot alongside Mitch White, who was brought in at last year's trade deadline. The Japanese product eventually won the battle and led all pitchers with 31 strikeouts this past spring, securing a spot while Berríos was off representing Puerto Rico at the World Baseball Classic.
This season, both players were fantastic for the Blue Jays and played a big part in both the regular season and the playoffs.
Berríos produced a 3.65 ERA through 189 2/3 innings with an 8.7 K/9 rate while Kikuchi finished with a 3.86 tally while producing a 2.6 BB/9 that finished ahead of both Gausman and newcomer Chris Bassitt. Both pitchers were able to turn things around this season and helped the Blue Jays reach the postseason, with Berríos getting the ball for game #2 against the Twins and putting on a masterclass, allowing three hits through three innings while striking out five before getting pulled prematurely in favour of Kikuchi, who unfortunately allowed two runs to score (one credited to Berríos) through 1 2/3 innings.
A positive outcome for both pitchers who will return next season and continue to play a big part in the Blue Jays pitching staff.
Positive signs from prospects looking for playing time next year
Led by left-hander Ricky Tiedemann, the Blue Jays entered the 2023 season with a farm system ranked at
#20 by MLB Pipeline
. The club took a bit considering they traded fellow top prospect Gabriel Moreno this past offseason and a few prospects had down seasons, including Orelvis Martinez and his strikeout concerns. Brandon Barriera, the club's first-round pick last season, didn't pitch in affiliated ball and was making his debut this year while the club had some interesting names on the radar in Yosver Zulueta, Spencer Horwitz, and Addison Barger that were lurking in Triple-A.
As with any season, some players rose to the occasion while some struggled at times and the Blue Jays were no different. Both Tiedemann, Barriera, and Barger missed time due to injury while Zulueta struggled at times in Triple-A but finished really strong. Martinez found himself moved to Triple-A as well and just mashed this season, putting up 28 home runs between both leagues while other prospects put themselves on the radar as well, including Damiano Palmegiani, Alan Roden, Rafael Lantigua, and Davis Schneider.
Outfielder Nathan Lukes was able to crack the Opening Day roster and overall, six players made their MLB debut this season: Lukes, Schneider, Horwitz, Cam Eden, Mason McCoy, and Hagen Danner. Leading the group was Schneider, who started his big-league journey with three home runs and going 9 for 13 at the plate in Boston. He eventually finished the year with eight home runs and a 1.008 OPS through 116 at-bats. While not a rookie, Ernie Clement also had a strong season when he was on the active roster, slashing .380/.385/.500 with a .885 OPS through 50 at-bats, while Horwitz also found success at times, putting forth a .256 average through his cup of coffee with the Jays.
Looking ahead to next season, the Blue Jays may have some open roster spots depending on how the offseason shakes up, as Matt Chapman, Kevin Kiermaier, and Brandon Belt are destined for free agency while Whit Merrifield has an $18 million team option that will likely be declined. Look for Schneider, Horwitz, Barger, Clement, Lukes, and Martinez to battle it out for roster spots while Palmegiani and Roden could find themselves on the bubble if they can produce in Spring Training as well.
An improved Bo Bichette at shortstop
Most know
Bo Bichette
for his ability to produce at the plate, as the right-handed batter led the American League in hits in both 2021 and 2022 and likely would have repeated this season had he not missed some time with a knee injury. Bichette finished behind only Belt in terms of OPS (.814) amongst starters while being the only Jays batter to produce a batting average over the .300 mark at .306. He also cracked the 20-home run mark for the third consecutive season while finishing in the 98th percentile in xBA and the 90th percentile in Sweet-Spot% as well (38.3%).
Defensively is where Bichette has struggled since making his debut back in 2019, as he hadn't produced a fielding percentage over .975% while committing 24 and 23 errors in 2021 and 2022 respectively. He finished only behind Javier Báez in terms of errors last year while the Florida product finished tied for errors committed the previous year as well. Bichette finished below the 10th percentile in Outs Above Average in both years as well bringing up the debate amongst fans of whether he could stick at the position moving forward or whether a move to second base may be required.
This year was different for Bichette, as the shortstop produced a strong campaign on the left side of second base. The former top prospect produced a +4 DRS at the position while committing just eight errors and finishing with a .980 fielding percentage and 265 assists on the season. His OAA didn't move too far forward (21st percentile) but the eye test showed that Bichette was leaps and bounds ahead of what fans were used to seeing these past few seasons, making routine plays and being able to throw across the diamond when needed. The sample size is smaller as he had to deal with an injury and missed some time but for comparison's sake, in 2019 (rookie) and 2020 (the condensed COVID-19 campaign), he made seven and three errors respectively, which trends to be higher then what he produced on the field this year.
Next year will be another test for Bichette, as he could be without Matt Chapman at third base due to his pending free agency and he may have to field more to his right depending on whoever takes Chapman's spot should he leave. That being said, this season was a step in the right direction for Bichette and one that hopefully sticks alongside his hot bat.
A resurgent Jay Jackson does it all for the Blue Jays
Drafted in 2008, Jackson had small stints in the big leagues prior to joining the Blue Jays this past offseason on a Minor League deal and even spent some time pitching over in Japan from 2016-2018 and in 2020.
The Furman University alum didn't crack the Jays Opening Day roster and was granted his release only to resign with the club on a split deal a few days later, starting the year in Triple-A and waiting for an opportunity to join the big league roster. That would come on May 6th, when he played mop-up duty against the Pirates in the ninth inning and allowed just one walk while getting all three outs.
Over the course of his next 15 outings, Jackson allowed just one earned run through 19 2/3 innings of work (a solo home run to Aaron Judge) while striking out 20 batters and posting a 0.46 ERA through that stretch. He didn't spend all that time in the big leagues, as he was optioned several times during that span, but when he was on the mound, the results were wading in his favour. On the season, Jackson appeared in 25 games and authored a 2.12 ERA with just seven earned runs while posting a 2.7 BB/9 and an 8.2 K/9.
It was a stellar showcase in Toronto for the 35-year-old and unfortunately, the business side of baseball saw him get DFA'd right at the end of the campaign, as he couldn't be optioned to the Minors for a sixth time and the Jays wanted Wes Parsons to start game #162. The move was bemoaned by the Jays fanbase but the sentiment was the same: Jackson played a key part in the bullpen and had a positive impact whenever he was in the big leagues.
The South Carolina product will be a free agent this offseason and I would suspect that the reliever will get quite a few calls this winter, likely looking for a full-time big-league role (and one that he has rightfully earned).
---