Toronto Blue Jays hitting coach Guillermo Martínez tossed from Wednesday game before it even started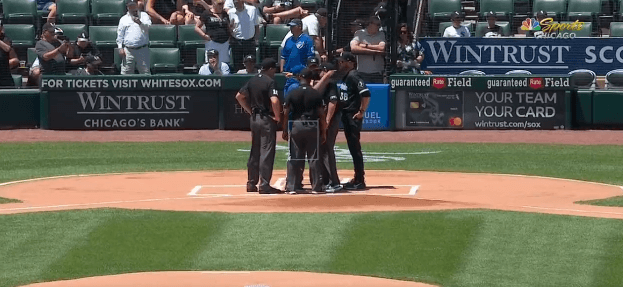 Guillermo Martínez had some takes on Wednesday.
So much so that when the Toronto Blue Jays sent the hitting coach out for a lineup exchange, he got tossed from the game before the first pitch was even thrown.
Behind the plate was Doug Eddings who had one of the worst commands of the zone as I've ever seen. According to Ump Scorecards, Eddings called 25 pitches as strikes that were actually balls.
It cost the Blue Jays a staggering 3.79 runs, while costing the White Sox 1.79 runs. While it was bad both ways, the Jays were clearly coming out on the short end of the stick. Missing a few pitches here or there isn't the end-all-be-all, but when you're as consistently awful as Eddings was Tuesday, it's hard to give any credit.
During Wednesday's matinee to wrap up the series, the officiating crew bumped Eddiings to third-base, presumably to cut him a break after a tough, tough go.
Hopefully, after the game, Charlie Montoyo gives us some idea of what happened with Martínez.
A quick note on Springer
Jays slugger George Springer was removed from Tuesday's game with elbow discomfort but has remained on the active roster. The Jays have an off-day Thursday before a three-game series on the road against the Milwaukee Brewers, so hopefully we'll find out more about what was plaguing Springer for a few days.
---
Zach Laing is the Nation Network's news director and senior columnist. He can be followed on Twitter at
@zjlaing
, or reached by email at zach@oilersnation.com.
---
PointsBet is live in Ontario.
Get started here
.