Trade Deadline 2022: Recapping every notable American League transaction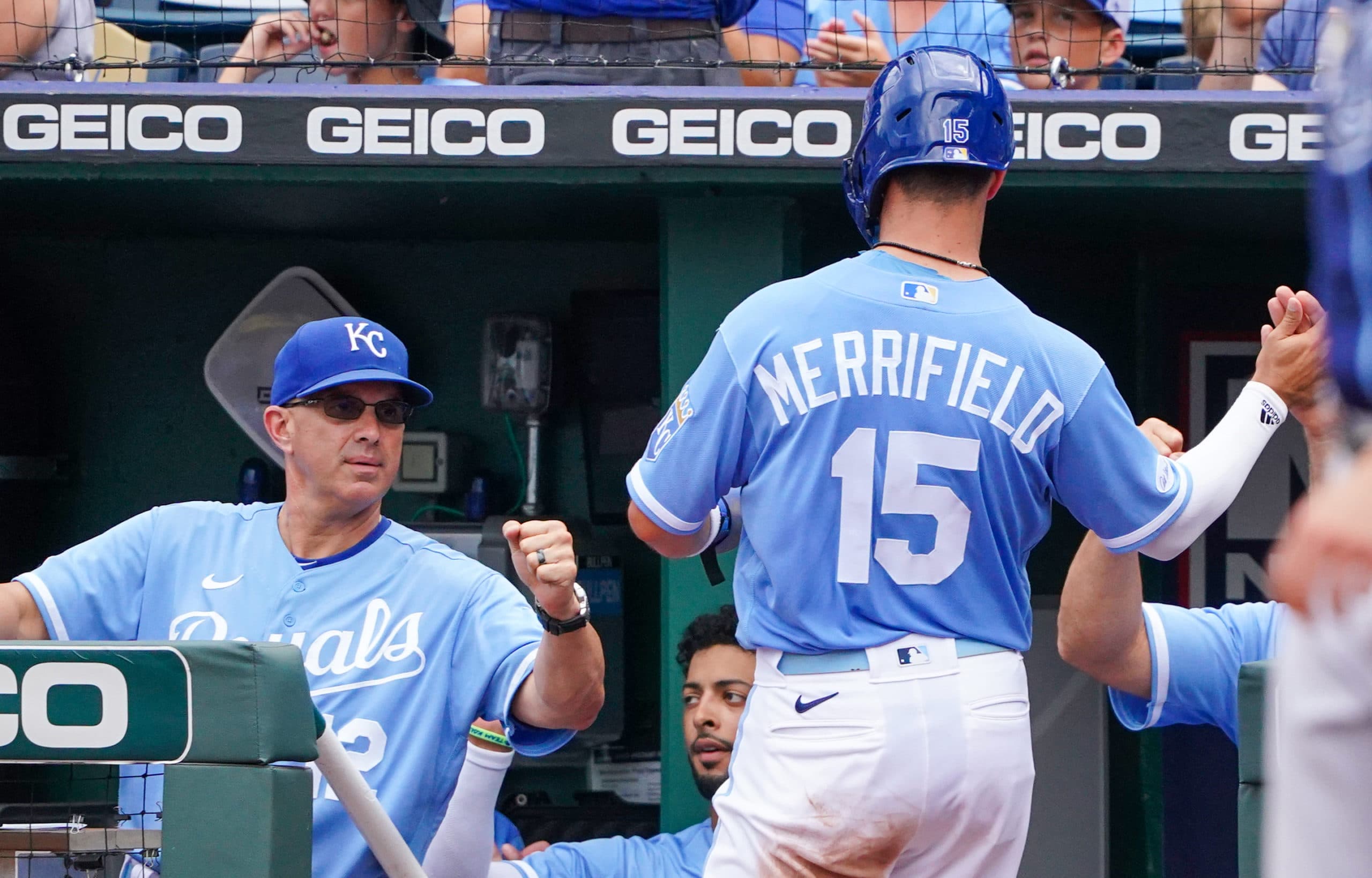 Photo credit:Denny Medley-USA TODAY Sports
One of the most enjoyable parts of the MLB calendar is the annual trade deadline, and this year wasn't any different. There was plenty of action leading up to Tuesday's 6 p.m. deadline, making for plenty of exciting transactions.
Many notable players changed teams around the league: Juan Soto, Luis Castillo, Frankie Montas, Josh Hader, Christian Vazquez, Trey Mancini, Andrew Benintendi, David Peralta and plenty more.
With that in mind, let's recap what went down inside the American League and examine how it shapes up heading into the final two months of the regular season.
Toronto Blue Jays: 
Trade No. 1
Blue Jays acquire: RHPs Anthony Bass, Zach Pop, PTBNL
Marlins acquire: INF Jordan Groshans
Trade No. 2
Blue Jays acquire: RHP Mitch White, INF Alex De Jesus
Dodgers acquire: RHP Nick Frasso and LHP Moises Brito
Trade No. 3
Blue Jays acquire: INF Whit Merrifield
Royals acquire: INF Samad Taylor, RHP Max Castillo
New York Yankees:
Trade No. 1
Yankees acquire: OF Benintendi
Royals acquire: RHPs Chandler Champlain, Beck Way, LHP T.J. Sikkema
Trade No. 2
Yankees acquire: RHPs Montas, Lou Trivino
Athletics acquire: LHPs JP Sears, Ken Waldichuk, RHP Luis Medina, INF Cooper Bowman
Trade No. 3
Yankees acquire: RHP Scott Effross
Cubs acquire: RHP Hayden Wesneski
Trade No. 4
Yankees acquire: RHP Clayton Beeter
Dodgers acquire: OF Joey Gallo
Trade No. 5
Yankees acquire: CF Harrison Bader
Cardinals acquire: LHP Jordan Montgomery
Boston Red Sox: 
Trade No. 1
Red Sox acquire: INF Emmanuel Valdez, OF Wilyer Abreu
Astros acquire: C Christian Vazquez
Trade No. 2
Red Sox acquire: C Reese McGuire, PTBNL or cash
White Sox acquire: LHP Jake Diekman
Trade No. 3
Red Sox acquire: OF Tommy Pham
Reds acquire: PTBNL or cash
Trade No. 4
Red Sox acquire: 1B Eric Hosmer, cash, INF Max Ferguson, OF Corey Rosier
Padres acquire: LHP Jay Groome
Tampa Bay Rays: 
Trade No. 1
Rays acquire: OF Peralta
Diamondbacks acquire: C Christian Cerda
Trade No. 2
Rays acquire: OF Jose Siri
Astros acquire: 1B Trey Mancini (BAL), RHP Jayden Murray
Orioles acquire: RHPs Seth Johnson, Chayce McDermott
Baltimore Orioles: 
Trade No. 1
Orioles acquire: RHPs Yennier Cano, Juan Nunez, LHPs Cade Povich, Juan Rojas
Twins acquire: RHP Jorge Lopez
Trade No. 2
Orioles acquire: RHPs Seth Johnson, Chayce McDermott
Rays acquire: OF Jose Siri
Astros acquire: 1B Trey Mancini (BAL), RHP Jayden Murray
Detroit Tigers: 
Trade No. 1
Tigers acquire: LHP Kris Anglin
Braves acquire: OF Robbie Grossman
Trade No. 2
Tigers acquire: RHP Sawyer Gipson-Long
Twins acquire: RHP Michael Fulmer
Kansas City Royals: 
Trade No. 1
Royals acquire: RHPs Chandler Champlain, Beck Way, LHP T.J. Sikkema
Yankees acquire: OF Benintendi
Trade No. 2
Royals acquire: INF Samad Taylor, RHP Max Castillo
Blue Jays acquire: Whit Merrifield
Minnesota Twins: 
Trade No. 1
Twins acquire: RHP Jorge Lopez
Orioles acquire: RHPs Yennier Cano, Juan Nunez, LHPs Cade Povich, Juan Rojas
Trade No. 2
Twins acquire: RHP Tyler Mahle
Reds acquire: INFs Spencer Steer, Christian Encarnacion-Strand, LHP Steve Hajjar
Trade No. 3
Twins acquire: C Sandy León
Guardians acquire: RHP Ian Hamilton
Trade No. 4
Twins acquire: RHP Michael Fulmer
Tigers acquire: RHP Sawyer Gipson-Long
Chicago White Sox: 
Trade No. 1
White Sox acquire: LHP Jake Diekman
Red Sox acquire: C Reese McGuire, PTBNL or cash
Cleveland Guardians: 
Trade No. 1
Guardians acquire: RHP Ian Hamilton
Twins acquire: C Sandy León
Houston Astros: 
Trade No. 1 
Astros acquire: LHP Will Smith
Braves acquire: RHP Jake Odorizzi
Trade No. 2 
Astros acquire: 1B Trey Mancini (BAL), RHP Jayden Murray
Rays acquire: OF Jose Siri
Orioles acquire: RHPs Seth Johnson, Chayce McDermott
Trade No. 3
Astros acquire: C Christian Vazquez
Red Sox acquire: INF Emmanuel Valdez, OF Wilyer Abreu
Seattle Mariners: 
Trade No. 1
Mariners acquire: RHP Castillo
Reds acquire:
INFs Noelvi Marte,
Edwin Arroyo, RHPs Levi Stoudt, Andrew Moore
Trade No. 2
Mariners acquire: LHP Matt Boyd, C Curt Casali
Giants acquire: RHP Michael Stryffeler and C Andy Thomas
Los Angeles Angels: 
Trade No. 1
Angeles acquire: C Logan O'Hoppe
Phillies: OF Brandon Marsh
Trade No. 2
Angels acquire: OF Mickey Moniak,
Phillies acquire: RHP Noah Syndergaard
Trade No. 3
Angels acquire: LHP Tucker Davidson, RHP Jesse Chavez
Braves acquire: RHP Raisel Iglesias
Texas Rangers: 
Trade No. 1
Rangers acquire: NF Mark Mathias, LHP Antoine Kelly
Brewers acquire: RHP Matt Bush
Oakland Athletics: 
Trade No. 1
Athletics acquire: LHPs JP Sears, Ken Waldichuk, RHP Luis Medina, INF Cooper Bowman
Yankees acquire: RHPs Montas, Lou Trivino
---