Twins manager Rocco Baldelli ejected after arguing Domingo Germán's illegal substance check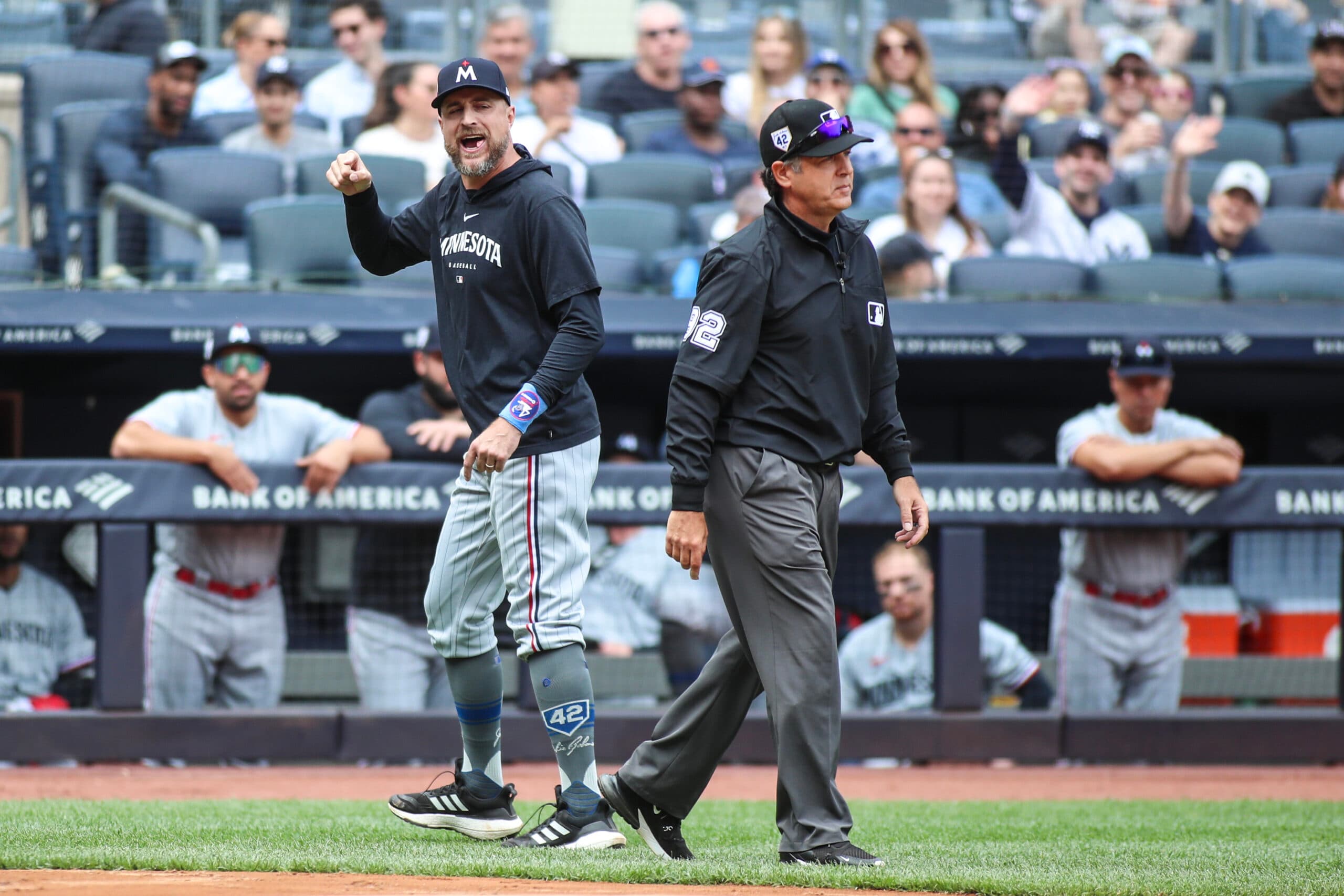 Photo credit:Wendell Cruz-USA TODAY Sports
Things got a little heated for one of the Toronto Blue Jays' AL East Division rivals on Saturday, as New York Yankees pitcher Domingo Germán was investigated for using an illegal substance.
Germán, making his third start of the season, faced off against the Minnesota Twins and held his opponent to just one run on three hits across 6.1 innings. But that's not the storyline that made headlines during the matinee affair. Instead, the focus centred around the right-hander's umpire inspection following the third inning.
After completing his third perfect inning, crew chief James Hoye checked Germán's hands and glove for foreign substances, as he did for every pitcher after each half-inning. But when Germán returned for the fourth inning, a lengthy discussion ensued between himself and Hoye, which manager Aaron Boone and team translator Marlon Abreu later joined.
Five-and-a-half minutes passed while both parties discussed the situation, with umpires informing the Yankees hurler he had too much rosin on his hands and needed to wash it off. The 30-year-old was ultimately allowed to remain in the game, though some speculated whether he'd be ejected – including Twins manager Rocco Baldelli.
With Baldelli dissatisfied with the result, he arose from the away team's dugout to argue with Hoye and the umpire crew, which ended with him being ejected from the contest. How ironic, right?
Boone provided further clarity on the incident post-game, revealing umpires were concerned about the tackiness on Germán's hand. He also added that the team ensured the right-hander met the requirements necessary prior to each inning through the remainder of his outing.
Baldelli, meanwhile, was far less calm about the topic while speaking to reporters. His issue, which he tried conveying to umpires, was that Germán received a warning after the third inning but wasn't ejected after failing to comply with those standards in the fourth inning.
In his opinion, Germán shouldn't have been allowed to continue after returning with too much rosin on his pitching hand.
Rosin or not, Minnesota's offence couldn't muster up much success against Germán on Saturday, as he registered 11 strikeouts, setting a new career high. Thanks to six runs of support, he earned his first victory of the season as New York won by a score of 6-1.
The Yankees and Twins will conclude their three-game series Sunday afternoon, so it'll be interesting to see if there is any carryover from this spirited discourse.
---