Useless Trade Speculation: Vol. 2 – Arizona Diamondbacks Edition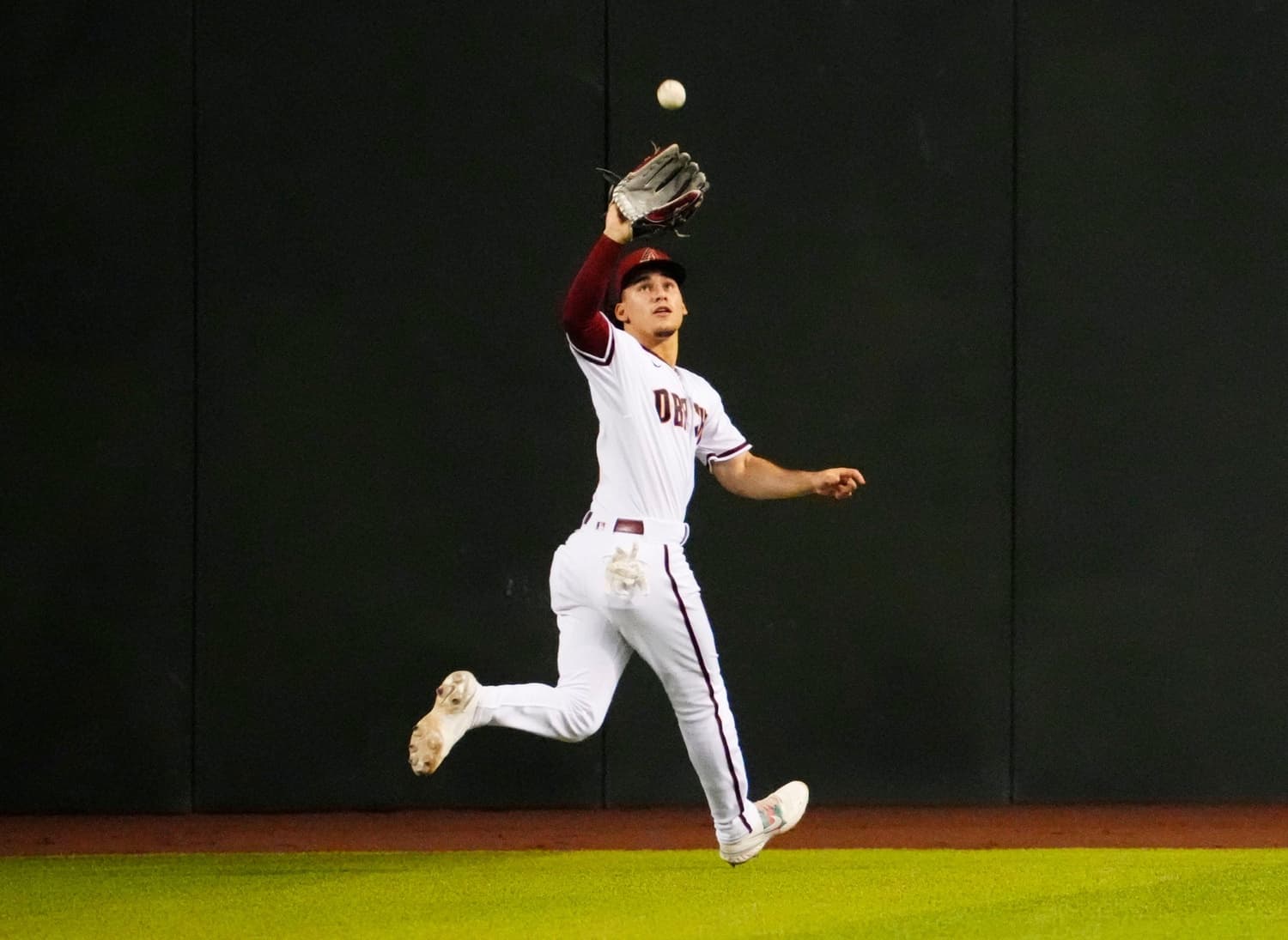 Photo credit:© Rob Schumacher/The Republic / USA TODAY NETWORK
Well, the rather surprising Hernandez trade certainly brings some aspects of the off-season project into sharper focus. We can conclude, for example, that they didn't have the stomach for $8-10 million per year with term to back-end relievers so as that market settled, so they choose a different route.
Despite Ross Atkins saying "we didn't need it" about financial flexibility, either that's misleading or they really don't care if they bust through the CBT threshold. If the latter is true, then speculation can basically go nuts when it comes to free agency, but if they do actually care about that then they basically doubled their working budget for the off-season to something around $25 million which DOES expand the options.
Another side comment Atkins made in the wake of the trade allowed is that they were focused on run prevention. Of course part of that is the big hole in the starting rotation, but it probably relates to better defense as well, and no one is out here pretending that Teo wasn't a below average defender. Which brings us back around to the "adding an outfielder" discussion. Possibly more than one. Much of the punditry this week has turned on the potential interest in Mets CF Brandon Nimmo, but I'm skeptical.
Nimmo is literally the only high value CF available in free agency and as such he's in the catbird seat this winter. The initial speculation of a contract in the five-year, $100 million area was potentially a low-ball estimate. It's not entirely crazy that he'll end up with a contract not unlike George Springer. I, for one, just don't think I'd be in at that price point. Out of his five seasons, not counting the pandemic-shortened 2020 season, he surpassed 92 games played only twice. Springer, who's missed his share of games, looks like Ripkin by comparison. I mean if in fact there's no concern about the CBT, and Rogers is not concerned about payroll, then I guess, sure, but that attitude would have to continue on through the decade when Vlad, Bo, and Manoah at least will need their own payday.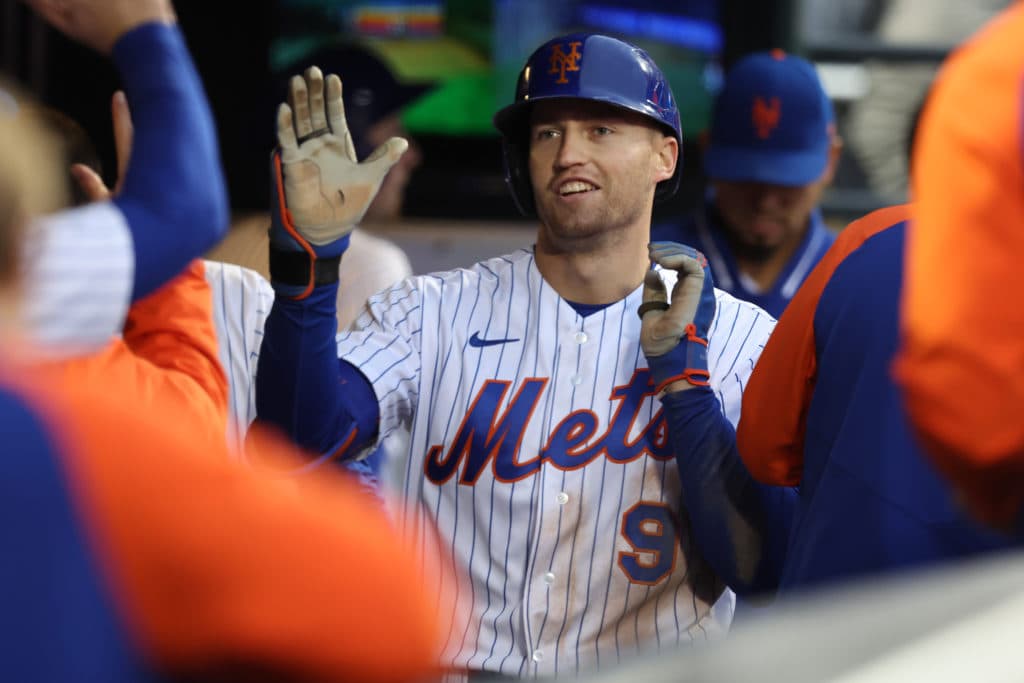 Oct 4, 2022; New York City, New York, USA; New York Mets center fielder Brandon Nimmo (9) celebrates his solo home run against the Washington Nationals with teammates in the dugout during the fourth inning at Citi Field. Mandatory Credit: Brad Penner-USA TODAY Sports
I'm not ruling that out but I'm setting it aside, the idea that they have ~$25 million to play with and the idea of one dude getting more than $20 million of that doesn't compute to me. I'm not saying I'm opposed to it (because, again, if they give $20M or more annually to Nimmo I'll be forced to conclude that they have a lot more than $25M to work with), I'm just saying I have nothing special to add on that possibility. Yes, it would be a better and more balanced lineup than last year. The other free agent option worth at least musing on is Cody Bellinger and I'll admit, that discussion intimidate me some because you can't do it justice without some deep dive analytics on how to fix his bat, which I'm not equipped to do. If they can reel him in on a reasonable make-good deal, you can relax about the CF (and by extension RF) defense so there's value in that. But to me if you do that you also need to do something like signing Michael Brantley to give you some LF/DH punch in case Bellinger can't bring any real offense.
So, if the idea is to add a LH hitting (or switch) OF, with a strong preference for good or better CF defense, and within that $25 million or so budget which still has to add at least one quality SP, the list of candidates gets thin fast. I mean, assuming that you want to hope for more offensive contribution than you could expect to get, from, say, Jackie Bradley, Jr. Once you take out the budget buster (Nimmo), the guys who bring little or no certainty to CF defense (Brantley, Benintendi, etc), those with no projected offensive contribution to speak of (JBJ, and similar) and those unlikely to be a fit for a trade (the oft-discussed Lars Nootbar, for example, since the Cardinals have expressly said they want to ADD left-handed hitting, they aren't likely to trade one)  there's very few options. Which I guess also explains why the spotlight is entirely on Nimmo. There's the potential of buying low on Jesse Winkler, but the fact that they didn't expand the Teo deal enough to include him is a bad sign. There's Kevin Reynolds, for whom I've already made the case (and whom I remain convinced is the best fit in terms of all the aforementioned plus a good level of certainty about performance in '23) unless they've decided they can't deal with his CF defense.
And finally, there's the Arizona Diamondbacks.
Arizona has not one but FOUR LH hitting outfielders, all of which have the chops for CF (per Ken Rosenthal
here
), all of then either established or with highly regarded potential. Most desirable is 22-year-old top prospect
Corbin Carroll
. In the mid-season Top 100 at Baseball America, he was No. 5 overall, and of course Arizona's No. 1 on basically every list. Plus CF glove, plus speed (a more important skill next season) and improving power all supporting plus bat-to-ball skills. The beauty of it is, on the same list where Carroll was No. 5,
Gabby Moreno
was No. 3. Some of the commentary seems to be cooling on Moreno's trade value but it's really unlikely that talent evaluators have lost any faith in him at all.  The Diamondbacks need their catcher of the future, the Jays need a long-term CF, both have depth enough to spare – it's a magical perfect beautiful "good for baseball" challenge trade. Still, my gut and most people's "hot take" impression is that Arizona wouldn't do it. Rosenthal reports that's the word from inside the club, that he's off limits. But they should. Both teams would benefit.
Perhaps people want more certainty in the return, given the whole win-now urgency (which was the mentality behind my Reynolds proposal) – in Arizona's case that man is Dalton Varsho. He's 26, a CF though he spent more time in RF last season due to the abundance of CF talent here, and he can play at catcher too bringing the value of being the third line catcher if he were on the Jays and had been acquired for a catcher. Of the four options he's the most established but also may be already about as good as he's going to get. He graded out plus-plus on defense last year, but on the other hand you could argue that Arizona could maybe just maximize his value by moving him back behind the plate. So it's informative that we've seen little indication that's in the plans. He's a Super Two arb guy this winter, so in terms of years of control left he matches up with Alejandro Kirk more than Moreno or Jansen. Again, these are players with the same sort of comparable value as the Carroll/Moreno deal. You could make a not crazy case that Varsho is as good as he's ever going to be and ultimately Kirk will be better, if he's not already. This would be a fine deal for both teams, bring quality and certainty to Toronto's lineup and bring real run-prevention value. However, he's also a pretty big swing and miss guy who doesn't get on base as much as you'd like and for that reason he's not entirely a "checks all the boxes" option.
But maybe you're thinking "do we HAVE to give up a catcher to shop in Arizona?" Well, maybe not. Enter Jake McCarthy. Like Carroll, he was a first round draft choice, and while (maybe?) not as plus in CF as the others to my knowledge, McCarthy (25) produced more offense than Varsho though with more on-base than power, and he stole 23 bases which is an element the Jays could use. He can play all across the OF and it's unclear to me whether he's quality in center and just not as good as others he might have shared a team with, or something less than that. Rosenthal referred to all of this group as capable center fielders though. Value wise he comes with five years of control, and you could imagine that as value and projectability to make it worth dealing Jansen, but I don't think they would be too interested in just two years of Jansen and so you probably would have to build an offer out of prospects for the most part and it's just even more useless to sit and say "I'll bet if we offered them X and Y…" and for that reason I'm less interested in speculating about McCarthy. He'd be a fine add but tougher to theorize about what a trade would look like.
Which brings me to Alek Thomas. Nest year will be his age 23 season, he's the CF that pushed Varsho to right this summer and so you know he's plus on defense. But he didn't have a super-smooth transition to the majors offensively. That said, going into 2022 he was BA's #32 overall prospect, while Pipeline had him at #18 and Baseball Prospectus ranked him #37. It would be a mistake to put too much stock in his debut season. He got some run, and only managed a .619 OPS but it's instructive that they gave him 113 games. A quick look at his minor league career, even allowing a PCL adjustment, indicates why he was a Top 40 prospect a year ago. As a value proposition you could give them a choice between Kirk and Moreno and actually be overpaying a bit either way (Kirk proved himself, Moreno was a more highly regarded prospect. Moreno is virtually the same age (about 10 week older) and was somewhat more productive in the minors despite the major injury in 2021. Kirk is a little over a year older than both, came through the minors faster and has better slash lines than either, plus showed he was for real in '22 and if marketing is your thing – he's Mexican.  The Jays would be taking on marginally more risk than with the others, not every prospect pans out of course, but this seems also like the best path to actually making a deal here. So how to address the potential overpay? I have an idea.
And his name is Joe Mantiply. The definition of a late bloomer, the lefty broke out big time in 2022 at the tender age of 31. He'd been pretty good in '21 but last year he struck out 61 and walked just SIX in his 60 innings of work. The Jays pen could use a second reliable lefty and he has all three options left if the need to shuttle arises. Relievers are of course unpredictable, but if you were asking for a proven stud you'd imbalance the trade the other way. I'd suggest that Thomas and Mantiply for Kirk and Richards (out of options, needs to be moved anyway) would be pretty close to something both teams could feel good about.
In conclusion let me repeat this for clarity if you didn't see my previous trade musings. In my opinion, considered in a vacuum (i.e. without consideration to the potential return) the logical catcher to trade is Kirk. Jansen indeed has less control remaining but he's integrated into the heart of the team and it's possible that they don't want to pull out another core piece this winter. Even if his trade value may never be higher. Moreno has the most control going forward, can apprentice behind and alongside Jansen for two years and be entrusted to be the main guy if/when Jano leaves. Kirk, also, may never be more valuable than he is right now and would be a perfectly fine partner for Jano if things fall that way, but you'd always be looking for a way to get his bat in the lineup and you may over-stress your DH flexibility while always living with the risk of an injury when both are in the lineup. It's a smallish consideration but the margins are thin enough here that small considerations count.
As regards the Reynolds proposal – go to Pittsburgh if you want veteran certainty and something that shows the fans that win now is still a thing, go to Arizona if you're thinking about how long that window stays open and are willing to accept some risk of less offense than you hope, initially.
---
Recent articles from Tammy Rainey