Useless Trade Speculation, Vol. 4 – Fourth Outfielder
Photo credit:Getty Images
Since the signing of Brandon Belt the mass of Jays Twitterati and, as far as I can tell, the beat writers, radio types and bloggers, have been pretty focused on the likely incoming fourth outfielder that will more or less complete the projected 13-man crew that would be presumed to constitute the team's Opening Day offence.
The central assumption seems to be that they will just sign one of the remaining free agents, with Robbie Grossman (correctly) identified as the one who has the most to contribute. While I don't dispute that evaluation of Grossman, indeed I share it, there's the real possibility that Grossman would rather be a starter with the Royals or someone than a bench player on a championship-level team, or maybe the two sides would just disagree on salary. But sure, if you can sign him, do it.
Tommy Pham and Jurickson Profar are also reasonable alternatives that shouldn't be seen as a disappointment if Grossman chooses to go elsewhere. Let me offer a mild case that in that case, it might be better to fill the role with a trade.
Last night I mentioned on Twitter, not for the first time, that if you're trying to plug a veteran guy in for one year at a reasonable cost, there's a pretty ideal fit out there. I quote myself:
What if I told you that the ideal fit for the Jays' last roster spot wasn't a free agent, but a guy who should be easy enough to trade for? What if I said he was capable of playing all across the OF, was a RH hitter but wasn't such a valuable guy to his team as to be unrealistic? What if this guy absolutely raked against LH pitching last year (.308/.333/.593/.926 in 180 PA) and he's been solid if not spectacular vs. LH his for his career? What if they are already paying him over 40% of his salary anyway? Handsome Randy anyone?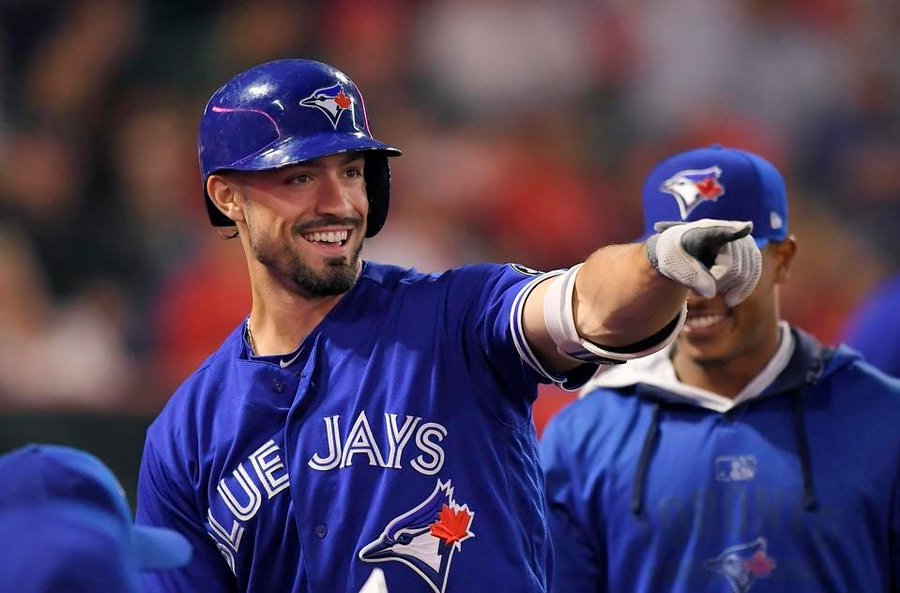 It's not an unserious suggestion, despite the tongue-in-cheek presentation, you could likely acquire him for some depth piece — say Trevor Richards and Tanner Morris or whatever and have the short-term situation addressed for an additional $6 million in payroll (the Jays are already paying him $4.33 million to play for Colorado). Unless the team knows something negative that's not public info, there's little obvious reason why this isn't just as good an option, arguably better, than Grossman. But that's not the trade this column is about. We all pretty much know what we'd be getting, good and bad, in Grichuk and it seems overkill to do a deep dive on such a potential deal.
To start, let me stipulate that this guy is possibly not the only similarly situated such player that a proposal like this would work for, and that I have a mild bias toward this guy for a reason which should be obvious. If you prefer to think of his name as a placeholder for "a guy like this" then that's fine, but I am making a specific case for this particular guy. Filtering the 2022 stats by results in 2022 vs LHP, and setting aside guys who are clearly either not available at all or far too expensive to acquire for this role – as well as players just acquired by their current team, Grichuk is actually the top guy you might reasonably expect to trade for when ranked by wRC+: he comes in sixth on the list. Looking a bit further down, Juan Soto is 19, the recently signed Andrew McCutchen is 20, and one-time Blue Jays prospect Lane Thomas is 21.
Thomas is entering his age 27 season, and it's his first go at arbitration which netted him a $2.2 million salary. In 2022 he had his first year as a full-time player, where he was perhaps somewhat over-exposed. But let me back up a small step.
Lane Thomas was drafted by the Jays in the fifth round in 2014. He was dealt to St. Louis for international bonus pool money on signing day in 2017. This was the year the Jays gave their biggest bonus to Eric Pardinho. Thomas had put up pretty marginal stats in the Jays' system and no one really thought much of the loss. But he hit well in the Cards system and got 44 plate appearances in 2019 and thanks to an aberrational four homers in that sample had a 1.093 OPS. After that, he was absolutely awful in two more short stints with the Cards in 2020 and 2021. That season, at the trade deadline the Cards flipped him to the Nationals for veteran starter Jon Lester. After the trade, he finished strong with an OPS of .856 in 206 plate appearances. Last year he was basically league-average overall. I'm not going to argue he has no value as a placeholder for a team like the Nats who aren't really trying at this point, but you don't cling tightly to placeholders either.
The element of his game I'm looking at is his hitting vs LHP. In 2022 he put up a 105 wRC+ versus lefties, for his career though, it's 128 which is not as good as Grossman and Grichuk were last year, but plenty good enough for our purposes. On more traditional numbers, he has an .836 OPS in his major league career vs. LHP, but that said, he's pretty helpless against RH pitchers (though he was better in that regard last year than in previous seasons). This means neither the Nats nor the Jays should look at him as a high-value piece in terms of trade. Given that basically everywhere on the diamond is an area of need for the Nats, except CF which should be the home of their #1 prospect soon, it's not difficult to see getting Thomas for, say, Otto Lopez or Spencer Horwitz or even a marginal pitcher like Trent Thornton.
Am I saying "Man oh man the Jays need to go grab this guy!" Absolutely not. Three years of control on a useful bench guy has some value but he's certainly end-of-the-bench material at best, for all we've seen so far. In terms of making this year's team better, at least on paper, you want Grossman or Grichuk. But if the better options don't work out for whatever reason, a guy like Thomas could plug into a marginal role and raise the floor a bit more.
---