Vladdy's three homers lead the Blue Jays to a win in New York but Teoscar Hernandez left with an injury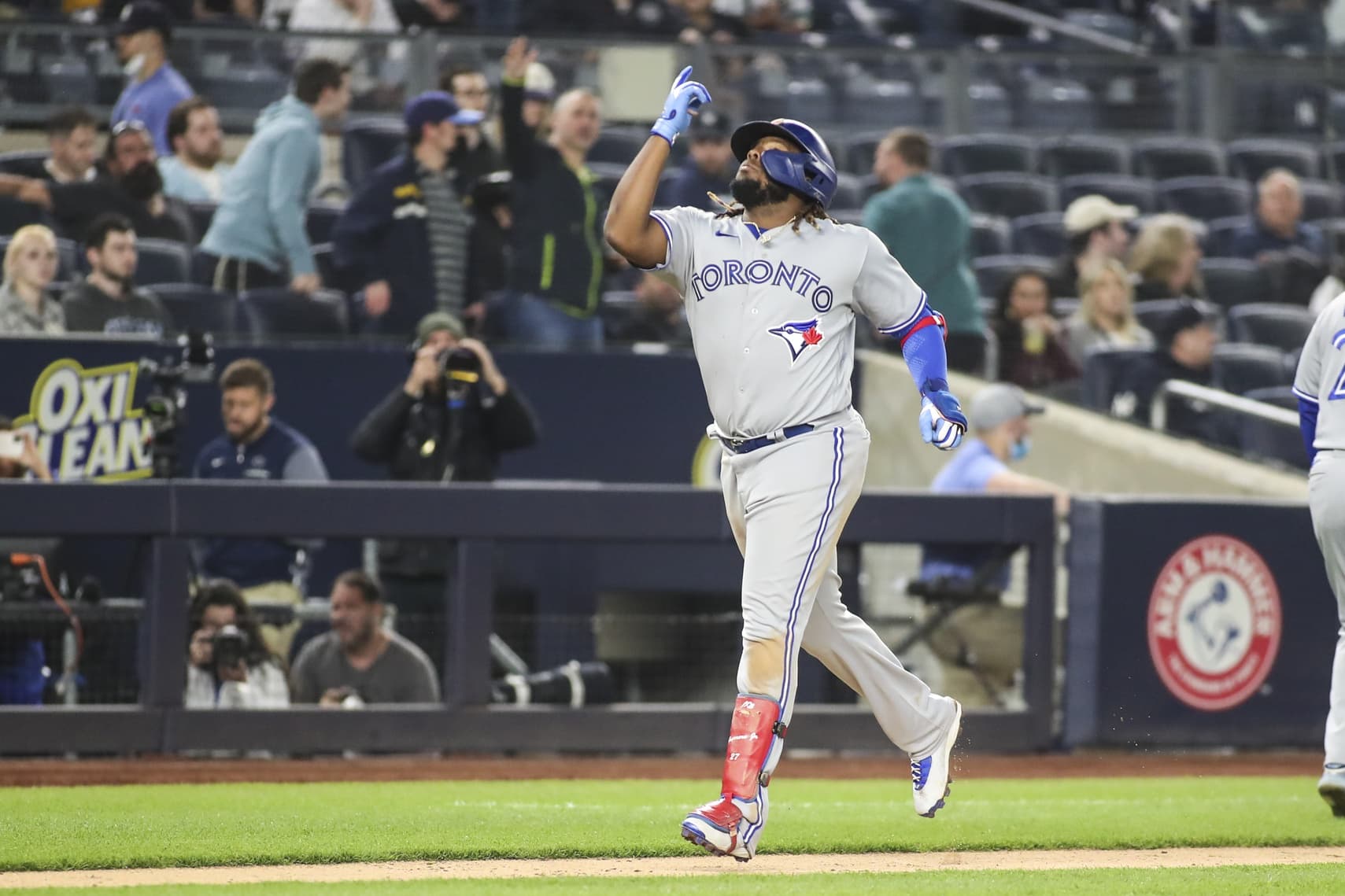 Photo credit:© Wendell Cruz-USA TODAY Sports
This is one we'll remember as a Vladdy Game.
Guerrero Jr. smashed three homers, two off of Gerrit Cole, as the Blue Jays beat the Yankees in The Bronx by a score of 6-4.
Things worth mentioning… 
The first Vladdy homer came in the first inning and it just scraped over the wall in centre field, the second came in the third inning and he managed to hit one of Cole's fastballs that was in on his hands 427 feet to left field, and the third one came in the eighth inning off of Jonathan Loisaga and it looked like the ball was hit into space. Amazingly, two of the three homers came after Vladdy had his hand stepped on by Aaron Hicks as he ran out a ground ball past first base. Vladdy was gushing blood out of his hand, taped it up, and took that Cole fastball on the hands into the seats. Absolutely fucking nails.
Jose Berrios got the start and did a lot better than he did back on Opening Day. I mean, that's obviously a low bar, but Berrios was cruising through the Yankees' lineup for four innings before he got into trouble in his third go-around. In the fifth inning, Anthony Rizzo and Aaron Judge clubbed back-to-back homers and then Josh Donaldson and DJ LeMahieu both hit doubles to tie the game. Berrios got out of the inning and finished off with a line of five innings, six hits, three walks, and five strikeouts. Far from his best stuff, but a step in the right direction based on last time.
The shitty part of the game came in the sixth, right after the Yankees tied the game with their three-run inning. Vladdy hit a double and Teoscar Hernandez came up to bat and swung through a pitch from Cole so hard that he pulled out of the batter's box afterward holding his side. Charlie Montoyo came up to the top of the dugout stairs and checked in on Teoscar but he waved the manager off and wound up grounding out softly. He winced in pain slowly jogging up the first base line and was pulled immediately after. It seems like an oblique injury, which wouldn't be good, but, for now, the Blue Jays are calling it Left Side Discomfort.
So we don't end on a negative note, here's something hilarious from when it looked like the Yankees had tied the game in the eighth inning on a three-run Stanton homer…
---