Vladimir Guerrero Jr. is the 2023 Home Run Derby champion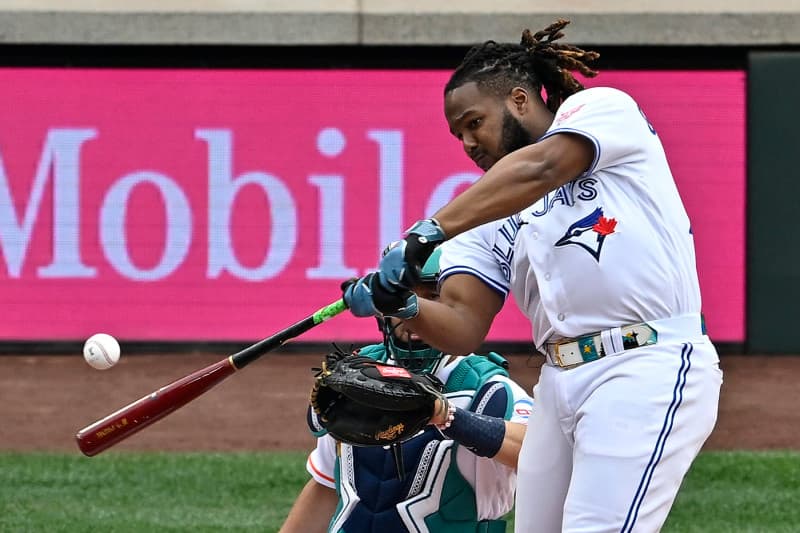 Photo credit:Alika Jenner/Getty Images
Vladimir Guerrero just avenged an unjust loss in the 2019 Home Run Derby.
As you may know, the Blue Jays' 24-year-old first baseman hit a record 92 home runs in the 2019 derby, but fell short against Pete Alonso, who broke the final's home record with 23 to Vladimir Guerrero Jr.'s 22.
Well, Guerrero Jr. just avenged that loss, and set some more records in the process.
First round:
In the first round, the three-time all-star faced Mookie Betts in a pretty easy round, defeating him with 26 homers to Betts' 11 homers, the lowest of any round.
Although Betts only hit 11 in the derby, he is tied for third in the league with 26 homers, really showing off the difference between raw power and game power. It's also worth mentioning we have two of the funniest sound clips from this game, with Mookie Betts not knowing how to pull the ball.
The other one came from Bo Bichette, who interviewed Guerrero Jr. after his initial time was up. Check that out below.
Second round:
Julio Rodríguez was an absolute beast in the first round, hitting a new record 41 home runs in a single round. This surpassed Guerrero Jr.'s mark in 2019, albeit Vlad had three swing-offs with Joc Pederson.
Rodríguez may have taken the record, but Guerrero Jr. defeated him at his home building, as he walked Rodríguez off 21 homers to 20 homers.
Still, it was an excellent showing from the 22-year-old Mariner who was the runner-up in the 2022 Derby. Can't wait for next year's rematch.
Final round:
Randy Arozarena knocked off Adolis García in the first round, and then hit 35 homers to Luis Robert Jr.'s 22 homers in the second round.
Guerrero Jr. didn't get a long break after knocking Rodríguez out, as he was up right away. By the end of the two minutes in the final round, he already had 20 homers with an additional minute due to hitting two + balls 440 feet. In the end, he finished with 25 homers, setting a new high in the finals, taking over Pete Alonso's record.
Arozarena did make it close though, as he finished with 23 homers, and had about 15 seconds remaining to match Vlad's total. In the end, the quantity over quality eventually gassed him out, and Vladimir Guerrero Jr. is your 2023 Home Run Derby Champion.
Other things worth mentioning:
For starters, this has to be up there as one of the best Home Run Derby's in history. I don't think it's as good as the 2019 derby. Moreover, I'm sure some of you are pointing to the Josh Hamilton Home Run Derby in 2008, but I was like 10 at the time, I don't remember that.
Another thing worth mentioning is the fact that 16 years ago, Vladimir Guerrero Sr won his home run derby, making them the first father/son duo to both win a Home Run Derby. That's pretty damn cool!
---
As always, you can follow me on Twitter and Instagram @Brennan_L_D.
---