We're one third of the way through the season. What have we learned?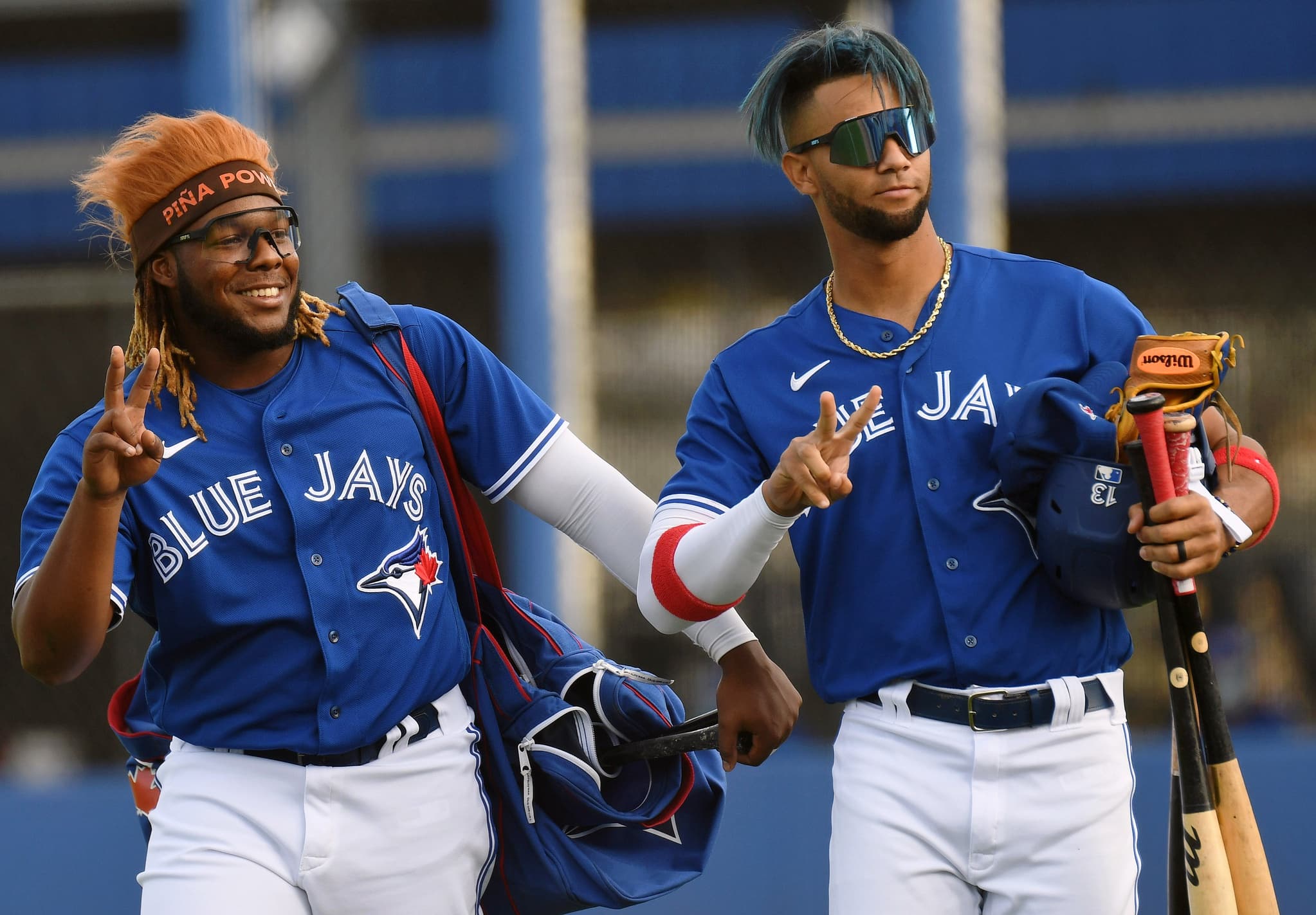 Photo credit:© Jonathan Dyer-USA TODAY Sports
The Blue Jays pulled off a two-game sweep of the Miami Marlins in their return to Buffalo this week.
The first was a commanding 5-1 win on the back of an excellent start from Robbie Ray and the second came on a three-run ninth-inning rally that ended on a Joe Panik walk-off sacrifice fly.
We're now one-third of the way through the season and the Blue Jays own a 29-25 record. Let's take a look back at the season thus far and talk about what we've learned and what we can expect the rest of the way.
The American League Beast is loaded
The Blue Jays have scored the fifth-most runs in baseball and they rank 12th in terms of runs against. They're eighth in baseball in terms of run differential and their actual record, a respectable 29-25, is a slight underachievement compared to their Pythagorean record.
Despite all of this, the Blue Jays sit fourth in their division. Welcome to the American League East.
What we've learned so far, and this comes really as no surprise, is that the Blue Jays are playing in one of the two best divisions in baseball. You can argue it's the best, but the California teams might disagree.
As of right now, the red hot Rays, who have three losses in their last 19 games, are in first place with a 35-22 record. The Yankees, who started slow, have started to find a bit of a groove thanks to some strong pitching. They're now in third with a 31-25 record. Finally, there's the Red Sox, who haven't slowed down since their surprising start. Boston is still in second place with a 32-23 record.
So, yeah, the American League East is really good. I mean, it always is, but the division being four competitive teams deep is a bit of a surprise. I don't think anyone expected the Red Sox to be much more than a .500 team and I don't think many assumed Tampa would remain the top team in the American League after their off-season turnover.
In order for the Blue Jays to make the playoffs, they need to, at the very least, finish third in their division. They'll also have to finish above whoever loses the American League West, either Houston or Oakland. It's going to be a challenge.
Timothy T. Ludwig-USA TODAY Sports
Things are going to get a bit easier from here
Given the division the Blue Jays play in, it doesn't come as much of a surprise that
they've had the most difficult schedule in baseball so far this season
. Also, this only takes into consideration Toronto's opponents. It doesn't consider the fact that the Blue Jays spent their first two months as a road team getting booed and heckled by opposing fans in their "home" park in Dunedin.
Their month of May in particular was a grind. They played Atlanta, Oakland, Houston, Atlanta again, Philadelphia, Boston, Tampa, the Yankees, and Cleveland and came out with their heads above water, which is impressive given all of these teams other than the National League East opponents are over .500. The weak point of that stretch was the Phillies and the Braves, and the latter was one win from reaching the World Series last year.
But things are going to get easier for the Blue Jays… Eventually.
They have a tough stretch coming up against Houston, the White Sox, Boston, and the Yankees, but then there's a long list of games against the Orioles to be played in late June and early July. There are also games against weak opponents like Seattle and Miami coming up later in the month.
Mandatory Credit: Jonathan Dyer-USA TODAY Sports
Vladdy has arrived and the offence looks like a juggernaut
Undoubtedly the best story on the Blue Jays this season has been the breakout performance of Vladimir Guererro Jr.
He's making everyone who doubted him look really, really dumb for thinking that he was a bust or that he would never reach the lofty expectations that were put on him as he made minor-league baseball look like rec league.
Vladdy is currently slashing a .335/.440/.665 line and his 1.105 OPS is just slightly behind Carlos Delgado's 2000 season (1.134 OPS) for the best individual season in franchise history. He's tied with Ronald Acuna Jr. for baseball's home run lead with 17 and we have a legitimate triple crown watch as his .333 average is the best in baseball and his 45 RBIs is second only to 2020 AL MVP Jose Abreu.
According to FanGraphs, Vladdy has been baseball's best player by a wide margin. He's at the top of the fWAR leaderboard at 3.5 and the next guy behind him is Nick Castellanos at 2.9. That's a testament to Vladdy's amazing offence but also the fact that he's turned himself into a pretty damn good fielder at first base.
In third place in terms of fWAR is Marcus Semien, Toronto's buy-low signing from the off-season. Semien is back to his 2019 MVP-finalist form this year. He's slashing a .301/.372/.546 line and is second on the team with 13 homers.
Toronto's offence is rounded out by Teoscar Hernandez, who's putting up another great season in the cleanup spot, Bo Bichette, who's having a fine season but hasn't yet gone on a big hot streak, and Randal Grichuk, who was clearly bothered by all of the off-season trade proposals he found himself in because he's putting up his best numbers since getting traded to the Blue Jays.
The fact the Blue Jays are scoring the third-most runs per game in baseball despite the fact George Springer has played four games and names like Lourdes Gurriel and Rowdy Tellez haven't yet hit their stride is incredible. A fully healthy, fully rolling version of this lineup could be even better than the 2015 team.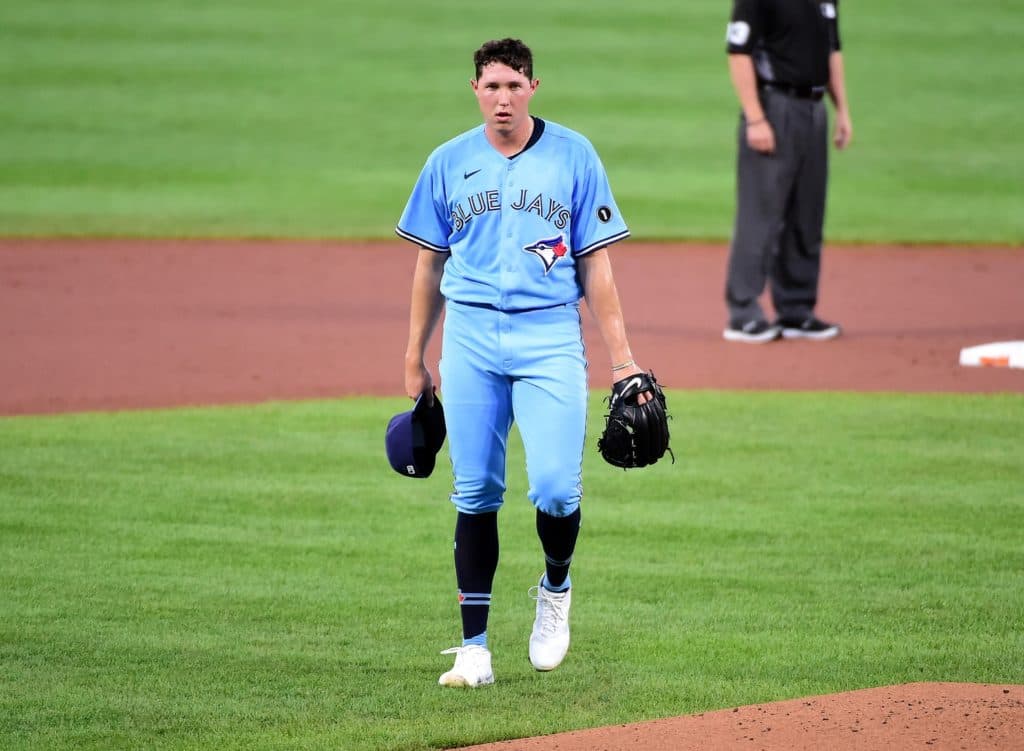 Evan Habeeb-USA TODAY Sports
The pitching staff is going to need some reinforcements
Pitching hasn't been a strength for the Blue Jays this season but the fact it hasn't been a glaring weakness is impressive given the injuries the staff has dealt with.
Hyun Jin Ryu, Robbie Ray, Ross Stripling, Jordan Romano, Tyler Chatwood, Ryan Borucki, Travis Bergen, A.J. Cole, Julian Merryweather, Patrick Murphy, Thomas Hatch, and Anthony Kay have all been on the Injured List this year and Kirby Yates and David Phelps are done for the season.
Despite these injuries, the Blue Jays have somehow patched things together. Ryu and Ray have consistently put up quality starts this year, Matz has been good more often than he's been bad, and the team has operated with a next-man-up approach in the bullpen. I mean, nobody expected Joel Payamps to be pitching high-leverage innings this season, but here we are.
All told, the pitching staff has done good work despite the challenges they've faced, but if the Blue Jays want to make the playoffs, they're going to need some reinforcements.
Ryu, Ray, and Matz form 60 percent of a strong rotation, but Toronto needs two more starters to fill it out. Alek Manoah had a great debut but struggled in his next outing against Miami. Nate Pearson was a disaster in his start against Houston and needs time in Triple-A. Neither Anthony Kay nor T.J. Zeuch got the job done, Ross Stripling is still an enigma despite back-to-back strong outings, and the team would obviously like to avoid doing bullpen days as much as possible given how taxed those arms already are.
Adding a good starting pitcher and some quality relievers would help turn the Blue Jays from a good team with flaws into a serious contender.