We're two weeks into the season and Yankee fans have snapped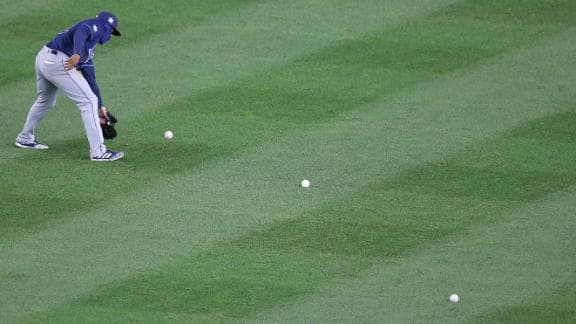 The New York Yankees are dead last in the American League East. Their fans are pissed.
After getting walked off by Bo Bichette and the Blue Jays on Wednesday afternoon, the Yanks went home with a forgettable 5-7 record. Next up, they faced the Tampa Bay Rays, another pesky divisional opponent that they need to beat in order to take control of the American League East.
That didn't happen. The Rays took a 2-0 lead off of opener Nick Nelson and then a comedy of errors led to Luis Cessa allowing four runs, only one earned, in a disastrous fifth inning. The Yanks bats were able to get virtually nothing going off of Michael Wacha, and, by the time the eighth inning rolled around, their fans let the team know how they felt.
In the eighth inning, a collection of fans in the outfield starting launching balls on the field and the game had to be stopped for a few minutes. When play was resumed, the Yanks ended up taking an 8-2 loss and were booed into oblivion by the 10,000-ish fans in attendance.
Now, obviously, there's no excusing this kind of stuff. Being a fan throwing things at players is absolutely heinous and those people who did so are terrible, and we aren't going to generalize all Yankee fans into that lump, just like how all Blue Jays fans don't want to be categorized with the idiot who threw a beer at Hyun Soo Kim during the 2016 Wild Card Game.
But, also, this is pretty fucking hilarious. How are Yankee fans this worked up over two-and-a-half weeks of play?! The Rays are under .500, the Blue Jays are sitting at 7-7 now after a win in Game 1 of their doubleheader with Kansas City, and the best two teams in the American League are Boston and Seattle, two non-contenders. It's the middle of April! Have some chill!
You'd think the team was off to a slow start after having missed the playoffs for a decade straight or something. Yeesh.