Whit Merrifield's late-season success may be difficult to replicate in 2023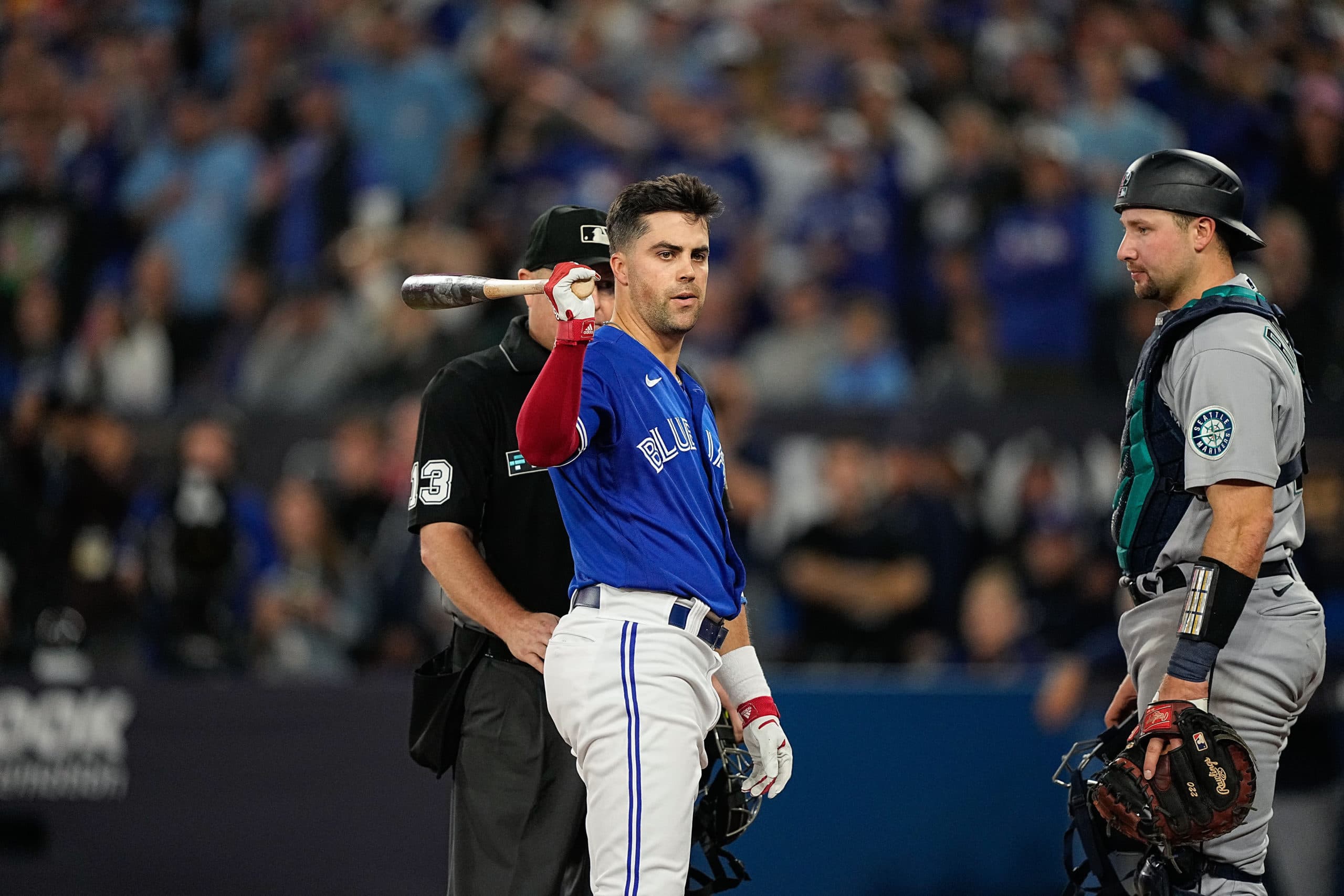 Photo credit:John E. Sokolowski-USA TODAY Sports
After joining the Toronto Blue Jays in a midseason trade from the Kansas City Royals last season, Whit Merrifield is entering his first full campaign with the franchise, in which he hopes to serve as an everyday contributor during his age-34 season.
Merrifield's tenure with the Blue Jays didn't start on a positive note, though, as he faltered to a .182/.239/.227 slash line with a 35 wRC+ across his first 26 games. He also struck out considerably more than expected, nearly eclipsing a 20 per cent clip. But the right-hander found his footing almost immediately after teammate Santiago Espinal suffered an oblique injury, earning himself increased playing time.
The newly-turned 34-year-old caught fire during Toronto's road trip to Tampa Bay – where he's historically performed well (career 187 wRC+ at Tropicana Field) – in mid-September, going 2-for-4 with a pair of RBIs and a run scored. And he remained red-hot down the stretch, hitting .392/.407/.706 with four home runs, 11 RBIs and a 215 wRC+ over his final 15 contests.
Last season's Merrifield trade didn't look promising early on. But the two-time All-Star quickly became an integral piece of this team's success once Espinal landed on the injured list, likely positioning himself as the club's full-time second baseman in 2023, where he'll be expected to build off his impressive finish.
There are multiple reasons why Merrifield could struggle offensively next season, though.
Credit: Gerry Angus-USA TODAY Sports
On the surface, the former Royal capped off a relatively underwhelming 2022 performance with his most impressive stretch of the campaign. At the same time, however, most of his traditional metrics wouldn't have been sustainable over a larger sample size. And that shouldn't be surprising – no one should've expected the veteran righty to continue hitting .400 beyond an 18-game span.
But you were probably hoping Merrifield would regress closer to his career slash line (.285/.331/.426), right? Based on last season's underlying metrics, though, that may also prove challenging for the 6-foot-1 versatile defender.
Much of Merrifield's hot streak with the Blue Jays was reliant upon luck, evidenced by his .225 xAVG, .345 xSLG and .268 xwOBA during that stretch. Why was there such a dramatic difference between his traditional and expected results? It was largely because nearly half of his batted balls were struck into the ground (48.9 per cent GB rate), with 52.2 per cent directed to the pull side.
That combination isn't usually a recipe for success, as it can make a hitter predictable to defend against. In this instance, however, it worked for Merrifield because of his elevated hard-hit (41.3 per cent) and barrel rates (6.5 per cent). But history tells us that also wouldn't have continued considering his hard-hit percentage has
ranked in the ninth percentile or worse
since 2020.
Additionally, Merrifield has ranked in the bottom third of the majors in barrel rate and average exit velocity each season since 2017. So he isn't exactly someone that's generated consistent hard contact.
The Florence, South Carolina, native's late-season hot streak was centred around his success against fastballs, hitting .395 AVG, .763 SLG and .495 wOBA with a trio of round-trippers in September. He also featured encouraging expected figures, posting a .278 xAVG, a .456 xSLG and a .341 xwOBA, thanks to his season-high 42.9 per cent hard-hit rate.
Even with all that hard contact, Merrifield's underlying metrics weren't nearly as eye-popping as his traditional ones because 48.6 per cent of his batted balls came via ground balls. And if the soft contact had returned, his performance almost certainly would've dropped off, leading to an increase in weakly hit grounders.
Merrifield also benefited from facing numerous fastballs in the heart of the plate, providing him with favourable targets to create damage against. With that in mind, it would've been more concerning if he didn't excel versus heaters down the stretch.
Pitchers, briefed on Merrifield's success with fastballs, will likely adjust how they attack him next season and already started to near the end of 2022, throwing him heaters at a season-low 51.2 per cent usage in September. They may also emphasize attacking the lower half of the strike zone, hoping to induce higher amounts of ground balls.
So unless Toronto's right-hander maintains his above-normal hard contact output, and he hasn't historically, he could struggle to serve as a reliable performer versus pitchers who possess dominant heaters.
The same goes for breaking balls, too, which Merrifield enjoyed more success against than he should've last September. He hit .300 AVG, .450 SLG and .325 wOBA, but could have been far less effective given his poor expected results (.150 xAVG, .215 xSLG, .157 xwOBA).
Similar to his performance against fastballs, the ninth-round selection from 2010 encountered a fair amount of luck versus sliders and curveballs, with his season-high 33.3 per cent hard-hit rate covering up his concerning ground-ball rate (53.3 per cent). And his traditional metrics would have suffered without it, just as they did leading up to September.
Source: Baseball Savant
Merrifield was also a heavy pull hitter during this span, but while he occasionally went the other way with fastballs, almost all of his breaking balls put in play finished on the left side of the field. If his batted-ball tendencies remain unchanged in 2023, he'll be forced to rely on luck again to be effective.
Source: Baseball Savant
Another factor likely to change in 2023 is where breaking balls are thrown to Merrifield. Those pitches were primarily located low and away from the contact-oriented hitter prior to the 2022 season, causing him to extend the zone, ranking his chase rate in the bottom half of the majors since 2017. And his swing decisions remained an issue this past season, placing his chase rate (29.8 per cent) in the 45th percentile.
That wasn't the case in September, though, with his chase rate against breaking balls improving to 20.8 per cent, the second-best percentage of the campaign. What changed? Pitchers started missing over the middle of the plate, albeit at the knees, helping Merrifield create considerably more hard contact.
Source: Baseball Savant
Of course, most of Merrifield's hard-hit balls stayed on the ground and were struck well enough to sneak through the infield. Assuming the opposition resumes targeting the outside corner, similar to their approach from earlier in the year, he could return to the player that registered a .216 AVG, .213 xAVG, .284 SLG, .273 xSLG, .239 wOBA and a .236 xwOBA before his mid-September hot streak.
Source: Baseball Savant
Merrifield possesses the quickness – with an 84th percentile sprint speed (28.7 feet per second) – to successfully run out infield singles. That likely won't be a viable option all season, though. To enjoy a complete offensive performance, he must create more line drives and consistently utilize all three areas of the field.
At his peak, he carried a line-drive rate well north of 20 per cent but faltered to a career-worst 19.7 per cent clip in 2022. His opposite-field percentage also remained above 30 per cent during most of those seasons, only to have it decline to 28.8 per cent a year ago.
The Blue Jays are banking on receiving the version of Merrifield that earned a 3.2 offensive WAR rating in 44 contests last season, and rightly so. They would much rather have that one return instead of the negative contributor he was over his final two campaigns with the Royals.
It will also be crucial for Merrifield to deliver on his expectations as his contract includes an $18 million mutual option in 2024, with a $500,000 buy-out. For a player who was worth 1.5 fWAR in 2022, mainly because of his defensive versatility, there's no guarantee he'll be brought back after the 2023 campaign.
If two-hit Whit – his nickname in Kansas City – returns next season, he could improve his chances of extending his tenure north of the border beyond just one and a half seasons. But he'll first need to make some offensive adjustments.
---