With the 20th overall pick, the Blue Jays could select… Brock Wilken?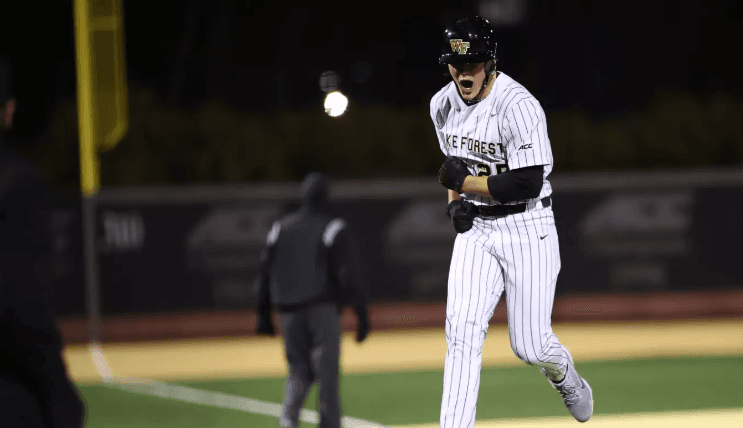 Photo credit:Jaylynn Nash LLC
Today, we return to the college sphere with an intriguing third baseman.
When looking at Blue Jays players that hit for power, there aren't a ton in the organization. Obviously, you have Orelvis Martinez who has ludacris power and Davis Schneider has been a nice surprise in the power department this season. Those two are the only double-digit home run hitters in the minor leagues, with Damiano Palmegiani, Peyton Williams, and Will Robertson all within two home runs.
The prospect we're looking at today, Brock Wilken, could arguably have the most power in the minor league organization if he were to start today.
Brock Wilken's bio:
Brock Wilken is a 6'4", 225 lbs third baseman playing for Wake Forest University.
The recently-turned 21-year-old set a school record for home runs, while also winning the Cape Cod League MVP in 2021, where he slashed .302/.430/.519 with six homers in 158 plate appearances.
Wilken went undrafted in the COVID-shortened 2020 draft, but ranked as Baseball America's 354th best draft prospect. What a turn-around he has had since that draft.
As for who the Blue Jays have selected from Wake Forest, last draft they selected Michael Turconi in the 15th round. They also picked John Aiello in 2018 in the 14th round, Donnie Sellers in the 11th round in 2017, and Dave Bush in the second round back in 2002.
Brock Wilken's statistics:
After not being drafted in 2020, Wilken honoured his commitment to Wake Forest, and blossomed early in his career. In 2021, he slashed .279/.365/.618 with 17 home runs in 208 plate appearances. He also had an 11.1 BB% and a 17.3 K%.
There were some positives and negatives in his sophomore season. Wilken slashed .272/.362/.602 with 23 homers in 293 plate appearances. While that doesn't look bad on the surface level, his K% jumped to 24.2%, while his BB% actually increased a bit to 11.6%. Baseball America notes that he struggled with breaking stuff, especially the slider which he had "an alarming whiff rate against".
The 2023 season was Wilken's best in college, as he drastically jumped his slash line to .358/.520/.845 with 31 homers. That total was tied with highly touted Florida player Jac Caglianone, although he also pitches. What's more impressive is his increase in walk rate, 21.9%, while his K% dropped to 16.7%. It's also worth noting that he improved his swing decisions against the sliders.
So Wilken definitely has the collegiate background to make a team salivate, but does he have the tools?
Brock Wilken's tools:
WIlken's greatest attribute is his fantastic raw power. MLB Pipeline notes that he has as much raw power as anyone in the class, which is evident by his 71 college homers in only 807 plate appearances (and counting!)
Baseball America notes that he has 70-grade raw power and can use it from "foul pole to foul pole." He also had an average exit velocity of 94.6 mph, which is something you'd usually see in big leaguers (granted, college uses metal bats).
There are questions about his hit tool, as he's shown in the past issues with making contact, especially with breaking balls. While that improved as a junior in college, it'll be a question mark moving into professional ball.
Another great attribute of Wilken's makeup is his plus-plus arm. Defensively, he has some work to do at third base, such as lateral movement and staying low to the ground, but his defence is adequate enough. He only had seven errors in 2023 for a .952 fielding percentage, the same percentage as in 2022.
Even if his defence may not be good enough for professional ball, Wilken could easily transition to first base. While he'll lose value in doing so, he definitely has the power to be successful at the position.
Brock Wilken's grades:
Like always, we'll look at both Baseball America and MLB Pipeline's grades
| | | |
| --- | --- | --- |
| Tool | Baseball America Grades: | MLB Pipeline Grades: |
| Hit | 45 | 45 |
| Power | 65 | 60 |
| Run | 30 | 30 |
| Arm | 60 | 65 |
| Field | 40 | 45 |
| Overall | 50 | 50 |
Will the Blue Jays draft Brock Wilken?:
I won't lie, Wilken wasn't on my radar before I started writing this article, but now I am fully invested in his makeup. First off, the Blue Jays could use a power hitter in the farm system, as they only have a handful.
Moreover, Wilken would be drafting for a need, as it's likely that Matt Chapman will not re-sign with the Jays. While they have a few prospects like Addison Barger and Orelvis Martinez ready to fill that hole, it never hurts to have a backup plan because not all prospects pan out.
Wilken ranks 23rd on Baseball America's draft prospects and 24th on MLB Pipeline's, so it's expected that he'd probably get slot value if the Blue Jays select him with the 20th overall pick.
The question is, will he be the best player available when the Blue Jays step up to the podium? Teams have different evaluations of players, so it really depends how much stock they put into his power first bat.
Still, Wilken is an intriguing prospect who'd be very fun to watch in the minor leagues if he's selected by the Blue Jays.
Previously…
---
As always, you can follow me on Twitter and Instagram @Brennan_L_D.
---