With the 20th overall pick, the Blue Jays could select… Nolan McLean?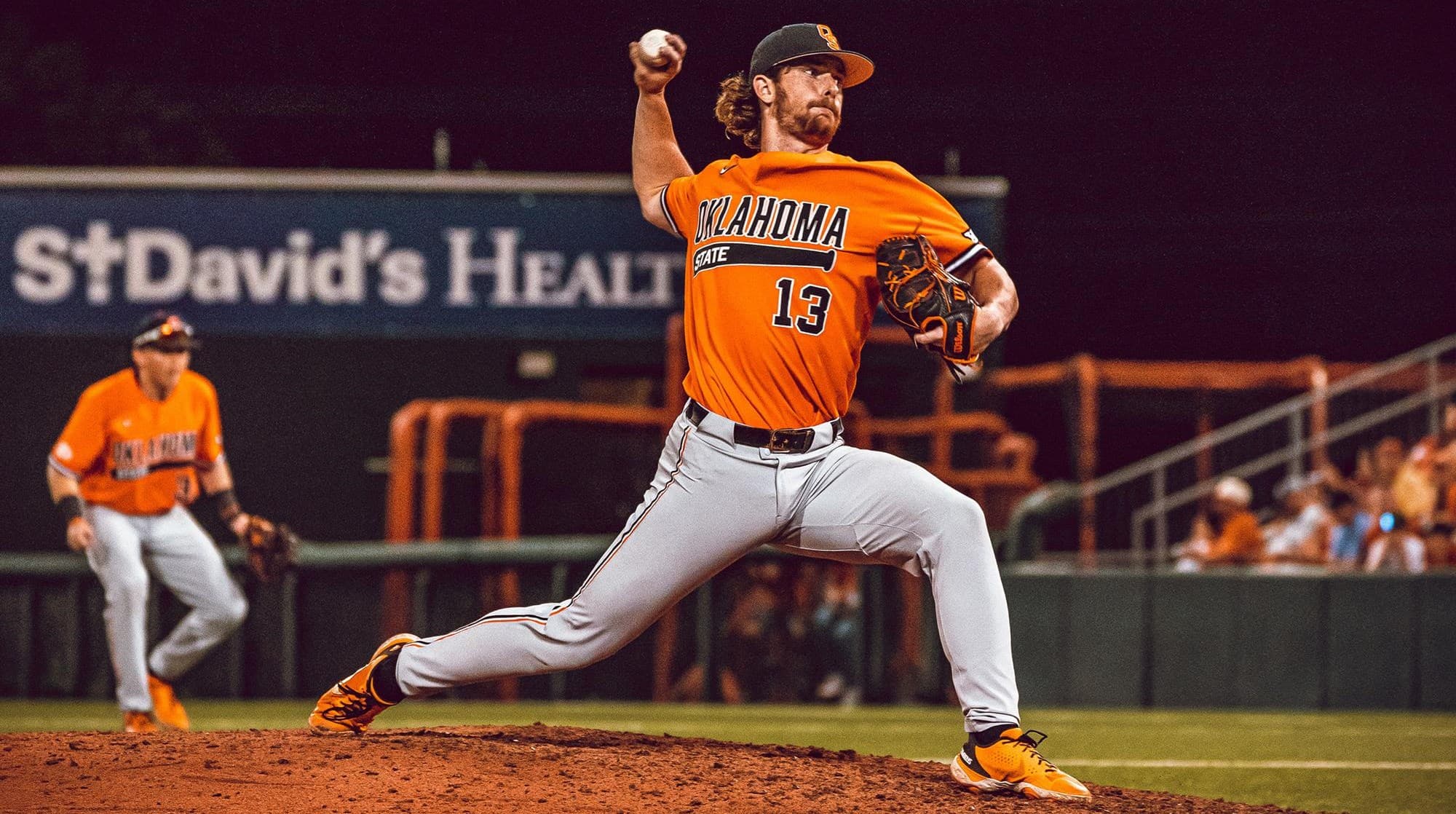 Photo credit:okstate.com
This one is going to be a fun one.
In yesterday's article, we covered the prep two-way player Bryce Eldridge, who has impressive tools both pitching and hitting. Today, we'll look at a college player that has both pitches and hits, Nolan McLean.
Nolan McLean's bio:
Nolan McLean is a 21-year-old right-handed relief pitcher/outfielder who plays for Oklahoma State University. Like most college players that will be featured in this series, McLean was not selected in the shortened 2020 draft because he wanted to play as Oklahoma State's quarterback.
McLean was drafted by the Baltimore Orioles with the 81st overall pick. However, they didn't sign him due to a post-draft MRI showing things they didn't like. It's also worth noting that it appears that they would have let him DH while pitching.
As a high schooler, he ranked as MLB Pipeline's 66th ranked prospect. After two seasons of college ball, he ranked as the 115th best prospect in the 2022 draft. This season, he ranks as Pipeline's 89th best prospect. Ironically, that's where the Blue Jays next pick is slotted.
Speaking of the Blue Jays, you don't have too look to far to see the last time the Jays picked a player for Oklahoma State, as they picked Kale Davis with the 488th overall pick in the 2022 draft. Davis didn't sign, and instead transferred to the University of Oklahoma.
Nolan McLean's statistics:
Despite being eligible for three drafts already, McLean has only played three seasons at Oklahoma State.
In his freshman season in 2021, he slashed .263/.410/.526 with eight homers and a 15.6 BB% and a 28.9 K% in 173 plate appearances. He didn't pitch much in his first collegiate season, just two inning.
In his sophomore season, he slashed .285/.397/.595 with 19 homers in 290 plate appearances. His BB% dropped to 12.8%, while his K% drastically increased to 36.9%. As a pitched, he pitched 25.1 innings (all in relief), and had a 4.97 ERA, a 35.1 K% and an 11.7 BB%.
After returning to Oklahoma State in 2023, he slashed .250/.379/.532 with nine homers in 153 plate appearances. Once again, his K% increased 37.3%, while his BB% was the highest of his career at 17.6%. As a pitcher, he had a 3.30 ERA in 30 innings pitched. His K% dropped significantly to 24.1%, while his BB% rose to 12.1%. 
Unlike the previous two seasons, McLean started games for Oklahoma State. In fact, in his final seven games, he started three of them and only pitched an inning or less once. Prior to that point, he had pitched only one inning in his previous seven games.
Moreover, prior to his last game against Oral Roberts where he allowed five earned runs in four innings,  he had a 2.08 ERA.
Nolan McLean's stuff:
McLean's future likely lies as a starting pitcher, and MLB Pipeline believes that he has the upside of a mid-rotation starter or a high-leverage reliever. This is because his fastball averaged 94 mph, but touched as high as 98 mph.
Moreover, he also throws a mid-80s slider and a high-70s curveball. Baseball America considers both pitches to possibly become above-average or plus pitches in the future, as they both have spin rates over 2,900 RPM. He also throws a changeup.
The biggest concern about McLean on the mound is his control and command. However, he could improve these aspects of his game by focusing on pitching full-time.
Nolan McLean's tools:
While McLean may be destined to be a starter once drafted, he's an intriguing prospect with the bat as well.
He has fantastic power with a 6'4" frame, weighing 214 lbs. He has shown impressive exit velocity as well. McLean has power to all fields, and has quick bat speed. Moreover, he would prefer to stay as a hitter, per his MLB Pipeline bio.
McLean does have some issues, namely he has a pretty long swing which is troubling to scouts. He also strikes out a lot, with MLB Pipeline noting that he has an overly aggressive approach. In 2022, he missed on 44% of pitches he swung at. Baseball America notes that he actually makes fine swing decisions, but fails to make contact which leads to a high strikeout rate.
As for his other non-batting tools, he isn't a great runner, but his arm is obviously great (again, he throws 98 mph).
Nolan McLean's grades:
Here are McLean's grades according to Baseball America and MLB Pipeline. We'll look at pitching first, before looking at his hitting grades.
| | | |
| --- | --- | --- |
| Tool | Baseball America Grades | MLB Pipeline Grades |
| Fastball | 55 | 55 |
| Curveball | 55 | 55 |
| Changeup | N/A | 50 |
| Slider | 60 | N/A |
| Control | 35 | 50 |
| Overall | 40 | 45 |
| | | |
| --- | --- | --- |
| Tool | Baseball America Grades | MLB Pipeline Grades |
| Hit | 30 | 45 |
| Power | 55 | 55 |
| Run | 40 | 40 |
| Field | 45 | 60 |
| Arm | 60 | 55 |
| Overall | 40 | 50 |
Will the Blue Jays select Nolan McLean?:
It's worth it to pose the question: "If the Blue Jays drafted McLean, would they allow him to DH and pitch like the Orioles were going to?"
Playing as a two-way player in baseball is difficult, and unlike Eldridge, it's pretty obvious where McLean's future lies. However, you can't say that the raw power he possesses is not intriguing, even if his swing needs a lot of work.
Yes, he ranks as MLB Pipeline's 89th prospect, which is exactly where the Blue Jays have their next pick after the 20th overall. However, the assumption in this article is that they'd draft McLean, give him less than the $3,746,000 value for the 20th overall pick. They would then draft a prep player with the 89th overall, using the money they saved by picking McLean.
It's unlikely they'll pick him with the 20th overall pick, but it'll be interesting to see what the Jays do with him if they call his name.
Previously…
---
As always, you can follow me on Twitter and Instagram @Brennan_L_D.
---