I promise that I have answered all of these questions sober. I would never answer these questions drunk. I understand that we're all responsible baseball-thinking adults, so it's important to take this kind of stuff very serious because baseball is a very serious matter in life. So, let's get to some of the mail in the bag and cut to the damn baseball chase, seriously!
***
Going into 2017 our 4 best players, assets for the future, and trade chips were Donaldson, Sanchez, Stroman and Osuna. What do you think of that situation now? Are the Jays snakebit? Please try to be sober when thinking about this. 
Thanks
OzRob from Sydney, Australia
Well, OzRob, I can tell you that I definitely thought about this question sober and I'm answering it sober, too – maybe.
Now, all four of those players would have definitely had a lot of value in the 2017 offseason. And we all know that Mark Shapiro would have hit reset that offseason if it weren't for *Rogers* fans. But, the organization chose a different path and here we are. And all four of those players still do have value today – some more than others – if the team were completely out of it in July.
Clearly, Roberto Osuna's situation is different than the other players mentioned. I think the Jays will move him at the appropriate time. What I do know is that last year at the trade deadline, the Jays received a pretty good offer for Osuna, but turned it down. That's pretty much all I can say about this because the source that told me – told me in confidence, so, yeah, moving on…
As for Sanchez and Stroman, it will be interesting to see what the brass decide to do. I think every Jays fan realistically understands that the organization will only be able to extend a *ROGERS* contract to one of them. They will not be able to pay the *ROGERS* cash-rules-everything-around-me CREAM to both of them. If I were a part of the front office, I would extend Sanchez's contract long-term and trade Stroman in the offseason if he pitches well the rest of the way. The Jays would be selling low on Stroman in July if the season goes south, so that's not happening. If he could comeback and put up good numbers the rest of the way, I think the Jays would be all ears this offseason if GMs kick the HDMH tires. So far Stroman has been a good pitcher for the Jays, but he's never been great.
…So what do I think of the situation now? Well, it's still early, OzRob. And even though the Jays have been pretty effing bad in May, they are not out of it. The window is definitely closing fast on this current roster though. This team has 5-weeks to show Shapiro and Atkins that they are a serious Wild Card contender, or there will be a lot of moves at the deadline. And JA Happ would have the highest value of any player on the roster. I would like the front office to re-sign Happ because the Jays still need to have a starting rotation for 2019 and because he's awesome. Happ would be the perfect mentor for young Jays pitchers because of his work ethic and professionalism.
Now, Marco Estrada would definitely be dealt at the deadline because he could be a good bullpen piece for a contending team. The Jays would sell some of their current bullpen arms, too. They could trade Donaldson, as well. So, I guess to answer the question, OzRob, they are not snakebit at all. Right now, the Jays front office is looking forward to the MLB draft only a couple weeks away. And Steve Sanders and company will add more talent into the farm system that many Jays fans are already talking about.
Sean Reid-Foley was just promoted to Buffalo and got rocked in his first start. Should we be worried?
Nah, man, he would fit right in with the Jays rotation…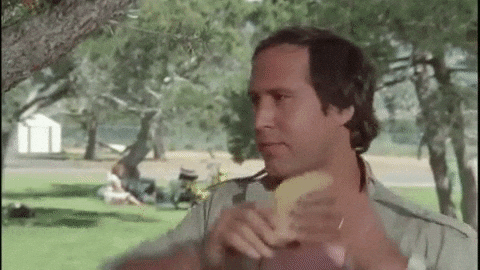 In all seriousness, the kid just needs some time to settle in and I'm sure he will be fine. He pitched terrific in New Hampshire and I'm looking forward to seeing what he does in Buffalo. I just think that it's kind of funny that the Jays promoted SRF and not Vladdy. Maybe it's because the Jays are about to abandon the Biagini as a starter project and move him into the Jays 'pen where he is greatly needed.
I mean why would they promote Vladdy to Buffalo, anyway. If they promote him to Buffalo and he murders baseballs in AAA, it will be that much harder for them to come up with excuses for not calling him up. It kind of sucks that the Jays are not calling him up. But, if he needs to put in work at third, I guess New Hampshire is the best place for him to do that?!?!?!?!?!?!?
Luis Rivera is trash. What was he thinking sending Granderson the other night?
I was going to do a 'Dear, Rivera' post yesterday, Bill. But, I decided to pass on the idea. If I had written it, I would have asked him what the hell he was thinking sending Granderson on that fly ball to Kole Calhoun. Kole effing Calhoun. Kole 'Jesse Barfield-esque-cannon-arm' Calhoun.
Maybe Rivera is just a risky man, who likes risky business and going all in at any risky opportunity. Risky Rivera is the man about town, Bill. And he likes to wave them all in. Maybe it was worth taking the chance and sending Granderson on that shallow fly ball. But, Josh effing Donaldson and Justin Smoak were up next, Luis. Josh effing Donaldson and Justin Smoak are hitting next, Luis. C'mon, Rivera, you're not winning any fans over this season with some of these shoulder shrug sends of yours.
Anywho…
Luis Rivera is about -5 WAR on the season as the third base coach for the Jays. I wonder what's in Luis' coffee? Maybe some good ol' whiskey? Or possibly a lot of sugar. It could be a lot of sugar. Luis could be a triple-triple kind of guy. Or maybe he is hammering back Red Bulls in the dugout. I dunno, Bill. But, he sure is making questionable calls that have us all thinking that he is completely boxed out of his mind.
And finally…
— Roy-Z ? ☘ (@rolewiii) May 24, 2018
There will be…And we will call that rainbow: PLAKATA!
***
A big thanks and thumbs up to all you crazy humans who submitted questions through Twitter @thejaysnation and Cam's email – [email protected] You can also toss some questions my way @ [email protected] So, make sure to send some for next week for some more Friday fun. I will answer as many questions as I can before I start to get bored.