I promise that I have answered all of these questions sober. I would never answer these questions drunk. I understand that we're all responsible baseball-thinking adults, so it's important to take this kind of stuff very serious because baseball is a very serious matter in life. So, let's get to some of the mail in the bag and cut to the damn baseball chase, seriously!
***
Given his explosion this year, is it reasonable to expect Cavan Biggio to make the Jays in some capacity in the next year or so?
What's not to like about what Biggio is doing in New Hampshire? This bloodline player has been mashing Double-A pitchers. As I type this, he is leading the 'Cats with 12 dingers. He has 33 good ol' fashion RBIs, is slashing .313/.429/.732 and has an are-you-kidding me wRC+ of 211 – not too bad at all. To put things into perspective about how ridiculously good Biggio has been, Vlad's wRC+ for the season is 216. And to really put things into perspective, the league average for wRC+ is 100. So, yeah, Biggio has been an 'explosive explosion' in the Eastern League.
I'm not sure what the future plans are going to be with Biggio because the pipeline is rich with middle-infield talent, man. And this is not a bad position to be in at all. With future *hopeful* stars in Lourdes Gurriel Jr., Richard Urena, Bo Bichette, Logan Warmoth, Kevin Vicuna, and let's toss Kevin Smith (3B) on this list for fun, the organization has a young, talented logjam. It will be interesting to see what Mark Shapiro and Ross Atkins have up their offseason sleeves because the big league club has a bit of depth in the middle-infield, too. Hopefully Devon Travis can get it going this season because the Jays need his bat. And it might be time for the front office to explore trading him this offseason with certain *Bo Bichette* players in the MiLB shadows.
When will the Jays call up Vlad?
Karen from somewhere in Canada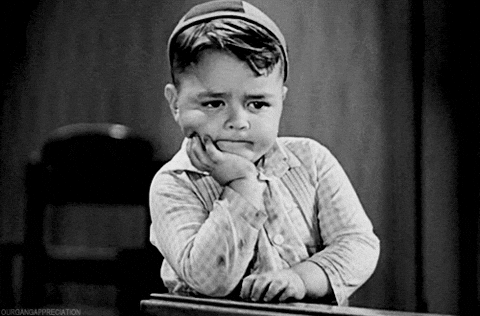 At some time in the future, Karen…waiting…sucks!
The Angels are so good that there is no chance in hell the Jays get that second wild card.
Ah, yeah, the Angels are really good, Noah. Whenever Jays games finish, I always switch over to the Angels game because they are really effing exciting to watch. Mike Trout and Shohei Ohtani – enough said, seriously.
Now, can the Jays actually keep pace with the Angels? The optimistic kid in me likes to think so, but the Angels could very easily run away with this thing. It really all depends on if their starting rotation can continue to be healthy. I wrote this in the offseason – about the Halos' rotation – on my dumb site, so I will copy and paste it here:
So the Angels will be counting on a bruised up kind of who-is-recovering-from-something mix of pitchers in 2018, with Garrett Richards, Matt Shoemaker, Tyler Skaggs, Andrew Heaney, and J.C. Ramírez, who are all recovering from some sort of ulnar collateral ligament damage or Tommy damn John or more torn ulnar collateral damage. And I'm not being hyperbolic here folks, but there are a shit ton of 'ifs' in the Halos' rotation.
It's also worth noting that Richards, Shoemaker, and Heaney made only 25 starts in '17, so there is a whole lot of 'if the rotation can stay healthy' kind of talk happening in La La Land this offseason, too.
And J.C. Ramirez was just recently transferred to the 60-day disabled list earlier in the month after having season-ending Tommy John surgery, and Matt Shoemaker is currently on the 10-day disabled list due to a right forearm strain. So, it's not like the Halos haven't had to deal with their share of injuries this season. But, Tyler Skaggs, Shohei Ohtani, Garrett Richards, Andrew Heaney, and Nick Tropeano have been just fine. The Angels' 3.78 team ERA is the 4th best in the American League. The Jays' 4.64 team ERA is 11th – many damn thanks to the 'pen.
So, do the Jays have a chance at that second wild card? Yeah, man, of course they do. There is plenty of baseball left and once Josh Donaldson gets going and if the starting rotation can stop forcing ol' Gibbers and Pete Walker to have sleepless nights, then this team can keep pace with the dumb *good* Halos.
What's up with Devon Travis?
I'm not too sure, Ken. What's up with you, man? And I'm also not too sure what you're asking me, to be honest. If you're asking me how his life is and all that stuff, I couldn't tell you man. Now, if you're asking me how he is doing in Buffalo, then I can tell you that he is finally starting to hit and get on base. But, I really have no idea what you're actually asking me. But, what I do know is that the Jays need last year's May-Devon-Travis bat in their lineup, so let's hope that he continues to hit in AAA. Let's hope for him to straighten out.
When will Mark Shapiro and Ross Atkins get fired?
Some clown from somewhere in Canada
Some dodo actually sent this question to me last night – big *sarcastic AF* thumbs up…
Josh Donaldson has kind of sucked.
I wasn't going to include this shitty dumb comment, but here I am responding to it. Well, Mike it's only a matter of time before Josh Donaldson does Josh Donaldson things because he's Josh effing Donaldson. And once Josh Donaldson does get going, he will lead the team in every offensive category. It might actually only take him like 20 at-bats and we'll probably see his WAR jump to like 2. He is a goddamn WAR machine, Mike. Don't ever say that Josh Donaldson sucks because that's just really stupid and you're being that guy. Do you really want to be that guy man? Josh Donaldson is a baseball savage!
***
A big thanks and thumbs up to all you crazy humans who submitted questions through Twitter @thejaysnation and Cam's email – [email protected] You can also toss some questions my way @ [email protected] So, make sure to send some for next week for some more Friday fun. I will answer as many questions as I can before I start to get bored.