As the ice pelts our faces and winter hurricanes throw their big winter middle fingers at every person living in cold regions on this planet, (most of) the best baseball players are heading south to Florida to rip and flippin' roar on the diamonds – trying to impress their skip for a roster spot.
Florida is the land where people go to join the dirt, or make their baseball dreams come true. It's a land of new baseball beginnings. And sweet lullaby endings. I wouldn't mind my lullaby ending in the Florida Keys if it's not under water by then. But, I'm not trying to be bleak because the Grapefruit times are almost here with all of its sunshine.
Spring Training brings about a sense of hope for organizations and fans, or maybe the reality that there is still a shit ton of work to do, especially if you're the Baltimore Orioles. Either way, it's a great time to be alive because spring is going to creep back into the air with all of its little cherry blossom flowers and, of course, baseball.
So hope is a word used to describe some kind of feeling that makes us believe that there is something better for tomorrow, something that will lead somewhere, a place that is better than right now.
The Jays are entering a new season, and with it, many fans don't have a lot of hope for 2019, but are still all in on the baseball because we're always all in on the baseball even if it's bad. Now, what's probably going to happen in the American League? Boston will win the AL East. Cleveland will win the worst division in professional sports. And Houston will win the West. The Yankees will take the wild card and then any gambling junkie can fill in the blank for some other team that will slide in there and get murdered by the Yankees. It's probably going to be a 2019 version of 2018.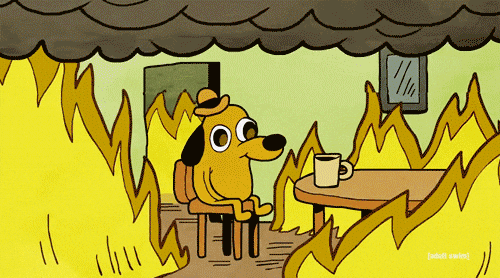 So what is there to hope for this Spring Training? Well, I hope that Vlad bats like 1.000, murdering every baseball, stealing bags, and soaring twenty feet to make catches that Brooks Robinson, George Brett, Wade Boggs, and Ron fucking Santo couldn't make on their best day. I would love to see Vlad force Atkins and the boys to put him on the Opening Day roster because Vladdy is one of the best 25 players on this roster. He was last year, too.
I also hope that Bo Bichette absolutely flips the shit out of that hair of his in Buffalo like Bautista does bats and every Jays fan is chanting "Call. Him. Up." all season long. I hope that the same kind of tribal-Twitter-chant makes some noise for Cavan Biggio, and Nate Pearson, too. I'm pretty sure that at this point in time an All-Star Adult Sons team with Vlad as their captain could beat the Opening Day 2019 Jays.
There's a lot of great prospects to be excited about this season like Eric Pardinho, who I'm sure is going to be really fun to watch hurl in Lansing. And Kevin Smith, who will eventually earn himself a "Call. Him. Up." chant at some point in the future, as well. These prospects have created this 'hope' for the pile of tomorrows that lead to 2020, '21, and beyond. And hopefully it will lead to wins and not losses, banners not draft picks, and cheers not jeers.
But, what about today? What about 2019? Is it just going to be a dumb 'rebuild' year that sees Marcus Stroman, Aaron Sanchez, Justin Smoak, Kevin Pillar, Devon Travis, and Ken Giles eventually traded? Maybe it is. Is it going to be a year where the Jays pay Tulo to play for the Yankees in the season where he becomes the 'comeback player of the year'? Maybe it is (probably not). Will Russell Martin win a World Series in LA? Maybe he will. Will Josh Donaldson be worth 7 fWAR and get MVP votes? Probably, right? Maybe.
Will Randal Grichuck lead the Jays outfield and put up all-star numbers? Will Billy McKinney turn into something real? Will Anthony Alford become the outfielder we all hoped he'd be? Will Teoscar learn how to catch baseballs and not strike out? Will Borucki continue where he left off? Will Jansen become one of the best young catchers in the game? Will Vladdy win rookie of the year? Will Charlie Montoyo make us forget about John Gibbons? Probably not, because #GibbyTheBest.
I guess, the reason that I'm going on about all this stuff is because that's what spring training and the beginning of a new season brings – questions. And lot's of them. We're only 5 months away from having the answers to most of them. But, until then, let's just enjoy the winter air eating our faces and be happy that spring training is here. Hope is a magical little seed, now let's hope it grows some wins. And let's be happy about the blank canvas that awaits.