2023 Rival Preview: The Mariners are looking to take another step forward after ending their playoff drought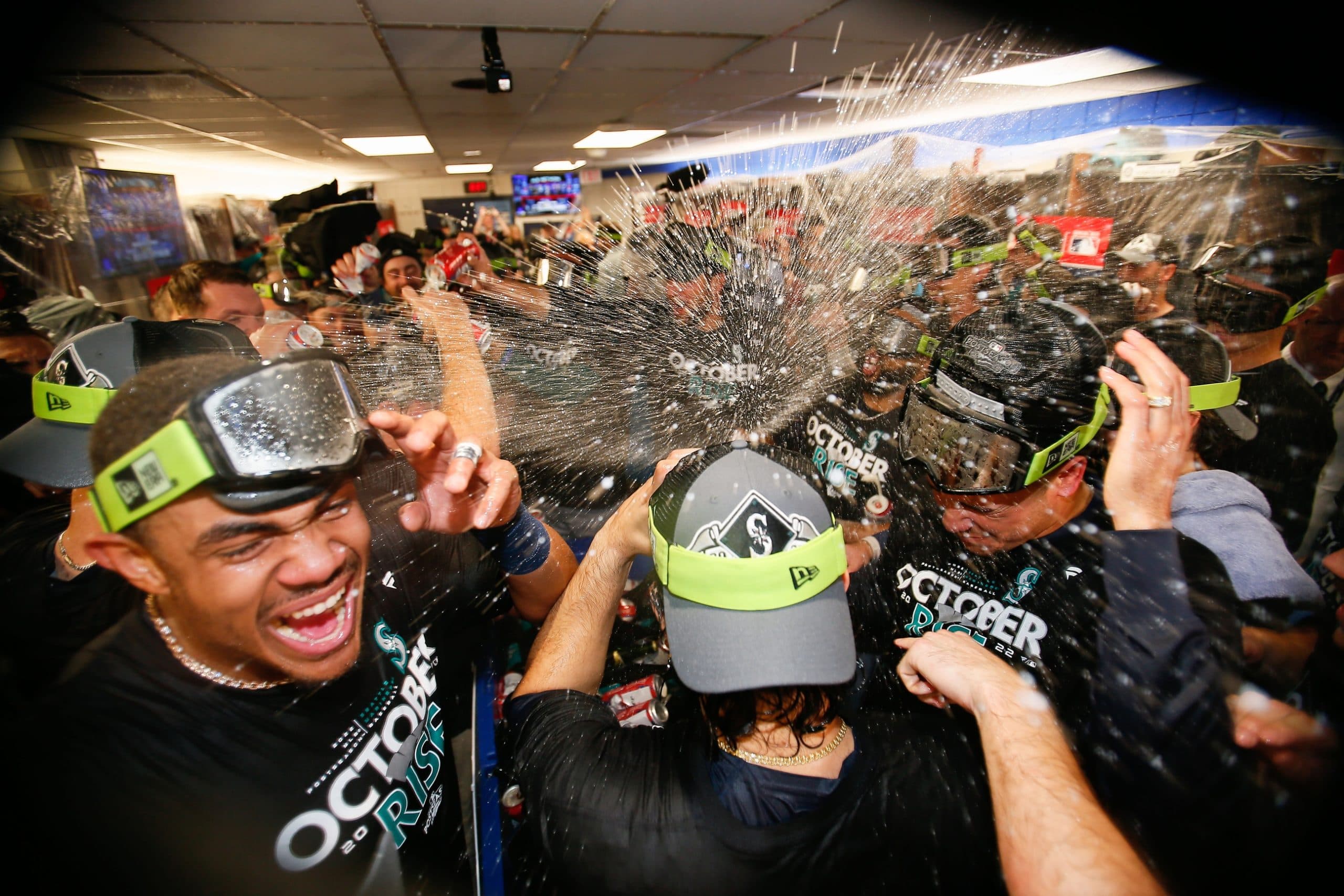 Photo credit:© John E. Sokolowski-USA TODAY Sports
Over the next few weeks, we'll look at each American League team and discuss their 2022 season, their offseason moves, and their 2023 outlook. 
2022 Season Recap…
They finally did it. The Seattle Mariners made the playoffs for the first time since 2001, thereby ending the longest playoff drought among professional sports teams in North America. That title now gets passed down to the Sacramento Kings of the NBA, who haven't been in the playoffs since the 2005-06 season.
The Mariners were on the precipice of postseason play at the end of the 2021 season, as they only missed a Wild Card spot by two games. With a talented farm system nearing MLB action, the fanbase began to invest in excitement for the future of their team.
2022 in Seattle featured the debut of young stars, the addition of former Blue Jay ace Robbie Ray, as well as breakout seasons from guys who had yet to break onto the scene.
Let's start with the arguable face of the franchise in last year's Rookie of the Year, Julio Rodriguez. Rodriguez, or J-Rod as he is nicknamed, played in 132 games in his first season in the bigs, hitting .284 with 28 home runs and 75 RBIs. He also stole 25 bases, further stapling his name as Seattle's leadoff man of the future. Rodriguez won AL Rookie of the Year, a Silver Slugger award, and was named to his first All-Star game. Rodriguez will not be fun to play against going forward, but as a baseball fan, he is such an exciting guy to watch on the field.
Seattle was greeted with the emergence of both 1B Ty France and C Cal Raleigh, who became impact players in the team's lineup. France (the backup first baseman in last year's All-Star game) had career highs in homers and RBIs in his fourth season in the big leagues, while Raleigh performed the same feat in his second overall season. For France, while the power became evident, other numbers saw a decline. France's batting average was down from '21, as well as his OBP, OPS, and OPS+. Raleigh, on the other hand, hit 27 home runs last season. However, his other averages suggest "home run or bust", as he hit .211/.284/.774 across 119 games.
Offensive production didn't come just from the young guys; a late-offseason deal for 3B Eugenio Suarez paid tremendous dividends for the Mariners last season. In the middle of 2022 Spring Training, Suarez and OF Jesse Winker were acquired from the Reds, potentially foreshadowing a deal that came later in the season. The Mariners were looking for a replacement at third base after longtime 3B Kyle Seager retired at the conclusion of the 2021 season.
While Winker didn't pan out very well in Seattle, Suarez put on display exactly who he was in his previous seven years in Cincinnati: a high-strikeout guy who hits for power. Despite leading the AL in strikeouts, Suarez slugged a team-high 31 home runs and 87 RBIs. Seattle also fell benefit to a mid-season acquisition of 1B/DH Carlos Santana, whose loud bat came up big in the postseason.
Rodriguez was the second overall prospect for Seattle after the 2021 season, with OF Jarred Kelenic being the top prospect in their system. Kelenic made his debut in '21, but has yet to exhibit much of any productive results within the last two seasons. Through 147 career games thus far, Kelenic has hit .168/.251/.589 with 22 home runs. His 162-game average for strikeouts is 184, providing further evidence that Kelenic has many strides to make at this level.
Now for (in my opinion) Seattle's strong suit – their pitching. Ray was not at the same Cy Young level as he was with the Blue Jays, as his strikeouts were down a bunch from '21, and his walks were slightly higher. However, Ray did prove to be very durable, making 32 starts and pitching 189.0 innings, almost matching career-bests. Furthermore, a 3.71 ERA was more than serviceable for that amount of starts, although I'm sure the Mariners would like to see him tap into that 2021 Cy Young version of Ray that Blue Jays fans got to see.
Logan Gilbert carried a sub-3.00 ERA into August, and rookie George Kirby finished 6th in ROY voting with a 3.39 ERA in 25 starts in his first season in the MLB. Kirby tossed an impressive 9.2 K/9 versus a 1.5 BB/9, and he also threw 8 scoreless innings in his first two postseason appearances. Marco Gonzales led the AL in losses, but he posted vastly consistent results, just like he's done since 2018.
The Mariners took a good rotation and made it elite at the trade deadline, adding SP Luis Castillo from the Reds. Castillo was a sure-fire name to be dealt last season, as his pitching talent did not equate with Cincinnati's losing ways. While the return for Castillo was fairly hefty, he elevated Seattle into postseason status very quickly.
The Mariners earned the 5th seed in the AL standings, facing the Blue Jays in a best-of-3 first-round playoff series. Castillo dominated the Blue Jays in Game 1, hurling 7.1 scoreless innings. In Game 2, the Mariners overcame an 8-1 deficit, winning 10-9 in a nightmarish game for Toronto. Adam Frazier laced an RBI double off of Jordan Romano in the top of the 9th to put Seattle ahead for good, with Kirby sealing the deal in the bottom of the frame with his first career save.
Seattle met their fate in the ALDS, proving to be no match for the Houston Astros. The Mariners stayed competitive in each of the three games of that series, but Houston was almost untouchable in the playoffs, with that series being no exception.
Off-season Moves…
Seattle kicked off their offseason by entertaining the trade market, and it unfortunately started with the Blue Jays. They acquired RF Teoscar Hernandez in exchange for RP Erik Swanson and a reliever prospect in Adam Macko. The trade addressed a need for both teams. Seattle needed a power bat in their outfield, and the Blue Jays needed to strengthen their bullpen.
Hernandez is coming off of a season in which he hit 25 home runs and 77 RBIs. He is only two seasons removed from an All-Star performance in 2021 in which he placed 3rd in the MLB in RBIs. Hernandez is only a year away from free agency, and the chances of him being a Mariner for long are slim. However, with Santana walking in free agency, Hernandez provides a clear veteran presence in the heart of Seattle's batting order.
2B Adam Frazier also departed in free agency, leaving a vacancy at second base unless Seattle wanted to roll with Abraham Toro or Dylan Moore. They decided to trade for Kolten Wong, sending Toro and Jesse Winker back to Milwaukee in return. Wong is another experienced bat that has been a part of six postseasons. He's also played at least 100 games every year of his career except 2020 (for obvious reasons) and 2013. The experience is great, but Wong posted a 0.5 dWAR last season, as well as 17 errors (t-1st in the NL). His bat is solid, and they didn't have to give up too much to get him.
Seattle finally worked the free agent market, inking OF AJ Pollock to a one-year, $7 million deal. With Kelenic not proving many positive contributions yet, Pollock gives Seattle an experienced option out in left field. Seattle also signed UTIL Tommy La Stella and RP Trevor Gott as depth pieces in their respective positions.
In an under-the-radar move, the Mariners traded OF Kyle Lewis to the Diamondbacks in exchange for C Cooper Hummel. Lewis won AL Rookie of the Year in 2020, but has struggled to stay off the injured list in the previous two seasons. Lewis is still only 27 years old, so you could argue that Seattle gave up on him a little early. However, instead of wondering how many games they could get out of Lewis in the future, they moved on from him, and added some catching depth.
My take on Seattle's 2023 outlook…
Seattle was a tough team for me to dwell on when figuring out what their 2023 outlook should be. Since they're in their competitive window, I would've liked to see them go and spend on a notable free agent. Nonetheless, the lack of a $300 million-plus offseason should not take away from the fact that this roster is legitimate. Acquiring Hernandez immediately makes that lineup better, and their young players (Rodriguez, Kirby, Gilbert) will only get better with experience.
Their rotation of Castillo-Ray-Gilbert-Kirby-Gonzales has the potential to be atop the MLB's best. That group is followed by a bullpen that consists of some lockdown arms in Paul Sewald (2.67 ERA, 20 saves), Andres Munoz (2.49 ERA, 13.3 K/9), and Diego Castillo (3.64 ERA).
It sounds like I have a lot of high praise for them, but like everyone else, there are certain questions. While the bullpen is in good shape, the depth behind them is not as attractive. Sewald, Munoz, and Castillo are certainly established, but the supporting cast behind them is not proven yet. Depending on how that group pans out this season, Seattle will definitely be searching for an impact reliever at the trade deadline.
Offensively, the catching position is intriguing, more specifically if Raleigh isn't hitting home runs. As I mentioned earlier, Raleigh's power is not in question, but if he isn't hitting home runs, how much does he have to offer? The dilemma in left field between Pollock and Kelenic is another one to keep track of. Pollock had a 0.4 WAR last season, so while it's nice to have a veteran out there, he isn't much of a valuable replacement to Kelenic, who I'd imagine they still want to give several opportunities to because of his potential.
In summary, Seattle is well on track to make the playoffs again. Their pursuit of the Astros continues, as even with Seattle's successful run last year, Houston finished 16 games ahead of them in the standings. It will be interesting to see how much the needle moved in that matchup; even if it means that Seattle won't get swept by the Astros in the playoffs.
The Mariners will be in the mix at the trade deadline too, and it certainly wouldn't shock me if they met the Blue Jays in the playoffs once again.
---