A Fortnight on the Farm, Vol. 7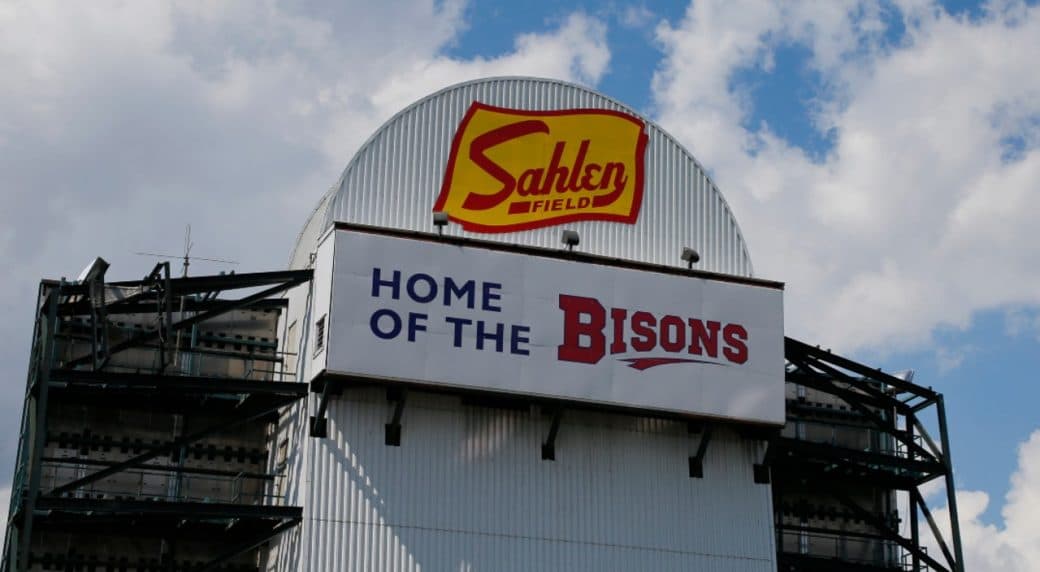 Kinda, sorta.
There have been 15 "game days" across the farm on the schedule since the All-Star break (as opposed to the usual 12) but it seemed better to go long with this sample rather than short, plus you get the full month of July to consider as we look to see who's trending.
The interesting bit is, what this report is going to note guys who won't be Blue Jays' property anymore by Wednesday morning. On Sunday we saw two starting pitchers depart, one of who was a Top 10 prospect on every list and the other in the midst of an impressive bounce-back.
The departure of Sem Robersse and Adam Kloffenstein leaves a gaping hole in the Double-A rotation and I'll speculate below what that may mean for cascade-effect promotions (which we'll almost certainly not know about for sure until at least Tuesday). Odds are there will be more deals before the deadline, but possibly after this column is published. I may edit to reflect the new terrain on Tuesday night if, indeed, this happens.
Triple-A Buffalo
It's worth spending a few extra words discussing upper-level pitching depth in the wake of Sunday's transaction. This rotation has four true starters, and it's a mixed bag on how much any of them mean anything for the Jays this year. Zach Thompson has been very good (in a Triple-A context) for two months as I've mentioned before. Basically ever since they slip him through waivers, things would have to go very badly for the major league rotation for him to go back on the 40-man. Wes Parsons, who joined the team two months ago after a couple of years in the KBL, was actually quite interesting in the minors before covid and has good ratios this year but has (uncharacteristically) given up seven homers in his 37 Triple-A at-bats and he's 30. May end up with more of a Casey Lawrence-type career.
Paxton Schultz has been competent but doesn't look like a guy you'd want taking a start for the Blue Jays. Then there's Bowden Francis whom I'm increasingly attached to. You've seen him in the major league bullpen, but all seven appearances here were starts. He has 39 strikeouts and a tidy six walks in 25 IP, but the downside is that he's yet to reach 5.0 IP in a game. The bullpen has some arms. Pearson, of course, if that's who Ryu pushes off of the major league staff Tuesday, but also Zach Pop who's obviously better than his stat line. He was on a streak of eight scoreless innings in July before getting touched for 3 on Thursday. Thomas Hatch had gone 25.2 innings and given up only five runs going back to May 9, before giving up five on Sunday. Hagen Danner is also on the 40-man roster and has been dominant in July.
The story in Buffalo, really, is the offence. So much so that when Orelvis Martinez finally forced a promotion it forced even more lineup gymnastics to get everyone sufficient reps and plate appearances. His sample is too small yet but early indications are that he's not overmatched. One of the adjustments has seen Addison Barger getting outfield reps for the first time in his career. On offence, the slight concerns that mounted in April are gone. After taking a week or so to get settled after rejoining the team, he's slashed .259/.368/.494/.862 since the last game in June.
Meanwhile, Davis Schnieder keeps doing Davis Schneider things. He hit his 21st homer on Saturday and is slashing better in July than he had in any previous month (.348/.537/.742) and he's now leading the International League in walks. Sure feels like he's very close to a major league debut somewhere. If he's not traded there remains very little explanation for holding him down in favor of Luplow. Shuttle riders Nathan Lukes and Ernie Clement are both having fine seasons (.965 and .960 OPS respectively) and Rafael Lantigua has bounced back from an awful June to post a 1.059 OPS in July. And then there's Spencer Horwitz. In July he's hitting .366/.460/.676 and has hit five homers (after just two in the entire first half). Like Schneider, he seems primed for a trade, perhaps more so since he doesn't have an unobstructed lane to a full-time job in Toronto.
Double-A New Hampshire
The Blue Jays #1 prospect, Ricky Tiedemann has a clear path back to this rotation after having dominated Florida State league hitters on Saturday. He might go once more on that level, but after the trade, my hunch is he'll be back in a Fisher Cat uni on Friday night. He's got space for eight more Double-A turns (and maybe one at Buffalo?) this season but he probably won't reach 60 IP in the regular season all told.
Chad Dallas has had a horrific July and needs a reset pretty quickly after looking pretty great in his first seven AA starts. Jimmy Robbins had a rough May, but since he's put up a 3.41 ERA, with a fine strikeout rate and still somewhat more walks than one would like. He's now the team leader in IP. Luis Quinones probably plugs into one of the other spots for now. He'd been shifted to relief early on and didn't start a game until early June. But it's strictly by necessity, he's not impressing (6.53 ERA as a starter this year). Lefty Trenton Wallace remains on the IL for reasons unknown, but presumably, he'll slot back in here at some point. In the bullpen, flamethrowing Connor Cooke continues to separate himself from the rest. He now has 45 strikeouts against just 7 walks in 24 Double-A innings. I wouldn't be stunned if he ends up in Buffalo soon.
The best remaining, for now, prospect in New Hampshire is SS Leo Jimenez. He's had a major league-calibre glove for some time now, but injuries and streakiness brought a lot of peaks and valleys to his offensive game. Previously he'd shown a great batting eye and little pop, but he's already exceeded his career high in homers with seven and hasn't lost any of his on-base production. Since May 1 he's hitting .299/.371/.488/.858 and logically, if the Jays land another medium-big addition, he could be in the deal. Newly promoted LF Alan Roden came in hot, with nine hits and nine walks in his first 10 games. Steward Berroa, an otherwise marginal prospect, is closing in on 40 SB. Also, 3B Damiano Palmegiani has been steady but not spectacular all season and is currently their best power thread.
High-A Vancouver
If there's one or maybe two guys out of this rotation who'll get the chance to prove themselves in Double-A in the wake of the Hicks trade, it's probably Michael Dominguez and/or Devereaux Harrison. Both are 22. The former has been in the system since 2019 and has by turns looked promising and mediocre. At the moment he's cooking. Since May 28 he's thrown 48 innings, allowed 33 hits, and struck out 52 to support a 1.50 ERA. The flaw is that there are also 31 walks in that sample. Harrison was drafted in 2022 and had been pitching in relief until pressed into the rotation by injuries in late May. There he's been a revelation so far. In 10 starts he has a very nice H/IP ratio of 6.7/9 but his strikeout rate (as a starter) is lower than you'd typically see at this level.
Maybe the best pitcher on the staff is Dahian Santos but he's injured and just 20, and last winter's acquisition Adam Macko who's also 22 has struggled as often as not for the C's. Another thing to note is that this group would be overloaded were it not for injuries to not only Santos but also Ryan Jennings as well as the slow recovery of CJ Van Eck. In relief, unheralded Ryan Boyer and Matt Svanson are pitching well enough to be promoted.
Of course, what's mainly carrying the highly successful Canadians is the offence. Even with Alan Roden and Rainer Nunez having moved up to AA, there are still bats aplenty here. Michael Turconi and his .883 OPS are ready to fly east. Alex De Jesus too but he's been on the IL for a week. OF Devonte Brown had been having a disappointing season but he went 3-for-4 on the last day of June and followed that with a 1.094 OPS in July. Cade Doughty who had failed to live up to expectations also had a hot July with a .959 OPS and Indy League find Jeff Wehler is here now to pick up some slack after torching FSL pitching to the tune of a 1.065 OPS in 92 at-bats. Conversely, the formerly on-fire Garrett Spain needs an adjustment after hitting .203 in July.
Low-A Dunedin
So if Vancouver loses one or maybe two of their important starters to promotion and needs some help from Florida, who's worthy of a call-up?
Well, again let me mount my soapbox for Lazaro Estrada. Yes, he's 24 in low-A which is something of a red flag but it's well past time to challenge him and see if the good results travel with him. The Cuban-born righty was signed in 2018 and missed most of 2021 and 2022 with what I presume to be Tommy John surgery (he came back 13 months after he went down). But outside of his 2019 season, he's just gotten results all the time. They only moved him into a formal starter role (this year) in July but they'd already used him a lot in bulk so he's got a lot of 3-4 inning outings. In 51.1 IP he has 75 strikeouts and walked only 15. I'm mystified he wasn't already promoted weeks ago.
Kendy Rojas is still doing fine but he's also still just 20 and it's good to give him time. The other guy who I would suggest keeping an eye on is 23-year-old Pat Gallagher. He was the 11th-round pick and didn't pitch for a pro team last year so kinda fell into the shadows a bit. He didn't join the D-Jays until May 16 and got his first start on June 1. And he's gotten steadily better since. He put up a 1.40 ERA in July and has struck out 29 in 19.1 IP so there's a trend line that suggests promotion. Also, if you hadn't heard, Brandon Barriera is back from injury and they'll try to run his inning count up some in the six weeks left in the D-Jays season. Maybe 20-30 innings and if that goes well he might get a little playoff action with Vancouver.
So Jeff Wehler and Kevin McCarty are both on the Canadians' roster now, and while Payton Williams is back here it's just a rehab assignment. Most of the rest of this team is…offensively challenged. Manuel Beltre looked like he'd found something in June, but he lost it again in July. Top prospect Tucker Toman was without statistical progress in July and while there are four new acquisitions recently assigned here (three draftees and an undrafted free agent) the samples are of course microscopic. There's really only one guy I've got to give a shoutout to, not that his sample is massive, and that's recently promoted C/1B Edward Duran. In the complex he had a .919 OPS which earned him a promotion to the D-Jays and while it's just seven games he remains hot. It's likely sample size noise but the pickings here are slim.
Short Season
It's essentially impossible to speak with any certainty about DSL players and even more difficult with pitchers at this level. All you can really do is look at their ratios unless one of them happens to be mentioned by someone reporting on the system. The latter applies to no one guy here, so that leaves me with the former. The most intriguing line belongs to Eminem Flores who has a 2.87 ERA in 37.2 IP across eight starts. He's got 34K and 12 walks. Reliever Luis Torres has 29 strikeouts and eight walks in 15.1 innings.
Among hitters, 1B Daniel Perez has an .891 OPS thanks in part to 23 walks in his 34 games. But he's 21 which is a HUGE caveat at this level (particularly that he's still here). The other guy who needs a mention is RF David Guzman, just 17, who's got more walks than strikeouts and an .815 OPS. Top international signing Emanuel Bonilla is holding his own but not setting the league on fire.
In the Florida complex one starting pitcher that's gotten notice is Fernando Perez, who Scott Mitchell name-dropped in his mid-season review. He has a 3.31 ERA ERA over 32.2 IP while striking out 38 and walking only seven. He could probably benefit from a promotion now but Dunedin has eight or nine guys already that they try to get a starter-level workload (typically three or four IP per outing at this level).
Another guy crowded out of the full-season team is Sem Robersse's fellow Dutchman Jioregeny Casimiri who has solid ratios and solid results but he just passed his 22nd birthday so he needs a challenge. Several hitters here have been mentioned in one context or another as deep-cut prospects since they signed And the one's doing the best work so far are Yhoangel Aponte (.860 OPS) and Martin Gimenez (.426 OBP)
---
Recent articles from Tammy Rainey