A Fortnight On The Farm: Volume Six
This is a sort of fascinating time for a minor league check in, particularly with the major league squad considering themselves contenders. Five days remain in which there may be a flurry of trades which will potentially shuffle the situation of some of these teams. Those left standing a week from now may find that promotions are about to ensue (we've already seen a few) and the organization will be looking to see who needs a fresh challenge down the stretch.
Buffalo via Trenton (for the last time)
More and more Jays fans, quite rightly, are banging the drum for SS Kevin Smith to be promoted and while you have to give props to Santiago Espinal for his work at 3B, if the Jays are looking to add a bat (Ramirez, if I'm dreaming, or Bryant, Escobar, some such) and fail then a guy who can supplement 3B and had 18 homers in his 66 AAA games on the record already is hard to ignore. I'm assuming he won't be added to the 40 before the trade deadline (if at all) but if he's not part of a deal, there will be every reason to get him up the following week.
The next highest OPS on the team is Riley Adams' .870 which, though he's only hitting .239, deserves respect. He's a guy who's a prime candidate for being dealt this week, though maybe not the primary piece in any deal. I suppose I should mention Logan Warmoth. He settled in as the CF while Forrest Wall was hurt and, by all accounts, has played it well. His offensive production might best be described as capable. He has a .780 OPS but has struck out 83 times.
Also worth noting that SS/3B Vinnie Capra was promoted after it was clear AA held to challenge for him. In NH he hit .370 with a 1.077 OPS over 43 games. There are at least a couple more guys in that AA lineup that I expect will be in AAA soon. The Bisons are 27-6 since mid-June and very close to first place. The organization would probably find it good for development for some of the legit prospects to be a a "pennant race" down the stretch.
The pitching staff has had more player movement than the hitting side, you have to lay aside all the little rehab appearances and the pitchers who are not on the roster anymore (or at the moment) to see what's worth noticing.
There's 38-year-old John Axford who's up to 8.2 IP, but they are very nice innings, having given up but one run. Just needs room on the roster. Much like the youngsters, that probably won't happen until after the deadline but trades aside, there's no real reason to keep him here except for the roster slot.
Among the young, let's begin with newly acquired Bowden Francis who began his Blue Jays career with 7 no-hit innings in his first appearance. It's only proper to continue to notice Jacob Waguespack doing reliable above-average work (50 IP, 13 BB and 56 K) There are also six relievers still doing good work, ranging from ranked prospect Patrick Murphy (12 IP without an earned run) to recently outrighted Jeremy Beasley (22K in 15 IP).
Full disclosure, Tyler Chatwood is still waking everyone. Props to the guy I've been pimping for a long time now, Kirby Snead makes the show and the Barnes experiment is over. In Buffalo, he had a 2.01 ERA, and struck out 43 in 31.1 IP with a 0.86 WHIP. Well deserved, if not overdue.
New Hampshire
It's kind of remarkable (and somewhat a reflection of the unsteady rotation) that a team with this much offense is still under .500 on the season. Besides the promoted Capra and the injured Gabriel Moreno, there remain four legit significant prospects in the batting order.
Austin Martin has a ridiculous .417 OBP. He's working his way back from a hand injury that he's been playing through for a while, and his triple Friday night was his first XBH in five weeks, but his control of the zone, for a guy in his first season of pro-ball, is everything you could want.
Fellow Top 10 prospect Jordan Groshans continues to get better and better. Early in the season, I was mildly worried that this was going to be a year in which he kind of just got his feet back under him (literally) and would ends up with steady, but not spectacular, results. That worry turns out to have been unfounded. As late as June 13, 40 days into the season, his OPS was still under .700 and he'd had 6 XBH to that point. His OPS since is .988 with a noticeable improved K rate.
Otto Lopez continues to hum along hitting .341 with a team-leading (by a wide margin) 23 doubles. Surprise slugger Samad Taylor has a .924 OPS and his 12 HR lead the team. Should they remain untraded, I feel like Lopez and Taylor are in line for a promotion in early August (particularly if Smith is traded or promoted from the Bisons) and while Martin and Groshans are the more highly regarded prospects, I'm not sure how the organization will view their promotion schedule.
The flip side is that the rotation is increasingly thin.
Elvis Luciano is hurt again, Simeon Woods Richardson, who's been off his game for the last three weeks (20 ER in 15.1 IP) is in Japan with the USA team, leaving Maximo Castillo (who, to his credit, has a 3.98 ERA since reaching his low point in mid-June) and Some Guys. Luis Quinones was promoted to try and fill the gap while SWR was away but his first game in AA went from 3 shutout IP to 3.1 IP and 6 ER allowed very quickly. More data is needed. The bullpen has a few highlights though.
Former first-rounder Jon Harris has a 2.15 ERA over 25 relief innings but you'd need some good scouting to know if that's just a function of having been in AA since 2017. Graham Spraker has a nice K rate (12.3 K/9) and a cautionary BB rate (6.3 BB/9).
And then there's the other former SP – Kyle Johnston. When he was acquired from the Nationals in 2019, he began to turn up at the lower end of Jays prospect lists but in six appearances for the D-Jays he had a horrendous 10.07 ERA. In my "scouting the stats" opinion… what the heck were they seeing in this guy? And through six starts this season he had a 2.73 ERA but the walk rate was still close to 5/9IP. Not promising. So in early June, when they had the luxury (at least relative to now) of doing so they shifted him to relief. So far, in 20.1 IP, he's allowed only one earned run, struck out a batter an inning, and shaved the walk rate. A good reliever is not the same calibre prospect as a good starter, but maybe there's something here.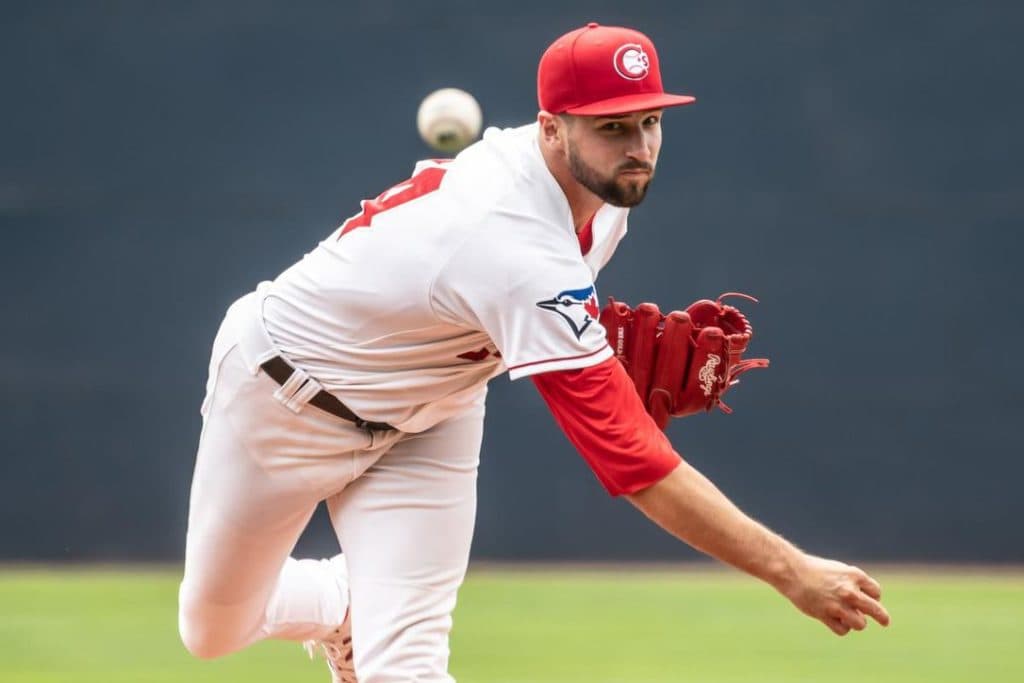 Vancouver
The offensive leader of the Canadians is still Tanner Kirwer, except, he's not on this roster anymore. Second baseman (mostly) Tanner Morris is the best bat remaining, and he just slipped onto the low end of the Pipeline top 30 list (after TJ Zuech was traded). He features an impressive walk rate (.399 OBP) which bodes well for continued progress. This is a team that could really benefit from the promotion of a certain Dunedin shortstop.
You really cannot write about the Van'Cs rotation without checking in on Adam Kloffenstein. From late May throughout June, he went through the "working on things" phase. Reportedly, the organization wasn't looking at results so much as method and that's good because he gave up 27 runs in 26 IP over seven appearances driven by 24 walks and  34 hits. But the phase passed and in his first three turns in July, he had a 2.70 ERA with good supporting numbers. But, um. Friday night… yeah. I can't account for Friday night. Six earned runs in 1.2 IP is, let's go with "regrettable." Moving on.
The other big name here is CJ Van Eck which… moving on. Okay, seriously, over his last five outings he has a 12.27 ERA. I mean yes he struck out 30 in 18.1 IP over that time but… still. Maybe he's working on something. let's find some good news in the rotation. Hey, Nick Fraze is back. After six weeks on the IL, he came back just after the MLB All-Star break and he's still getting built back up, but he's picked up where he left off results-wise and he has a 2.08 ERA on the season. Can't overlook rising star reliever Adrian Hernandez who has only gotten better after his promotion. A 1.53 ERA, 11 hits and 8 walks in 23.2 IP and an impressive 35 strikeouts.
Dunedin
Also known as The Orlevis Show of late. I mean, we were always focused on him but… there are no sufficient words. Behold the magnificent slash lines accumulated by Orelvis Martinez for July: .372/.468/.949/1.417 (78 at bats). For most of the season I'd been assuming the Jays would mostly leave the young Latin players alone to go a full season in Florida but, if the hands can be forced he's forcing them.
Maybe the second-best offensive storyline in Dunedin this month is undistinguished outfielder Steward Berroa. At the end of June he was hitting .211/.318/.355/673 with eight stolen bases. In July, he's slashed .302/.405/.460 and stolen 18 – just in July.
You can't really build a narrative out of 18 games but watch this space. The other noticeable thing is Hugo Cardona. Does the name sound at all familiar? Remember the year that the Jays couldn't do any big international bonuses because they went over to sign Vladdy? That was 2016, and their top signing that year was Cardona, and that's mostly the last we heard of him. He was a pretty limp hitter in 2017 and 2019 on complex teams, and he had six unremarkable games for the Florida complex league team this year. But in the eight games, he's played for Dunedin, he's hitting .385 which, the biggest possible sample size caveats apply.
Among the pitchers still here, three SP will draw your attention, primarily for high strikeout rates. Listed prospect Sem Robberse still has a deceptively inflated ERA, his xFIP is 3.36, has a 10.2 K/9 and a respectable 3.5 BB/9. Similarly, Alejandro Melean has a 5.24 ERA but a 3.75 xFIP and he sports a 9.9 K/9 rate and a 3.9 BB/9 and in a very similar number of innings pitched. The third mention is Naswell Paulino who leads the team in innings pitched, and has a similar strikeout rate – but his walk rate is 5.9/9 so as you can imagine the xFIP isn't on the level of the other two.
There are some interesting offensive numbers among the Florida Coast league Jays but, the sample sizes insist I don't get obsessive about pointing them out just yet.