Aaron Judge wins the American League Most Valuable Player award, Bo Bichette, Alek Manoah and Vladimir Guerrero Jr. got votes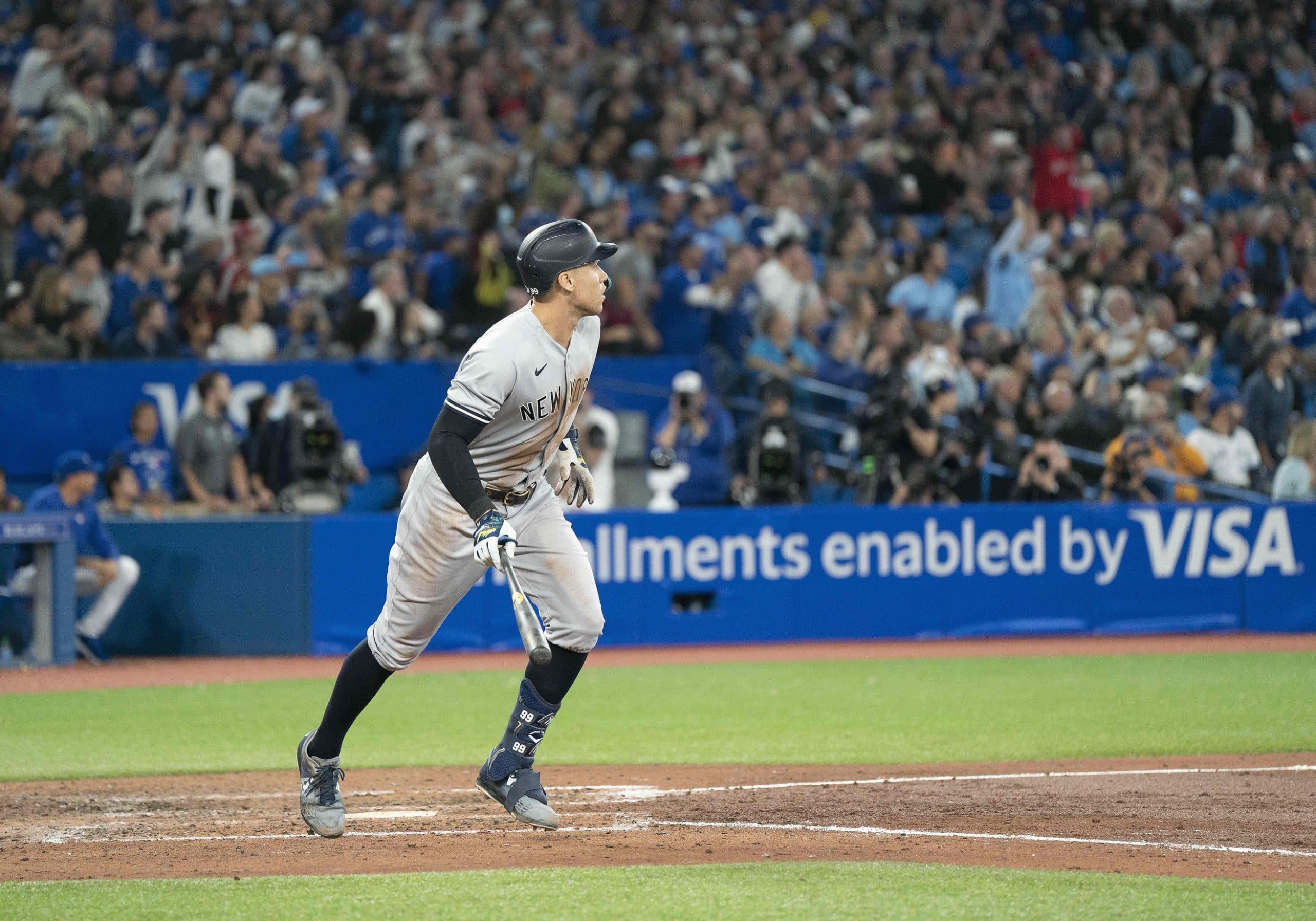 Photo credit:© Nick Turchiaro-USA TODAY Sports
As mostly everyone expected, Aaron Judge is the 2022 American League Most Valuable Player.
It really isn't a shock, and even though it wasn't unanimous (Shohei Ohtani got two first-place votes), everyone and their mother knew he was going to win. And yeah, he had an incredible season, slashing .311/.425.686 with an American League record 62 home runs. He had a career-best 11.4 fWAR, and a 207 wRC+.
Not just that, but the 30-year-old dragged the Yankees to the American League Championship Series, despite having next to no protection around him.
Judge is currently a free agent and is set to make HUGE money after one of the best seasons in history. As a Jays fan, I do hope he leaves the American League, but I'd say there's a fairly good chance he sticks with the Yankees for the rest of his career.
Los Angeles Angels two-way player Shohei Ohtani finished second, but he had an absolutely historic season like never before. The 28-year-old slashed .273/.356/.519 with 34 homers in 666 plate appearances. This obviously wouldn't be enough under normal circumstances, but unless you've been hiding under a rock, you know why he was a finalist.
Ohtani has a 2.33 ERA and 2.40 FIP in 166 innings pitched as well. This included a 33.2 K% and 6.7 BB%. He also finished in fourth place in the American League Cy Young voting.
Yordan Alvarez finished third in the voting, as he slashed .306/.406/.613 with 37 homers and a 185 K%. Although he plays mainly DH, he still managed to put up an incredible 6.6 fWAR. Instead of winning the MVP, he won the World Series with the Houston Astros.
Unlike in 2021, the Blue Jays didn't finish with a finalist in the MVP voting. However, Bo Bichette finished 11th with two seventh-placed votes, three ninth-placed votes, and two 10th-placed votes. Vladimir Guerrero Jr. has one sixth-placed vote and one ninth-placed vote, while Alek Manoah had an eight-place vote, a ninth-placed vote, and three 10th-placed votes.
Will 2023 be the first year since 2015 that a Blue Jay wins the American League MVP, I guess we'll have to find out!
As always, you can follow me on Twitter @Brennan_L_D. There's a possibility that the birdapp goes down soon, and if that's the case, my Instagram is Brennan_L_D.
---