After entering the Level of Excellence, José Bautista — and Toronto — got the ceremony he deserved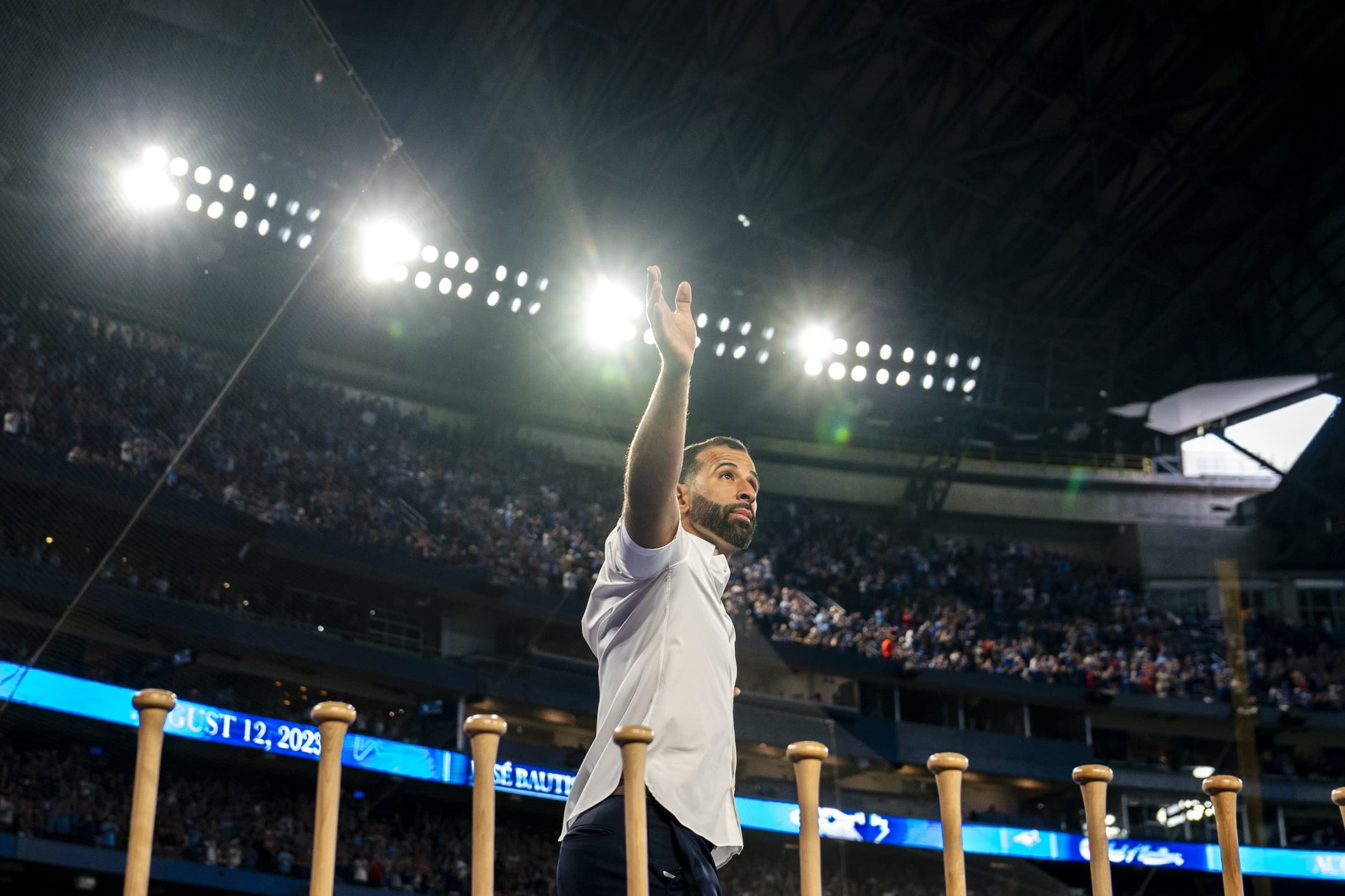 Photo credit:© Kevin Sousa-USA TODAY Sports
As Blue Jays fans, it was very easy to think of someone like José Bautista as a superhero first. An immense number of home runs, passionate arguments, and victorious memories — that's who Bautista was as a baseball player. Being the hero that he is, José Bautista is incapable of crying, right? There's no soft side to Joey Bats… there can't be!
Yesterday afternoon, we got to see José Bautista celebrated as a slugger, a teammate, a community servant, and a father, as he was inducted into the Level of Excellence. It brought out different levels of emotion from everyone, including Bautista, who was noticeably showing his soft side and wiping away tears several times.
The Blue Jays put on a very well-done, lavish, and grand ceremony for Bautista, which included some gifts, appearances from former teammates and coaches, highlights, and countless tears and smiles. They made the day all about José – even the Blue Jays Twitter account didn't directly post anything about the game from yesterday. They made sure that if Bautista was going to be celebrated, it was going to be done right.
It's no secret that Bautista was well-respected by his former teammates and coaches, but that respect was boldfaced by those who made the trip to see this memorable day. Brian Butterfield (long-time third base coach), Dwayne Murphy (hitting coach – does he have a minute?), John Gibbons (manager), and Cito Gaston (manager) were among the coaches that made the trek up north. Gibbons received a "celebration within the celebration" if you will. His introduction induced one of the louder ovations of the day. Even the unsung heroes such as Jack Powell, the scout that signed Bautista, were there.
Bautista had a slew of former players join him on the infield stage. Without naming all ten of them, they ranged from the long-time regulars like Edwin Encarnacion and Justin Smoak all the way to the shorter-stint guys like Melky Cabrera and Marco Scutaro. Encarnacion still looks like he could put a middle-in fastball into the left-field seats.
Bautista was, of course, the last to be introduced to the fans, and he was immediately met with a tribute video that briefly encapsulated his career. It included his epic bat flip from the 2015 ALDS, his clean babyface years with the Pirates, all of his quarrels with opponents, and much more. Emotion clearly started to set in, because once the video ended, Bautista had thrown on a pair of sunglasses to cover his tearful eyes.
Bautista was presented with several gifts, a word that would not do them justice as these were very honourable endowments. First, the Jays Care Foundation will be making a $100,000 donation to Holland Bloorview Kids Rehabilitation Hospital, a common visit spot for Bautista during his time in Toronto. Specifically, it was announced that this money would go towards a teen lounge that Bautista would help design. In honour of Bautista's six All-Star appearances, Jays Care will also start the "Joey Bats All-Star Award," an accolade given to six Jays Care athletes and/or coaches each year.
Bautista was also gifted a mural of his patented bat flip that will reside at 99 Spadina Ave, a pair of customized Muskoka chairs for his lake house, an elegant No. 19 pendant, and a framed "New Blue" jersey from the one-day contract he signed on Friday.
A second tribute video was presented to the fans, this one being narrated by Bautista's fellow teammates, coaches, and staff members. All of them had glowing things to say about Bautista's legacy, but a few of the quotes that stood out to me are below.
"You could see the excitement that he was always happier to be a father when he put on those street clothes than he was to be a kid out on the baseball field."  – Devon Travis
"You're a young kid coming up and you want to know what you're supposed to do to perform at a high level, you would just look at José and how he would prepare for the game and you're like 'Okay, that's the blueprint right there.'" – Russell Martin
"He made baseball fun again in Toronto. He kind of brought it back."  – Justin Smoak
"José could shave his beard off and grow one in one day, and I'm not joking with you." – Cito Gaston
Bautista escorted his wife and four daughters out to right field, where his name was officially unveiled on the Level of Excellence.
Bautista, not one for making speeches, decided to prerecord his message to the fans to have displayed on the big board. He took the time to thank his family, staff members, coaches and teammates, with the staff members including everyone from the grounds crew to the training staff to the clubhouse manager and everyone in between. He was especially choked up when thanking his family, especially his wife and daughters. They are clearly (and deservedly) his MVPs.
Finally, he gave a heartfelt message to the fans, the ones who "lived and died with every pitch," as he said. "We could feel your love and support. We played for the city, we played for this country, we played for each other, but most of all, we played for you."
His ceremony concluded with him throwing out the first pitch to Vladimir Guerrero Jr. Instead of Vladdy signing the ball and giving it to José, he reversed the process and wanted a signed ball from Bautista. Shortly after, Cubs starting pitcher Marcus Stroman, a former teammate a Bautista's, ran out of the Cubs dugout to give him a hug before the game started.
At least to me, the most magnificent part of this day was thinking about the journey. As alluded to in the first tribute video shown, Bautista did not have the most preferred path to stardom. For the first few years of his career, he was spending days on waivers, going through the Rule 5 Draft, and bouncing from team to team. Now, 15+ years later, he's getting his name posted on the prestigious Level of Excellence, an award that only a select few Blue Jays members have had the honour. Imagine telling younger Bautista that this was his destiny.
Bautista was my Blue Jays childhood. He made baseball fun for me. Even in the rough years, the game recaps on ESPN.com would still be peppered with a "Bautista homered to left" somewhere in there. It will forever be the most deserved thing that he would be the one to hit that home run in Game 5 of the ALDS. All of those years were spent in the batting cages. All of those years coming up short of making the playoffs. All of those naysayers. Bautista stayed loyal to the Blue Jays, and it was ultimate justice for him to have a moment like that.
He made baseball in Toronto the talk of the town. Even in the aforementioned down years, you couldn't talk about Blue Jays baseball without mentioning Joey Bats. Trying to fully recap the ceremony from yesterday would be like me trying to fit a square peg in a round hole, but he's worth every bit of celebration that he was and is given.
On behalf of Blue Jays Nation, thank you, José. You're a hero on and off the field, and you will forever be flippin' incredible.
---