AL East Report – May 18
The fact that the Blue Jays have a 22-17 record in mid-May is absolutely incredible.
We all know the story of how their largest free-agent signing has missed all but two and a half games. We all know how the bullpen, one of the best in the league, is attracted to injuries like a moth to a light and we all know that Vladimir Guerrero Jr. is essentially playing MLB My Career with the way he has been hitting.
However, what about the rest of the AL East? How have the Boston Red Sox, New York Yankees, Baltimore Orioles and Tampa Bay Rays been faring this season? In this post, I will look to answer that by giving a rundown on their injuries, their schedule and how the Jays shape up against them.
Bob DeChiara-USA TODAY Sports
Boston Red Sox
On May 18th, the Toronto Blue Jays will play a pivotal series at their home away from home against the Boston Red Sox, who are first in the AL East. According to Sports Illustrated's season predictions, the Boston Red Sox were projected to finish fourth in the American League East. Boston took great offence to this and have a record of 25-17 to lead the division a month and a half through the season. 
Thus far, they have remained healthy with solid pitching and J.D Martinez has returned to form. Furthermore, Xander Bogaerts is having a career year with a slash line of .342/.420/1.025 while tied with the aforementioned J.D Martinez in hits. This isn't forgetting Rafael Devers who is a home run away from tying the leaders in that category while also leading the MLB in RBIs, of course, followed by J.D Martinez.
It isn't all perfect for the Red Sox, however, as according to TeamRankings who measure the strength of schedule, the Sox have the third easiest in the MLB. For comparison, the Blue Jays have had the hardest. Through 13 series, they have played the division worst Baltimore Orioles twice, the worst MLB team in the Minnesota twins, the 21-20 Seattle Mariners, the 14-26 Detroit Tigers, the AL West worst team in the Texas Rangers as well as the second-worst team in that division, the Los Angeles Angels. In fact, only 6 of their 13 series have been against teams over the .500 mark.
As you can imagine, this game is important for both teams. For the Jays, they have a chance to take control of the division, while the Red Sox are playing a team that is not bad.
(AP Photo/Chris O'Meara)
New York Yankees
After a tough start, one that featured a 9-13 record on April 26, the Bronx Bombers have returned to normalcy putting up a 14-5 since that point. Not just that, but the IL list has been gaining players as Giancarlo Stanton was announced on the 10-Day IL as well as their Centerfielder, Aaron Hicks. 
Already without Zach Britton (not the Blue Jays prospect) in the bullpen they also have had Jose Bautista's best friend, Darren O'Day sidelined since the 30th of April with shoulder issues. Furthermore, Bautista's other best friend, Rougned Odor, has a knee injury after kneeing Houston Astros'
Martín Maldonado in the head. Maldonado didn't miss the game, leading to one conclusion.
Blue Jays dodged a bullet when the Evil Empire signed DJ LeMahieu as his batting average took a significant dip from .364 to .267 as well as a drastic decrease in home run production. Having hit 26 in 2019 and 10 in 50 games last season, he has only hit 3 in 38 games this season. 
In reality, the two reasons why the Yankees are positioned third in the division is because of two players, Aaron Judge and Gerrit Cole, as well as a relatively easy schedule, ranking smack in the middle with the 15th easiest schedule. Against .500 teams this season, the Yankees have a 10-12 record (Jays have a 12-9 while Boston has an 11-7). While Judge is slashing .298/.399/1.010, there is only one other Yankee hitting above .300. Gerrit Cole has single-handedly won games as he has the third-best ERA (1.37) in the league
While they may have fought back to have a solid record, they have struggled against .500 teams, meaning that they may not be as good as predicted.
Tampa Bay Rays
The Tampa Bay Rays are the dark horse of the division. Year after year, they sell top-end players for what fans consider "scraps", yet year after year, the team smashes all expectations. This season they have a 23-19 record, good enough for fourth in the division. This doesn't tell the entire story, however, as according to TeamRankings, they have had the 5th hardest schedule in the MLB this season.
No position player stands out, as the highest batting average on the team is a respectable .290 while the highest OPS is only a .810, but the team continues to win due to small ball, good pitching and baseball players absolutely hating Tropicana Field. 
Tyler Glasnow and the merry band of pitchers who can be described as "wow these players suck until they play for the Rays" own the eighth-best ERA. While the pitchers have suffered a plethora of injuries, the Rays organization's motto is similar to Marvel's villains, Hydra: "Lose one pitcher, 18,000 will grow back, most of which you have never heard of." 
Glasnow's only poor performance was against the Blue Jays, in which I called that he'd give up runs. I also called a poor performance with future Blue Jay, Max Scherzer. I take pride in my predictions. 
They won the AL pennant last season and they will continue to put up a fight with the help of that awful ballpark and a cast of surprisingly good pitchers.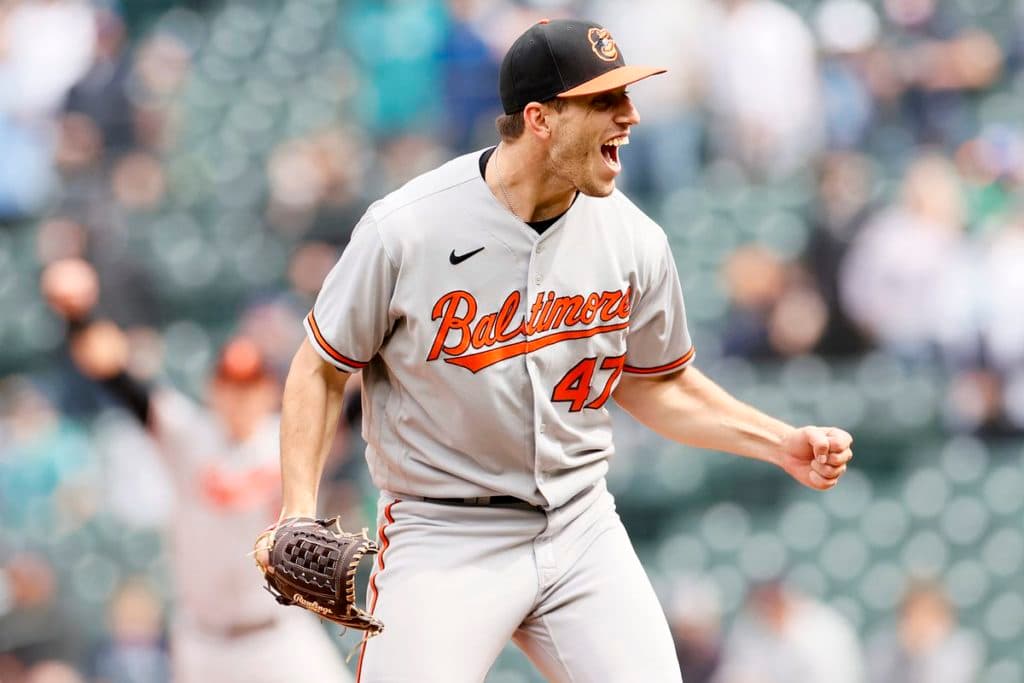 Baltimore Orioles
Quite frankly, after writing nearly a thousand words, I don't have much to say about this team. In fact, I believe you, the reader, probably don't want to read an in-depth synopsis of why they are as bad as they are, so I'll keep this brief.
John Means is a fantastic pitcher and that no-hitter should have counted as a perfect game. He currently possesses the second-best ERA in the MLB, after Jacob DeGrom. The less popular birds of the AL East have won 4 of the 8 games Means started. He is arbitration-eligible this coming offseason, but he could very well be on the move if a team offers a good package.
In the 40 games that they have played, all but four of those games have been contested against teams with .500 records. They may not be as bad as one thinks, but overall they are more than likely going to finish last.
The Blue Jays will not be able to cannibalize the other birds until June 18th, which will coincide with Toronto's easier second half.
Wrap-up
That will wrap up this blog. We'll see if Boston is as good as their record suggests, or if it's just due to their easy schedule. If New York gets hot, watch out, but with getting hot, they also get injured. The Tampa Bay Rays are the dark horse for the division with their "why are they so good pitchers" and their awful ballpark. While the Orioles are well… the Orioles.
I hope this will become a weekly blog focused on the AL East. Likely this will be shorter as I won't have to cover more than a month and a half worth of content.
I hope you enjoyed this article and you can follow me @Brennan_L_D on Twitter.