Alejandro Kirk's offensive ceiling hasn't reached its limit yet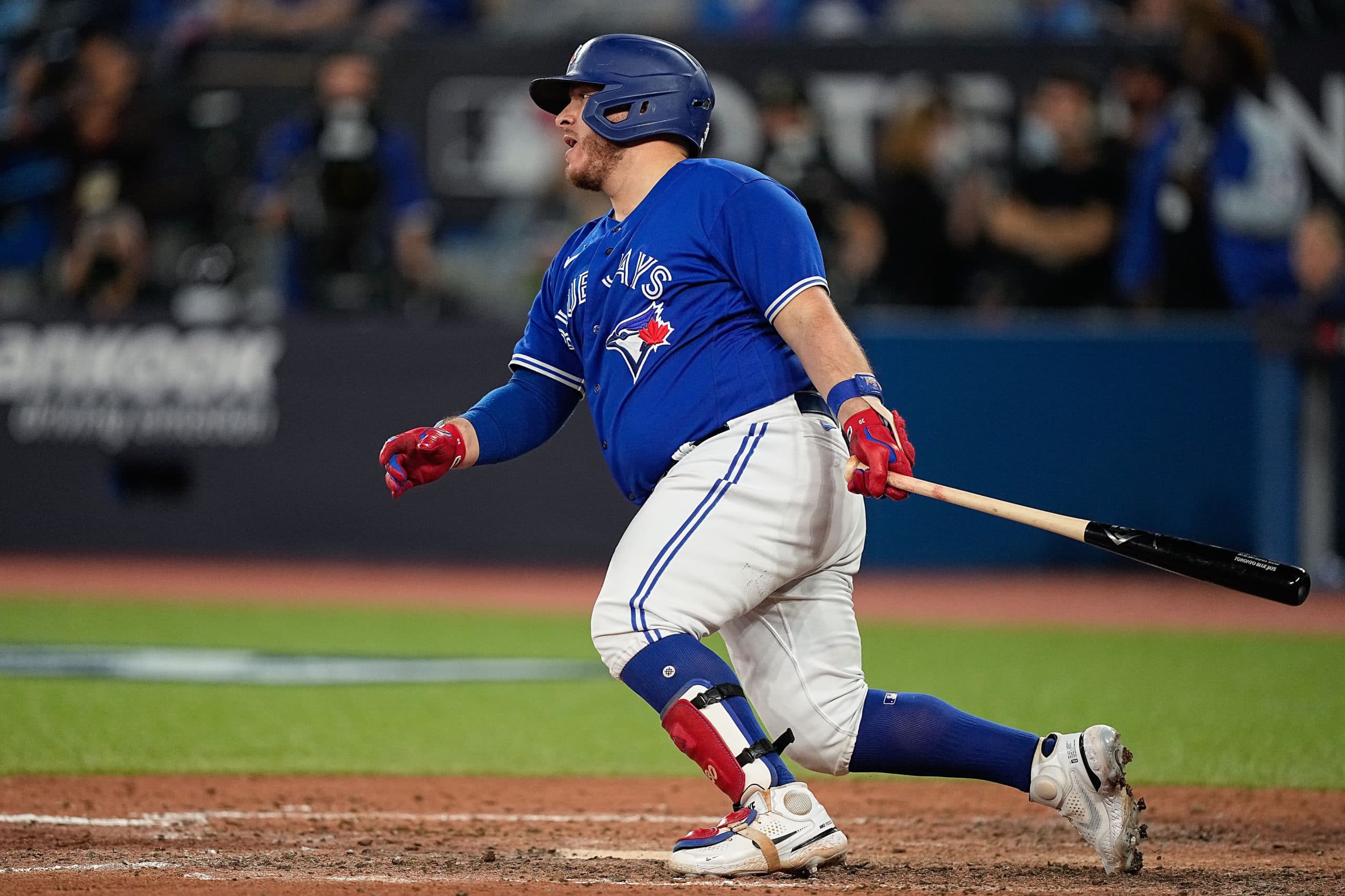 Photo credit:John E. Sokolowski-USA TODAY Sports
In just three seasons, Alejandro Kirk has already emerged as one of the top catchers in the majors, offensively and defensively, becoming a crucial member of the Toronto Blue Jays' core. But could he perform at an even higher level next season, particularly from an offensive standpoint?
That is a fair question to ask. Rather than answering it immediately, let's allow it to marinate while we revisit Kirk's incredible – and rapid – journey to "The Show."
Signed out of Mexico as an amateur free agent by the Blue Jays in 2016, the young backstop spent his first two professional seasons in rookie ball, compiling 247 plate appearances across 59 games. Then, following an impressive 2018 campaign, posting a .354/.443/.558 slash line and a 160 wRC+ with the Bluefield Blue Jays, he received his first legitimate test in 2019 at the low-A level.
As a 20-year-old, Kirk excelled against improved competition and lasted only 21 contests, hitting .299/.427/.519 with a 173 wRC+, before being promoted to high-A for the remainder of the season. And he wasn't phased by the challenge, registering a .288/.395/.446 slash line and a 153 wRC+ in 71 games while continuing to walk (13.8 per cent) more than he struck out (11.2 per cent).
The COVID-19 pandemic wiped out the 2020 minor-league season, though it created an opportunity for Kirk's major-league debut, fast-tracking his development to the highest level of pro ball. His time with the Blue Jays only spanned 25 plate appearances over nine contests, but he certainly exploded onto the scene, slashing .375/.400/.583 with a monster 165 wRC+. Since then, the right-hander has improved his craft each season, raising his WAR rating in the process.
All of his progression came to a head last season as the right-hander enjoyed his first-ever All-Star performance, which saw him set career highs in home runs (14), RBIs (63), walk-to-strikeout ratio (1.09) and fWAR (3.8) –
ranking fourth among big-league catchers
in that regard. He also earned a 129 wRC+, the second-highest of his career.
So, now that we've had ample time to think about Kirk's future, it's time to tackle that question from the opening about his offensive ceiling. Can it reach another level in 2023? It is understandable if a few of you answered no, but at 24, there is evidence to suggest that he still has room for growth at the plate.
Credit: Toronto Blue Jays/Handout Photo via USA TODAY Sports
OK, let's start by focusing on how Kirk's role will change next season. With the addition of Brandon Belt, a two-time World Series champion, there won't be as many DH opportunities available against right-handed pitching as the left-hander will primarily be utilized in those matchups. There will also be times when manager John Schneider uses that spot to rest George Springer, Vladimir Guerrero Jr and others.
In all likelihood, Kirk won't be able to make 44 per cent of his starts at the DH position, as he did last season, shifting almost all of his appearances to behind the dish. The 5-foot-8 catcher will still be featured as strictly a hitter at times, especially versus lefties, but his overall usage in that role is likely to decline. That could translate into a positive outcome, though.
Adjusting how Toronto manages the 2022 All-Star's workload may prove beneficial, as it could help keep him fresher throughout the grind of a 162-game schedule. What might that look like? Probably fewer total reps, though establishing more of a shared relationship with Danny Jansen – who hopes to remain healthy all season – involving the everyday catcher position. That way, neither player is overworked when the dog days of summer arrive.
One of the ways Kirk can enjoy an improved offensive performance next season is by sustaining his offensive production over a full season, which should be more attainable if he receives a few extra rest days. He wasn't afforded that luxury in 2022 because of Jansen's prolonged IL stints, forcing him into a much larger role out of necessity, and it seemed to take a sizeable toll on his body.
That, along with participating in the midsummer All-Star events, likely played a key part in the Silver Slugger's second-half slump, resulting in a .237/.335/.314 slash line, a .295 wOBA and a 92 wRC+ across his final 54 games. The club's young catcher should have a much easier time maintaining his effectiveness down the stretch, though, if Jansen avoids the injury bug.
There were also additional factors that impacted Kirk's sluggish second-half performance. Opposing pitchers, in particular, appeared to have been attacking him differently in the second half, jamming him with inside fastballs under his bat path, as Sportsnet's
Chris Black
detailed. And it didn't help that the right-hander appeared to feature slower bat speed, likely caused by fatigue.
Kirk, similar to many other Blue Jays hitters, uses the philosophy of letting balls travel deeper and shooting them to the opposite field. But it becomes tougher to use all three fields when the opposition is locating heaters low and inside, making it extremely difficult to avoid pulling weakly hit ground balls. That is unless you start driving those pitches, which he did over the final few weeks of the campaign.
Plate discipline is also a massive piece of the puzzle for the Tijuana, Mexico, native. But while his overall whiff (15.4 per cent) and chase rates (23.3 per cent)
ranked in the 94th and 80th percentiles
in 2022, breaking balls caused him issues at times in that regard, significantly impacting his on-base ability versus those offerings in the second half.
From Jul. 26 onwards, Kirk earned a minus-0.4 run value against breaking balls, the third-worst on the Blue Jays, ahead of only Guerrero (-3.1) and Teoscar Hernández (-7.7). Overall, the talented backstop faltered to a .253 wOBA, .304 xwOBA, .286 SLG and a .371 xSLG over 68 plate appearances during that span.
In comparison, the young righty featured a positive 3.6 run value, .314 wOBA, .325 xwOBA, .421 SLG and a .414 xSLG across 87 plate appearances before then. And that coincided with his impressive strikeout (12.6 per cent) and walk rates (11.5 per cent), with both travelling in opposite directions afterwards.
Granted, a portion of Kirk's summer hot streak saw him being more aggressive, swinging and missing at a higher-than-normal rate – a season-high 39 per cent in July. Most of his punchouts, however, came after that stretch, leading to a 19.1 per cent strikeout rate and a 5.9 per cent walk rate.
Source: Baseball Savant
Kirk was also whiffing on pitches outside the strike zone more than at any point in the first half, as he was being more aggressive and likely trying to force the envelope a little too much at the plate. He corrected that mistake towards the end of the season, though, posting a 20 per cent whiff rate and a 14.3 per cent chase whiff rate in September.
Source: Baseball Savant
There is also reason to believe Kirk will perform better versus breaking balls next season based on his 2021 performance, where he posted a .310 AVG, .321 xAVG, .569 SLG, .534 xSLG, .391 wOBA and a .386 xwOBA against them – albeit over a much smaller sample size – in 62 plate appearances. He was particularly effective against curveballs, earning a career-best plus-five run value.
As poor of a second half that Kirk endured, he did pretty well to make adjustments on the fly down the stretch to improve his plate discipline, finishing with strikeout (10.6 per cent) and walk rates (12.5 per cent) much closer to his career percentages from Sep. 1 onwards. That didn't translate into jaw-dropping offensive results, but it reaffirmed his status as a reliable on-base threat (.337 OBP).
The fourth-year big-league catcher isn't a finished product, and understandably so, given that he's only completed one full major-league campaign thus far. He still has some flaws, but what 24-year-old professional doesn't? The good news, though, is that many of his are correctable.
Toronto opted against trading Kirk this offseason, instead including former top prospect Gabriel Moreno in the Daulton Varsho trade and committing to the fan-favourite gem as an integral piece of the current roster. And that's a decision the front office likely won't regret, especially since he's still developing against the best players in the world.
Kirk, committed to Team Mexico for the 2023 World Baseball Classic, has another busy campaign ahead of him as he looks to build off last season's success. But even if he struggles to replicate his All-Star form, there's little doubt about his elite offensive ceiling, which he is just scratching the surface of.
---