Alek Manoah is going to become the Blue Jays' ace this season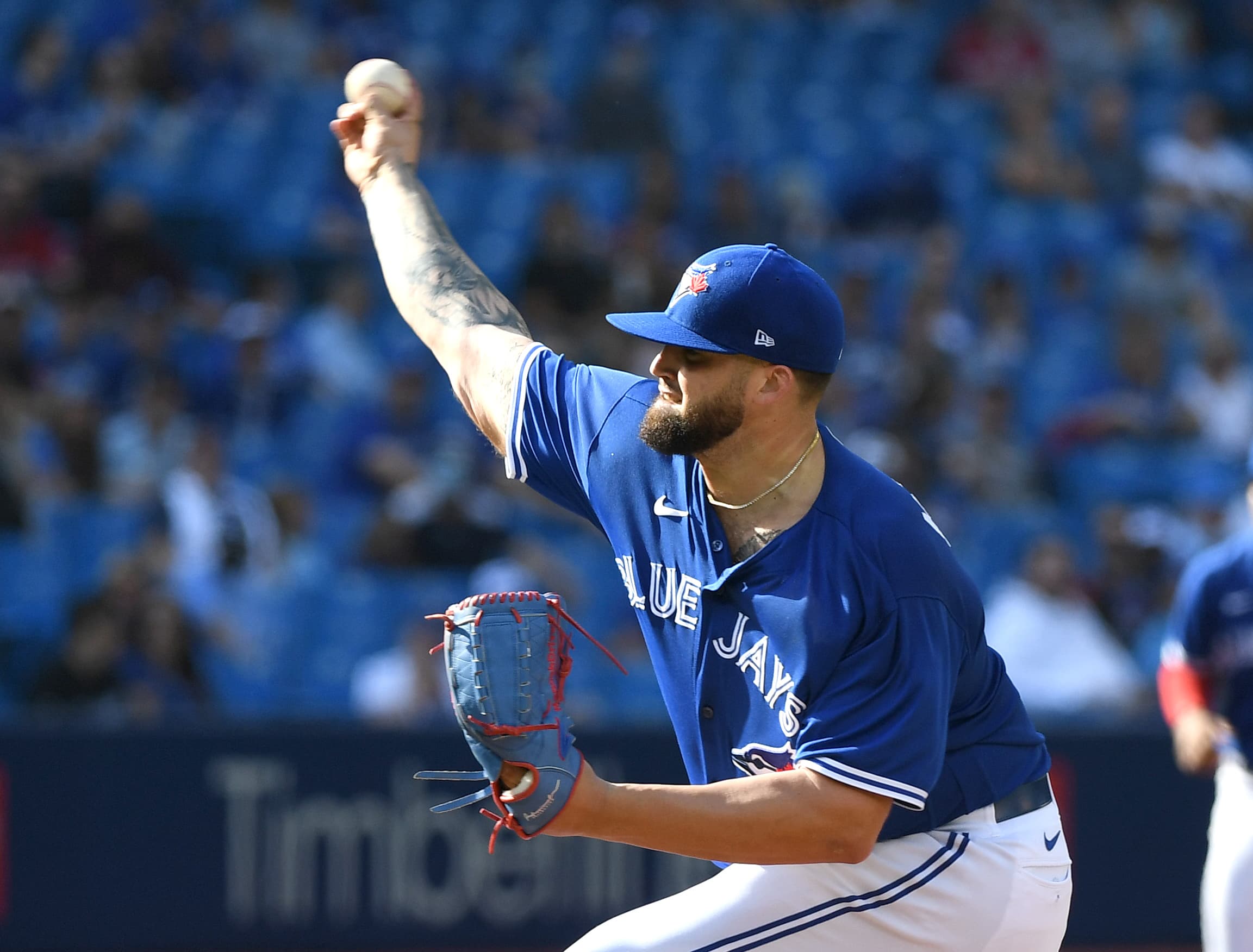 Photo credit:Dan Hamilton-USA TODAY Sports
Happy Manoah Monday to everyone that celebrates this very special day.
I started writing for Blue Jays Nation in the middle of May 2021. One of the first articles I wrote was about Manoah's debut. If you follow me on Twitter or read my articles, you know that I am big into reporting news about prospects.
At the start of the Triple-A 2021 season, I saw pure domination from the 24-year-old righty that I had never seen before. In just 18 innings pitched for the Bisons, he posted a 0.50 ERA, 2.25 FIP, and a K/9 of 13.50. 
However, he only walked three batters (1.50 BB/9) while hitting four batters. Last season, I gave Manoah the nickname "Manoahson", as he hits batters for intimidation tactics, much like the late great Bob Gibson. He's the kind of pitcher who just has a special presence on the mound. Below is a video of his strikeouts from a start in early July. He literally hit a batter with his slider, but it fooled the guy so much it struck him out.
Despite his lack of experience in the minors (35 innings pitched), I, along with many other Jays fans, were calling for the big man to be promoted. His Major League debut on May 27th did not disappoint.
Like this season, his first MLB game of the season was against the New York Yankees in the Bronx. You couldn't have asked for a better debut, as he pitched six scoreless innings, allowing just two hits and two walks while striking out seven. That was a wildly impressive result in a stadium that isn't easy to pitch in, especially for a rookie. 
Was it a flash in the pan? Of course not. Manoah finished his season pitching 111 1/3 innings pitched (significantly more than he did in the minors) with a 3.22 ERA and a 3.80 FIP. He had a Fangraphs WAR of 2.0 and a Baseball-Reference WAR of 2.7.
Not just that, but he showed his dominance, as he had a K/9 of 10.24, an incredible amount for a rookie. His BB/9 did increase to 3.22, but all in all, he should have ranked higher than eighth in rookie voting.
A few weeks back, I wrote an article about whether or not the Blue Jays' starting rotation is good enough. In that article, I explored the post sticky tack ban numbers for three of the five starters on the Jays and how they worried me. Alek Manoah was not one of them.
In fact, I'd argue that Manoah is the least volatile of the starting five. There is a chance for a sophomore slump, but his confidence leads me to believe he doesn't give a shit about jinxes. I reckon that he has a better chance to become the Blue Jays ace as Berrios and Ryu didn't have great starts.
The sky is the limit for the 24-year-old, but I expect a chance of something special happening every time he steps on the rubber, and you should as well.
---