Alek Manoah struck out only one batter as the Phillies defeated Toronto 8-4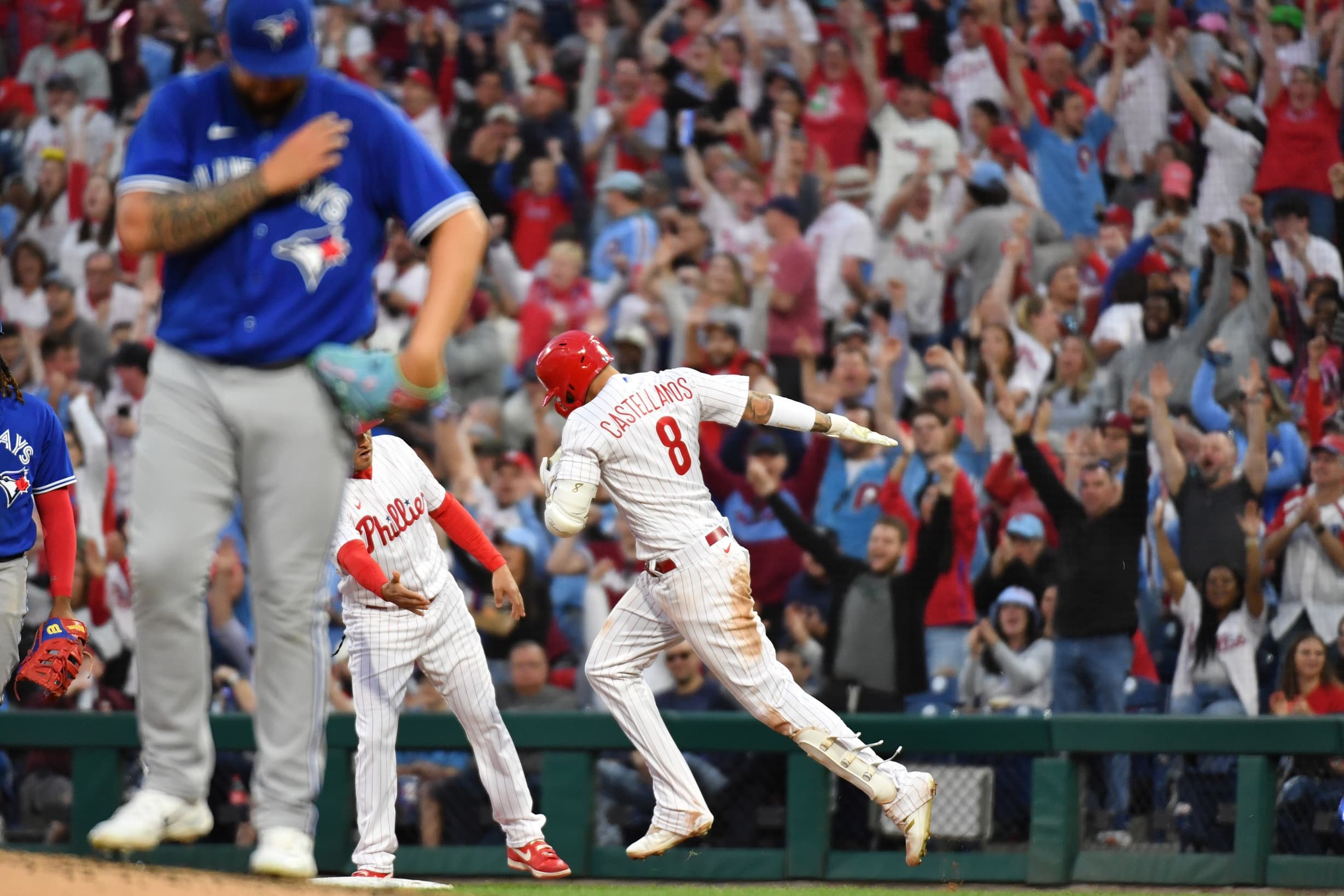 Photo credit:Eric Hartline-USA TODAY Sports
The Blue Jays scratched and clawed a bit tonight, but could never get over the hump as they dropped the first of a two-game series in Philadelphia by a score of 8-4. Including Alek Manoah, four of the five Toronto pitchers tonight gave up at least one run. Toronto was 1-for-10 with RISP, and committed a couple of pitch clock violations throughout the night.
Blue Jays Nation's Player of the Game: Bo Bichette
Bo was 2-for-5 with a home run and a double. The major league leader in hits shot his 8th homer of the season into the right field seats that was 103 mph off the bat.
Things worth mentioning
Much of Alek Manoah's season has been abnormal in relation to the statistics that we're used to, but tonight's stat line included a first for Manoah's career. He only struck out one batter tonight, which sets a career low for one game. His previous low was three, which he has set many times throughout his career. His biggest issue tonight was – you can probably guess – putting batters away with two strikes. Manoah had two strikes at any point in an at-bat 14 times tonight, but only was able to strike out one of them.
It was the slider that Manoah couldn't execute. Most of them were starting out as a ball out of his hand, and ending up even further off the zone once it got to Alejandro Kirk. Ones that were in the zone were being fouled back quite a bit, and it eventually…as there is a drive into deep left field by Castellanos, it will be a home run. And so that will make it a 2-0 ball game. I don't know if I'm going to be putting on this headset again.
Okay, all jokes aside, Castellanos did hit a hanging slider into the left-field seats for a home run in the 4th inning. Manoah would also allow an RBI single from Trea Turner in the 5th for his third earned run on the night. Had he retired Turner, Manoah would've ended his night at five innings, but with Bryce Harper due up, John Schneider opted to go with Tim Mayza to get the Blue Jays out of the inning.
Manoah's final line was 4.2 IP, 4 H, 3 ER, 4 BB, and the one strikeout.
Mayza and Nate Pearson allowed runs in the 6th inning, as Philadelphia extended their lead to 5-2. The Blue Jays were able to start a rally though, as Kevin Kiermaier and Whit Merrifield led off the 7th inning with no one out. Two batters later, although he didn't get credit for this run, Bichette got a run home in wild fashion. He grounded a ball to 1B Alec Bohm, who thought about throwing to second base to kick off a double play. Phillies reliever Seranthony Dominguez ran to cover the bag at first, assuming that he would receive the return throw from second base.
Bohm changed his mind mid-play, and decided to throw to Dominguez at first, but Dominguez looked down to make sure his feet were on the bag at first. While his eyes were down, Bohm tossed the ball to Dominguez, and it deflected off of his chest and rolled towards the Phillies dugout. Merrifield scored, and the Jays were back in it.
Matt Chapman drew a bases loaded walk to pull the Jays within a run, but the Phillies tacked on three runs in the bottom of the 8th to put the game out of reach.
Kevin Gausman starts tomorrow in the series finale, hoping to rebound from his last start in Boston.
---