Alek Manoah's camp reportedly fought against his August demotion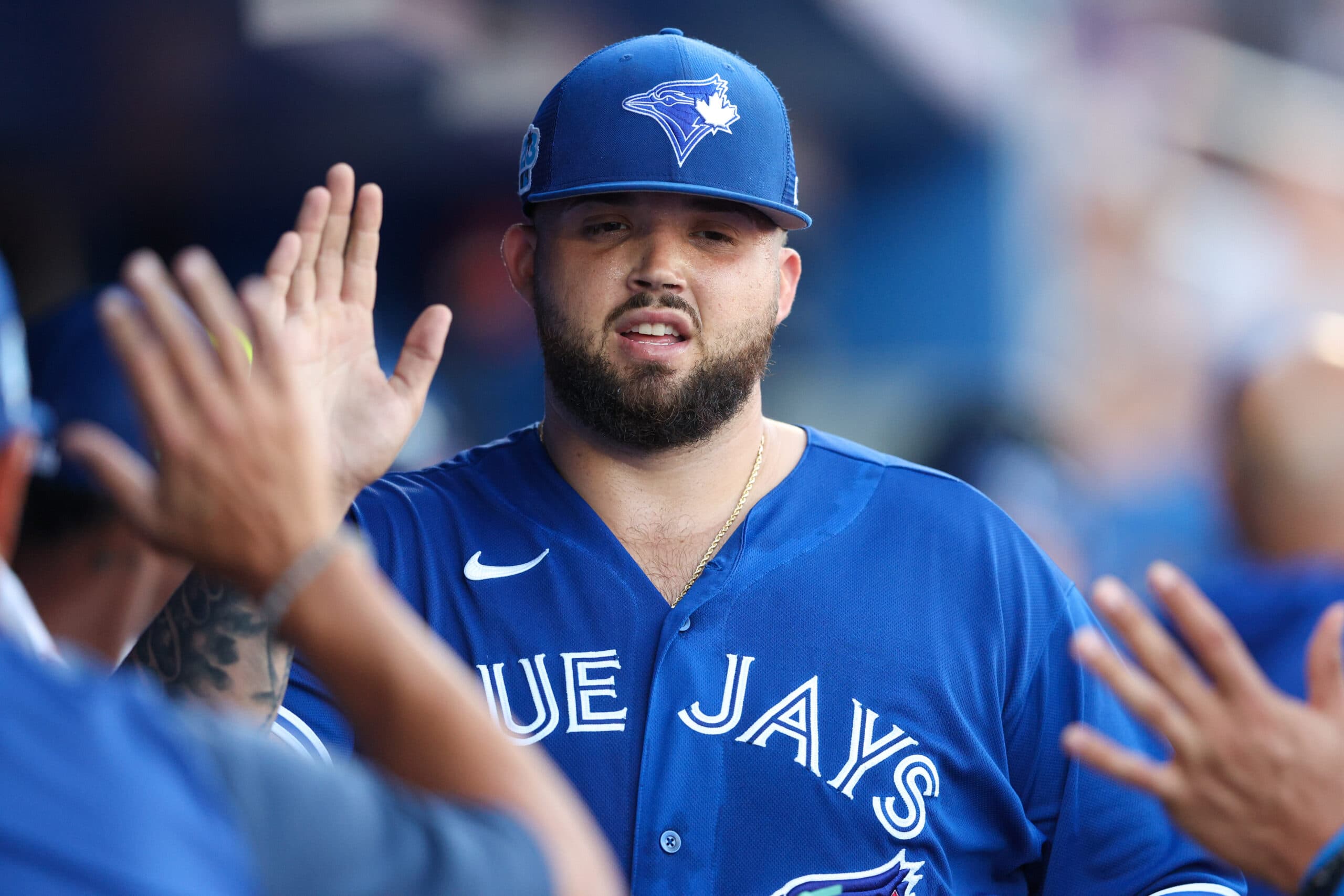 Photo credit:Nathan Ray Seebeck-USA TODAY Sports
Alek Manoah's 2023 season has come to an end.
Not long after Nicholson-Smith's report came out, Blue Jays radio voice Ben Wagner appeared on Blair and Barker and shed more light on the situation. According to Wagner, Manoah's camp wasn't happy about him being demoted to Triple-A Buffalo on August 11 and that he hasn't pitched or thrown a side session since his last start in the big leagues.
Jeff Blair: Ben Nicholson-Smith reporting that basically Alek Manoah's 2023 as a pitcher is essentially done.

Ben Wagner: It's done. It's done.

Jeff Blair: Okay, it's done. So, go ahead.

Ben Wagner: For weeks I've been led to believe this was what will happen with Alek Manoah. It's my understanding that Alek Manoah hasn't even pitched, even in a side session or a bullpen, since he's been optioned back. And there was a lot going on between leadership of the Toronto Blue Jays, the people around Alek Manoah, about the decision to even option him back, and where he would go when he was optioned back. It seemed like the Alek Manoah camp didn't like the fact that this option was coming, because it was performance-related.

And, Kevin, you and I have both witnessed this from a major league level to a Triple-A level, when guys get sent back and it's performance-related, they're a little salty about it. And they don't like to hear that, especially if they think they can work through things at the major league level and they're progressing. That never happened for Alek.

So, it wasn't in the cards. Ryu was coming back, it was clear that this was not going to be a direction that both parties were going to agree on, and that's why there was such a gap in between Alek being optioned, failing to report to Triple-A Buffalo, and then eventually working things out. What was the window, like two weeks before he actually even got to Buffalo?

And there was never a timeline, that I'm led to believe, talking with people within the organization, a timeline to get him back on the mound, even where he could start pitching competitively. Now we have gotten to this point, one, he's not going to be able to ramp back up to help the major league team in any capacity at this point. He was taking a roster spot in Triple-A for a very depleted bullpen and pitching staff to begin with. So they had to make a move. And putting him on the temporary inactive list was just what was needed to be done on paper so they could round out the roster in Buffalo.

He's still in Buffalo, and to my knowledge he's just going through things.

Kevin Barker: Must be nice. Must be nice.
Manoah started the season as Toronto's Opening Day starter and allowed five earned runs in three-and-one-third innings against the St. Louis Cardinals, an outing that saw him pitch fewer innings and allow more runs than any of the starts he made during his Cy Young-calibre 2022 season.
He had a few good starts in the coming weeks, such as a seven-inning shutout at Yankee Stadium, but Manoah was optioned down to the Florida Complex League after his ERA ballooned to 6.36 following a start in which he allowed six runs in the first inning against the Houston Astros on June 5.
After spending a month at the organization's pitching lab in Dunedin, Manoah was called back up and tossed six scoreless frames against the Detroit Tigers in his return to the majors. He stayed in the rotation through the month of July and got two more starts after Hyun Jin Ryu was activated from the 60-day Injured List as the Blue Jays opted to carry a six-man rotation for the first couple of weeks of August.
Manoah made six starts in his second stint with the Blue Jays and was sent down following an outing in which he allowed four earned runs to the Cleveland Guardians over four innings of work. He posted a 4.91 ERA across those six post-Dunedin starts and the Blue Jays went 4-2 in those games.
Following the second demotion is when things started to get weird. Weeks went by and Manoah didn't take the mound for the Bisons. It was later reported that he was still in Toronto to get medical testing done and he would eventually be heading to Buffalo to ramp back up to a starter's workload.
Here we are now, a little over one month after Manoah's start in Cleveland, and he hasn't pitched since. If the Blue Jays need a spot starter, the expectation is that Bowden Francis will pitch and it'll be a bullpen game, which probably isn't ideal for a team in a playoff race in September.
---