Alek Manoah's slider must become a competitive pitch again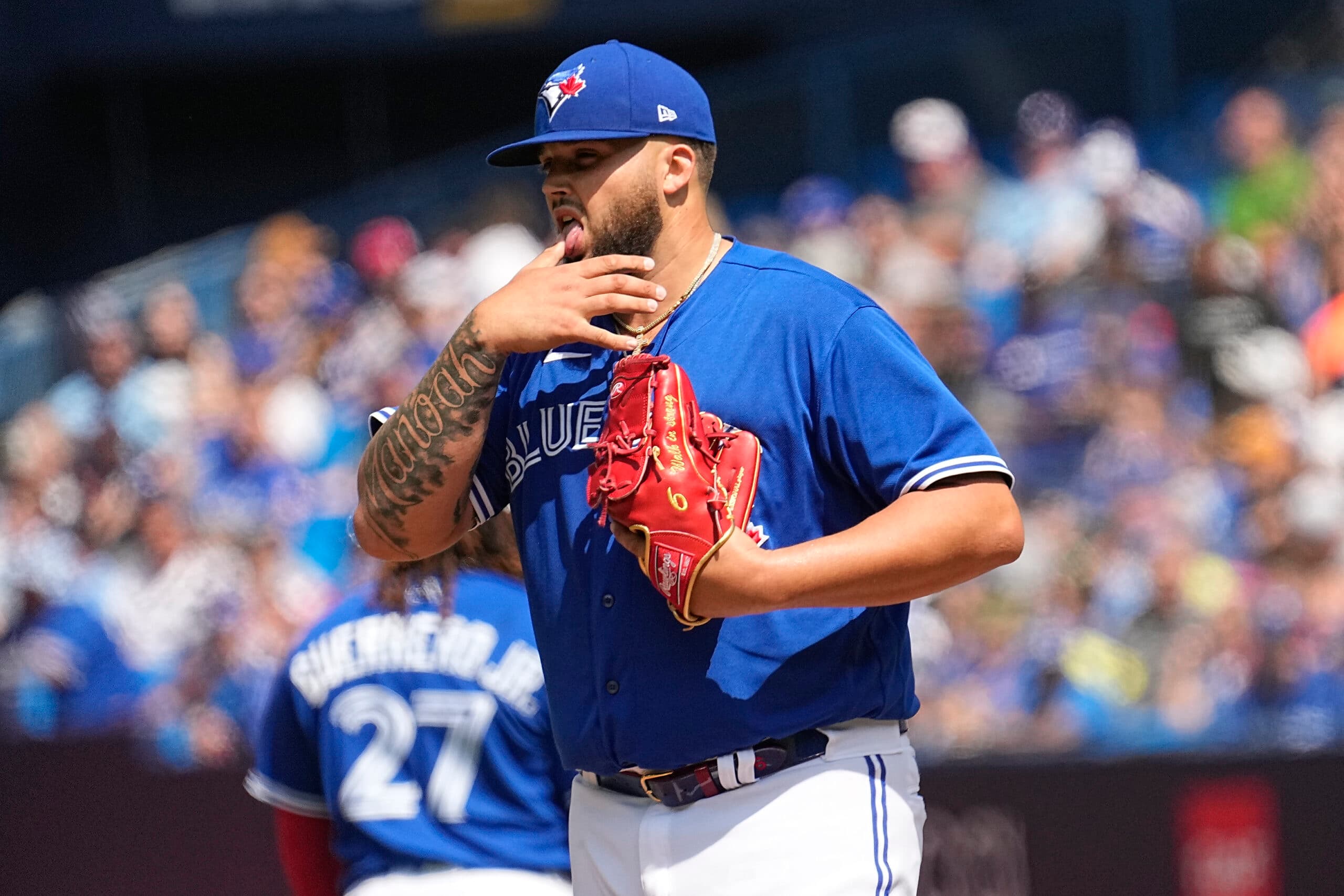 Photo credit:John E. Sokolowski-USA TODAY Sports
Alek Manoah's dominant self has yet to re-emerge this season. The Toronto Blue Jays hurler carries an inflated 6.98 ERA and 7.00 FIP across four starts into his third big-league campaign. But the concerns run deeper, unfortunately.
The 25-year-old is allowing more walks (15,
MLB-high
) and hard contact (43.8 per cent) and is missing fewer barrels (9.4 per cent) than we've seen from him previously. His swing-and-miss factor is also at an all-time low, resulting in a 16.5 per cent strikeout rate, the lowest of his career.
So what gives with Manoah's early-season woes? Why is he struggling immensely after finishing as the runner-up in the 2022 AL Cy Young Award race?
Quality has certainly been among the issues Manoah has encountered thus far, particularly involving his four-seamer and two-seamer, which have been a few ticks slower than usual. Each of their velocities has sat in the 91-92 m.p.h. range instead of the 93-94 m.p.h. window, although pitching without his best stuff was a regular occurrence last season. And for the most part, it didn't derail his performances.
No matter the situation, the 6-foot-6 righty found a way to grind through outings, even if it meant not inducing as many swings and misses. He put his head down, focused on missing barrels and inducing soft contact while recording at least five innings of work in all 31 starts. Even when the stuff has been there in 2023, though, he still hasn't looked right on the mound.
Velocity wasn't the problem in Manoah's last outing against the Tampa Bay Rays, where he allowed seven runs on nine hits over 4.2 innings despite having both fastballs average 93 m.p.h. or harder. Command, however, was without question his undoing.
Manoah's first pitch – a 92.6-mph two-seamer – set the tone for his entire outing, as it missed widely arm side, hitting Yandy Diaz in the shoulder. After that, four of his next five pitches were balls, ultimately issuing another free pass, this time to Brandon Lowe. But as much as he struggled to command his fastballs, his slider's consistency – or lack thereof – stood out the most.
Take his first-inning at-bat against Josh Lowe, for example. Manoah jumped ahead 0-2, putting himself in the driver's seat with the bases loaded and two outs. But he couldn't put his opponent away, as Lowe fouled off a few pitches and ultimately evened the count at 2-2.
After executing a perfect back-foot slider, the towering starter couldn't repeat his delivery – an issue that has plagued him repeatedly in the early season – and left a hanging breaking ball over the heart of the plate atop the zone, which was smacked for a two-RBI single.
The troubles with Manoah's slider didn't stop there, as many proved to be non-competitive pitches, ballooning his pitch count to 101 when manager John Schneider went to his bullpen with two outs in the fifth inning. But by then, with the score reading 7-1, the game was already out of reach.
Toronto's struggling ace threw 28 sliders versus Tampa Bay's lineup, with nearly half of them missing outside for balls. Since only six landed in the zone as called strikes, hitters laid off his most dominant strikeout weapon, inducing just two whiffs on nine swings.
When they did offer at it, more often than not, they created hard contact against it or placed it perfectly between Blue Jays defenders.
This wasn't just an isolated incident with Manoah's slider. It has been unreliable all season, adding to the level of concern within Toronto's organization. Opponents, for example, are currently hitting .353 AVG and .706 SLG with a .500 wOBA against it across 21 plate appearances. Its underlying metrics have also raised red flags, too.
The 2022 All-Star's breaking ball carries a plus-seven run value on the year, the worst amongst his four-pitch mix. Part of it can be directed to its alarming hard-hit (35.7 per cent) and barrel rates (14.3 per cent), while the other points to its 32.4 per cent in-zone percentage, down 11.1 per cent from 2022.
As you can see in the chart below, Manoah's command was pinpoint with his slider throughout last season – down and away to righties, down and inside to lefties. And that earned it a 31.8 per cent whiff rate and a 31 per cent chase rate.
Source: Baseball Savant
His accuracy has been far less dependable in 2023, with several sliders missing up over the plate and far outside the zone, enough that hitters are spitting on it (not literally) upon release. Because of that, the opposition is swinging and missing less (26.7 per cent) while laying off outside pitches (28 per cent).
Source: Baseball Savant
With fewer sliders finishing inside the strike zone, it doesn't carry the same level of respect from opposing batters as it did in previous seasons. Thus, they can recognize it much easier than before, assisting with their swing decisions, especially during two-strike counts.
Prior to this season, Manoah was virtually automatic at enticing hitters to extend the strike zone against his slider during these situations, registering a 47 per cent clip in 2021 and a 39 per cent figure in '22. But with non-competitive breaking balls on the rise, its chase rate has fallen to an abysmal 22.6 per cent this season.
A by-product of fewer chases usually means fewer strikeouts – or punchies in Manoah's case. Following that methodology, only three of his 16 punchouts have come via his slider.
Manoah is trying to address this concern by increasing his output of in-zone sliders, and understandably so. So far, however, his efforts have been met with disappointment. Until fewer breaking balls miss glove side, the dire situation likely won't improve anytime soon.
A trend that is even more troubling, though, is the young right-hander's slider has progressively worsened since his MLB debut in 2021. It was a plus offering during his rookie season, but since then, it has rapidly declined from a performance and makeup standpoint.
According to
FanGraphs' park-adjusted pitch evaluations
, help created by senior baseball writer Eno Sarris, Manoah's slider peaked in 2021, posting career-highs in Stuff+, Location+ and Pitching+. And it was pretty effective in all three categories the following season. Though, it has taken a turn for the worse early on this season.
In a small sample size, the stuff on his breaking ball has been one per cent better than league average, with its location five per cent below league average and its overall effectiveness two per cent under that threshold.
| | | | |
| --- | --- | --- | --- |
| | Stuff+  | Location+ | Pitching+ |
| 2021 | 113 | 100 | 108 |
| 2022 | 111 | 98 | 106 |
| 2023 | 101 | 95 | 98 |
Manoah has never featured elite command of his slider, though its devasting movements have more than made up for that in the past, as you can see above. But with diminished physical characteristics and location, there isn't anything left to cover up its revealing flaws, demoting it to a below-average offering.
Now that we've covered the why let's examine how these issues might be popping up for Manoah, which leads us to his mechanics.
For any pitcher, finding a comfortable rhythm is vital. Once discovered, you must consistently repeat your delivery – an aspect Manoah has been battling in 2023. With his slider, in particular, he has been releasing further away from his body, increasing his average horizontal release point to 3.07 feet.
Source: Baseball Savant
The former 11th overall selection from 2019 is releasing his slider closer to the ground in 2023, lowering his average vertical release point to 5.66 feet. Since he is also releasing it further from the mound, with his average extension (6.7 feet) increasing by one inch, this suggests his pitching stride has changed subtly.
Considering his recent command woes, though, that adjustment may have happened subconsciously.
Source: Baseball Savant
Much of Manoah's accuracy issues could potentially correlate with him striding down the mound further than he has previously. If so, perhaps he is trying to make up for those changes by creating a harder shape with his slider, which has negatively impacted it.
A slightly shorter stride toward home plate, reducing his extension by a few inches, could help clean up the Blue Jays hurler's delivery. It might not fix everything, but it may allow him to feel more comfortable with his landing position – something we've seen him unhappy with during most of his starts.
For a starting rotation struggling to produce consistent results, particularly in the first inning, getting Manoah's slider back to a competitive weapon needs to happen sooner rather than later.
---