Alex Anthopoulos led the Braves to the World Series after becoming a very different general manager than the one he was in Toronto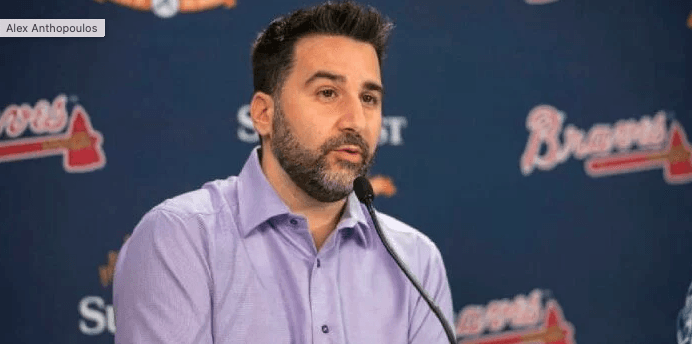 Today is a strange day for Blue Jays fans.
The Atlanta Braves, a team that won 88 games and dropped all six of their meetings with the Blue Jays, just won the World Series.
There was most certainly a 'that should be us' feeling attached to watching this post-season as a handful of flawed, underwhelming teams competed while the Blue Jays watched from the sidelines because their late-season run came up just short.
But that's not where the 'what if?' sentiment ends.
Alex Anthopoulos became the first Canadian general manager to guide a team to a World Series championship, adding fuel to the narrative that he's the one who got away. While you want to be happy for AA, it's difficult not to wonder what would have happened if he hadn't been pushed out the door in Toronto.
That said, it's possible to praise AA's excellent work in Atlanta while also being happy about the incredibly promising position Blue Jays are in currently. These aren't necessarily mutually exclusive things, especially when you consider that AA isn't the same executive now that he was when he was here.
There has always been animosity towards Mark Shapiro in Toronto.
Back in January of 2015, Paul Beeston announced that he would be retiring as the president and CEO of the Blue Jays at the end of the season. On August 31, the Blue Jays announced that Shapiro would be leaving Cleveland and coming to Toronto to be Beeston's successor.
When Shapiro was announced, the Blue Jays were in the midst of an incredible run, as Anthopoulos' acquisitions of David Price and Troy Tulowitzki, among others, ahead of the trade deadline helped push the team to a 21-6 record over the month of August.
A few months earlier, there hadn't been much serious talk about Anthopoulos getting promoted and taking over for Beeston. At the time, AA was viewed somewhat unfavourably in Toronto, as his all-in play of acquiring R.A. Dickey, Mark Buehrle, Jose Reyes, and Josh Johnson was a complete flop in 2013 and he failed to push a solid team over the top in 2014 after a stagnant trade deadline.
But, of course, things can change quickly.
AA's team sprinted all the way to the finish line and the Blue Jays won an American League East banner for the first time since 1993, ending a post-season drought that had spanned over two decades. With that success, the narrative around AA shifted from 'it might be time for a new GM' all the way to 'this guy should be running the show.'
The immediate worry was that the 2015 run was going to be a one-and-done, because Shapiro, who had success in Cleveland running a small-budget operation, was going to come in as an agent for Rogers with his vision focused entirely on the organization's bottom line. The beloved team that AA put together would get sold off and Toronto would become the new Cleveland.
Shortly after the Blue Jays lost to the Kansas City Royals in the American League Championship Series, Anthopoulos rejected a five-year contract extension to stick around with the organization. The rumour at the time was that Shapiro wouldn't grant AA the same autonomy he had with Beeston and that he wasn't interested in accepting a smaller role.
There was also a report that Shapiro had
"scolded"
Anthopoulos for trading away so many top prospects, even though it directly led to the best run the team had seen in decades and AA was named Executive of the Year by The Sporting News.
Both Shapiro and Anthopoulos refuted these claims, but, ultimately, the damage was done, and Blue Jays fans weren't happy to see the architect of arguably the best team in franchise history get shoved out the door.
Shortly after, Shapiro named Tony LaCava, who had been with the Blue Jays since 2002, the team's interim general manager, and the search for a permanent replacement for Anthopoulos began. The job eventually went to Ross Atkins, who worked under Shapiro in Cleveland in scouting and player development roles. LaCava stuck around as the senior vice president of baseball operations and assistant general manager.
Meanwhile, Anthopoulos joined the Los Angeles Dodgers, working as the vice-president of baseball operations alongside Andrew Friedman, the guy behind turning the Tampa Bay Devil Rays from a perennial joke into the successful Moneyball operation they are now.
The Cleveland Crew inherited AA's team, allowed David Price to walk in free agency, made some tweaks over the winter and during the season, and ultimately reached the ALCS again, where they would ironically get dropped by the team that Shapiro and Atkins had a hand in building. After that, they slowly started diving into a rebuild.
At the end of the 2017 season, Anthopoulos was hired by the Braves to be their executive vice president and general manager. Anthopoulos replaced John Coppolella, who resigned amid an investigation by Major League Baseball that the Braves had committed "a breach of MLB rules regarding the international player market."
The Braves have made the playoffs in each of the four seasons under Anthopoulos' watch. They lost in the NL Division Series in 2018 and 2019, blew a 3-1 series lead to the Dodgers in the Championship Series in 2020, and, of course, won the World Series in 2021.
Back in Toronto, the Blue Jays were grinding through the hangover of 2015 and 2016's success.
The Cleveland Crew went half-in for the 2017 season, but injuries to Aaron Sanchez and Josh Donaldson derailed any chance of being competitive. In 2018, it was again a half-in effort, but, as the team started to sputter, more players, including Donaldson and J.A. Happ, were traded away. By 2019, the Blue Jays were totally in tank and rebuild mode.
During this process, fans in Toronto watched their beloved team slowly get picked apart and sold off for futures all while Anthopoulos was having success in Atlanta. But, ironically, the success that AA was having in Atlanta was thanks largely to him taking a different approach to management, one that was along the lines of what Shapiro "scolded" him for not doing in Toronto.
Anthopoulos inherited an incredible core of young talent in Atlanta — Ronald Acuna Jr., Ozzie Albies, Dansby Swanson, Austin Riley, Luiz Gohara, Kolby Allard, Kyle Wright, Mike Soroka, Ian Anderson, and Max Fried — and I remember thinking 'damn, just imagine all of the wild trades he's going to pull off!' 
During his tenure with the Blue Jays, Anthopoulos traded away highly-touted prospects such as Noah Syndergaard, Travis d'Arnaud, Jeff Hoffman, and Dan Norris to acquire veteran talent in R.A. Dickey, Mark Buehrle, Jose Reyes, Josh Donaldson, David Price, and Troy Tulowitzki.
Not all of these trades worked out, but they ultimately led to that 2015 run, so it was worth it. Also, the Anthopoulos era was always a blast because you never knew what to expect. A wild trade could come completely out of the blue at any time.
But those wild trades that we saw in Toronto never happened in Atlanta.
The Anthopoulos of 2021 is not the Anthopoulos of 2015. After spending two years working with Friedman in Los Angeles, AA has changed from being a run-and-gun general manager who wasn't afraid to pull the trigger on a huge trade to one who hangs on to top-level young talent and improves the team through low-risk moves.
Looking back at the Top 10 prospects that AA inherited in Atlanta
, only two were traded to acquire veteran talent. Kolby Allard, the Braves' first-round pick from 2015, was moved during the 2019 season to acquire reliever Chris Martin. Joey Wentz, another first-round pick from 2016, was moved in 2019 in exchange for reliever Shane Greene.
Seven of the other names on the list — Acuna, Wright, Soroka, Anderson, Fried, Riley, and Bryse Wilson — are still with the Braves now. The other one who isn't is Gohara, who flamed out and was released in 2019.
AA still had himself a busy trade deadline in 2021, it just wasn't anything like the one we witnessed in 2015.
In Toronto, he established the Blue Jays as a legitimate contender by trading top prospects to acquire a pair of marquee names, David Price and Troy Tulowitzki. In Atlanta, he moved some organizational depth to rebuild the team's injured outfield, adding Joc Pederson, Eddie Rosario, Adam Duvall, and eventual World Series MVP Jorge Soler.
So, what does it all mean? Was AA the one that got away? Would he have been the one to the Blue Jays to the World Series?
Ultimately, it's an impossible question to answer, and it's a lot more complicated than the 'we would have been better off if AA has been in charge than we are now with Shapiro' narrative that often gets pushed.
As I said, Anthopoulos is a much different general manager now than he was when he was with Toronto. To assume the exact same success AA has had in Atlanta would have been replicated with the Blue Jays is naive, because it ignores A) the volume of talent he inherited with the Braves and B) the change in approach he underwent after spending two years working with Friedman while with the Dodgers.
At the end of the day, it's best to avoid unanswerable questions and simply be happy that things seem to be working out for both sides.
Alex Anthopoulos is a Canadian sports legend now and it's fantastic to see him have success. But, also, the Cleveland Crew has done a good job here and the Blue Jays are in great shape. They've developed a deep system that produces high-quality talent and they've been able to get Rogers to sign cheques on major free-agent additions.
Be happy for Anthopoulos. Be happy with where the Blue Jays are at. These things aren't mutually exclusive.