ALL ABOARD THE KIRK TRAIN (Alejandro Kirk has made the Blue Jays roster, along with Tim Mayza and Trent Thornton)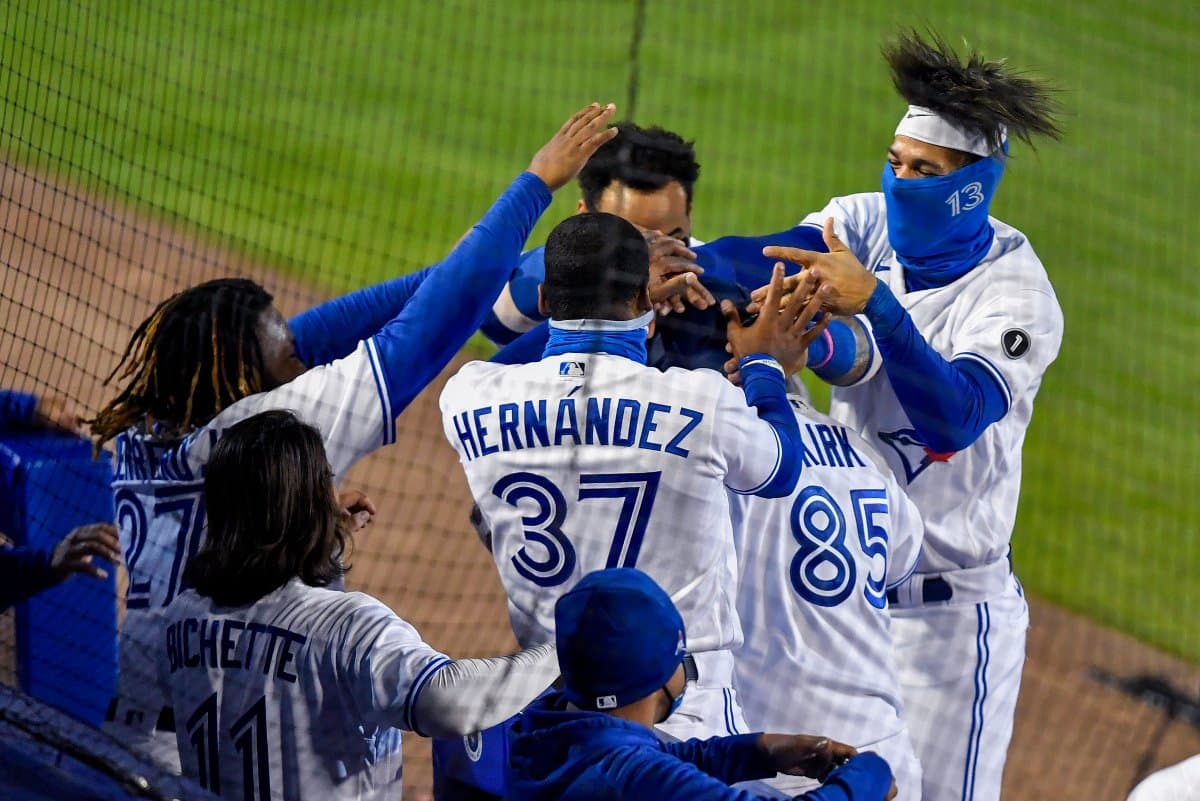 Photo credit:AP
I don't think this is that much of a surprise but it's great to see the news — Alejandro Kirk, everyone's favourite Large Adult Son, has cracked the Blue Jays opening day roster.
We learned earlier this week that Jonathan Davis and Joe Panik will be on the team's 26-man roster so, with the announcement that Kirk, Trent Thornton, and Tim Mayza breaking camp, we're starting to get a pretty clear picture of the group the Blue Jays will carry into the season. Also, I have no idea why Rowdy Tellez, who has been a given all spring, was added to that tweet, but, anyways…
It's pretty clear that Kirk is big-league-ready. The only question surrounding whether or not he would make the team was the fact that Reese McGuire is out of options and would be subject to waivers if he was sent to Triple-A. We know that the Blue Jays' front office is conservative when it comes to asset management and they don't want to lose a decent back-up like McGuire for nothing, but putting Kirk, perhaps the best catcher in the organization right now, on the team signals that winning is the priority over maintaining depth.
It was a bit of a shock that the team called up Kirk last summer given the fact he only had a handful of games at the High-A level under his belt at the time. But Kirk didn't look at all out of place during his cup of coffee, going 9-for-24 with a singer and two doubles. Kirk's play behind the plate and game-calling has also been praised by both Charlie Montoyo and Pete Walker.
So, what's next for McGuire? Are the Jays going to toss him on the waiver wire? Maybe not.
There's a chance the team could opt to roll with three catchers to start the season and then try to slide McGuire through waivers in a couple of weeks when fewer teams will be chomping at the bit to grab whoever they can. But McGuire getting designated for assignment could also open up the spot on the 40-man roster that the team needs to add somebody else, like Tim Mayza or Francisco Liriano.
Speaking of that, we don't have a word yet on whether Liriano is going to make the team, but Mayza has. The Mayza situation is a great feel-good story. He busted his arm in late-2019,
the sight was absolutely devastating to witness
, and he underwent Tommy John, missed all of 2020, and came back this year on a minor-league deal and impressed enough in spring training to earn a spot on the team. You absolutely love to see that.
If the Jays operate with a nine-man bullpen, they have two spots for Liriano, Julian Merryweather, A.J. Cole, and Anthony Castro. Here's how the pitching staff looks as of right now… Rafael Dolis, Jordan Romano, Tyler Chatwood, David Phelps, Ryan Borucki, Tim Mayza, Trent Thornton, while the rotation features Hyun Jin Ryu, Tanner Roark, Steven Matz, and Ross Stripling. I would guess that T.J. Zeuch fills Robbie Ray's spot for the time being.
Kirby Yates going on the 60-day Injured List will open a 40-man spot for a pitcher, which would be Mayza, but if Liriano cracks the team, somebody else would have to be DFA'd. It seems likely that Breyvic Valera will be snipped in favour of Joe Panik, but I'm not sure who would be the next one in line. Maybe it's McGuire. We'll see!