All aboard the Santiago Espinal hype train! Why he should be the everyday second baseman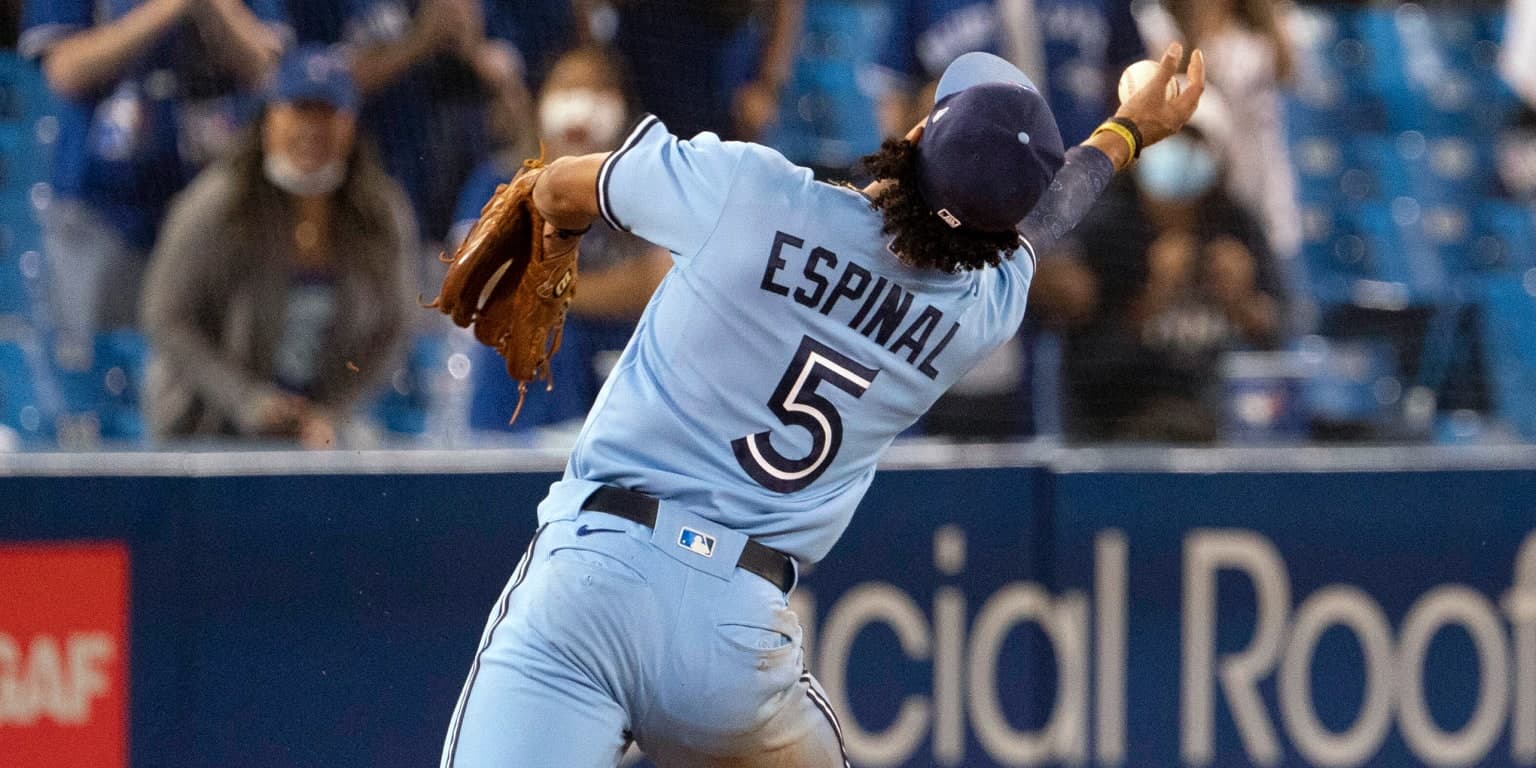 Santiago Espinal is a damn good player.
I wrote an article last season about why he should be considered an everyday player. I called Espinal "the perfect utility player", but I'm going to walk that back.
I ended my last article about Santiago Espinal with this statement:
"

Where do I see Espinal in the future? If I'm being honest, I have absolutely no idea".
That article was written on August 1st. Fast forward eight months and we have our answer. Espinal is the perfect everyday second baseman and he should be kept forever.
Why is Espinal so damn good?
Of course, we'll split this into two sections, as he's good with the bat and great with the glove.
Espinal's glove:
SantiGOAT registered a Defensive Runs Saved of eight in 551.2 innings played at third last season. His Outs Above Average sat at 5 at third and his UZR sat at 6.1. Want to know something crazy? Prior to 2021, Espinal had only played 175 innings at third base. The fact that he put up numbers that could win a gold glove despite playing less than 20 games at the position prior to 2021 is absolutely insane to me. 
However, Espinal won't be playing a lot of third base this season, as he looks to be in a platoon role with Biggio (we'll focus on that later in the article) at second base. He may fill in around the infield, except for first, but it's likely Santiago gets most of his minutes at second.
One Twitter user got mad at me when I "presumed" that Espinal would be a good defender at second base. Yes, he had never played second base in the majors prior to 2022, but he played both shortstop and third base in the majors, and quite well at that. After first base, the position of second base is the "easiest". 
To believe that Espinal wouldn't be incredibly successful there is quite a bad take. Again, this is a guy who put up gold glove numbers at a significantly more difficult position while playing less than 20 games there in his professional career.
Not just that, but Espinal played 1082 innings at second base in the minors, meaning that he has already played significant time at the position (125 games). Anyway, sorry for the rant.
All of this is to say that Espinal's glove, which is already great at third and short, will easily carry over to the significantly easier position of second base.
Espinal's bat:
While Espinal is a great defender, there is some skepticism that what he did with the bat in 2021 was a fluke. I actually disagree with this, although I don't think he'll bat over .300 again.
Espinal is your prototypical contact hitter. In 246 plate appearances in 2021, he only struck out 12.2% of the time while walking 8.9% of the time. This paired with his ability to make contact with the ball, led to a slash line of .311/.376/.781 for the then 26-year-old. 
The statistic "Batting Average on Balls in Play", or BABIP, is often misused as people tend not to look at other factors as to
why
it's so high. While his .353 BABIP may be considered "lucky", I don't believe this to be the case.
For starters, Espinal is a spray hitter. In 2021 he pulled 40.4% of his batted balls, shot 29.5% of his batted balls up the middle and went to the opposite field 30.1% of the time. This leads to teams playing Espinal straight up, in which he ended up getting 40 hits in 100 at bats, or a batting average of .400.
Espinal is also a line drive machine. Out of his 191 batted balls in 2021, 42 of them were line drives, or 22%. If you've read my articles before, you know that a line drive has the highest batting average out of any batted balls by a significant amount. Below is a figure from Fangraphs.
With the ability to spray the ball around the field as well as hit the ball for line drives, you can see why his batting average was so high. Once that is paired with the ability to walk and make contact instead of striking out
as well as
being a gold glove calibre defender, it's safe to say that the Blue Jays have their starting second baseman.
But what about the 15 pounds of muscle?:
At first, it was a little bit of a meme, but the extra muscle that Santiago has added has already shown dividends. In game one, he lined a double which scored the Jays their eight run. The exit velocity off that double was 106.9, which was 2 mph higher than his previous career high.
In Saturday's game, he knocked in the eventual game-winning run with another rocket of a double, which came off the bat at 106 mph. He's shown the ability to drive it in the gap with hard line drives.
However, can he hit homers? In 315 plate appearances, he has only homered once in his big league career. While he has yet to hit a home run in 2022, here is him mashing the ball in Spring Training, showing that he may hit a solid amount of homers.
What about Biggio?
That leaves us with one important question, what about Biggio? I don't think it's a stretch to say that Cavan Biggio has a higher ceiling than Espinal. Even though I am not as high on Biggio as other Jays fans are, his poor season could be excused due to injuries.
Personally, I've always seen Biggio more as a super-utility player.  His eye at the plate is great, but his strikeouts are a little high. He hits well against righties, but hasn't done so well against lefties. Defensively, he's average to bad at every position.
However, in the super-utility role, you're looking to get him in against righties while also giving Chapman, Hernandez, Espinal, or Vlad a day off from defense. Biggio could also DH or pinch hit for potential power off the bench.
Biggio certainly isn't a bad player, I just believe that Espinal is the more ideal second baseman due to his better defense and his ability to make contact (which Biggio struggles with).
Let's be realistic about him:
Being truthful, it's unlikely that Espinal will repeat his 2021. This isn't to say that he won't be an incredibly effective player for the Blue Jays. Espinal will no doubt be a plus defender at second base and he'll still likely hit for a solid average.
It's also possible he may hit double-digit homers this season, which would be a huge boost to the ninth spot.
Overall, we all love Santiago. Aside from his ability on the field, he seems like a fun-loving dude who enjoys playing for the fans. Hop on board the Santiago Espinal hype train and enjoy the ride. Look out the windows to see a fan favourite hitting a bunch of homers in 2022, because he's the SantiGOAT.
As always, you can follow me on Twitter @Brennan_L_D. Please read all my articles multiple different times, as my editor will buy me a Santiago Espinal jersey if Blue Jays Nation reaches 300,000 views in April.
---