American League Preview: Nobody knows where the Red Sox Rollercoaster Ride is going to go next
The Boston Red Sox have truly been baseball's biggest enigma over the past decade.
But when you expect them to be bad, they're good. The season after that implosion, the Red Sox stormed back and won the World Series with an incredibly random collection of bargain-bin players.
And then there's last year's team. Boston traded away Mookie Betts ahead of the COVID-shortened 2020 season and predictably laid an egg, going 24-36. The expectation was that it would take them a few years to turn things around and they came into the 2021 season with
lower odds to make the playoffs
than the Los Angeles Angels of Anaheim.
Instead, the Red Sox put together a 92-70 record and reached the American League Championship Series. In very 2013 Sox fashion, their WAR leader was Enrique Hernandez, a player they signed out of the bargain bin the previous winter.
Of course, the big addition for Boston between 2020 and 2021 wasn't Hernandez, it was actually the return of Alex Cora, who was suspended for the 2020 season because of his role in the Houston Astros cheating scandal. You can do the math in your head on what's more than likely going on here.
Anyways, what's next? The Sox have expectations this year, so is it time for another implosion? Or can Cora squeeze more nonsense out of this group?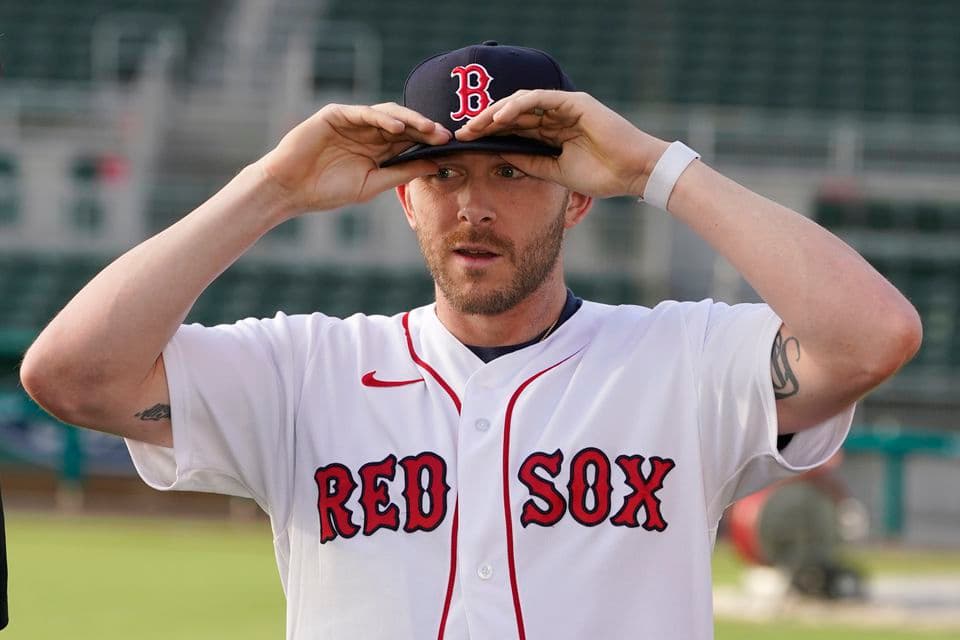 What happened over the off-season…
Boston's off-season was looking really ugly right up until the very end.
The team lost longtime reliable starter Eduardo Rodriguez in free agency, as the lefty inked a five-year deal with the Detroit Tigers. They replaced him with James Paxton, who has pitched 21 2/3 innings over the past two seasons. The Sox also brought 41-year-old Rich Hill for a seventh go-around with the club.
Right before the lockout started, they also pulled the trigger on a confusing trade, sending Hunter Renfroe to Milwaukee for Jackie Bradley Jr., who left the team in free agency the previous winter. Renfroe hit a career-high 31 homers in 2021 and the Sox didn't want to lean in and pay him for it, but Bradley, who slashed a .163/.236/.261 line in 2021 with the Brewers, is getting paid $11 million. It's about the defence, I guess?
Things really started to look ugly when Kyle Schwarber, the trade deadline acquisition who hit three homers for the Sox during their playoff run, inked a four-year deal with the Phillies. But, shortly after that happened, Boston made their big splash, signing Trevor Story to a six-year deal worth $140 million. It's sort of a weird fit, as Story will play second base despite the fact he's better defensively than Xander Bogaerts, who's penciled in at short. Regardless, the addition of Story's bat should offset the loss of Schwarber's, assuming he can hit outside of Coors.
But wait! One more thing. The biggest loss of Boston's off-season wasn't a trade or a player leaving in free agency, it was yet another injury to Chris Sale.
Boston's gangly ace missed all of 2020 and a good chunk of 2021 but returned in August and was very good, going 5-1 over nine starts with a 3.16 ERA and 11 strikeouts per nine. During the lockout, Sale suffered an injury while tossing a live batting practice at Florida Gulf Coast University. The Sox placed Sale on the 60-day Injured List and the hope for them is that he'll be back in June.
Outlook for 2022…
So, all told, Trevor Story, Jackie Bradley Jr., James Paxton, Rich Hill, and Michael Wacha are coming in to replace Kyle Schwarber, Hunter Renfroe, Eduardo Rodriguez, Martin Perez, and Garrett Richards.
In terms of the lineup, that's probably fine. The Red Sox scored the fourth-most runs per game in 2021, behind only the Astros, Rays, and Blue Jays and their lineup again looks quite potent. The defence gained from the Renfroe to Bradley swap is something, but there's no doubting that's a pretty big drop in terms of offence. The hope for Boston is that a prospect like Triston Casas or Jarren Duran can come up and add some offence to replace what might be missed.
But in terms of the pitching, things are a little murkier, especially with Sale gone for, well, who knows how long. The Red Sox navigated half of the season without Sale last year, but they've lost a group of durable veterans in Rodriguez, Perex, and Richards. While that isn't an amazing trio, they could log innings, which might not be the case with Paxton and Hill.
When you put it all together, you have a Red Sox team that's very weird and difficult to project. They have what appears to be a potent lineup, one that's even better when they know which pitches are coming, but there are major question marks when it comes to the pitching staff. They're going to score a lot of runs, but it seems the other team is going to as well.
Boston came out of the gates hot last year going 55-36 in the first half but then they cooled off and went 37-34 in the second half. Despite their success in the post-season, I would suspect the second-half team is a more accurate representation of who the Red Sox actually are and what we should expect for 2022.
---
Previously…