Amid red-hot spring, Bo Bichette appears ready to build off strong 2022 finish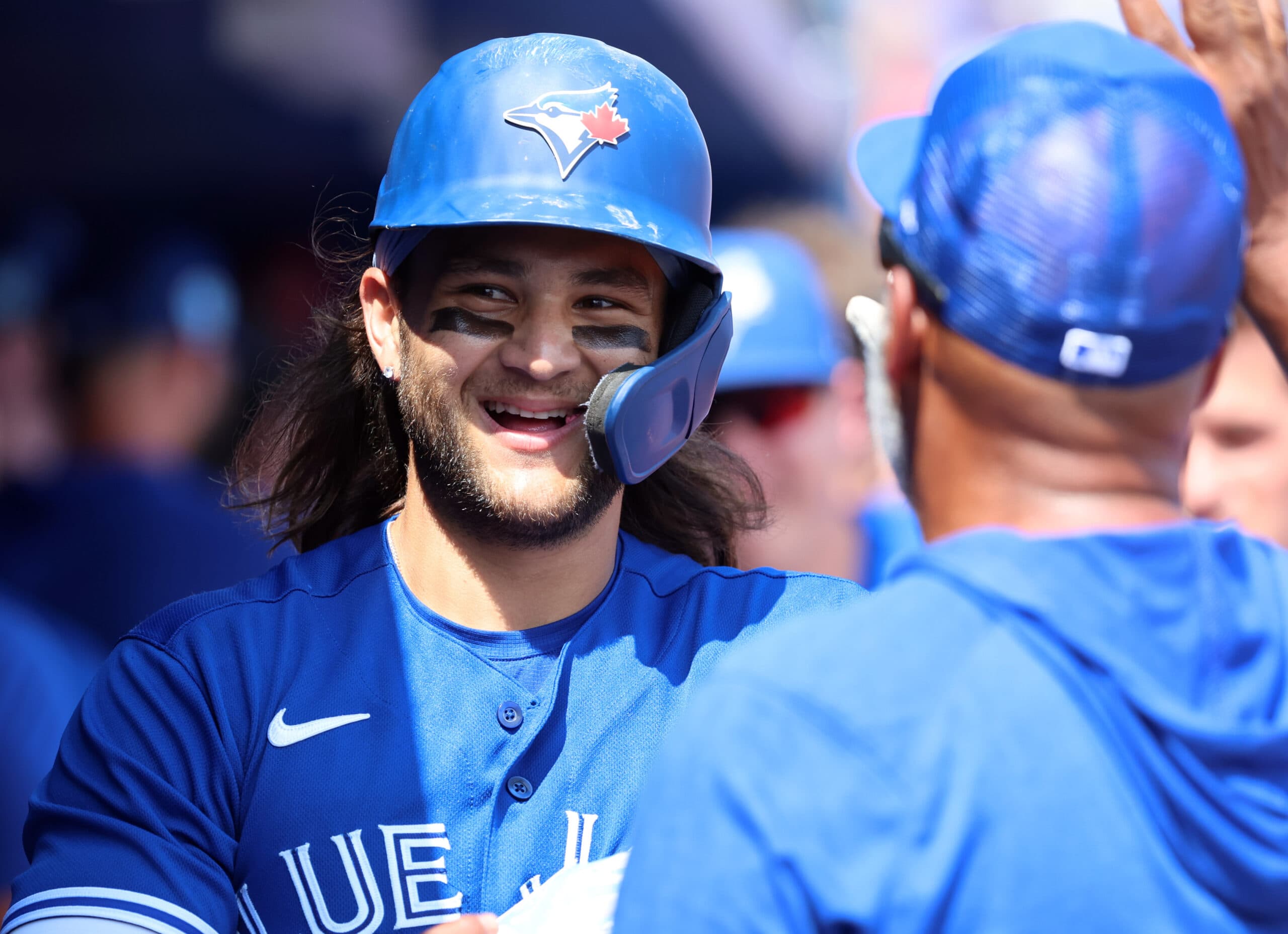 Photo credit:Kim Klement-USA TODAY Sports
No other hitter in Major League Baseball was hotter than Bo Bichette over the final month of last season, and it doesn't appear the Toronto Blue Jays shortstop has cooled off since then.
Unless you lived under a rock, you know all too well about the never-ending rollercoaster of the Blue Jays' 2022 campaign, which saw the franchise teeter between extreme highs and lows all year. That was especially true for Bichette, who struggled for much of the season, aside from an impressive stretch in late May to early June, before exploding offensively in September.
It was one of the most productive stretches league-wide in recent years, as Bichette put the team on his back down the stretch, hitting a ridiculous .406/.444/.662 with seven home runs, 27 RBIs and a 217 wRC+ across his final 32 games, worth 2.5 fWAR. The 25-year-old's contact and on-base skills were on full display, resulting in a .443 BABIP and .473 wOBA, which lowered his strikeout rate to 14.1 per cent.
The Blue Jays translated that incredible run into a 21-11 record, helping them finish 92-70 on the season, securing the first wild-card seed in the American League. It also salvaged the right-hander's previous hitting woes that saw him slash .260/.305/.420 with a 106 wRC+, .320 BABIP and a .315 wOBA through his first 127 contests.
So, suffice it to say, Bichette entered this spring on a positive note, and understandably so. It also probably helped that he avoided arbitration with Toronto last month, agreeing to a three-year, $33.6-million contract, providing him and the organization cost certainty – at least for the short term. And thus far, the 2021 All-Star has enjoyed continued success during Grapefruit League action.
At the midway point of the spring, the former second-round selection is hitting .393/.452/.643 with three extra-base hits (one double, two home runs) and six RBIs over 11 contests. The Orlando, Fla., native has also increased his aggressiveness on the base paths – a new philosophy the Blue Jays are introducing in 2023 – stealing two bags in four attempts.
Bichette, as expected, has been among the standouts in camp up to this point and provided another indication that he's ready for Opening Day, blasting a pair of round-trippers en route to a 16-3 victory over the Boston Red Sox on Monday – including one that travelled 453 feet, which would've become the second-longest of his career had it been a regular-season game.
How has Bichette been able to pick up where he left off at the end of last season? Could it have something to do with his newly-minted contract extension? Perhaps. Baseball is 90 per cent mental and 10 per cent physical, as legendary New York Yankee Yogi Berra used to say. And if you listen to former MLB players like Dante Bichette or Víctor Martínez discuss hitting, you'll hear them echo a similar sentiment.
The mental aspect of the game is undoubtedly a significant part of the equation. For Bichette, however, it comes down to his approach at the plate.
Ambushing pitchers early on is among the young superstar's strengths, which he displayed in Monday's affair versus Boston, ending two of his four at-bats on 0-0 counts – including his second of two home runs. That is also something he's done repeatedly this spring, generating four of his 11 hits off the first pitch.
You will also be hard-pressed to find a hitter that puts more balls in play during these counts than Bichette, who leads all MLB batters in hits (96) on the first pitch since 2021, with teammate Vladimir Guerrero Jr. (87) sitting second, according to
Baseball Savant
. He also ranks tied for third in doubles (18), fifth in xAVG (.406) and BABIP (.384), ninth in AVG (.417) and tied for 13th in home runs (12).
When things flow smoothly for the talented righty, he creates plenty of damage against hittable pitches early in counts. But as he proved last September, he also knows when to remain patient if teams are pitching around him, and that is an area he has continued to build on this spring, registering three walks compared to five strikeouts.
Letting the ball travel is a phrase Blue Jays fans will often hear associated with Bichette, meaning he intentionally sits back a few extra seconds before deciding whether to let loose on a pitch. While he didn't always follow that strategy in 2022, it played a crucial role during his torrid stretch to conclude the regular season – and has been very noticeable over the last few weeks.
Delaying his swing helps with pitch recognition, making it easier for Bichette to determine spin and location, which is part of the reason he was so effective during the final leg of last season. It allowed the former top prospect to enjoy prolonged success against pitches that featured lots of movement, like sliders (8.7 run value), cutters (5.7) and changeups (2.0).
Though he didn't fare as well versus velocity, 23 of his 54 hits (43 per cent) to end the season came off sinkers and four-seamers, resulting in a combined 1.0 run value. He did get beat at times, but with his swing tailored to shoot batted balls the other way, many of his hits dropped in right field.
The key, of course, will be maintaining this approach through an entire 162-game schedule. That may prove easier said than done, as we witnessed in 2022. This year's version of Bichette has looked different than others, though, one who appears to be playing to his strengths and with increased confidence.
There will be bumps along the way, as there usually are with any season, although Bichette's current approach could allow him to minimize any slumps that arise in 2023. It took him five months to find the perfect balance of aggressiveness last season, but now that he has located it, perhaps he can hit the ground running in Year 5 with the Blue Jays.
For an offence that parted ways with two key bats over the off-season, Teoscar Hernández and Lourdes Gurriel Jr., having Bichette return to his All-Star form would do wonders for Toronto's championship aspirations.
---