An early look at the position players the Blue Jays lost in free agency, and who they were replaced by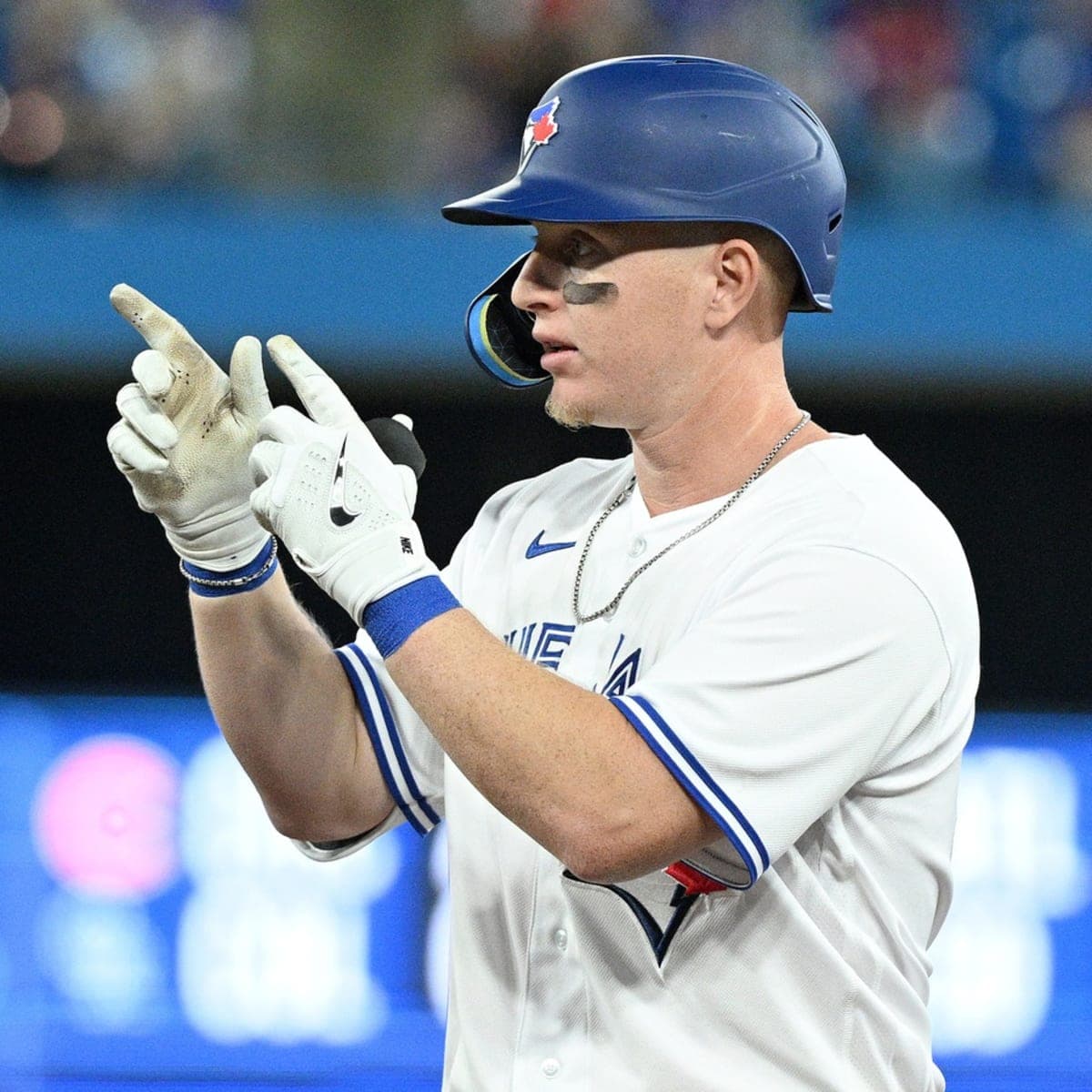 Photo credit:© Dan Hamilton-USA TODAY Sports
Earlier, we posted an article that compared the new pitchers, Kevin Gausman and Yusei Kikuchi, to the pitchers the Jays lost during the off-season, Robbie Ray and Steven Matz.
This article will focus on the position players, but will also feature signings
and
trades, unlike the last article. First, we'll start with the infielders.
Matt Chapman compared to Marcus Semien:
This isn't a direct replacement, as Chapman plays third base, while Semien played second for the team in 2021. It did move Espinal, who's well on his way to winning his first Gold Glove, to second base. Despite that, this comparison has to stay in this article.
Marcus Semien:
Semien had a fantastic 2019 as he had a slash line of .285/.369/.522 with 33 homers in 747 plate appearances. Moreover, he struck out 13.7% of the time while walking 11.6% of the time, rather impressive numbers. He also had a Defensive Runs Saved of 7 at shortstop, a premium position.
Unfortunately for Oakland, Semien couldn't repeat  his great season in 2020. The Bay native slashed .233/.305/.374 in 236 plate appearances. He added seven homers in the shortened season, but it was a far cry from his 2019 season. Furthermore, his Defensive Runs Saved slipped to -6 at the position.
It's safe to say that he needed a new start and as you know, the Blue Jays took a gamble on Marcus Semien in the 2020-2021 off-season.
However, offense is one half of the game. How did Semien fare with the glove? Well he deservedly won a Gold Glove at second base. This wasn't a cheap Derek Jeter "Gold Glove" either, Semien had a DRS of 11 and Outs Above Average of 7 at second.
When fans of opposing teams belittle the Jays and say phrases such as "They lost Marcus Semien, so they're not going to be good". I think what they fail to realize is that no one, other than maybe Jose Ramirez, will have a season like Semien's 2021.
Hell, even Marcus Semien has struggled to live up to his glorious 2021. In 60 plate appearances in 2022, he's slashing just .183/.250/.250 with no homers. Even Santiago Espinal has homered this season… twice. 
Semien started 2021 off slowly, slashing just .214/.290/.429 in his first 68 plate appearances, but by that time, he already had four homers and had a wRC+ of 92. This season, he only has a wRC+ of 38 (which could change soon after this article goes up).
I'm sure he'll be fine, but even if the Jays had kept Semien, it's improbable that he'd have a repeat of last season. Thankfully, the Jays should hopefully have a full season of Springer staying healthy and production from Semien's replacement, Matt Chapman.
Matt Chapman:
Like Ray, the Blue Jays extended Semien a qualifying offer, meaning that once he signed with Texas, the Jays received a compensation pick. However, if you don't find a replacement for the player, a pick in the 70s just doesn't cut it. Therefore, the Jays traded Kevin Smith, Gunnar Hoglund, Zach Logue and Kirby Snead to the Oakland Athletics.
In similar circumstances to Marcus Semien, Matt Chapman was acquired by the Blue Jays after playing his previous season with the Oakland Athletics. Like Semien, Chapman also struggled in his last year in Oakland.
Let's look back at his 2019 season, by far his best all around season. In 670 plate appearances, he slashed .249/.342/.506 with 36 homers. His BB% sat at 10.9%, while his K% was a respectable 21.9%.
He didn't just do it with the bat, as he was the best defensive shortstop as well, posting a DRS of 28 and OAA of 14. Even in 2021, his defense at third was arguably the best in the league, as he had a 17 OAA, but his DRS dropped to 10. Despite that, he won a Gold Glove last season.
However, once you look at Chapman's bat, there are some worrying signs. In 2021, he slashed .210/.314/.403 which isn't the worst, but he dropped to 27 homers and had a wRC+ of 101. Now, he had a career high walk rate at 12.9%, however, his K% jumped all the way to 32.5%, a trend which started to become noticeable in 2020.
His value wasn't as high, so the Jays traded a handful of prospects hoping that Chapman could recapture his 2019 form and try to fill Marcus Semien's shoes. So how has Chapman performed this season?
Honestly, better than the last two seasons. In 62 plate appearances, he's slashing .246/.306/.404 with two homers. More interesting to me however, is the fact that his K% has dropped back to 25.8%, a noticeable change.
With Semien, the Jays struggled defensively at third base, especially in the early stages of the season. Trading for Chapman, a former Platinum Glove winner and recent Gold Glove winner, has stabilized the hot corner, allowing Espinal to move to second.
Did the Jays make the right decision? It's too tough to tell, however, I'd argue that their infield defense has improved drastically.
Ramiel Tapia compared to Randal Grichuk:
This was a nice deal. They got the left-handed batter in Raimel Tapia, a darn good prospect and money shaved off the payroll for Randal Grichuk. I go further in depth with the trade here,
but let's start with Grichuk.
Randal Grichuk:
Let's face it, Randal Grichuk is too good to be a fourth outfielder. While he often spikes balls into the ground, he does have power that will certainly play up in the Mile High City of Denver. Not just that, but Grichuk is a solid defender, registering a 6 DRS in right field in 2021.
Last season, the 30-year-old slashed .241/.281/.423 with 22 homers, and it was a big reason why the Jays stayed afloat in the early part of the season. Yes, he swings at everything, yes, he grounds out way too often, but Grichuk was a good player that got way too much hate from Blue Jays fans.
In 2022, he's slashing .364/.421/.424 without a homer, but his K% has dropped to 13.2%, which if it holds, would be a career low.
Nothing but the best for Grichuk.
Ramiel Tapia:
To change things up, I won't be digging into Tapia's past stats with the Rockies. All you need to know is that he's a contact hitter that hits a lot of ground balls, without striking out much. With the Jays, he's had 50 plate appearances and is slashing .229/.229/.313 with a wRC+ of 54. He also hit a surprising homer against the Red Sox.
Tapia's career BB% sits at 5.9%, but he has yet to register a walk this season. His ground ball percentage (63.6%) sits above his career average (56.8%), but lower than his 2021 GB% of 67.4%.
Zack Collins compared to Reese McGuire:
A trade for backup catchers that has really benefited the Jays. I do wish we could merge Collins and McGuire though, as that catcher would be the perfect backstop. Let's start with Reese.
Reese McGuire:
I wrote numerous articles on Reese, but he is a defense first catcher. With the bat, he's slashing .217/.280/.261 with a wRC+ of 55 in 25 games, obviously not great. In terms of defense, let's look at pitch framing first. 
Zack Collins:
On the other hand, Zack Attack is the polar opposite of Reese McGuire. He had the second worst CDA out of any catchers in 2021, as it registered at a -12.5. His framing ranked as the third worst in the MLB, as he was responsible for a -10 Catcher Framing Runs. In comparison, Reese had a +4 in 2021.
However, Collins' bat has been great this season. He's slashing .303/.324/.636 with three homers in just 34 plate appearances. This includes a three run shot which tied the game on Sunday afternoon.
Throughout his professional career, he was known to take a walk, as he had a 14.7% BB% in 231 plate appearances last season. However, this season his BB% sits at 2.9%. His K% is on the high side at 32.4%, but that doesn't matter as much when you're tied for second on the team with homers.
This trade was primarily made due to the fact that Collins has options and McGuire doesn't, but it's paying off for the Jays in a big way. This trade is a:
As always, you can follow me on Twitter @Brennan_L_D. It's still early in the season, but I really like what the Jays did in the off-season. With a record of 10-6 against some pretty tough teams, I like their chances of making the playoffs.
---