Analyzing Mitch White's first start on his rehab assignment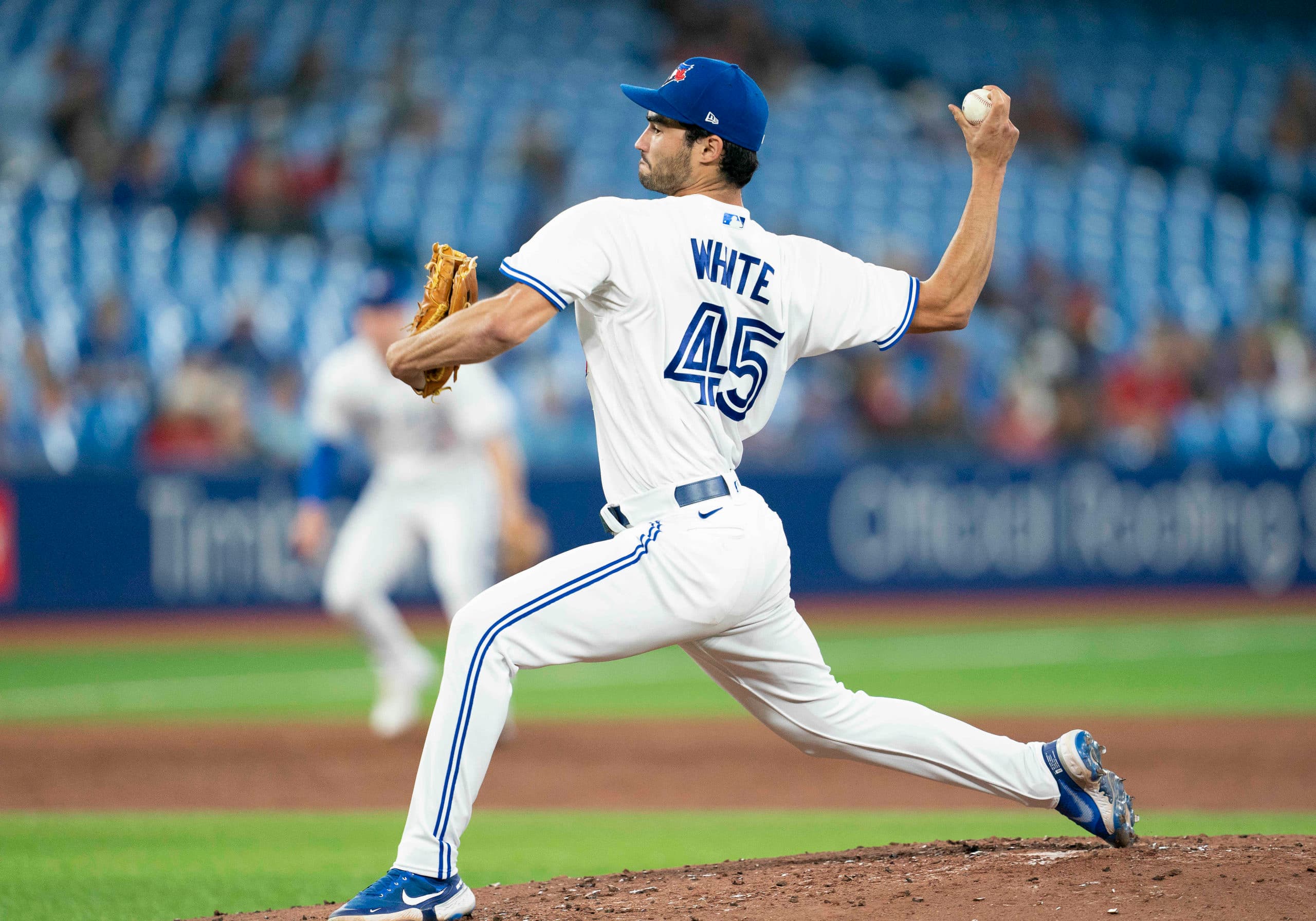 Photo credit:Nick Turchiaro-USA TODAY Sports
We're just about a month into the regular season, yet we've barely heard anything about Mitch White. What gives?
Well, dear viewer, Mitch White made his season debut on Wednesday evening for the Dunedin Blue Jays, and had an okay game. Let's look at how he did.
A positive to take away from this game is that he appeared to be lifted due to his pitch count, as he only had 46 pitches. That means that he's likely in good health after his first in-game outing in 2023.
Moreover, his line of
3.1, 3 H, 1 R (0 ER), 0 BB, 2 K
was pretty solid. Dunedin doesn't stream home games, but it appeared that an infielder made an error which led to the run.
White's fastball averaged 92.5 mph, which is down from last year's average of 93.7 mph. However, this shouldn't be too surprising considering it was his first game of 2023 season. What's more interesting is the fact that the average spin rate on the fastball dropped from 2277 RPMs in 2022 to 2175 RPMs in Wednesday's start. However, it's a one game sample size after a long layoff, so I wouldn't look too hard into it yet.
What's more concerning is the lack of whiffs that he generated. He threw 19 fastballs, which elicited 13 swings. However, he only got one swing and miss on the pitch. He threw 14 sweepers (a variation of the slider), which had 5 swings and only one miss. The changeup only had one total swing of the eight he threw, while the curveball was thrown five times, and swung on three times with no whiffs.
It's not necessarily the lack of whiffs that's concerning as it's his first start of the season after a long layoff, the stuff isn't quite there yet. What is concerning to me is that White, who is 28-years-old, is 5.8 years older than the average pitcher in Single-A. He should be significantly better than the literal teenagers that play at that level, so even when his stuff isn't there, he dominates.
We'll see how his second start goes. There were definitely some positives to take away from the first start, but it would be nice to see him generate more whiffs, especially at the Single-A level. White can rehab until May 26th, before a roster move at the big league level will need to be made. I'll write an in-depth article on that on Friday.
As always, you can follow me on Twitter and Instagram @Brennan_L_D.
---
Discover Betano.ca
 – a premium Sports Betting and Online Casino experience. Offering numerous unique and dynamic betting options along with diverse digital and live casino games, Betano is where The Game Starts Now. 19+. Please play responsibly.