Andrew Heaney makes plenty of sense for Blue Jays
Photo credit:Jayne Kamin-Oncea-USA TODAY Sports
This off-season has finally started materializing as free agents are flying off the board in San Diego at the winter meetings, namely Justin Verlander and Trea Turner. And while the Toronto Blue Jays haven't made a splash yet, the organization is zeroing in on the starting pitching market.
The front office has been aggressive in its search to beef up the club's starting rotation which currently features Alek Manoah, Kevin Gausman and José Berríos. Their efforts have been unsuccessful thus far, although they were reportedly willing to spend in the $40 million range for Verlander and made a competitive one-year, $10-million offer to Kyle Gibson before he signed with the Baltimore Orioles for the same amount.
Japan's Kodai Senga is also garnering plenty of interest from the Blue Jays, who've been monitoring the 29-year-old's journey over the last few years. Carlos Rodón and Jameson Taillon are another pair of mid-tier starting pitchers on management's radar, but it remains unclear how aggressive they'll be in pursuing either pitcher.
Andrew Heaney – who profiles a class below the hurlers above – is another arm that Toronto has been linked to this winter as they attempt to strengthen their pitching depth. Unlike the others, though, there is reportedly an offer on the table for the 31-year-old lefty, according to Sportsnet's
Ben Nicholson-Smith
.
Nicholson-Smith reports that the details of Heaney's offer are unknown, although based on
MLB Trade Rumors free-agent predictions
, Toronto's offer likely falls in the ballpark of three years. But with the starting pitching market at an all-time high, the left-hander is said to be holding out for a four-year offer, according to the New York Post's
Jon Heyman
.
Heyman also notes that Heaney – who threw 72.2 innings with the Los Angeles Dodgers last season – would prefer to remain on the west coast with the Dodgers. Like with most free agents, however, he'll likely sign with the franchise that offers him the largest bag of money – even if that takes him elsewhere.
It's tough to envision the Blue Jays adding an extra year to their original offer, especially for someone who has been plagued by numerous injuries throughout his career and is entering his age-32 season in 2023. He would be much more appealing at three years and worth around $10 million per season, though.
Toronto heavily pursued Heaney last off-season before he ultimately signed a one-year, $8.5-million contract with Los Angeles, marking his second tenure with the franchise after being briefly acquired from the Miami Marlins in 2014. And their interest level has undoubtedly increased even further following his bounce-back 2022 performance.
After a disappointing 2021 campaign, where the left-hander posted a 5.83 ERA over 129.2 innings split between the Los Angeles Angels and New York Yankees, he underwent some key mechanical adjustments that allowed him to enjoy a much-needed reset. As a result, the 6-foot-2 hurler finished with a 3.10 ERA, 3.39 xERA, 3.75 FIP and a .213 OPP AVG across 14 starts and two relief appearances with the Dodgers.
Heaney also dramatically enhanced his swing-and-miss ability, registering career bests regarding his strikeout rate (35.5 per cent) and strikeout-to-walk rate difference (29.4 per cent), with his punchout percentage
ranking in the 97th percentile
. His whiff (35.8 per cent) and chase rates (36.4 per cent) also placed in the 96th, respectively.
The Oklahoma City, OKC., native is much improved from the pitcher that most Blue Jays fans remember from his brief tenure with the Yankees. He is still prone to allowing hard contact (47.1 per cent in 2022) and home runs (17.9 per cent HR/FB ratio), but those concerns have been mitigated by his encouraging strikeout and walk totals.
There is, of course, plenty of injury risk tied to signing Heaney, as he's logged 100 innings or fewer in six of his nine big-league seasons and has eclipsed 150 innings just once (2018) since debuting in 2014 with the Marlins. The veteran lefty has dealt with nagging elbow and shoulder injuries on and off since 2018, which included two separate IL stints last season. He has also previously undergone Tommy John surgery, limiting him to 27.2 combined innings from 2016-17.
So durability isn't exactly one of Heaney's strong suits, making his future a tad concerning since he's already north of the age-30 threshold.
When healthy, though, Heaney features a valuable fastball-slider combination – like Robbie Ray does – worth gambling on. He doesn't overpower hitters with velocity, as his four-seamer averaged 93.0 m.p.h. in 2022. And he doesn't need to, either, with both pitches capable of generating enormous amounts of spin.
The average spin rate (2,442 RPMs) on Heaney's fastball ranked in the 92nd percentile, helping him produce effective strikeout (33.9 per cent) and whiff rates (30.5 per cent) while limiting opponents to a .228 AVG. His expected metrics also fared pretty well, resulting in a .223 xAVG, a .402 xSLG and a .317 xwOBA.
Heaney's most reliable weapon, however, is his mid-80s slider which was a major part of his transformation last season. It was a prominent aspect of his repertoire upon arriving to the majors, with its usage varying between 22-17 per cent across his first three seasons. But he ditched it after the 2016 campaign and didn't re-incorporate it into his arsenal until 2021, throwing just 21 sliders that season.
Once he signed with the Dodgers, the former ninth-overall selection learned a new slider grip and experimented with it during spring training, which saw him witness vast improvements with his breaking ball as it featured increased late-breaking movements. And that success continued into the regular season.
With it, Heaney featured a dominant weapon versus lefties, inducing a 55.2 per cent strikeout rate and a 55.8 per cent whiff rate. It also impacted his only post-season appearance, resulting in a hilarious swing-and-miss from San Diego's Jake Cronenworth.
Heaney's slider was also effective against righties, leading to a 36.5 per cent strikeout rate and a 40.9 per cent whiff rate. And that proved to be a disastrous matchup for right-handers Will Myers and Ha-Seong Kim in the playoffs.
One of the most notable differences about Heaney's slider revolved around its average spin rate, climbing from 2,488 RPMs in 2021 to 2,583 RPMs last season. That didn't create any additional vertical or horizontal movement – as both went in the opposite direction – but it did provide a much sharper shape compared to its previous iterations.
The hope is that the soft-throwing lefty can repeat his pitching mechanics moving forward, allowing him to maintain his swing-and-miss totals against both sets of hitters in 2023 and beyond.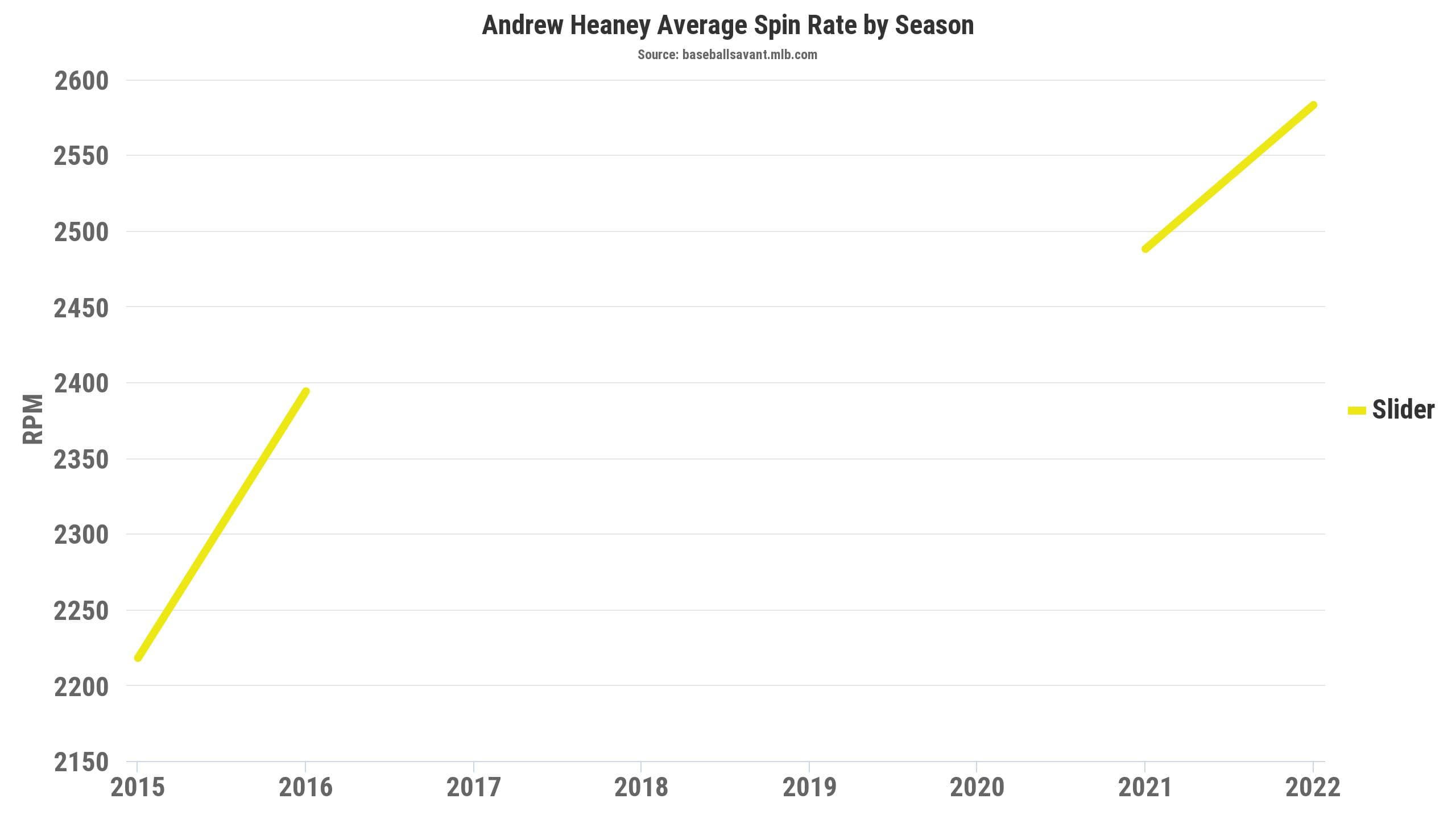 There is high volatility surrounding Heaney, as his fastball (52.0 per cent) and slider (45.0 per cent) allowed plenty of hard contact last season. His previous health concerns are also well documented, too. But while he'd be a risky acquisition, he could serve as a valuable addition at the backend of Toronto's starting rotation.
The Blue Jays aren't willing to commit a rotation spot to Yusei Kikuchi or Mitch White right now, as they shouldn't, meaning the front office likely has two holes to fill in its pitching staff. Heaney, at $10-$14 million per season, would effectively address one of those needs and wouldn't preclude the team from acquiring another starter through free agency or trade.
As a left-hander, he would also add much-needed balance to the rotation with fellow lefties Hyun Jin Ryu recovering from Tommy John surgery and Kikuchi potentially returning to the bullpen. Shifting to a relief role could also be in his future once the playoffs roll around, eliminating the need for a fifth starter.
So while Heaney's first go-round in the AL East finished horribly, a second stint in one of the most competitive divisions in baseball could play out much differently after having his career rejuvenated in Los Angeles.
---