Another left-handed batting outfielder is off the market, as the San Francisco Giants have signed Michael Conforto. Who remains as an option for the Blue Jays?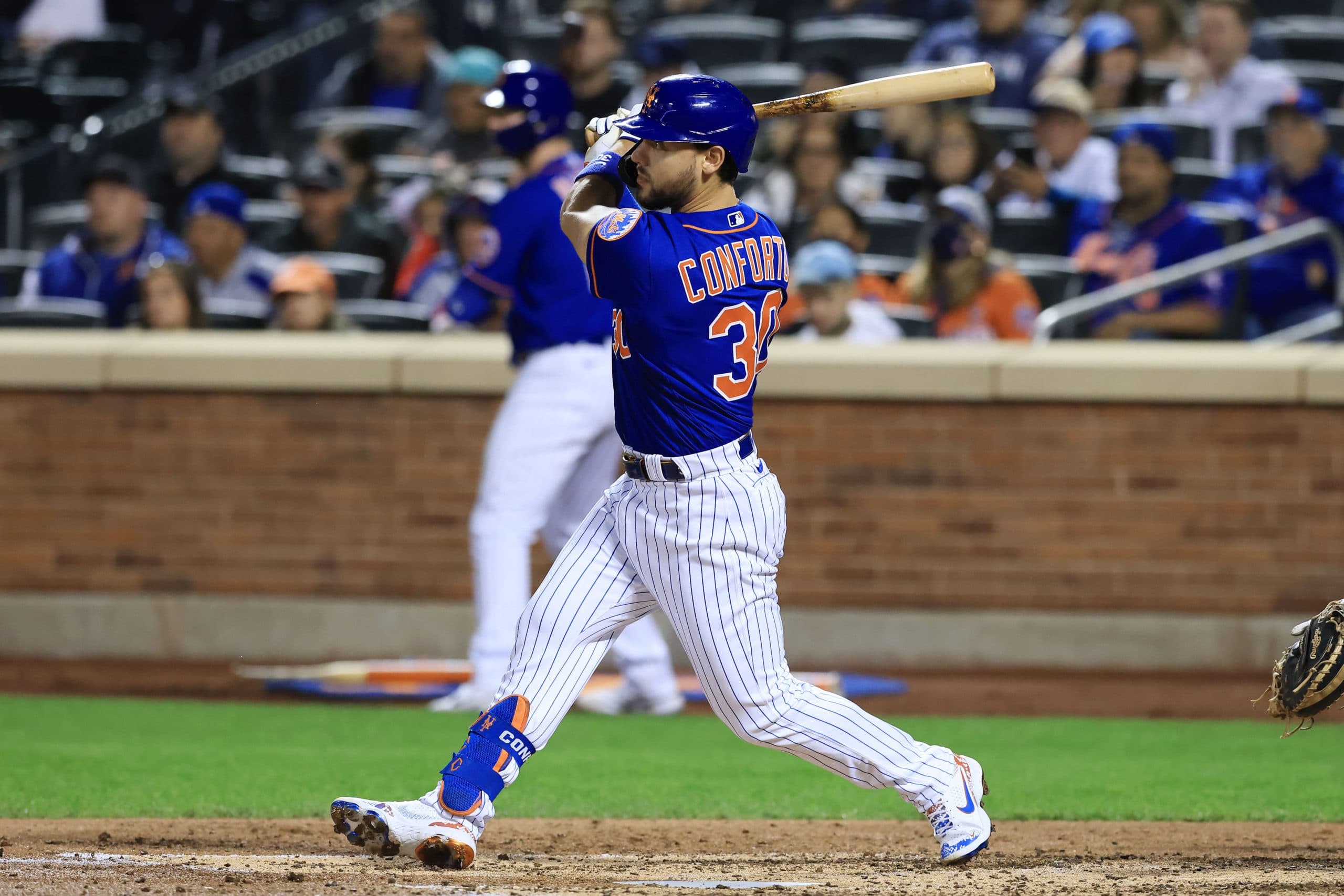 Photo credit:Vincent Carchietta-USA TODAY Sports
Sadly, the last big-name corner outfielder who bats left-handed is off the market.
Per Bob Nightengale of USA TODAY, Michael Conforto has signed a two-year, $36 million contract with the San Francisco Giants.
It includes an opt-out after the first season, but man, I'm glad the Jays didn't sign him if this was his asking price. While they have a desperate need for a fourth outfielder, paying a guy $18,000,000 despite the fact he hasn't had a good season the plague year is interesting.
Conforto missed all of 2022 will a shoulder injury which resulted in surgery. Shoulder injuries are known to impact bat speed (Cody Bellinger, for example), and as it was right shoulder surgery, Conforto's throwing may also be impacted.
This doesn't
mention the fact that Conforto wasn't great in 2021, where he slashed .232/.344/.383 with 14 homers in 479 plate appearances for a 106 wRC+. He dominated in the plague season, but he only played 54 games. So the last time Conforto had an above-average full season was back in 2019.
Now, don't get me wrong, Conforto has a high ceiling because if he plays anything like his 2019 self, that very easily could be a good contract. However, there is a low floor as well, due in part to concerns about his shoulder. I guess we'll see.
It's also notable that the Giants signed left-handed relief pitcher Taylor Rogers to a three-year, $33 million contract, but I don't think the Jays were ever in play.
Who's left for the Jays:
Conforto was the last starting left-handed batting outfielder on the market, as Joey Gallo, Michael Brantley, and Andrew Benintendi, have all signed elsewhere.
The last real option that remains through free agency is former Arizona Diamondback and Tampa Bay Ray, David Peralta.
Last season, the then 34-year-old slashed .251/.316/.415 with 12 homers in 490 plate appearances for a 104 wRC+. Moreover, he was a plus defender in terms of Outs Above Average in left field, as he registered an OAA of 5. Granted, he had a -5 Defensive Runs Saved.
Arguably, Peralta would be a better fit as he could be expecting to be a fourth outfielder wherever he signs. The defense is there, and he does have some pop with the bat as he hit 30 home runs back in 2018.
The Jays could also acquire the left-handed batting outfielder through a trade. Max Kepler, Gavin Sheets, and Alek Thomas are all intriguing names for one reason or another
Like president Mark Shaprio said on Bob McCown's podcast: Expect more moves in the upcoming months and weeks. It's still very early in the off-season, and there are still plenty of ways that they can improve.
As always, you can follow me on Twitter and Instagram @Brennan_L_D
---