Blue Jays can afford to remain patient as focus shifts to improving offensive ceiling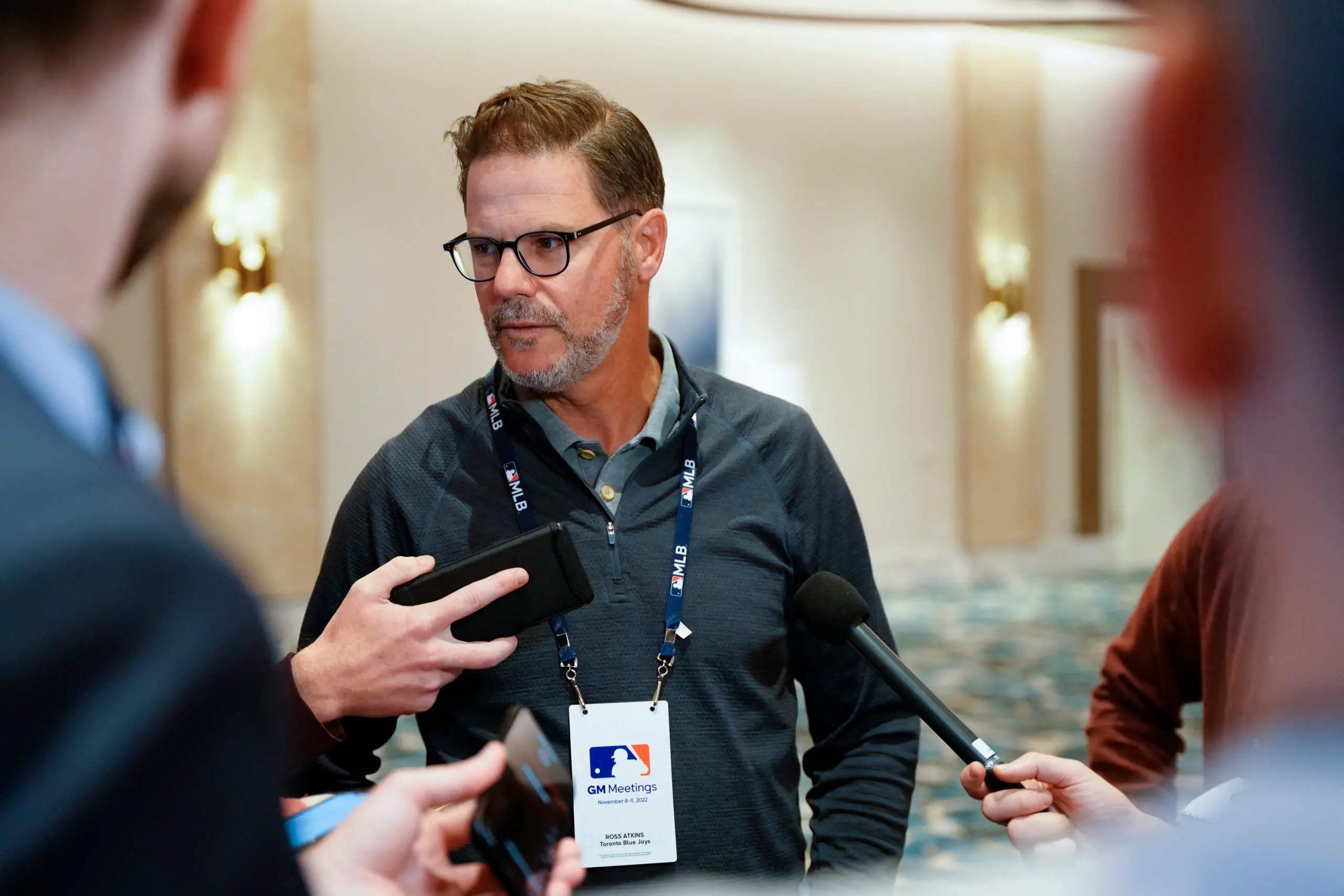 Photo credit:Lucas Peltier-USA TODAY Sports
Much of the off-season for the Toronto Blue Jays thus far has been dedicated to run prevention, but after improving their outfield defence and pitching staff, the focus will shift to run creation heading into the 2023 season.
Yes, that is correct, general manager Ross Atkins has added another buzzword to his arsenal, although its meaning will be just as crucial as the former.
The Blue Jays have improved their roster from the end of last season, however, the loss of Teoscar Hernández still has yet to be addressed. At least, not from an offensive standpoint. And that, in particular, is what Atkins plans to prioritize moving forward.
"Now we'll shift to offensive improvements," Atkins said to local reporters as the team officially introduced free agent Chris Bassitt on Monday. "We'll continue to think about raising our ceiling in that area."
Even after signing Kevin Kiermaier in free agency, the team is still looking to add another outfielder to go along with Lourdes Gurriel Jr. and George Springer, as they should. After all, it is not like Kiermaier can be expected to match Hernández's 2022 output (129 wRC+) when the left-hander – who owns a career 97 wRC+ – is best known for his elite defence.
Atkins' comments also suggest he is aiming higher than a traditional fourth outfielder, likely seeking someone who can platoon across all three positions and warrant 300-400 plate appearances. It would also be ideal if that player hit left-handed, providing another layer of offensive balance.
While the franchise has already added $30 million ($21 million for Bassitt, $9 million for Kiermaier) through free agency to its 2023 payroll, raising it to a projected $233.6 million, which ranks
fifth-highest in the majors
, the Blue Jays are still looking to spend additional resources this winter. So don't expect them to avoid becoming a first-time Collective Balance Tax payor.
But as president Mark Shapiro revealed in San Diego during the winter meetings, the luxury tax won't be an obstacle for this team next season – a sentiment that Atkins double-down on during Monday's media availability.
"We have room to grow for sure. We're not thinking of anything as minor," Atkins said. "We're a projected 90-win team or above. The value of improving your team at that point is so significant that we will work hard to do that. We're not limited financially to do that. When we think about how we use our resources, we're just thinking about everything being sustainable and it making sense from a business and baseball standpoint."
Free agency remains a viable option for Toronto as it looks to acquire an offensive-first left-handed outfielder. That market has thinned considerably recently, though, with Joey Gallo and Michael Brantley signing elsewhere last week. As a result, Michael Conforto – a player the club continues to express interest in, according to
The Athletic's 
Ken Rosenthal
– stands as the top remaining outfielder available.
The Blue Jays have reportedly been pursuing the former New York Met for the last two off-seasons, hoping to land him on a one-year, prove-it deal – similar to Marcus Semien's $18 million contract in 2021. But the 29-year-old isn't struggling to find potential suitors as the Texas Rangers, Chicago Cubs and Mets are also said to be competing for his services.
Credit: Vincent Carchietta-USA TODAY Sports
Jurickson Profar, who posted a 110 wRC+ in a career year with San Diego, could also be an attractive target based on his defensive versatility and switch-hitting capabilities. Depth options like David Peralta and Tyler Naquin could also be potential fits, although neither would likely raise the team's offensive ceiling.
For a club looking to improve off consecutive 90-plus win seasons, locating the correct player for the job will be vital, regardless if that's via free agency or trade. And with the holiday season approaching, along with a depleted free-agent market, Toronto's management can afford to be patient in its search for a fourth outfielder.
There is no need to rush the process, especially with the remaining outfield market largely centred around Conforto. It is also worth wondering if he'd accept a part-time role with the Blue Jays. The 6-foot-1 outfielder wants to rebuild his value next season, preferably as an everyday contributor, meaning the veteran lefty may opt for extended reps elsewhere, just as Cody Bellinger did.
Though, waiting out Conforto's market would likely prove beneficial as it'd provide Toronto with additional runway to explore potential trade options, particularly ones involving the club's surplus of catchers.
With Willson Contreras, Christian Vázquez, Sean Murphy, Mike Zunino and Omar Narváez unavailable, the Blue Jays currently hold plenty of leverage on the catching front. And with several teams – including the Arizona Diamondbacks, Chicago Cubs, Houston Astros, San Diego Padres, San Francisco Giants, Tampa Bay Rays and Boston Red Sox – still aiming to improve that position, adding another bat via trade could be the better alternative.
The Diamondbacks remain the most-obvious trade partner, with numerous talented outfielders (Jake McCarthy, Alek Thomas, Daulton Varsho) reportedly available, paired with their need for a catcher-of-the-future. But as of now, it remains to be seen if both sides can find common ground toward a deal. Things can always change with one phone call, though.
Chicago's Ian Happ could also be an ideal target for the Blue Jays, although the switch-hitter is just one season away from free agency. So that would be a factor in negotiations. But after hitting .305/.350/.438 with a 123 wRC+ from the left side in 2022, Happ would be a welcomed addition to Toronto's offence.
The 28-year-old might also become more attainable if the Cubs acquire Conforto, joining Bellinger and Seiya Suzuki in the outfield, making the soon-to-be free agent expendable. Unless that occurs, though, general manager Carter Hawkins appears likely to retain Happ throughout the remainder of the off-season.
There is also the potential for the Blue Jays to execute a three-team trade with organizations that don't match up individually – like Houston, Minnesota, San Francisco, Tampa Bay or Boston, perhaps –  but could come together to meet each other's needs as a whole. The Atlanta Braves, Milwaukee Brewers and Oakland Athletics did just that earlier this month as part of the Sean Murphy blockbuster.
Like with all trades, however, it likely wouldn't be completed overnight. And with one of that magnitude, it'd probably take even longer to pull off. That is not to suggest it'd be impossible, but chances are it wouldn't cross the finish line until closer to spring training. The team acquired Matt Chapman shortly after the lockout ended last spring, though, so fans shouldn't be surprised if history repeats itself in 2023.
In the meantime, while Toronto awaits Conforto's decision and for the trade market to heat up, the front office can continue searching for improved pitching – both in the starting rotation and bullpen.
---