Blue Jays bring limp bats in Game 1 and lose 3-1 to the Twins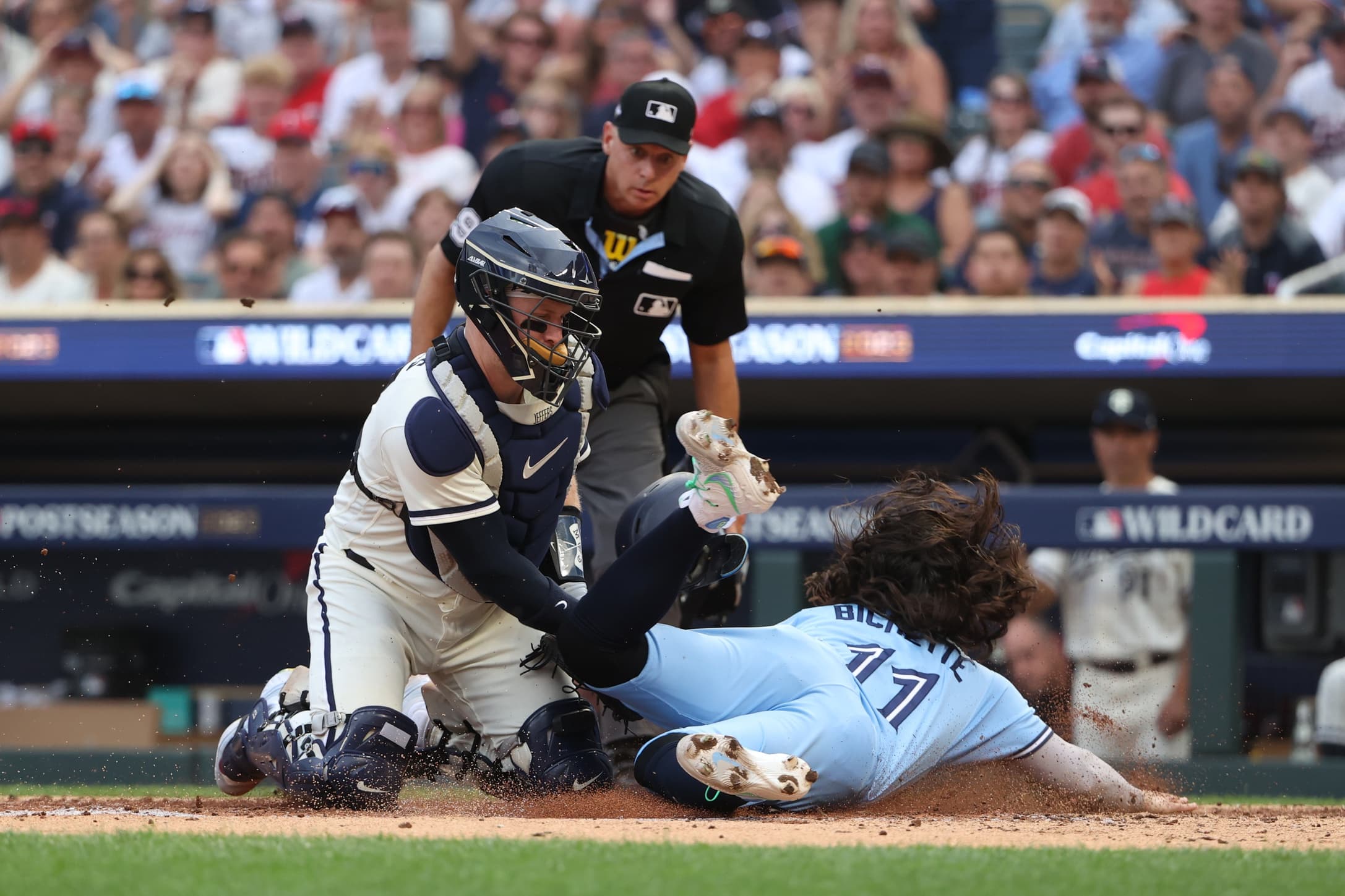 Photo credit:© Jesse Johnson-USA TODAY Sports
It's do-or-die time.
On Tuesday afternoon, the Blue Jays opened their American League Wild Card Series against the Minnesota Twins, falling 3-1.
A not-so-fun record about this is that this is the first time the Twins have won a playoff game since 2004, breaking an 18-game losing streak.
Let's take a look at the Blue Jays Nation's Player of the Game, as well as things worth mentioning.
Blue Jays Nation's Player of the Game: Kevin Kiermaier
There's a chance that this was Kevin Kiermaier's penultimate game as a Toronto Blue Jay.
Unlike many on the team, Kiermaier delivered, going 2-3 with a walk, a strikeout, and driving in the only Blue Jays run of the game.
This season, the 33-year-old centre fielder slashed .265/.322/.419 with eight homers in 408 plate appearances. However, that doesn't tell the whole story as Kiermaier finished with a crazy 18 DRS and a 13 OAA.
He'll be a free agent at the end of the season, so hopefully the Jays can prolong their season.
Things worth mentioning…
Bo Bichette was the other player of note. The 25-year-old shortstop went 2-4 and nearly scored two runs, but was thrown out at the plate. He blew by Luis Rivera's stop sign, and was thrown out by Carlos Correa, who in reality, made a fantastic play. Had he stayed, the Blue Jays would've had bases loaded with Matt Chapman at the plate.
Matt Chapman nearly gave the Blue Jays the lead, hitting a ball 401 feet to deep centre field with two runners on and two outs. This would've been a home run in 13 ballparks in the majors, but alas, it's now a "what could've been."
Vladimir Guerrero Jr. hit a double on the first pitch of the eighth inning. Great, right? Well, Bichette struck out on three pitches, including a slider well outside the zone, Biggio was caught looking, and Alejandro Kirk hit a sharp ground ball to the first baseman. It really felt as if the game ended at this point.
Kevin Gausman didn't have a great game, finishing with a line of 4 IP, 3 H, 3 ER, 3 BB, 5 K. There's serious speculation that he was tipping pitches, as the Twins were laying off anything down. In fact, they also did this in the regular season.
The bullpen had a good game. Erik Swanson came on in the fifth, and went 0.2 IP, 0 H, 0 ER, 1 BB, 1 K. Tim Mayza came up next, allowed a hit, and then retired the next batter. Chad Green finished with a line of 1.1 IP, 0 H, 0 ER, 0 BB, 1 K, before Génesis Cabrera struck out the two batters he faced. Jordan Hicks ran into some trouble, but he didn't allow a run.
It's do-or-die for the Blue Jays, as the Wild Card series is only a best of three. They'll play Game Two on Wednesday afternoon at 4:38 PM EST. José Berríos will take the mound for the Jays, while Sonny Gray toes the rubber for Minnesota.
---
As always, you can follow me on Twitter, Instagram, and Threads @Brennan_L_D.
---