Blue Jays complete sweep of Pirates with 4-3 win on Sunday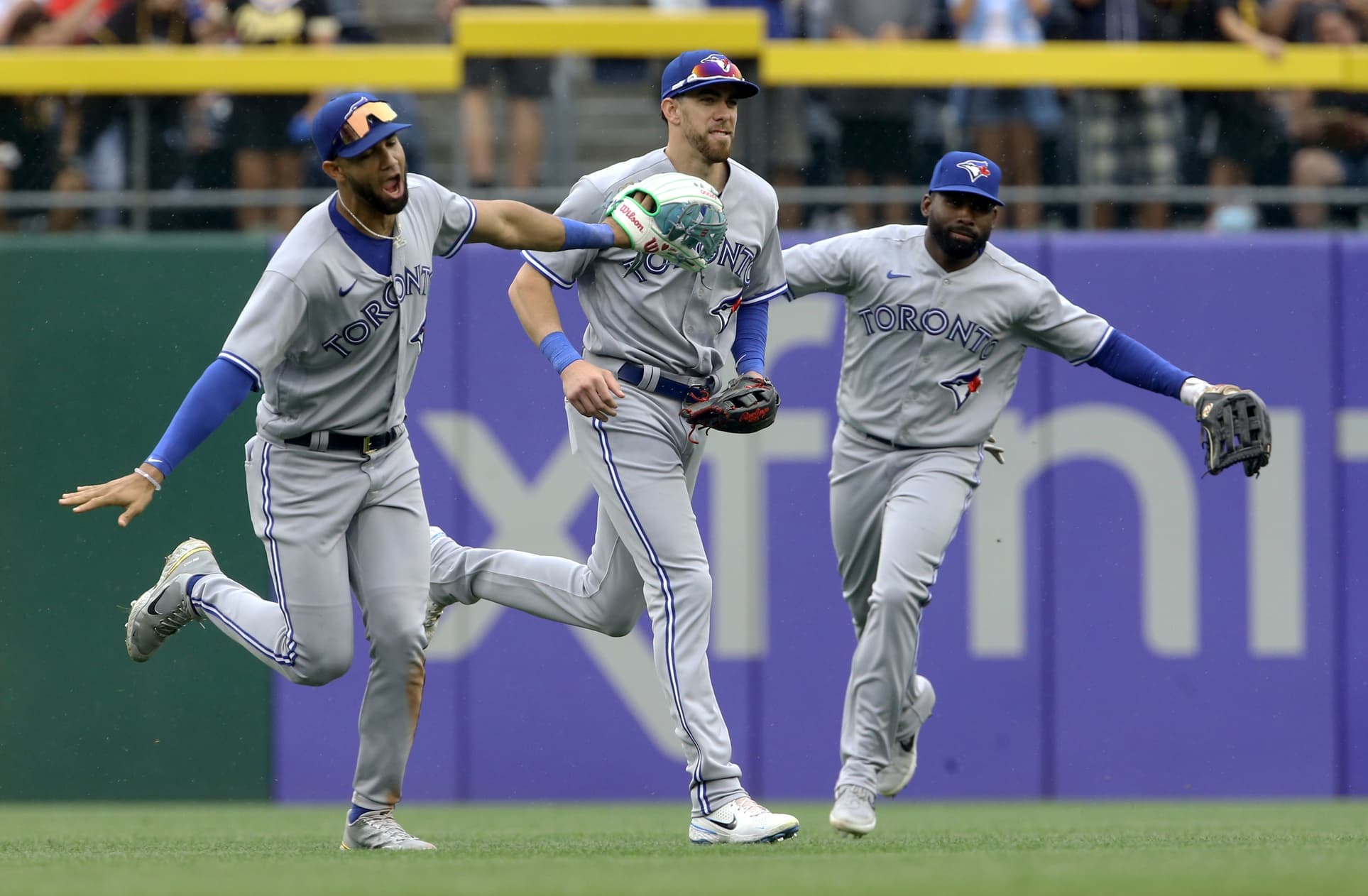 Photo credit:© Charles LeClaire-USA TODAY Sports
Blue Jays fans certainly didn't expect this late-season series against the Pittsburgh Pirates to have major implications on this team's chances to make the postseason.
It did, and the Blue Jays answered the call with a sweep of the Pirates. A clutch late-inning RBI from Teoscar Hernandez and an absolute nails save from Jordan Romano led to a 4-3 win, and with the Mariners, Rays, and Orioles having success this weekend, the win kept the Jays afloat in the Wild Card race as well.
The first two games of the series weren't laughers, and that continued today, as the Blue Jays made sure that the only funny thing about today's game was that Kevin Newman pinch hit for Tyler Heineman in the 9th today with the Pirates threatening, because losing to a Heineman walk-off would've been the funniest tragedy this season.
3 of 4 Toronto runs came by way of an RBI single, with Whit Merrifield collecting the first one in the second inning. It was Merrifield's first hit since August 24th, and his first RBI since August 21st against New York in which he hit his first home run with the Blue Jays.
Toronto collected another run in the 3rd inning, as they took advantage of a Pittsburgh error. Vladimir Guerrero Jr. reached first with one out thanks to a throwing error by Rodolfo Castro at third. Guerrero would steal second, and come in to score on an RBI single by Alejandro Kirk with two outs.
Cavan Biggio hit a solo home run to lead off the 4th inning, giving the Blue Jays a 3-0 lead. It was Biggio's 5th home run of the season, and I think we can all agree that a nice hot streak from Biggio down the stretch would be great from a bottom-of-the-order bat.
The Pirates were unable to get much going off of Blue Jays starter Ross Stripling, as they didn't record their first hit until the 4th inning. Cal Mitchell and Ben Gamel got on with walks, and Josh VanMeter plated them both with a 2-run double.
Oneil Cruz hammered a home run off Stripling to tie things at 3 in the 5th. That home run and VanMeter's double were the only hits that Stripling gave up today, as he provided another quality start for his season. He retired the Pirates in order in the 6th to finish his day at 6 IP, 2 H, 3 R, 3 BB and 8 K's.
The Blue Jays led off the 7th with two singles from Danny Jansen and Matt Chapman. The Blue Jays really,
really,
tried to strand these runners, as Guerrero Jr. grounded into a double play one batter later. Thankfully, Hernandez drove in Jansen with an RBI single with two outs.
Jordan Romano came into the lock down the 9th, and he certainly made it more stressful than it needed to be! Romano allowed the first two hitters to single, with the lead runner making it to third. A steal of second from pinch runner Greg Allen put runners on second and third with no one out, and this game had "unfortunate loss" written all over it.
Thankfully, Romano calmly struck out the next three batters in order, cashing in on his 30th save of the season. Romano becomes the first Blue Jay to record 30 saves in a season since Roberto Osuna had 39 in 2017.
Now, it's on to Baltimore. The Blue Jays and Orioles will start a four-game series with a double header tomorrow. Kevin Gausman is listed as the starter for Game 1, with Jordan Lyles starting for Baltimore. Every series is critical from here on out, but unbelievably so, the Orioles are on Toronto's tails for the final Wild Card spot. It's time to find out what this team is made of.
---