Blue Jays could face tight payroll crunch this off-season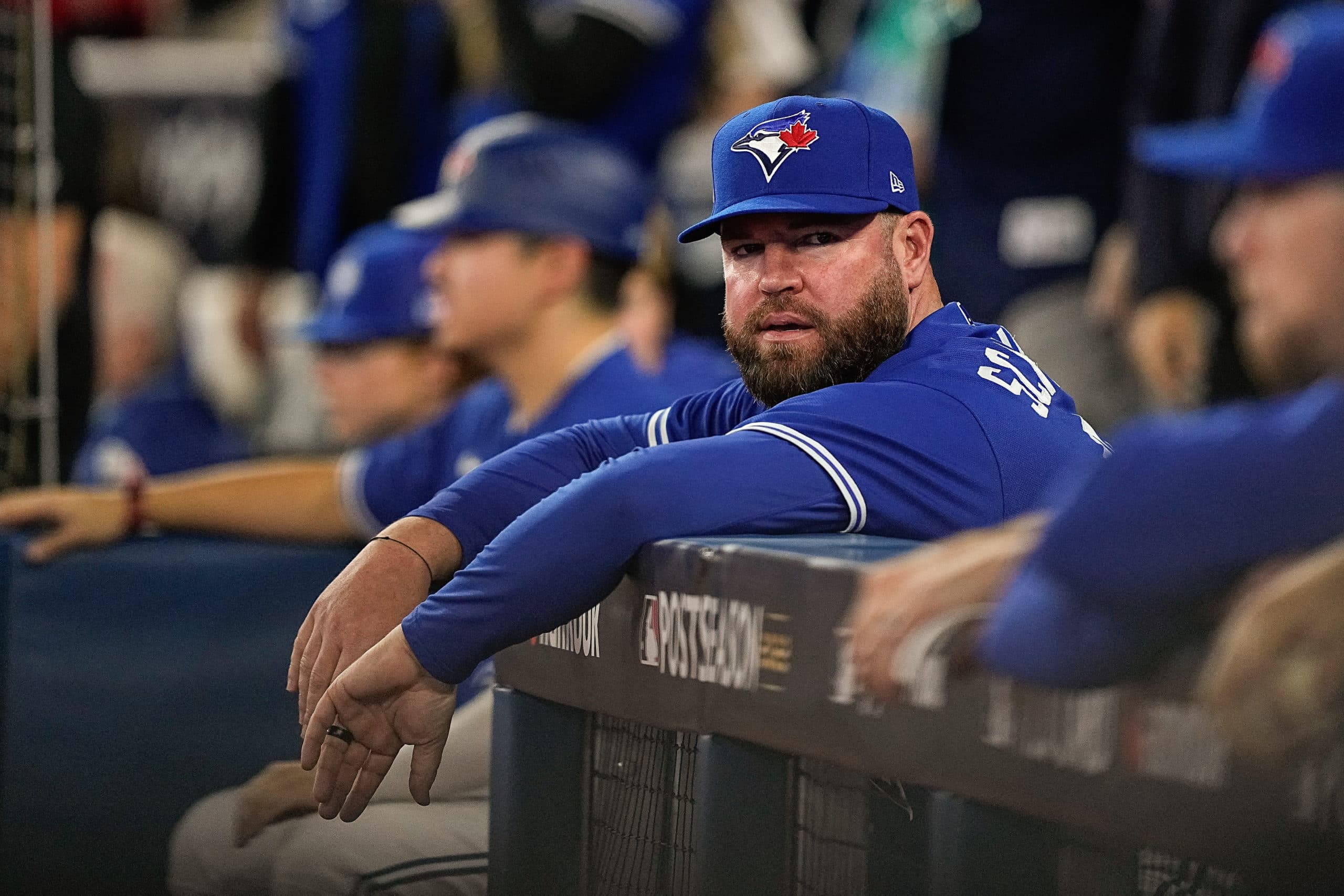 Photo credit:John E. Sokolowski-USA TODAY Sports
The Toronto Blue Jays were met with heartbreak as their 2022 season came to an abrupt end after dropping both games of the wild-card series to the Seattle Mariners. Now, ahead of another pivotal off-season, everyone is left searching for answers.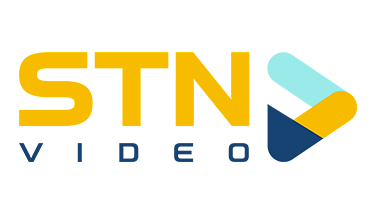 So what's the next step for this franchise? How can it improve off a 92-70 season that ended much sooner than previously anticipated? That's what general manager Ross Atkins and his staff must attempt to answer this winter.
Of course, Atkins' main priority involves determining interim manager John Schneider's future. But by all accounts, it seems he'll return without the interim status in 2023. Frankly, any other outcome would be a major surprise at this point. So that likely solves one major question mark. So what about the roster? Could any changes occur on that front? Possibly.
For starters, the Blue Jays possess just three notable free agents: Ross Stripling, David Phelps and Jackie Bradley Jr. That's a fairly light list compared to the rest of the majors. Still, there's no guarantee that any of those players will return next season.
Stripling, who was worth a career-best 3.1 fWAR, is easily Toronto's biggest free agent, and there's no doubt Atkins will attempt to re-sign the 32-year-old. The problem, however, is the organization is likely to face a financial crunch this off-season. Baseball fans may need to search through their couch cushions to locate any loose change to help in that regard.
As currently constructed, there's already roughly $102.7 million committed to just nine players in 2023 (George Springer, Kevin Gausman, Matt Chapman, José Berríos, Yusei Kikuchi, Whit Merrifield, Lourdes Gurriel Jr., Yimi Garcia, Anthony Bass). That's not ideal. Neither is paying $4.33 million to outfielder Randal Grichuk, increasing that figure to just over $107 million.
That is without injured starter Hyun Jin Ryu's $20 million salary, although the team should receive at least partial relief via insurance. Regardless, the final season of his four-year, $80-million contract still counts against Toronto's Competitive Balance Tax (CBT) payroll, which accounts for average annual salary, any retained salary, estimated player benefits, salaries for 40-man minor-leaguers and the new 0-to-3 year player bonus pool.
The Blue Jays' CBT payroll finished at approximately $190.2 million this past season, placing 11th in the majors, according to 
Cot's Baseball Contracts
. It was also a new career best for the franchise, with the previous one occurring in 2018 ($167.13 million). And the club's 2023 CBT payroll could potentially surpass that total in the coming months.
Cot's Baseball Contracts currently projects Toronto's upcoming CBT payroll at roughly $148.419 million, just over $83.5 million shy of the $232 million luxury tax threshold. That amount will shrink to $80.5 million, raising the CBT payroll to $151.419 million, if reliever Anthony Bass' $3 million club option for next season is exercised, though.
It may seem like plenty of breathing room, but once arbitration and contract tendering salaries are accounted for, management likely won't feature nearly as much financial flexibility compared to previous off-seasons. That is unless they decide to cut costs moving forward.
The Blue Jays are projected to carry $62 million worth of arbitration salaries for 13 players in 2023, according to 
MLB Trade Rumors
. First baseman Vladimir Guerrero Jr. is expected to earn the largest salary at $14.8 million, leaping from $7.9 million in 2022, with teammate Teoscar Hernandez behind him at $14.1 million. Bo Bichette and Jordan Romano are also scheduled to receive notable figures as first-time eligibles, at $6.1 million and $4.4 million, respectively.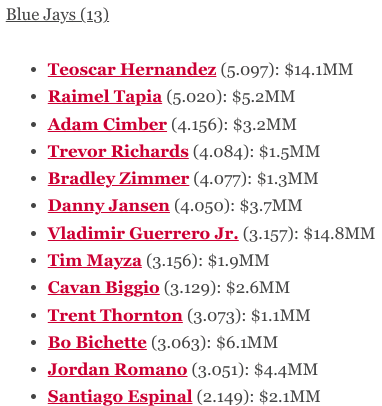 Not everyone will be brought back, however, as this group likely includes at least a few non-tender candidates. Bradley Zimmer and Trent Thornton stand out immediately as potential cuts, saving $2.4 million against the CBT.
Granted, a large portion of the fanbase may also want the Blue Jays to cut ties with left-hander Tim Mayza for allowing a grand slam in Game 2 of the wild-card series. And while that could save the team a valuable $1.9 million, the 30-year-old is under team control through 2025 and is coming off a season where left-handers hit just .162 AVG against him, resulting in a 19.2 per cent strikeout-to-walk difference – he's probably safe.
As for outfielder Raimel Tapia, his future in Toronto probably isn't as certain. The 28-year-old logged 433 plate appearances in 128 games during his inaugural campaign, hitting .265/.292/.380 with seven home runs, 52 RBIs and a 90 wRC+ score. He was also worth a measly 0.2 fWAR.
MLBTR projects Tapia – who's entering his final year of arbitration and can enter free agency after next season – to earn $5.2 million in 2023. Is it worth bringing someone back who was barely valuable the previous season and is likely to play elsewhere in 2024? Probably not. Non-tendering him just one season after he was acquired from the Colorado Rockies wouldn't be ideal, though.
If the Blue Jays were to take that route, along with non-tendering Zimmer and Thornton, they'd save $7.6 million for next season. With a CBT payroll of $151.419 million, that would add $56.8 million to the books, raising their total to $208.219 million. It'd be the first time in franchise history that their CBT payroll exceeded the $200 million threshold, and that's before factoring in pre-arbitration salaries.
Once those are calculated, Toronto's CBT payroll could fall between $210-$215 million by Opening Day 2023. The front office could resolve some of these issues by agreeing to long-term deals with Hernandez and Guerrero Jr., lowering their AAVs for 2023. That would essentially kick the can down the road, but it could lead to future financial complications.
If you haven't figured it out already, all this probably means Stripling has priced his way out of the organization. After enjoying a career year, chances are the right-hander will sign a lucrative multi-year deal elsewhere. The franchise can receive a compensatory draft pick by submitting a qualifying offer, but it's unclear if that'll occur. 
The Blue Jays would then need to locate a suitable replacement as their No. 4 starter while adding more swing and miss to their bullpen and balance to the offence. Not an easy task with limited space against the luxury tax.
Then there's the Kikuchi dilemma. Should he return as a starter? Is his pitch arsenal better suited as a reliever? Can his remaining contract be traded with a package of prospects? Only time will tell, but the team can't afford to eat his $10 million salary if he proves ineffective, though they may have to.
Constructing a playoff contender will only be more challenging for Atkins and his staff as the franchise's young core becomes more expensive. With Hernandez and Gurriel Jr. eligible for free agency after next season, Guerrero Jr. entering his second year of arbitration, Bichette and Romano in their first, Alejandro Kirk gaining eligibility after 2023 and Alek Manoah after '24, costs will continue to soar.
That's why these last two seasons have been such a disappointment. Opportunities to contend with a young group like this that's loaded with talent – and inexpensive all-stars – don't come around often. When they do, it's crucial to capitalize on them.
It's also another reason for the Blue Jays to ensure they're fully prepared to go all-in next season – they'll regret it if they don't.
---