Blue Jays Farm System Analysis: Looking at the catchers in the organization and finding the breakout candidates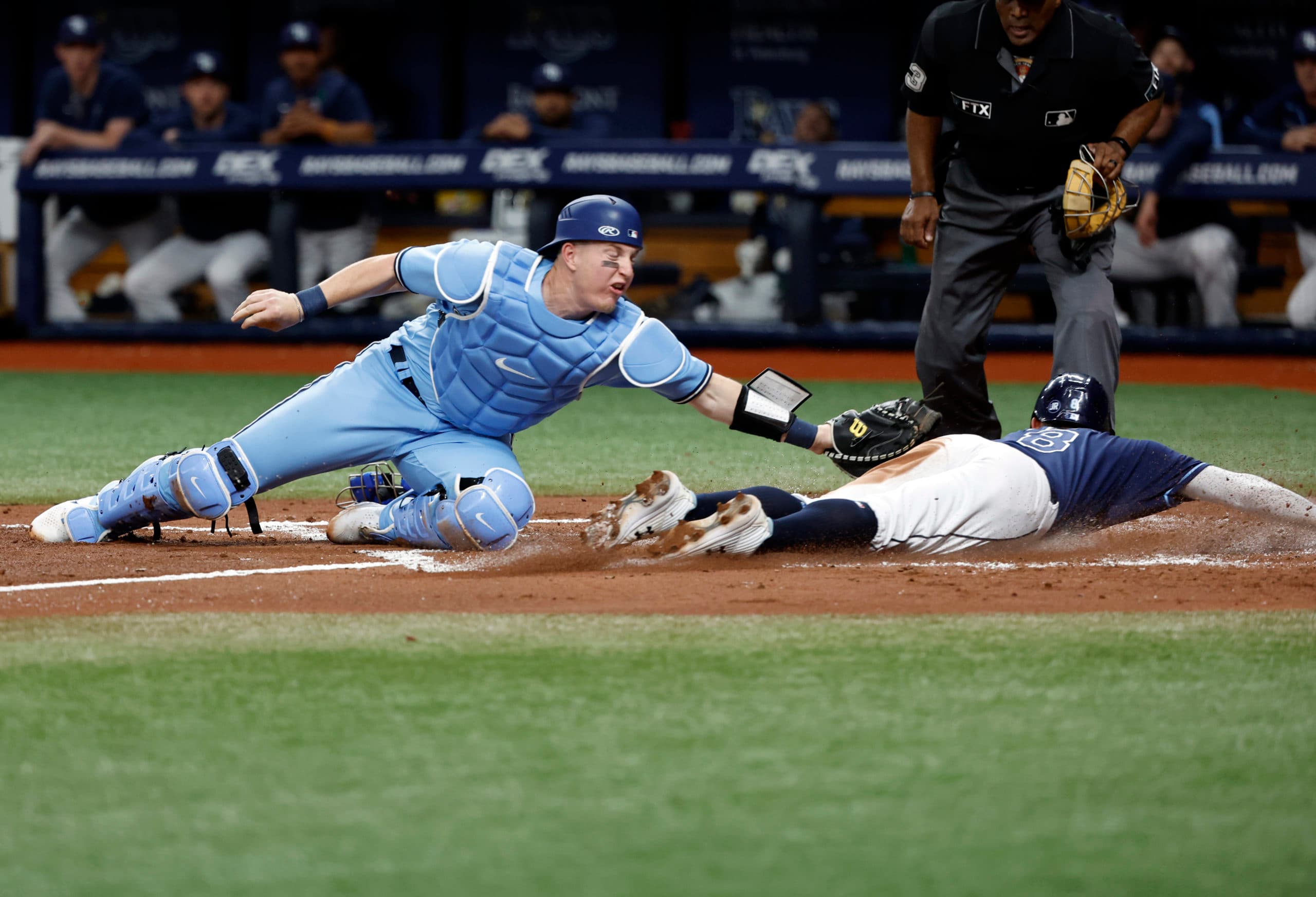 Photo credit:Kim Klement-USA TODAY Sports
With draft content ramping up around Blue Jays Nation, it's important to look at the Blue Jays minor league system position by position.
This will be a six-part series, focusing on catchers, middle infielders, corner infielders, outfields, starting pitching, and relievers. Today, we'll start with catchers.
As everyone knows, the Blue Jays are a powerhouse at developing catchers. Both Danny Jansen and Alejandro Kirk were developed by the Blue Jays, but they were literally able to trade away a top catching prospect in Gabriel Moreno because they had a surplus.
With that being said, we'll start with the Triple-A Buffalo Bisons and work our way down.
Buffalo Bisons' catcher depth:
The Triple-A affiliate currently has four catchers on the roster, with one on the 7-day injured list.
Stevie Berman
is the catcher on the injured list, and has only had 36 plate appearances, with his last on coming one April 25th.
Rob Brantly
is the most experienced of the four, as he's had 456 plate appearances and is rocking a .272/.390/.352 slash line in 154 plate appearances in Buffalo.
Tyler Heineman
is the only catcher on the 40-man roster, and he's slashing .260/.393/.400 in 62 plate appearances in Triple-A this season.
Jamie Ritchie
is the other catcher on the roster and he's slashing .246/.372/.292 with no homers in 78 plate appearances with the Bisons.
The Blue Jays don't have any catching prospects in Triple-A at the moment, but all catchers on the Bisons have serious experience.
New Hampshire Fisher Cats' catcher depth:
Like the Buffalo Bisons, the Double-A Fisher Cats have four catchers on the roster… well, sort of.
Zach Britton
is on the 7-day IL but has only caught two games with the Fisher Cats this season, compared to nine games in the outfield.
Karl Ellison
has spent time in both High-A and Double-A, but is slashing .120/.207/.160 with no homers with the Fisher Cats.
Kekai Rios
was selected in the minor league portion of the Rule 5 draft and has appeared in 13 games, slashing .244/.300/.267 in those 50 plate appearances.
Phil Clarke
is the first string catcher and the best primary catcher in the upper minors. He's slashing .240/.363/.356 with three homers in 126 plate appearances.
The Fisher Cats have a mix of experience and a few interesting prospects (Clarke and Britton).
Vancouver Canadians' catcher depth:
Toronto's High-A team only has three catchers on the active roster.
Andres Sosa
is the most intriguing of the bunch, as he slashed .226/.397/.404 with five homers in 273 plate appearances with Vancouver in 2022. This season, the 25-year-old is slashing .232/.389/.321 with a homer in 72 plate appearances, as he missed the early part of the season.
Jommer Hernandez
is Vancouver's second string reliever, and his walkup song is John Cena's theme song. No, I'm not kidding. He's slashing .221/.315/.326 with two homers (tied for a career-high) in 108 plate appearances.
Lyle Lin
is their third-string catcher and has spent more time on the development list than on an active roster, but he's slashing .333/.333/.389 in his 18 plate appearances.
The further down you get in the minor leagues, you'll more prospect catchers than veteran catchers. Sosa will probably finish the season in High-A.
Dunedin Blue Jays' catcher depth:
The Dunedin Blue Jays only have two catchers on the roster, as
Jose Ferrer
is on the 60-day injured list.
One of the two catchers is Canadian
Nicolas Deschamps
who is slashing .184/.368/.299 with three homers in 114 Single-A plate appearances. The 20-year-old has 141 professional plate appearances. The other catcher is
Victor Mesia
who has yet to have a Single-A plate appearance in Single-A in 2023. Last season, the 20-year-old catcher slashed .152/.221/.196 with a homer in 123 plate appearances with Dunedin.
I wouldn't be surprised if there are some roster moves to give the Dunedin Blue Jays another catcher. Especially considering how many catchers are on the Florida Complex League (FCL) roster.
FCL Jays' catcher depth:
There are
a lot
of catchers on FCL Jays' roster. If I had to guess,
Jerry Huntzinger
, an undrafted free agent will get a promotion to Dunedin as he's the only catcher born before 2003 (1999). 
Luis Meza
is the Blue Jays top catching prospect, and he's only had 13 plate appearances in the FCL, and is slashing .091/.167/.091. He slashed .229/.267/292 with no homers in 101 plate appearances with the Dominican Summer League (DSL) Jays in 2022.
Jonathan Peguero
is another catcher who has gotten some attention in the past, as he slashed .266/.384/.372 with two homers in 112 plate appearances with the DSL Jays in 2021. He tapered off a bit last season.
Sammy Hernandez
was one of the youngest players in Single-A this season, but was recently placed in the FCL. With Dunedin, he slashed .192/.241/.317 with two homers in 112 plate appearances. He also threw out 14 runners in 45 attempts. He's a breakout candidate for years to come.
Carlos Vasquez
was the statistically better catcher with the DSL Jays in 2022, as he slashed .284/.403/.330 with a 15.7 BB% and an 18.7 K% in 143 plate appearances. He has yet to have a plate appearance. The same goes for
Albert Millan
, who slashed .050/.240/.050 in 25 plate appearances with the FCL Jays in 2022.
The last catcher on the FCL Jays roster is
Edward Duran
, who was the Player to be Named Later in the Jordan Groshans trade with Miami in 2022. He's started the season off hot, with four hits in seven at bats, including three walks. His best season was with the Miami Marlins DSL team in 2021, where he slashed .340/.450/.440 with a higher BB% (11.7%) than K% (10%) in 60 plate appearances. He tapered off in 2022 though.
There's a lot of catchers on the FCL Jays, but players like Duran and Vasquez have some versatility in their game, so playing time shouldn't be
that
hard to come by… hopefully.
DSL Jays' catcher depth:
The Dominican Summer League Jays have four catchers on the roster.
Faruk De La Cruz
appears to be the first string catcher, already having 28 plate appearances and playing all seven games. He's slashing .250/.357/.375 and has three doubles and four RBIs.
Maykel Minoso
is the other catcher who has significant playing time, and he's slashing .261/.320/.261 in 25 plate appearances.
Juan Rosas
appears to be the third string catcher, as he's appeared in two games and has had 8 plate appearances. He's slashing .143/.250/.143 with three strikeouts.The 17-year-old was a part of the 2023 international free agent class.
Edgar Lopez
is another 2023 international free agent signing, and has only had three plate appearances and has reached base twice. These two may not get a lot of playing time until Minoso and De La Cruz are moved to the FCL.
You never know which prospects will break out in the DSL and FCL, as it's an absolute crapshoot.
The state of catchers in the organization:
The Blue Jays don't have any top-tier catching prospects in the organization. In fact, they only have one catching prospect in the top 30, Luis Meza who is ranked 30th. Zach Britton (if you consider him a catcher) and Sammy Hernandez could eventually get on the list as well.
What they do have in the upper minors is experience, as Tyler Heineman and Rob Brantly could fill in for Danny Jansen or Alejandro Kirk if injured. Jamie Ritchie and Stevie Berman also have loads of experience in professional ball.
Will any of these catchers be able to replace Alejandro Kirk or Danny Jansen if they move to a different team? Only time will tell, but the Jays have a lot of interesting young players in the lower levels.
As always, you can follow me on Twitter and Instagram @Brennan_L_D.
---